Aries, Taurus, Gemini, Cancer, Leo, Virgo, Libra,
Scorpio, Sagittarius, Capricorn, Aquarius, Pisces

Overview of this week
The Center for the New Age is
pleased to present
your Free Weekly Horoscope
for May 5, 2013 — May 11, 2013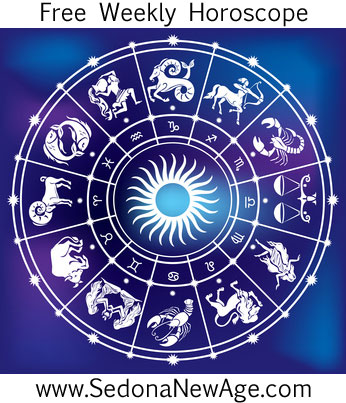 Aries, Taurus, Gemini, Cancer, Leo, Virgo, Libra,
Scorpio, Sagittarius, Capricorn, Aquarius, Pisces
This week and most of next week, Mars in Taurus is trine Pluto in Capricorn. Constructive, systematic and practical action leads to positive, monumental and powerful transformations. Actions taken now are more likely to have favorable results or to be influential with higher powers. This is a good time to resolve personal aggression directed towards the views and differences of another generation or established powers. Mars trine Pluto brings opportunity for favorable direct action that may well make a powerful and impressionable impact.
On Tuesday Mercury in Taurus is conjunct Mars in Taurus giving us an enormous amount of mental energy for working long and effectively at mental tasks. Mercury is mental and Mars is the planet of action. Intellect is charged and competitive, and debate with others may occur. However, this tremendous power should be handled with care lest you take yourself and your ego too seriously, thus triggering resistance and animosity from those whom you encounter. If you can harness the power effectively, much can be accomplished while this aspect is in orb.
The New Moon in Taurus on May 9 emphasizes the acquisition of new possessions, or it could mean there is a need to restore, replenish and maintain the old ones. Personal contentment counts with new possessions. Search for the value of what you need and want.
A solar eclipse occurs during this New Moon. Emotional truths can be revealed and emotions can run rampant. It will be difficult for us to be objective and deep feelings can come to the surface unexpectedly since it is not unusual for our natural rhythms to be "out of order" during a solar eclipse.oon. Emotional truths can be revealed and emotions can run rampant. It will be
Venus, the influence of love, magnetism and attraction enters Gemini, the personification of duality on May 9th and will remain in Gemini until June 2. Love desires may be split and suffer from ambivalence and schisms. With Venus in Gemini, there is an attraction to writing, speaking about and recording extraordinary experiences and stories, especially about beauty and love. Gossip and talk about love matters will be especially prevalent. Venus in Gemini shows us the two sides of love –the giving and the taking. As attractions appear more diverse, concerns may arise among those with a jealous nature. Love related changes are rampant. To some it's a challenge while for others, it's a breath of fresh air.
Aries, Taurus, Gemini, Cancer, Leo, Virgo, Libra,
Scorpio, Sagittarius, Capricorn, Aquarius, Pisces
For more information about your Horoscope and what the stars have in store for you, order one of our detailed


Astrology Reports!
Free Weekly Horoscope for your Sign
Aries: If you've been hoping for a change in your fortunes, then this week's solar eclipse (Thursday) should bring good news. Now is the time when you can turn over a new leaf financially and start as you mean to go on. This theme of financial new beginnings could bring opportunities connected with work and business, or it could bring an opportunity for monetary increase or a shift in your beliefs and approach to your relationship with money. So, whatever hasn't been working, now is the time to change it. Focusing your intentions and energy on generating more of what you need would be a wise move under the power of the eclipse.
Order your personalized Astrology Reports
---
Taurus: The solar eclipse in your sign on May 9 will in some way bring about a much needed change, but it's a change that may well demand a certain amount of courage and honesty from you. You need to be able to speak your truth and allow the light within your heart to illuminate the way ahead. A communication of some sort will feature strongly in this eclipse for you. Perhaps there is something you need to say or someone with whom you need to have a heart-to-heart. You may also need to be assertive and let it be known what you want. Perhaps you're no longer content with a certain situation and this may mean confronting or even upsetting someone in order to be true to yourself.
Order your personalized Astrology Reports
---
Gemini: If you try to do too much this week in terms of work, chores, jobs and all those other things that drag you down when there's an absence of fun, then your health is likely to suffer for it. By allowing yourself to just do whatever you feel like doing, you will be responding to your inner needs which need to be given priority right now. The solar eclipse in your zone of endings on May 9 brings about the opportunity to draw a line under the past or close a door on something that is best left behind. This will in turn free up your energies to focus on new things that are currently waiting to come into your life. This eclipse is also opening a door to the divine so asking for messages and guidance is advisable if you are in any sort of quandary.
Order your personalized Astrology Reports
---
Cancer: This week's solar eclipse on May 9 is about as bright and auspicious for your future as you could wish for so if you need a fairy godmother to wave her magic wand over your hopes and dreams, then your prayer is answered. This should be a week when you get some taste, at least, of success and fulfillment. Perhaps a door will open for you that leads to an opportunity that seems too good to be true or you meet someone who turns out to be influential on your future. Whichever way you oook at it, the planets are aligned in a most helpful way, and in order to benefit from this rare gift from the heavens, you should take steps in the direction that calls to you.
Order your personalized Astrology Reports
---
Leo: There should be cause for celebration this week as a most auspicious eclipse occurs at the top of your chart. This looks set to bring about a new direction in your life. A new chapter is beginning and for many Leos, this will relate either to domestic matters or professional ambitions. Examples include a new job, the go-ahead with a project, a promotion or other form of worldly success, a house move, or an addition to the family. In any event, the possibility of a life changing achievement looks likely. Alternatively, there could be something in your life that is ending and will open the door toward new beginnings. If you want to make the most of this eclipse, take some time on Thursday to write down and visualize your desires and intentions for your future. Then don't forget to celebrate whatever auspicious changes are happening for you.
Order your personalized Astrology Reports
---
Virgo: There are dazzling opportunities for you that are contained within this week's lunar eclipse because for you, the way to align with the potential is to be open to possibility. Although this eclipse will open the door to a new understanding, it will be difficult for you to fully capitalize on its potential if you are restricting yourself with fixed views on what is or what isn't possible. Keep a flexible and positive mind, and remember that the meaning of this eclipse for you is to see life in a new way. The more you can do this, the more your life will begin to change in wondrous ways.
Order your personalized Astrology Reports
---
Libra: Your financial situation may be posing one or two challenges. Perhaps it is time for you to be more empowered both in your material world and in your personal life. Maybe you need to be strong for others, and maybe you need to take on more responsibility with money. While all this may feel heavy, you will be growing considerably as a result and it's just as well to remind yourself that big things are being asked of you now so that you can become so much more than you were before. Events this week are likely to bring forth the need for courage. You may need to be strong in the face of fear and you may need to stand up and speak your truth or to talk about painful issues. The solar eclipse on May 9 represents a rebirth and this is likely to be a very important and emotionally powerful week. It may be that all kinds of emotions are unleashed within you, but it's just as likely that you experience great healing as a result. Do not be afraid of the dark, but go boldly to the place you know you need to go to get to the truth. Be honest with yourself and others about what really matters.
Order your personalized Astrology Reports
---
Scorpio: This week's solar eclipse on Thursday is your perfect opportunity to start afresh in a relationship. Now is the time to put the past behind you, to forgive yourself and the other person for mistakes made, and to turn over a new leaf. If you have been having problems with someone, you may have felt like pulling back, resulting in your feeling isolated, neglected or unloved. Sometimes, these states of mind are of our own doing; it isn't really true that we're no loved, it's just that we are interpreting the situation in that way. You may also need to be courageous when it comes to saying what needs to be said. There is a strong communication theme with this eclipse, and it looks like you need to have a heart-to-heart with someone. There is much potential to take a relationship to a new level now, so with courage, forgiveness and a willingness ot put the past behind you, you can really begin to move forward.
Order your personalized Astrology Reports
---
Sagittarius: If you wish to change your life, this week's solar eclipse spells good news. It's particularly auspicious for positive developments regarding your work and your health, so if you haven't been firing on all cylinders recently, this is a great time to turn over a new leaf and take better care of yourself. Under this eclipse, you would benefit greatly from making a new stat, so that might mean changing to a healthier diet, taking up some form of gentle exercise, or beginning a spiritual discipline like yoga. It may also be timely to look at whether you are trying to do too much. Are you carrying too many burdens? If so, now is the time to let go of some of them. If you life has lost its fun in favor of commitments,, deadlines, duties and responsibilities, then now really is the time for a reassessment. If you carry on under the strain, your body will begin to suffer the consequences. A little time out to consider your life and how you spend your days wouldn't be a bad thing right now, and the days around the eclipse would be perfect for an honest appraisal and making changes that will bring more happiness.
Order your personalized Astrology Reports
---
Capricorn: You have something that the world needs whether it's your help, your humor, your creative gifts or your artistic talents. Don't be reluctant to express yourself to the world. In so doing, you will find that you not only make yourself happier, but make a difference to others too. Life is too short to spend it in the wrong job, living with the wrong person or in the wrong environment. Even if it's not so much a case of things being wrong, it can sometimes feel as though something is missing. This week's solar eclipse is a great opportunity for you to consider how happy you are and whether the main components of your life –work, love, home, hobbies, friends and so on –are a source of joy or not. This eclipse will highlight any area in which you are not living from the heart and open up a window of opportunity to make changes. This eclipse is all about living authentically and it may be that you've just got one or two minor alterations to make. Or it could be that you need to be really honest about something that just isn't you anymore.
Order your personalized Astrology Reports
---
Aquarius: It's all change on the domestic front as a solar eclipse lands in the region of your home and family. This could coincide with a house move or alterations to your home. Or it could see a new addition to the family or some other change in family relations. This eclipse brings an opportunity for a new beginning, so whether you're moving, decorating, welcoming someone new, saying goodbye to a familiar face, settling in or uprooting, the important thing to remember is that it's all as it's meant to be. Life will become much easier if you sever your ties to the past and fully embrace your new situation.
Order your personalized Astrology Reports
---
Pisces: The quality of our lives is determined by the quality of our thoughts. Take a moment to consider this statement, because if it is true, then the way to change your life is profoundly simple: change your thinking. From something as simple as deciding to be more appreciative of the people in your life to noting all the good things you have, you can easily change your outlook, and as a result, the quality of your life will change too. The solar eclipse on May 9 will help you to change your habitual thinking, so make this the week you start a gratitude journal, or take a moment to thank someone for all they do or mean to you. In so doing, you will begin to notice more things to be grateful for while your problems will begin to seem less significant.
Order your personalized Astrology Reports
---
For more information about your Horoscope and what the stars have in store for you, order one of our detailed