Aries, Taurus, Gemini, Cancer, Leo, Virgo, Libra,
Scorpio, Sagittarius, Capricorn, Aquarius, Pisces

Overview of this week
The Center for the New Age is pleased to present your Free Weekly Horoscope for October 5 — October 11, 2014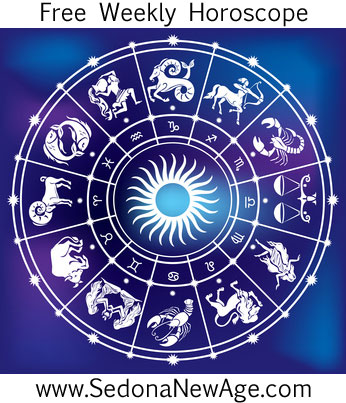 Aries, Taurus, Gemini, Cancer, Leo, Virgo, Libra,
Scorpio, Sagittarius, Capricorn, Aquarius, Pisces
Venus in Libra squares Pluto in Capricorn (October 8 –October 16). The diplomatic, peaceable, cooperative and naturally harmonious side of our affections (Venus in Libra) is likely to take a pretty good beating, while a seemingly major transformation is occurring on a physical level (Pluto in Capricorn). Venus square Pluto usually involves such difficulties as loss or death of a loved one, the obstacles or rejection and general oppression for those aspects of life to which we are undeniably attached and which we hold dear. If something of this nature is occurring for you, it is best to recognize that love will triumph in every dimension, despite the pain of separation, or the disease and strife of the beloved. Be both strong and gentle in matters of love. Let the obstacles of love's pain become the building blocks of a better outlook, and a stronger love will supersede these current trials of the heart.
Mars in Sagittarius is trine Jupiter in Leo (October 8 –October 20). Mars activates and stirs action, while Jupiter represents not only economy and advancement, but our sense of philosophic and visionary awareness as well. For some people this aspect brings gifts of inheritance; for all of us it brings opportunities for growth. Mars trine Jupiter allows us to activate a stronger, more intelligent grasp of our domain, and gives many folks the extra energy and spark to boost their sense of achievement and advancement. This is a most auspicious aspect so it will be best to take advantage while the action is, potentially, the most lucrative.
Full Moon on October 8th is marked with the burning and willful force of Aries Moon activity. A warrior spirit touches us all, particularly with regard to the personal challenges in our lives. Be prepared for headstrong attitudes and potential rudeness. Avoid hastiness and impetuosity. There will also be a great deal of confidence, enthusiasm and a pioneering spirit. This is a good time to celebrate and to enjoy the fruits of our labors reflected by the total lunar eclipse. At a total lunar eclipse, the earth's full shadow falls on the Moon. The Moon won't completely disappear, but it will be cast in an eerie darkness that makes it easy to miss if you were not looking for the Eclipse. Keep in mind, all lunar eclipses are powerful Full Moons that are course correctors and are meant to change your life. This lunar eclipse has an edge to it that forces us to start making necessary changes. Stay calm and make arrangements to simplify your life by month's end.
Mercury enters Libra October 10 aligning us with diplomacy, tact and the need to connect with friends and loved ones. Libra is the autumn sign that emphasizes balance and adjustment. Through the 8th of November, Mercury in Libra brings us a mental focus on the acts of harmonizing and adjusting to the changing season. This is a good time for people to converse by gathering and collecting important information as our decision making process kicks into high gear.
Aries, Taurus, Gemini, Cancer, Leo, Virgo, Libra,
Scorpio, Sagittarius, Capricorn, Aquarius, Pisces
For more information about your Horoscope and what the stars have in store for you, order one of our detailed


Astrology Reports!
Free Weekly Horoscope for your Sign
Aries: This week's lunar eclipse on October 8 represents a turning point for you, so expect changes or a realization of some sort. It would be advisable to not expect to continue on the same path, so ask yourself what needs to change and why. Other people are likely to be involved, but the omens are good for a positive outcome. There may be issues of freedom and independence, or you may have a change of heart about yourself or another person or how you relate to yourself or them. "Being deeply loved by someone gives you strength, while loving someone deeply gives you courage." Lao Tzu's quote reveals the importance of love. There is so much opportunity now for you to find love (or build on an existing love) as well as work toward harmony and peace in all your dealings with people.
Order your personalized Astrology Reports
---
Taurus: This week's lunar eclipse falls in your zone of endings, and you may become aware of a need to move on. There is a strong need now for you to break your links to the past, especially when it comes to baggage and guilt. What's the point in carrying around all that stuff that only weighs you down and stops you living fully in the now? If you health isn't great, this message has extra relevance since the casting off of your baggage –whether it's old hurts, grievances, regrets, resentments, and so on –will liberate you and bring about positive changes in your physical well-being. The time to stop tormenting yourself is now, so quit blaming yourself and others. Vow to begin afresh this week.
Order your personalized Astrology Reports
---
Gemini: The lunar eclipse on October 8 brings a turning point with your friends, social life and future. Any one of these could be relevant, but they all require the same action: change. Old patterns need to be broken now, and what's called for is greater authenticity. Perhaps it's time to remove your mask when it comes to relating to others, especially friends, acquaintances, groups or organizations. False roles need to be identified so that you can be more of whom you genuinely are rather than that person others might want or expect you to be.
Order your personalized Astrology Reports
---
Cancer: The lunar eclipse at the top of your chart on Wednesday brings changes having to do with your work and professional life. In some cases, there is a need to break with the past. Certainly, it's advisable for all Cancers to try to break free from limiting patterns, especially in connection with where you want to be going in life. If you've previously faced impediments to success, now is the time to break free from these. Home is where the heart is, so make the most of the domestic vibes bestowed by the Sun, Venus and Mercury by enjoying more time with family and putting love into your home.
Order your personalized Astrology Reports
---
Leo: Possibilities are on the horizon as a lunar eclipse highlights the adventurous zone of your chart. Now is the time to break out of your comfort zone and set sail for new horizons. Acknowledge your fear, but don't let it hold you back. You are stepping into a more authentic expression of yourself, and this takes a certain amount of courage, so be kind to yourself as you embrace the unknown. Ultimately, you need to be mindful of the choices you make and whether you are choosing the path of struggle or joy.
Order your personalized Astrology Reports
---
Virgo: It's time to focus on money and your material existence as a lunar eclipse illuminates this area of your life. Since Venus accompanies this eclipse, it seems that you are about to be blessed by greater abundance, but you can enhance this positive state of affairs by taking several steps. First, you can be grateful for all that you do have. In this way, you act as a magnet for greater abundance to manifest itself in your world. Secondly, this is a great time to make better use of your talents and gifts. Thirdly, we get what we believe we deserve, so if your finances could do with a boost, you may need to ask yourself whether you truly feel deserving of all the good things that life has to offer. Virgos have a tendency to be overly modest, unassuming and humble as well as self-critical. This is a tendency that could put a block on your prosperity, but as you begin to feel better about yourself and what you have to offer, your material circumstances will change for the better.
Order your personalized Astrology Reports
---
Libra: A soft and beautiful conjunction of Venus and the Sun in your sign will act as a soothing balm to the stressful energies that are building toward the lunar eclipse in your opposite sign. It is vitally important at this point to consider what is important to you and your well-being, and make these things a priority. It appears as though new beginnings are trying to make themselves known, so don't hold on if circumstances seem to be pushing you onward and upward. This may seem painful and stressful, but as soon as you begin to move in a different direction (one that feels more authentic and real to you), a new vision of life will begin to appear. Once that happens, you'll know you've made the right choices. It's time to break free and embrace a new chapter of life.
Order your personalized Astrology Reports
---
Scorpio: A lunar eclipse on Wednesday signifies a turning point in your work and health. Perhaps it's time to do things differently. With your work, it could be time to break from the past and your health would benefit from a new regime, but let's not forget the importance of rest. Saturn has been in your sign for over two years now, so the chances are that you could do with a rest or at least some relief. As a cluster of planets join forces in your zone of the soul, you would benefit from making time to tune into the spiritual realm, especially if you feel you could do with some guidance. Handing your problems and questions over to a higher power and waiting for the answers to come could help alleviate any sense of not knowing.
Order your personalized Astrology Reports
---
Sagittarius: The lunar eclipse in the zone of creativity and self-expression suggests that this is a week in which you may be feeling the need to break free from something oppressive in order to be more yourself. You may need to keep working toward manifesting opportunities so make sure that you're really serious about anything you wish to undertake. Generally, though, this eclipse is about your making a move to express more of who you are and liberating yourself from constraints in order to be more yourself.
Order your personalized Astrology Reports
---
Capricorn: This is likely to be an important and possibly life-changing week as the planets bring tension around the lunar eclipse on October 8. The challenges are likely to affect your home and domestic life and your profession or work. Take things one step at a time without worrying about how everything will unfold and without feeling guilty. Sometimes all you can do is ask yourself, "Can I get through this day?" The answer is invariably "yes."
Order your personalized Astrology Reports
---
Aquarius: The lunar eclipse on Wednesday is for you, all about the way you think and communicate. Now is a good time to examine your attitude or your approach to life to see where there's room for change. As Earl Nightingale said, "A great attitude does much more than turn on the lights in our worlds; it seems to magically connect us to all sorts of serendipitous opportunities that were somehow absent before the change." If you've been feeling a little blasé or lacking in gratitude and appreciation; if you have become jaded; or if you tell yourself you can't do something because you're not this, that, or the other, then now is the time to question and let go of limiting or negative attitudes and beliefs.
Order your personalized Astrology Reports
---
Pisces: The lunar eclipse is in Aries, your solar second house (earned income) on October 8. You can expect sudden and unexpected emotional issues related to money, so this is your cue to make changes in your financial or material world. The more you can break your old patterns and be open to new ways of doing things, the more successful you're likely to be. Joint finances, debts, loans, inheritances, payouts and wealth: any one of these could be a theme right now, and although Mercury retrograde suggests that you have financial matters that need sorting out, it generally will be a favorable situation.
Order your personalized Astrology Reports
---
For more information about your Horoscope and what the stars have in store for you, order one of our detailed