Aries, Taurus, Gemini, Cancer, Leo, Virgo, Libra,
Scorpio, Sagittarius, Capricorn, Aquarius, Pisces

Overview of this week
The Center for the New Age is pleased to present your Free Weekly Horoscope for April 20 — April 26, 2014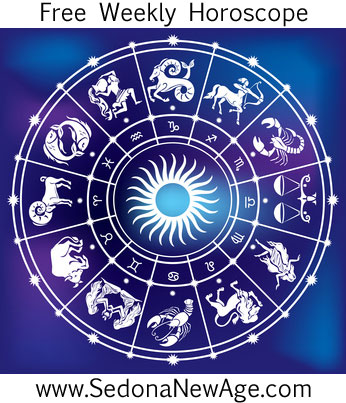 Aries, Taurus, Gemini, Cancer, Leo, Virgo, Libra,
Scorpio, Sagittarius, Capricorn, Aquarius, Pisces
The 12 signs of the zodiac are grouped or classified according to their energetic quality. The Cardinal grouping (Aries, Cancer, Libra & Capricorn), the leaders of the zodiac, are always forging ahead, initiating action and like to control and make things happen. On April 23/24, The Cardinal Grand Cross, a very rare astrological event where these four planets are at exact 90 degrees to one another, will have a major effect on each of the signs of the Zodiac.
Last Quarter Moon in Aquarius on April 22 brings humanitarian focuses to the scope of our experience. A kind word or sympathetic ear has great healing power and oftentimes promotes peace. This Moon beckons us to find solutions, however temporary, to human problems, and it connects us with the dichotomies and ironies of human experience. This is a time when the work of genius is ever present, but often goes undetected.
Mercury enters Taurus (April 23 – May 7) and communications will focus on manifesting sales and generating economic growth. It is a good time to clarify matters involving valuables and to focus on documents, contracts, speeches and business procedures. Mercury is the messenger, the speaker and the director of the subject matter at hand. Mercury is also classically known as The Merchant, The Trickster and The Thief. In the fixed earth sign of Taurus, Mercury inspires the inclination to buy, sell, trade and barter. Issues of ownership and undoubtedly, a "Steal of a Deal" will appear in the arena of barter. Resourceful thinking, advertising and information processing can lead to the extra buck. This is a time to accurately record practical matters and events, and to communicate about finances.
Mars in Libra is square Pluto in Capricorn (April 23 –May 5). Mars emphasizes all forms of action while Pluto represents the transformational powers of destiny. These two planets in the square position spell out the potential for trouble with regards to our actions. Actions against or conflicts with higher powers are likely to backfire. It is best not to bluff those of a higher or unanticipated authority at this time. The hurdle of taking action to create a transformation may be very dangerous. This may be a particularly difficult time to fight addiction, disease, and ware related stress –it is also the most crucial time not to give up the fight.
Venus trine Saturn (April 25 –May 5) brings the timely gift of responsive and enduring love. Paradoxically, it also allows for some peace in the closure of a love relationship. This is the aspect to enhance a love vow or oath with the timely application of loving energy, and is also a good aspect to better understand the importance of devotion and responsive caring. Love is a gift as well as a self-created responsibility. Remember when extending love, it is best not to have expectations concerning the need to receive it in return. This will come in due time while one is practicing the application of love's expression.
Aries, Taurus, Gemini, Cancer, Leo, Virgo, Libra,
Scorpio, Sagittarius, Capricorn, Aquarius, Pisces
For more information about your Horoscope and what the stars have in store for you, order one of our detailed


Astrology Reports!
Free Weekly Horoscope for your Sign
Aries: As the planets align to form a grand cross, you can expect a release from the tension that has been building recently. Perhaps you will feel a sense of liberation, achievement, or even celebration, but one way or another, your courage is about to pay off. There may be a change of direction or a shift within a relationship. Or perhaps your home and domestic life could reach a resolution. Any frustration, drama, tension and conflict is about to exit stage left, leaving you in a different space: one that feels clear, energized and ripe for new beginnings.
Order your personalized Astrology Reports
---
Taurus: As the grand cross highlights the areas of mind, body and soul in your chart, you might find yourself having a revelation that inspires you toward greater health and happiness. This is a great week to focus on your own healing, whether of body or mind, and if you are blessed with healing skills, this would be a good time to invite further developments. Part of healing is about having a loving and happy state of mind, so this is an opportune time to release all that is in opposition to that. A playful spirit with much love and laughter will point the way forward for you.
Order your personalized Astrology Reports
---
Gemini: As the planets form a pattern of high tension in the sky, the big question for you is, "What do you want to do and what do you want your future to be?" If you are really honest about these two questions, they will most probably lead you to make a change. This is almost certain to be a good thing, no matter what other people might say. It is vitally important now that you are able to dance to your own tune and live in a way that feels authentic to your heart, so if you need a bit more freedom, take it. If you need to do something that calls to you, do it. If you need to make changes so that you can have a better future, do it now. Once you are clear about what you want, there will be no stopping you as the fire of inspiration drives you forward.
Order your personalized Astrology Reports
---
Cancer: As the grand cross comes to a head, so too may certain issues in your life. This is the week when you can expect to see a resolution of a matter that has been causing tension in your life with your home, family, relationships, work and life direction as well as your own personal needs and desires all vying for attention. The good news is that it is now possible to begin to integrate all these different areas so that your life begins to feel more harmonious. The more conscious you can be of what's going on as well as what you need for your own well-being, the easier you will find this week.
Order your personalized Astrology Reports
---
Leo: As the grand cross reaches its peak, you are urged to speak your truth. Perhaps there's something you just can't repress anymore and you need to let it be known. If you need to be assertive and speak your mind, or you have a message that you need to get out into the world, or you simply want to express your thoughts, ideas and feelings, now is the time to begin. Put pen to paper or find a platform for your voice. Speak to whoever needs to hear what you have to say. Let your experiences take some form or shape that you can express to others. As the sun enters your zone of vocation, it's time to step forward and take your place in the spotlight. This is a good time to let yourself be seen and heard, and the feedback you get could be more than encouraging.
Order your personalized Astrology Reports
---
Virgo: The grand cross activates the financial, creative and social areas of your chart, so these could be themes in your life at present, and the potential for a change or breakthrough is good. This is a perfect opportunity to create a new vision of what your life could be, so this week create a vision board of your desires and take the corresponding actions. This would, for example, be a good week to change your job or some aspect of it, to generate more income and to go for what you want and feel you deserve in the financial and material sense. Perhaps you have been settling for less. Perhaps you have allowed others to take more than their fair share. If so, now is the time to consider your own needs –especially in terms of children, creativity, money, friends and your social life. By making these areas your focal points and taking dynamic action, you will be setting the scene for a more satisfying future.
Order your personalized Astrology Reports
---
Libra: As the grand cross activates the pivotal areas of your life –home and family, relationships and your vocation or professional life –expect to see a change or breakthrough in one or more of these areas. Mars at the head of the cross in your sign is your cue to take dynamic action. There is a touch of the warrior about you at present, and it's certainly true that you can be a mover and a shaker in your own life as well as in the lives of others. Just make sure that you are being a force for good rather than a disruptive agent of change that others may find unsettling.
Order your personalized Astrology Reports
---
Scorpio: The peak of the grand cross represents the culmination of all the previous months of tension that has been building across the world and in various people's lives. In your life, as you reach the limit of your endurance, you may find yourself wondering how you managed to cope as you have and to do all that you managed to do. Even a Scorpio has to draw the line somewhere, and this is the week when you are most likely to need to do this. Exhaustion is no laughing matter, and whether you're burning out due to overwork, lack of fun and rest, or too much strain on your nerves and emotions, it really is time now to take stock and make changes. Do you really need to be Wonder Woman or Superman? Will everything fall apart if you're not there to oversee everything? Chances are that life will carry on just fine without your constant input. People might grumble and groan initially, but in the long run, what matters most is your health and sanity. Take a break!
Order your personalized Astrology Reports
---
Sagittarius: The majority of people on the planet –religious or not –have been influenced by doctrines that instill a belief in suffering. This week, you have a choice. Will you choose the path of joy or the path of suffering? If you wish to choose the path of joy, aim to let go of the past and make changes that are in line with your heart as opposed to your head. You may find it helpful to ask, "How much do I need?" in terms of money and possessions, and "Am I being true to my deepest needs?" You may wish to consider whether you could be more creative or engaged in a life that feels more spacious, rich and colorful. If you can disembark from the roller coaster of life and spend some time asking yourself the important questions, you will find yourself liberated from the past and moving toward the path of joy.
Order your personalized Astrology Reports
---
Capricorn: As the grand cross reaches its peak, it is time for you to relinquish an aspect of your life that is no longer working for you. This could be an element of the past in the form of emotional baggage, or it could be an actual situation that has run its course. Either way, whatever comes to an end this week will enable you to begin a new journey. It's also important to remember that you have a choice whether you allow yourself to get caught up in the fray or you choose to create peace in your world by remaining present and mindful of your reactions to other people and situations if they generate tension. This is a good week to take a step back and view your life objectively, looking at where you can make constructive changes, where you might need to let go and what your aims and ambitions are for the future. Once you have integrated or harmonized the main areas of your life, you will free up a lot of energy to direct toward creating success in your life –whatever that means to you.
Order your personalized Astrology Reports
---
Aquarius: If you want to create something new in your life or if you want to head in a different direction or make changes that could be challenging to others and yourself, the one thing you need is courage. The grand cross is calling you toward change, and until you answer that call, there may well be tension. The planetary alignments signify for you a need to break free from old limitations, to let go of your baggage, and to generate greater freedom and independence so that you can be more your natural self. As a consequence, family dynamics may need to be altered to accommodate your needs. Or the way in which you work may need to change; perhaps it's time to take on a bigger role or do something different. Whatever it is that's calling to you now, honor it and leave the past behind.
Order your personalized Astrology Reports
---
Pisces: Little can be gained by rushing or wishing you could speed things up a bit. The grand cross may be generating a sense of urgency, but the grand trine emanating from your own sign offers a more serene and ultimately more successful approach. Matters involving money, friends, or the dubious motives of others may be coming forth now, as may matters concerned with your creative endeavors or children. Patience appears to be the antidote, and the more you can stand back and allow things to unfold in their own time, the more likely you are to make the most of a possibility that is quietly developing in the background.
Order your personalized Astrology Reports
---
For more information about your Horoscope and what the stars have in store for you, order one of our detailed