Aries, Taurus, Gemini, Cancer, Leo, Virgo, Libra,
Scorpio, Sagittarius, Capricorn, Aquarius, Pisces

Overview of this week
The Center for the New Age is
pleased to present
your Free Weekly Horoscope
for April 7, 2013 — April 13, 2013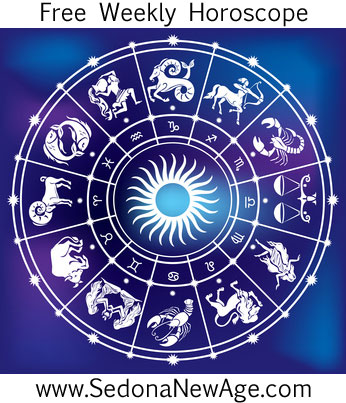 Aries, Taurus, Gemini, Cancer, Leo, Virgo, Libra,
Scorpio, Sagittarius, Capricorn, Aquarius, Pisces
The New Moon in Aries on April 10 is a good time to start anew, not only because the Moon has reached the new mark and our moods are geared in this way, but especially so because the Aries Moon invokes the powers of initiation and newness as an essential part of the regenerative force. This is a time to generate and promote inspiration and happiness. Aries is the sign of the warrior. The fight to sustain love on planet Earth calls for many courageous battles, and now is an excellent time to actively initiate new projects and endeavors that will help serve one's sense of well being.
Pluto goes retrograde on Friday and when it resumes a forward moving course on September 20, it will have traveled only a few degrees in the sky which is average for a Pluto retrograde period. This means the types of hardships that have been created and brought to our attention in the five months of the retrograde period must be addressed all over again and we must acknowledge the evolution of humankind's current condition in order to survive the changes that are occurring on Earth. This is a time to make life better by consciously transforming fear into determination and despair into belief in oneself, no matter what condition of fate surrounds you. The destructive habits, prejudices, sufferings and haunts of previous generations must be acknowledged and addressed and of course, altered to enable us to tackle the world of the future. Pluto retrograde forces us to look within. This is a good time to confirm our greatest strengths by directing abusive patterns into constructive and useful disciplines and ways of thinking that will reshape and bring hope to the emerging outlook on life. It is through the retrograde process that Pluto in Capricorn will shape and cause us to reexamine our view and perspectives on the large scale changes occurring on our planet.
Mercury enters Aries on Saturday bringing a focus of communication on selfhood, initiation, new projects and new ways of seeing and experiencing life. We are all perpetually in the process of being initiated into some aspect of selfhood, particularly given that we are constantly learning, acquiring new skills, growing and aging. Mercury in Aries brings some lively heat to our communications and discussions. Mercury is the messenger, activating information, and Aries is the warrior and the force of nature that takes on life with fearless vigor and aggression. Now through April 28, while Mercury is in Aries, talk, news and discussions will be actively focused on the challenging and demanding enterprises and battles that await us as well as the war activities of the world since Aries is ruled by the god of war, Mars.
Aries, Taurus, Gemini, Cancer, Leo, Virgo, Libra,
Scorpio, Sagittarius, Capricorn, Aquarius, Pisces
For more information about your Horoscope and what the stars have in store for you, order one of our detailed


Astrology Reports!
Free Weekly Horoscope for your Sign
Aries: The New Moon in your sign is an invitation to turn over a new leaf or begin a new chapter of life so if your circumstances have been less than rosy in recent times, you can now start to create a more colorful and vibrant existence. Spend some time around April 10 considering what you would like to manifest in your life. Then, remembering that you are a creator, believe in your power to create the life you want. For some Aries, this will mean taking steps toward healing so that you can enjoy full health and well-being. For others, it may mean breaking out of a rut and creating more interest in life. Whatever changes you wish to see in your life, the planets are helping by blessing you with energy, motivation, enthusiasm, courage, charm, good fortune and innovation. Really, when you think about it, there's very little you can't do.

Order your personalized Astrology Reports
---
Taurus: What needs healing? It could be a situation, a physical disorder, an emotional wound, or a psychological issue. The New Moon on April 10 is your perfect opportunity to heal something –quite possibly something that runs deep or goes back a long time. If you're not sure what it is or if you aren't sure how to deal with it, then trust your inner voice that is strong now, or ask whichever spiritual deity you relate to. Your unconscious is undergoing a bit of a shake-up which means that long buried debris is now rising to the surface of your awareness. Your dreams are therefore likely to be more vivid or more significant so now would be an ideal time to start a dream journal or at least spend some time each morning contemplating whatever stories, events and messages appeared to you during the night. People or events from the past could reappear and perhaps this is a sign that you haven't fully dealt with whatever these people or situations represent. The current time is ideal for clearing out your unconscious and for healing long-buried wounds, so the more you can heal and clear now, the healthier and happier you will be in the time to come.
Order your personalized Astrology Reports
---
Gemini: A glorious New Moon on April 10 is good news for your future and with Jupiter in your sign, this is a combination that speaks of new beginnings and positive opportunities. If for any reason you feel unable to grasp those opportunities –if, for example, you feel stuck –then there may be a past life issue at work that could be holding you back. Sometimes we don't need to know what the root cause of a problem is. Sometimes it's enough to just want to change and then ask the universe for assistance. With the current planetary lineup, assistance will certainly be forthcoming so long as you ask and are willing to put in the necessary energy to move yourself forward –one step at a time.
Order your personalized Astrology Reports
---
Cancer: Do you feel like the master of your own destiny? Are you steering your own ship toward the destination of your choice, or are you allowing yourself to be carried in whichever direction? If you feel like you could have a stronger influence on your own destiny, then this week's New Moon is a very helpful occurrence. Now is the time when you can make a fresh start, turn over a new leaf, and head off in a new direction. The planets are also generating opportunities for success, so whichever way you look at it, now is the time to make progress and pursue your goals. Cancer is secretively quite an ambitious sign, so there's no need to hold yourself back or feel guilty about the desires you have for your life.
Order your personalized Astrology Reports
---
Leo: The adventure theme continues as a New Moon on April 10 speaks of optimistic new beginnings. Now is the time to reach for the stars and believe in your potential. It may be, though, that you feel a little daunted at what you're taking on, and you may wonder how you're going to get to the end results. Remind yourself that when great sportsmen step out into the arena they don't think any further ahead than the next point. Whatever you're in the process of doing (or thinking about doing), try to stay in the present and take it one step at a time. Just do what you need to do today and apply the same philosophy tomorrow. And then, miraculously, you will reach a point in the future when you have achieved what you set out to do.
Order your personalized Astrology Reports
---
Virgo: It is easy to blame others for our pain and upset. Often it's not that we don't want to be responsible for our actions and reactions but simply a case that we're not aware of what motivates the other person. If we could only understand why they act the way they do, we would be a lot more understanding. This week, with a New Moon and a cluster of planets in your zone of psychology and intimacy, you will have an opportunity to understand what motivates a particular person. And when you do, the conflict will disappear and be replaced by forgiveness, tolerance and love.
Order your personalized Astrology Reports
---
Libra: This week's New Moon offers you the chance to turn over a new leaf and begin afresh with an important relationship. This has the potential to be exciting and liberating, but first you may need to offer the hand of compromise if there is conflict surrounding this issue. Remember to employ your Libran skill of being able to see things from the other person's point of view, and in so doing, you will quickly smooth any ruffled feathers. It is highly likely that someone doesn't share your opinion, so you will need all your charm and persuasion to talk them around. Keep offering love, and be the one who picks up the phone or the one who says, "I love you." No one can remain angry or upset for long in the presence of unconditional love, so keep your heart open and your words loving, and there is every chance that there will be a miraculous shift occurring this week.
Order your personalized Astrology Reports
---
Scorpio: We all know how good it feels to be very productive, and we know how uncomfortable it feels when we keep putting something off that needs to be done. The New Moon on April 10 suggests this is a great time for sorting your life out, whether it's the small things like the cupboard that needs attention or last year's accounts that need tending to, or the bigger things such as the need to overhaul your health or change your job. It's time to make one or two decisions and follow them up with action. You will feel so much better for it to say nothing of the improvement to your well-being.
Order your personalized Astrology Reports
---
Sagittarius: The New Moon in your house of fun is a wonderful opportunity to invite more of what you love into your life. It's easy to get bogged down in duties and responsibilities or to allow our positive attitude to become soured by life's events, be we always have a choice as to how we look at things. As a Sagittarian, your natural tendency is to see life's glass as half full (rather than half empty), but sometimes even you can forget to notice the joy and wonder in the world. Listen to Louis Armstrong's "It's a Wonderful World" to remind yourself what's great about life, and as you begin to notice the wonder of life, you will feel more inspired to make positive changes, whether it's devoting time to a creative project, taking up a new hobby or inviting more romance into your life.
Order your personalized Astrology Reports
---
Capricorn: Positive developments are on the horizon, so don't despair if you're beginning to wonder if the Sun will ever come back out again. The New Moon on April 10 is your big opportunity for a fresh start, especially with regard to a family or domestic matter. It's as if an illusion is dissolving and you're waking up to the truth of the matter. The truth isn't always pleasant, but it is always the healthiest option. Now is the time to put the past behind you, to move forward amid the changes, and to reach out to others rather than withdrawing in a state of defensiveness. Despite your doubts, the changes that are occurring now could be exciting and refreshing if you choose to see them that way.
Order your personalized Astrology Reports
---
Aquarius: Last week we touched on the issue of money and material things and how your happiness shouldn't be attached to how much you've got. This week follows on from that theme, reminding you that people, not wealth, status and possessions make us happy. Of course, you already know this –most people do in their hearts –yet most of us sometimes get swept away by the Western world's obsession with the material to the extent that we feel we have to work and earn more than we actually do. If you don't see your friends or family as much as you'd like, or if you don't have enough time to do the things you love, then it may be time for a rethink. You have the potential to make inspiring changes now, but first you may need to change your mind.
Order your personalized Astrology Reports
---
Pisces: "Make hay while the sun shines" is your motto for this week as the New Moon in your money zone brings a welcome boost to your finances. It may, however, be time for a change, so sticking with what you know is probably not the best course of action especially if it's not been working too well. This is a good opportunity to change your beliefs about money or a material situation, and as you look at it differently, new possibilities will begin to manifest. Don't fence yourself in, but ask yourself how a different person might respond to your situation. You have the energy, motivation and determination to make some remarkable changes and to go for what you want, so now is the time to claim your rewards.
Order your personalized Astrology Reports
---
For more information about your Horoscope and what the stars have in store for you, order one of our detailed