Aries, Taurus, Gemini, Cancer, Leo, Virgo, Libra,
Scorpio, Sagittarius, Capricorn, Aquarius, Pisces

Overview of this week
The Center for the New Age is pleased to present your Free Weekly Horoscope for August 3 — August 9, 2014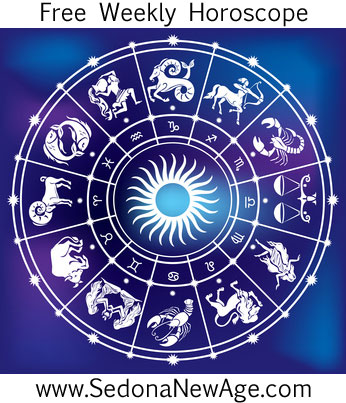 Aries, Taurus, Gemini, Cancer, Leo, Virgo, Libra,
Scorpio, Sagittarius, Capricorn, Aquarius, Pisces
Mercury in Leo is square Mars in Scorpio (August 3 –August 9). Under the influence of this aspect, this is not a good time to lose one's temper. This is a good time to be especially careful to watch what you say, preferably before you speak, as words can be easily taken the wrong way. This requires thinking before acting because this aspect arouses arguments and mental blocks concerning the actions of others. Mercury square Mars makes it difficult for some to justify their actions or explain why they take a certain stand in life. Communications may become easily blocked or misunderstood if one is too caught up in the action of what is going on. This is a good time to hold off on making risky comments, particularly around associates, customers and strangers.
Mars in Scorpio is trine Neptune in Pisces (August 7- August 21). Actions taken to create passion and desire with regard to the renewing of faith and spiritual comfort will be well received. This will be an active time of obtaining spiritual gifts and helpful guidelines from the spirit world. Mars guarantees activities will occur, and with Neptune in the trine position, these activities will be favorably stirred up with spiritual and psychic awareness. Mars trine Neptune is an ideal time to initiate creative and imaginative spiritual practices; it's a good time to empower the personal outlook and spiritual well being.
Mercury in Leo square Saturn in Scorpio (August 8 –August 14) creates tension in communications. Under the influence of this aspect, the battle to maintain accurate or precise information may be strongly evident. There may also be a tendency for "foot-in-mouth disease" as people may say the wrong things at the wrong time. It is wise to use caution when attempting communications during Mercury square Saturn, especially concerning matters of time and timing.
Mercury in Leo is trine Uranus in Aries from August 8 until the first week in September. Mercury, emphasizing the transmission of news and information, is in the favorable trine position to Uranus, representing disruption and chaos. Talk will be generated about radical changes that occur among friends and family. Catch phrases or radical concept statements and ideas are often born under this aspect, and are more easily absorbed. Mercury trine Uranus also allows for brilliant concepts to shine through and be worded in a way that makes sense. This is a good time to record thoughts and appreciate brilliant thinking.
Aries, Taurus, Gemini, Cancer, Leo, Virgo, Libra,
Scorpio, Sagittarius, Capricorn, Aquarius, Pisces
For more information about your Horoscope and what the stars have in store for you, order one of our detailed


Astrology Reports!
Free Weekly Horoscope for your Sign
Aries: This week Jupiter and Mercury are cavorting through you house of fun which is all the permission you need to put down the tools and head for the beach or do whatever it is that tickles your fancy. Work can wait because right now the universe wants you to have fun and to express your creative talents. This expression of creativity has a double purpose in that not only is it enjoyable to do what you love, but it's healthy too. In fact, the more you can use creative expression to heal your inner wounds, the sooner you will find yourself moving to a new level of well-being.
Order your personalized Astrology Reports
---
Taurus: As a very supportive and positive group of planets align at the base of your chart, you are effectively being supported or given a foundation on which to grow and create. Although the general interpretation for such a placement would be positive developments within your home and family, the deeper influence is one that is quite profound in that something quite wonderful is growing within you. Nurture this inner growth as much as you can so that it can begin to take shape in the outside world when the time is right. In the meantime, you may feel drawn to make changes in your living space to reflect the changes that are happening within.
Order your personalized Astrology Reports
---
Gemini: You ruler, Mercury, spends the week nicely sandwiched between the Sun and Jupiter. You can therefore expect a certain level of protection and abundance no matter what challenges you happen to face. In fact, little harm can come under such an auspicious configuration, and if you really want to make the most of your good fortune, you could embark on something that requires a little courage or an element of risk, for you're almost certain to land on your feet and emerge victorious. At the very least, don't ignore any ideas or impulses because the more you can put out into the world right now, the more successful you're likely to be.
Order your personalized Astrology Reports
---
Cancer: Good fortune smiles on your financial and material situation this week and for most of the month, so you should find that this area of life soon brings you reason to smile as well. You can help boost your fortunes, though, by making hay while the Sun shines. A little bit of effort fused with a smidgeon of creativity could work wonders in bringing about a change in your material world. Your work, your income and your ability to make more of your talents are all areas for you to focus on now, and a positive, expectant attitude will be the magic ingredient needed to manifest some quite spectacular results.
Order your personalized Astrology Reports
---
Leo: As the Sun, Mercury and Jupiter align in your sign, you can rest assured that the dark days are behind you. This is a combination that speaks of new beginnings, new ideas and an optimistic spirit. You can expect opportunities for fun, new projects, growth and adventure. Although this sounds uplifting –and it is –there is a serious side to it. As the week progresses, it may become apparent that there is a journey or a process that you need to undertake. This is something that only you can do, so for a while, you might feel a little lonely, confused or misunderstood. What's happening is that you're embarking on a journey to get to know yourself better. Whether you engage in therapy or decide to take time out of your normal routine, whether you take yourself off on an adventure or go back to school, or whether you decide to follow a long held dream or go for a promotion at work, this is something that you need to do for yourself. Once you're comfortable with this, you will find that life begins to get much easier.
Order your personalized Astrology Reports
---
Virgo: As the Sun journeys through the last zone of your chart, it is time to acknowledge that something is ending. It could simply be that as the Sun completes its journey, you are inwardly preparing for a new cycle of growth, and as such, you need to give yourself time to reflect and rest in preparation for the new. With Jupiter and Mercury alongside the sun in your zone of endings, it may be that something more obvious is drawing to a close. If so, you probably need to give yourself time and space to deal with whatever it is that you are letting go of. Either way, you're heading for a rebirth and rebirths take time and energy, so go easy on yourself, and allow things to unfold in their own good time.
Order your personalized Astrology Reports
---
Libra: It's not about working harder or chasing a promotion, but more about loving what you do so that good results naturally follow. As Swami Sivananda says, "Put your heart, mind, intellect, and soul even into your smallest acts. This is the secret of success." You are also blessed by a glorious alignment of planets in your hopes and wishes zone, making this the week to follow your dream. Good fortune is likely to accompany you on your mission, and by being alert to synchronicity and allowing your intuition to guide you, you will find yourself in the right place at the right time.
Order your personalized Astrology Reports
---
Scorpio: There should be no need to try too hard to push or force your way forward this week. Indeed, a more relaxed and positive approach to your goals will work much better than trying to get ahead. In fact, the more relaxed you are, the more likely you are to notice the lucky breaks, to see opportunities and to find yourself in the right place talking to the person who can help you. Your personal life and the goals you have for yourself are a different matter altogether, and while doors to your future may magically open, you may find that your quest to understand yourself or make personal improvements requires more effort and concentration. Saturn and Mars in your sign say that it's time to turn the focus on yourself for your own healing, development or awareness. As you tend to your own needs the rest will take care of itself.
Order your personalized Astrology Reports
---
Sagittarius: it's time to push out of your comfort zone and broaden your horizons as a glorious combination of planets align in your zone of adventure. There is a strong spiritual dynamic to proceedings at present so you might journey to an ashram, go on a retreat, have a weekend of meditation or yoga, or take yourself on a psychic development course. No matter what you choose, this is very much the time to connect with the divine and your higher self. Much joy and discovery is likely to emerge if you turn your attention to higher matters.
Order your personalized Astrology Reports
---
Capricorn: Not all transformation has to be painful; sometimes it can be the result of a joyful event or a moment of spiritual awakening. As a wonderful combination of planets aligns in your zone of rebirth this week, you can look forward to a transformative change that occurs with a sense of positivity. Part of the change might involve looking at how much you've taken on and whether or not it's time to lighten your load.
Order your personalized Astrology Reports
---
Aquarius: It's time to have fun, especially with your partner if you have one, or someone whose company you love if you haven't. A wonderful alignment of Jupiter, the Sun and Mercury in your relationship zone brings opportunities to enjoy life through other people, so this is most definitely not a week to keep to yourself. Seeking connection to others and discovering common bonds should be your goal now. As you focus your loving attention toward others, relationships can be taken to a new level while new unions that could be very beneficial for you have every chance of occurring now.
Order your personalized Astrology Reports
---
Pisces: This is a week when it should feel like a joy and an inspiration to be able to do good work for others. The more you can seek to grow and learn from what you are doing, the more enjoyable you will find things. You may be brimming with ideas, energy and enthusiasm for new work or how to improve a current project, and your health may also benefit from this positive combination of planets. If there is room for improvement with your health, the planets will support you in seeking out methods, therapies, dietary changes and lifestyles that will help your health to blossom. You may need to make an effort toward moderation, though, since the Sun and Jupiter aren't known for their restraint. Still, their positive, upbeat influence can work wonders if you follow suit and focus on a positive attitude, making laughter your best medicine.
Order your personalized Astrology Reports
---
For more information about your Horoscope and what the stars have in store for you, order one of our detailed