Aries, Taurus, Gemini, Cancer, Leo, Virgo, Libra,
Scorpio, Sagittarius, Capricorn, Aquarius, Pisces

Overview of this week
The Center for the New Age is
pleased to present
your Free Weekly Horoscope
for August 11, 2013 — August 17, 2013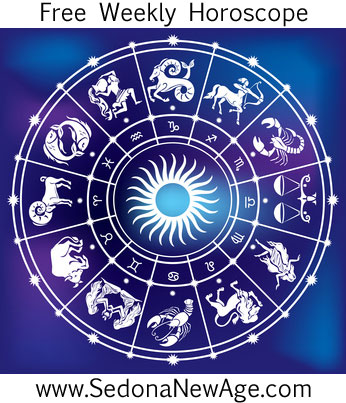 Aries, Taurus, Gemini, Cancer, Leo, Virgo, Libra,
Scorpio, Sagittarius, Capricorn, Aquarius, Pisces
Mercury in Leo is square Saturn in Scorpio (August 11 –August 17). This aspect affects communications and information in a way that is timely and often difficult to take or to get around. Mercury governs communications and the square aspect presents an obstacle making it difficult for information to penetrate very easily. Instead, information is likely to be stifled by obstacles getting in the way of deadlines particularly given that Mercury is squaring to Saturn, which represents time and the discipline that it takes to reach a goal or common response necessary to accomplish a desired effect. Whatever the desired effect may be, it is wise to use caution when attempting communications during Mercury square Saturn especially concerning matters of time and timing. This aspect makes it difficult to put a message out there and be taken seriously. People may become very tongue tied and feel quite off track. Although most of us do it all the time, it is best not to offer one's opinion or advice so freely, unless it is requested. Even then one might consider giving this matter some more time…like until this aspect passes!
The First Quarter Moon in Scorpio on August 14 arouses our moods in deep and impassioned ways. Intense exchanges between people leave strong impressions. Throughout the day, this waxing Quarter Moon of Scorpio continues to bring our moods to a strange and intense level of existence. Don't go looking for trouble or you'll surely find it. The waxing Scorpio Moon often brings out strong sexual appetites and desires. This is a good time to get in touch with one's creative and imaginative side.
Venus enters Libra August 16. Through October 10, the course of magnetism, affection and feminine perception begins to focus our family and love relationships towards the goal of creating a more harmonized and balanced state of being. Venus is at home in Libra and emphasizes the love of friends and loved ones and particularly, a love and desire for balance wherever possible. Through dealing, compromising and attempting more sensitivity to others, living with and showing affection to those with whom we have chosen to be becomes the focus of this time.
Aries, Taurus, Gemini, Cancer, Leo, Virgo, Libra,
Scorpio, Sagittarius, Capricorn, Aquarius, Pisces
For more information about your Horoscope and what the stars have in store for you, order one of our detailed


Astrology Reports!
Free Weekly Horoscope for your Sign
Aries: As the Sun journeys through your zone of recreation, you have permission from the cosmos to spend as much time enjoying yourself as you see fit. This is a week to act spontaneously and follow your heart so if you don't feel like doing something –and you don't have to do it –go do something more inspiring instead. The word "recreation" means to re-create ourselves so that we can return to our daily lives with a new vision, inspiration and more joy in our hearts. Don't overlook the value of recreation this week.
Order your personalized Astrology Reports
---
Taurus: Guilt is a paralyzing emotion and we all suffer from it from time to time. It keeps us suffering and stuck. Since guilt seeks punishment, it stops us from enjoying our lives, invites pain, and sucks all the creativity, inspiration, and vibrancy out of our world. Whether it is something that happened yesterday or years ago, if you're currently berating yourself for something you could have done better, you are keeping happiness from your door. Stop and forgive yourself for any mistakes, knowing you'll do better next time. It's time now to create a new vision of your life so instead of focusing on what isn't so good and the things you got wrong, begin today to create in your mind's eye the sort of life that is completely fulfilling. Jot down ideas and notes. Collect some images that resonate with your desires and write down an action plan of whatever steps you can take now to bring your desires to fruition. Remember that you are the architect of your life and this is as good a time as any to start building that creation.
Order your personalized Astrology Reports
---
Gemini: Have you noticed that the more we struggle to get something we want, the more likely we are to either not get what we want or burn ourselves out trying? And have you noticed that when we're going with the flow and not trying too hard, things appear as if by magic? Jupiter is currently making it easy to get what you want – a better job, more prosperity, or harmony in your personal life –so remind yourself this week that there's absolutely no need to push and struggle. The more positive, flowing and relaxed you can be, the quicker and easier your desires will materialize.
Order your personalized Astrology Reports
---
Cancer: If you want to change your life, you first have to let go of the past. For a Cancerian, this is a major challenge since you identify so much with the past and have a natural tendency to hold on and brood about what's happened. However, a new life is waiting for you but in order to embrace that, you must first let go of whatever tatters of your old life you're still clinging to. Think of one thing you can do that shows you are willing to move on. It could be removing some photographs or possessions that have no part to play in your future. It could be offering forgiveness to someone who has hurt you in the past. It could involve clearing out your old clothes so that you can step into a new expression of yourself. Or it could be that you need to clear some clutter from your home to bring in some fresh new energies. Identify what it is that you need to do, and make this the week you take a step toward your bright, new beginnings.
Order your personalized Astrology Reports
---
Leo: When we look back over our lives, we can usually see chapters or phrases that now seem almost like different lifetimes. You're approaching the end of one of these life chapters, so if things feel a little strange right now, it's probably because you stand on the verge of a new life. The bridge between one life chapter and the next is often disorientating, so treat yourself gently and remind yourself that feeling confused or unsettled is normal. The Sun in your sign is giving you permission to shine the spotlight on yourself and your needs, so you're perfectly entitled to spend some time thinking about what is important to you right now. Your first duty is to yourself this week, and if you can't be there for yourself, you're unlikely to be of much use to anyone else. The good news is you're in a phase of completion, so by clearing the decks and putting the last piece of the puzzle into place, you will soon be ready to embark on a new phase of life or go up to the next level in whatever is most important to you now.
Order your personalized Astrology Reports
---
Virgo: If a caterpillar never made it to being a butterfly, would we say it had failed in its purpose? Perhaps if we were being kind, we'd say that it hadn't failed but simply missed out on an amazing life experience. What about you? Are there life experiences you've avoided or rejected out of fear or laziness? Is there currently an opportunity that will enable you to grow and change but that will take a lot of effort, courage or bravery? Be careful this week that you don't turn away from something that could turn out to be an amazing life experience.
Order your personalized Astrology Reports
---
Libra: Libra is very much a social sign and the current climate is encouraging you to socialize, make connections, network and generally put yourself about a bit. If this isn't happening or it's not bringing the results you want, then it would be prudent to try to determine why. Could you be holding yourself back? If so why? Are you afraid that if you fully participate in this game of life that you might get what you want and that might bring problems of a different kind? For example, some people block their own success through fear of failure or rejection, so they don't try. Fear of success can also hold them back because they have an unconscious fear that it will take them away from their family or that they will become overworked or too much in demand. Some people may hold back because they feel deep down that they don't deserve to be successful – have a successful life whatever that means to you. If you feel that you could be doing more in terms of creating happiness, fulfillment and success, this week will bring opportunities for quiet reflection which will help you to realize that it's now or never.
Order your personalized Astrology Reports
---
Scorpio: There are times in life when we feel daunted. Perhaps we've taken on a project or some other commitment that feels almost too big for us to handle. We wonder how we'll ever get from A to Z. It doesn't matter what you are doing, the first step is always the hardest. Then there are those times when something big is thrust on us and we wonder how we'll get through. Whether you're currently facing a mighty mountain or a reasonable size hill, all you need to do is keep putting one foot in front of the other and try not to keep checking to see how far you still have to climb. Then one day you'll suddenly look up and see that the end is in sight.
Order your personalized Astrology Reports
---
Sagittarius: With the Sun in your zone of travel, adventure and expansion, this is a great time to be seeking out new experiences and leaving the familiar behind –for a short time at lest. Stretch your mind with new thoughts, ideas and philosophies. Take yourself to somewhere you've never been before, even if it's just for an afternoon or an evening. Consider how you can create something new, something different. The planetary lineup is currently asking you to break the mold and do something different, especially where your work, money and creative ventures are concerned.
Order your personalized Astrology Reports
---
Capricorn: Where or what, exactly, is home for you? Sometimes we may not feel at home where we are living. Conversely, some people can feel at home wherever they go. This week's issue of home extends further than your four walls; it's about finding your place in the world –the place where you belong and the people you resonate with. Perhaps at its deepest, the question you need to ask yourself is, "What would it take to feel at home within myself?"
Order your personalized Astrology Reports
---
Aquarius: If there is stress or conflict in your life right now, it could be due to the fact that you want more than you're currently experiencing. Jupiter's square to Uranus indicates an inner need to grow, develop, create and push out of what is known and familiar. You may therefore find yourself wanting to change a situation but not knowing how or wanting to expand your role at work to experience new challenges. It could be that you want to make more of the hours you have in the day, yet there's a strong chance you're currently feeling that there aren't enough hours in the day to do all you need and want to do. The first step is to change the way you're viewing a problem. Try to think outside the box. Look at things from a different angle and then see what you can let go of in order to make way for the new.
Order your personalized Astrology Reports
---
Pisces: With the current focus on work and your daily responsibilities, it could be all too easy to forget about the need for fun and play. If you find yourself taking situations too seriously, feeling unable to take time out to enjoy yourself, making criticisms or judgments about others and generally being a stick in the mud, then you know it's time to give your inner child a break. Set yourself free from the self-imposed limitations and let you hair down a bit. Get creative and paint, dance, sing, write and make time to explore your childlike self. Then you might just return to your work with a renewed inspiration and spring in your step.
Order your personalized Astrology Reports
---
For more information about your Horoscope and what the stars have in store for you, order one of our detailed