Aries, Taurus, Gemini, Cancer, Leo, Virgo, Libra,
Scorpio, Sagittarius, Capricorn, Aquarius, Pisces

Overview of this week
The Center for the New Age is
pleased to present
your Free Weekly Horoscope
for December 1, 2013 — December 7, 2013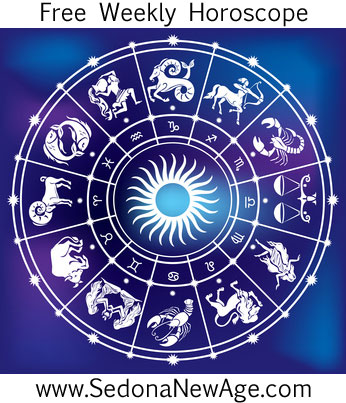 Aries, Taurus, Gemini, Cancer, Leo, Virgo, Libra,
Scorpio, Sagittarius, Capricorn, Aquarius, Pisces
On December 3, the New Moon in Sagittarius inspires us to look at life in a whole new way. An optimistic outlook is strong with this New Moon. It encourages us to start new exercise programs, look into new philosophies and to explore new territory in our lives. Sagittarius says, "I see," so vision and insight are the primary incentives to exploring new ground. Tuesday is a good day to look ahead optimistically and to get in touch with an up-beat vision for the new season ahead.
On Wednesday, Mercury, the planet of communication, information and news begins traveling through the sign of Sagittarius (December 4 –December 24). New perspectives are bound to come up. News is always more philosophical and visionary when Mercury is in this sign. Word travels fast and further than expected. Sagittarius is the challenging "detrimental" place for Mercury, and this is a time when Mercury's greatest weapons –words –are best communicated with carefully considered diplomacy. People will be increasingly curious to know what is happening in the world and more aware of global perspectives. Mercury in Sagittarius offers an opportunity to share your vision of a better world with others. It also brings adventure to the world of communications.
December 6 Mercury in Sagittarius squares Neptune in Pisces for the next three weeks. Philosophical types of thought will be generated, particularly with respect to issues that concern divine experience and the need for expansion in this area; relaying this information may seem all the more difficult with this aspect. Anticipate religion related arguments and disputes. It will probably be more beneficial to avoid complex religious subjects with people who do not respond to your viewpoint, at least until after the square aspect passes.
December 7 Mars enters Libra where it will remain until July 26, 2014. The length of time is due to a retrograde between March 1 and May 20. Mars in Libra tests harmony in relationships and heats up domestic disputes and legal battles. Mars in Libra is often considered a detrimental position for the planet as it places war in the house of peace. Libra folks will have an abundance of hot energy during this time and will be quick to pursue matters to the full extent of the law possibly disrupting their own personal sense of harmony. Beware, Libra people. With Mars in your sign you may also be susceptible to fevers, accidents or temper tantrums. Remember that Mars represents activity; don't waste this energy with indecision –use it to activate your quest for peace. When discord seems evident, try to defuse and creatively redirect anger before irrational actions become a source of regret. Look for signs of relationship trouble, anticipate trouble before it happens and actively divert potential problems. It may be best, though difficult, to carefully observe and withhold judgments about relationships while Mars is in Libra.
Aries, Taurus, Gemini, Cancer, Leo, Virgo, Libra,
Scorpio, Sagittarius, Capricorn, Aquarius, Pisces
For more information about your Horoscope and what the stars have in store for you, order one of our detailed


Astrology Reports!
Free Weekly Horoscope for your Sign
Aries: The New Moon on December 3 should be a welcome boost to your spirits, especially if life has seemed a bit hard going recently. An increasing sense of optimism will incline you to stretch your wings a little and experience new places and people. This doesn't have to mean packing your suitcase, although if you're lucky enough to be heading off somewhere, then that's great. A short city break or a day out could be the tonic you need. Heading off to a new art gallery or restaurant could also add a little spice to your days. The message is to mix things up a bit, to try something new or different. Break out of your usual confines, which include your ingrained habits and try experimenting with new and different persuasions to make your life more enjoyable.
Order your personalized Astrology Reports
---
Taurus: When the mind is split, when the personality is in conflict, and when there is a lack of coherence within the self, the result of course is uncertainty –uncertainty in our choices, actions and ability to know whether we're doing the right thing. If you currently have a dilemma, if you're not sure whether you should go this way or that, or if life seems to be giving you results that aren't to your liking, then the New Moon on December 3 brings the chance to transform the root cause. Now is the time to heal an emotional wound, to let go of some pain that you've been carrying and to resolve your inner conflicts. Sometimes all you need to do is ask for higher guidance. Some find the power of prayer to be miraculous. Perhaps all you need to do is surrender, and as you give up your problem to a higher power, it will be taken from you and healed.
Order your personalized Astrology Reports
---
Gemini: Are you making the most of your creativity? Creation means bringing something into being that wasn't there before. You can be just as creative running a business as you can designing a garden, because creativity is essentially about manifesting your ideas. As Mars edges ever closer to your creative zone, stop drowning your heart's desires. If you feel dissatisfied in any area of life, maybe it's because you need to take charge and create a vision of what you do actually want. If you have a secret desire to start your own business, take photos, paint pictures, write a memoir, start a group, decorate your house or anything else, Mars is here to give you a helping hand. What are you waiting for?
Order your personalized Astrology Reports
---
Cancer: The New Moon on December 3 is good news, and not just for your work in terms of new beginnings and success, but also for your health and well-being, bringing opportunities to start afresh. It may also be useful at this point to consider whether you are answering your soul's call for growth. If you aren't, could this be affecting your physical health? Sometimes we can only deny parts of ourselves for so long before our bodies start to reflect our inner grumbles. Take a few moments to contemplate your life and what you would really love to do. Then when you have your answers, start with small steps, remembering that Rome wasn't built in a day. The question is, what small thing can you do today that honors your need?
Order your personalized Astrology Reports
---
Leo: It's easy to forget in our busy lives the importance of fun, so this week as the New Moon falls in your zone of lighthearted activities, it's time to invite some laughter into your world. Take every opportunity to enjoy yourself. It might be productive to make a list of twenty things you enjoy –or used to enjoy but have forgotten –and put tick marks next to the things you do on a regular basis. If there are lots of things on your list that you rarely engage in, then see if you can start integrating those activities into your life a bit more. This New Moon is also good for expressing yourself creatively, and again, this is the prime time to take up a creative activity or to start singing around the house and dancing when no one's looking! It's time to let your hair down and remember what it feels like to have that creative, joyful life-force running through your veins.
Order your personalized Astrology Reports
---
Virgo: This week's New Moon brings with it the opportunity to move forward or start afresh with family, home and domestic matters so if something has been dragging on, this is the week when you get to see a change. You could also experience a sense of liberation as a door opens in the right direction. This is a good week to concentrate on all matters relating to your home and family, whether you're bringing fresh new energies into your home or experiencing a positive change with a family member. Mars is still in your sign, which effectively gives you permission to move things in the direction you want them to go in, so expect a green light from the universe this week.
Order your personalized Astrology Reports
---
Libra: Just as it is never healthy to suppress how you feel, it's also not healthy to suppress who you are. Many of us do hold back parts of ourselves in order to keep others happy or to toe the line and not upset the apple cart. Often these restrained parts are aspects of our persona that may be deemed less than desirable, or quite often they are actually creative and expressive. As Mars edges ever closer to your sign where he will begin an extra long stay, you will find it increasingly difficult to keep the lid on something. Use the New Moon on December 3 to begin the process of articulating how you feel, to express yourself, and to make known what you want. At the very least, challenge your own blocks about not being able to be your true self.
Order your personalized Astrology Reports
---
Scorpio: The New Moon on December 3 is a positive omen for your finances and suggests that with a little magical thinking and constructive action, you can improve your situation. Perhaps it's time to do things differently this holiday season. For example, instead of spending vast amounts, maybe you could create some of your own gifts. Homemade gifts are always received with gratitude so think what you can create and do so instead of spending your time spending your money in the stores. The New Moon asks you to think outside the box where your finances and talents are concerned so that the holidays might be richer in more ways than one.
Order your personalized Astrology Reports
---
Sagittarius: Change is coming and it is change for the better as a New Moon in your sign paves the way for new beginnings and fresh opportunities. With Mars coming to the end of his journey through your ambitious sector, the pace and the pressure is about to drop, enabling you to give more focus and priority to what you want. Instead of the spotlight being on work, achievement and getting things done, you will find that your social life and your friends become more of a theme. However, it's not all about enjoying yourself and reconnecting with others, because this week is the time to begin thinking about your future.
Order your personalized Astrology Reports
---
Capricorn: This week's New Moon suggests it's time to close the door on something that belongs in the past. Recognize that anything that is an effort or a struggle –a relationship, work or some other circumstance –may not be the right avenue for you. Sometimes we don't want to let go and move on because we're not sure what, if anything, will replace what we're leaving behind. However, there are plenty of new opportunities for you just waiting around the corner, and focusing on what is coming into your life will effortlessly, naturally release that which has served its purpose.
Order your personalized Astrology Reports
---
Aquarius: The New Moon on December 3 brings a sense of unity. This is the point at which everything begins to come together. From a knowing that everything in your life makes sense to a feeling of connectedness and meaning, this is the point at which your future begins to take shape. Don't allow yourself to be confined by your past identity or in how things used to be. Tell yourself that things are going to be different now and that you'll be all the better for it. Rejoice in this New Moon for it represents the beginning of a new future.
Order your personalized Astrology Reports
---
Pisces: The New Moon on December 3 is your cue to turn over a new leaf, especially where your direction is concerned. Take a moment to think about where you're going. If you're not sure where you're going, consider where you would like to be heading. If time, money and responsibilities weren't a factor, what would be calling you? Sometimes the logical mind can get in the way, but quite often we only need to make small changes to live a more fulfilling life. That's your charge for this week: think about what you can incorporate into your present life to make it more satisfying for you now and into the future.
Order your personalized Astrology Reports
---
For more information about your Horoscope and what the stars have in store for you, order one of our detailed