Aries, Taurus, Gemini, Cancer, Leo, Virgo, Libra,
Scorpio, Sagittarius, Capricorn, Aquarius, Pisces

Overview of this week
The Center for the New Age is
pleased to present
your Free Weekly Horoscope
for January 12, 2013 — January 18, 2014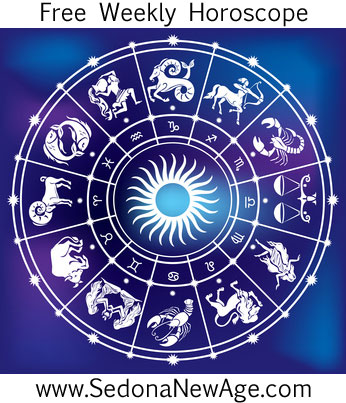 Aries, Taurus, Gemini, Cancer, Leo, Virgo, Libra,
Scorpio, Sagittarius, Capricorn, Aquarius, Pisces
The Full Moon in Cancer on Wednesday emphasizes Mom and maternal energy and people may be moody or especially preoccupied with their feelings. Nurturing activities and emotional support are the best ways to approach the Full Cancer Moon. Be careful not to overeat, but be sure to enjoy heartwarming, delicious and nourishing foods. It is wise not to get too hung up on the things we cannot change, or on having an attachment to a specific outcome. The emotional stress of the Full Cancer Moon's events will take its toll on some people. Keep it kind and loving and remember to celebrate the positive qualities of life at this glorious time of the Full Moon.
Venus in Capricorn is square Mars in Libra (Jan. 16 –January 29). Beware of the jealousy and the fierce competition that these planets will tend to create. Venus square Mars creates tension and obstacles between the forces of love and the forces of defense. The archetypal image of this aspect may bring stress between people in love relationships. The pain of separation or the sorrow of unrequited love may be a symptom of this time, as the rocky boat of romance is due to have some notable ups and downs. On the other hand, the difficulties of these tests may strengthen the power of love and, although it is sometimes very difficult to endure love related conflicts, it is also a necessary process to ensure the authenticity of our love experience.
Mercury is sextile Uranus (Jan. 17 –Jan 21). Mercury is in Aquarius, placing an intellectual –or knowledge driven –emphasis on our efforts to communicate. Uranus is in Aries, stirring up chaos in unprecedented ways. Mercury sextile Uranus gives us the opportunity to freely speak our minds and to address the turmoil that exists in our lives. Mercury in Aquarius focuses talk, information and news on such mind captivating topics as the necessity for us to be united in a common cause for the sake of accomplishment versus the freedom and the rights of an individual. Meanwhile, Uranus in Aries is challenging us to act expediently and aggressively in the face of chaos and rapid change. Where logic does not prevail, chaos will.
Aries, Taurus, Gemini, Cancer, Leo, Virgo, Libra,
Scorpio, Sagittarius, Capricorn, Aquarius, Pisces
For more information about your Horoscope and what the stars have in store for you, order one of our detailed


Astrology Reports!
Free Weekly Horoscope for your Sign
Aries: Patience is your key to success, not just this week but for much of the year. This is especially the case when it seems like life is operating outside of your control. There may be a sense this year that the hand of destiny is sweeping in and altering the course of your life. If so, go with it, for the changes that Pluto and Uranus bring will be necessary even if you can't see the reason behind them at first. It is almost certain that your life will be different by the end of this year, whether it's you or unseen forces implementing the changes. If you embrace the change with the exuberance of a child wondering where it will all take you, then you will be in a much stronger position than if you resist. As far as this week is concerned, remember that all good things come to those who wait and sometimes things don't happen as quickly as we'd like for good reason.
Order your personalized Astrology Reports
---
Taurus: Possibilities are all around you but your consciousness determines whether you see them or not. When you are in a depressed state of mind, you are far less likely to notice possibilities (or act on them) than when you are positive and expectant. Since the planets are gathering in the most positive and expectant zones of your chart, you can deduce that you are ready to expand. You are in a prime position to take notice and embrace the possibilities that surround you now. This is fantastic news if you want to break out of a rut or achieve more of your potential. If you are able to believe that something is possible, there will be no stopping you.
Order your personalized Astrology Reports
---
Gemini: Perhaps the answer to your current problem is to be creative. When people do things the way they've always done them or when they are complacent or habitual in their thinking, there is little opportunity for change or growth. Let's imagine, for example, that finances are a source of concern. By always doing what you've always done, little is going to change. But by thinking in a creative, empowered way, you open yourself up to new solutions. It may also help to remember that you're not on your own, even if it seems that way, so reach out to others who might be able to help.
Order your personalized Astrology Reports
---
Cancer: If you want success in any area –love and your family life, material goals or personal fulfillment –the key is the same. You have to take action –now! We are not talking about wistful longing. If a person is really determined, he or she takes action immediately. So what action can you take now? Even if it's only something very small such as finding out about a course or sitting down to write a plan or creating a vision board of what you want, make the effort. This year's grand cross is designed to move and shake you, so now is the time to ask yourself what you really want and then take one small step toward it.
Order your personalized Astrology Reports
---
Leo: It is not just your health that's under the spotlight but also what you do for a living and how you spend your days. Perhaps a change of some sort is needed. For example, it could be time to change your role, get more organized or simplify your life and daily affairs. Maybe you'd benefit from having a more organized system for work, or perhaps a little feng shui in your office would be helpful. This is a perfect week to be clearing out all extraneous clutter, whether it's physical clutter or emotional/mental attitudes that you no longer need. In letting go of all that you no longer need, you will create space for that which is new and appropriate to enter your life.
Order your personalized Astrology Reports
---
Virgo: The planets are nicely aligned in your zone of fun, romance, children and creativity so any one of these could be a source of joy for you right now. However, it's also true that one of these could be a source of angst. Things could seem a little over the top, so try not to take anything too seriously right now, and wait until the waters have subsided a little. Maybe this is about your need to be authentic, which could clash with your current circumstances. You might know what you want to do or who you want to be, but the path to achieving this isn't easy. If you feel deserving of this and that is important in terms of your future, then don't give up. Success will be yours with belief and perseverance.
Order your personalized Astrology Reports
---
Libra: It's difficult to get things right in the outside world if things are wrong on the inside. In other words, you can try all you want to manifest positive external conditions – such as a satisfying job, nice friends, and a beautiful home –but if your inner self isn't whole or nurtured, then you'll simply find yourself going around in circles. Stop for a minute and go within, for this is where it all begins. At present, you are going through a rebirth. Pluto at the base of your chart is bringing up some deep stuff – possibly to do with your past, your family or your home –and all this reflects the part of you that is dying. Don't cling to the old ways of life or to your old self, for the more you can let go, the easier it will be to make the transition. All that's needed is courage, and you will find that very soon any source of unhappiness will give way to a sense of possibility and potential as a new you is born. Use this week to think deeply about who you really are (beneath your roles and temporary identity) and what you really want from life. Then be prepared to move on.
Order your personalized Astrology Reports
---
Scorpio: This is a good week to remind yourself that everyone gets it wrong from time to time. Everyone makes mistakes, so rather than feel bad, try instead to learn from them. If you have spoken unkindly to another, did something that compromised your ethics, behaved in a way that was childish, or despite all your best efforts, you simply got something wrong, treat yourself with kindness. Turn your attention to all the things you get right and all the good that you do. Then go and engage in something fun and lighthearted. There is nothing like laughter to alter one's perspective for the better.
Order your personalized Astrology Reports
---
Sagittarius: Transformation doesn't always have to be a long, drawn-out process. Usually it is, but occasionally events can happen that bring about an almost instant transformation: becoming a parent for the first time, winning the lottery, or losing someone or something precious. Perhaps you will win a competition or a big promotion, or you might meet someone who instantly changes your life. Any of these things may transpire because Pluto opposing your ruling planet is strongly suggestive of an event that could change your life –or at the least, initiate the process of change within you. This, in turn, could catapult you forward toward a greater sense of purpose and a more meaningful future so whatever happens this week, see it as the doorway to new beginnings.
Order your personalized Astrology Reports
---
Capricorn: You first duty is to yourself, and this is never truer than when the Sun journeys through your sign. This is the time of year when it becomes essential to spend some time considering what you need for your happiness and well-being so the questions to ask yourself are: "Where are you going? Where would you like to be going? How can you be happier? What do you need to feel personally fulfilled?" Finally, you might also need to ask yourself whether the application of courage will bring about the desired changes or at least put you on the right path. There is a lot of support in the heavens right now, so if you can take the first step, you will find that help and assistance will soon be on its way.
Order your personalized Astrology Reports
---
Aquarius: As the Sun journeys through your zone of endings, it is a good idea to let go of that which is no longer relevant in your life. Maybe there is physical clutter that you no longer need or mental baggage (beliefs, regrets, philosophies or habitual thought patterns) or an actual situation that has served its purpose. Now is the time to release this baggage, which in turn will create a lightness of spirit and an ability to move toward that which is right for you. The more you can release internally, the more you will be able to expand in the outside world.
Order your personalized Astrology Reports
---
Pisces: One of this year's themes is creativity, perhaps not just in the sense of making more use of your creative gifts but also in being more creative with your life. For instance, do you have the courage to step outside the box and do things your way? Do you have the mental conviction to spend more time doing the things you love? Or can you be the artist of your life and begin to create more of what you want? Don't ever think that your life is set in stone. Right now you're in a great position to realize that you have the power to change things, and although there may be one or two uncomfortable moments in this realization, by and large, you should feel surges of optimism as you realize that you're the master of your destiny.
Order your personalized Astrology Reports
---
For more information about your Horoscope and what the stars have in store for you, order one of our detailed