Aries, Taurus, Gemini, Cancer, Leo, Virgo, Libra,
Scorpio, Sagittarius, Capricorn, Aquarius, Pisces

Overview of this week
The Center for the New Age is
pleased to present
your Free Weekly Horoscope
for July 21, 2013 — July 27, 2013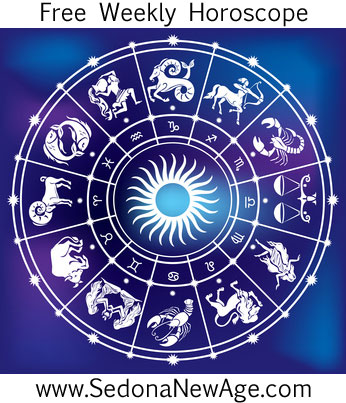 Aries, Taurus, Gemini, Cancer, Leo, Virgo, Libra,
Scorpio, Sagittarius, Capricorn, Aquarius, Pisces
Full Moon in Capricorn on July 22 focuses our energy on accomplishing goals and on taking work and career efforts seriously. Laborious tasks and great efforts bring deeply satisfying accomplishments with this Moon, and this is also a time when we tend to reflect on our achievements with an inspiration towards furthering our development.
Venus enters Virgo on Monday (July 22 –August 15). Venus represents our attraction to both people and objects as well as our capacity to love and find pleasure. The expression of love and magnetism will now come out in practical and fruitful ways as we participate in the harvest of summer's bounty. Since Virgo symbolizes the virgin, this may be a time when attraction to virginal purity and newness in love is highlighted. Venus in Virgo is referred to as "the fall," a less ideal position for Venus and a time when disappointment in love matters may be felt by some folks. Keep faith in your affections, despite the cooling of passions.
Venus in Virgo conjuncts Neptune in Pisces July 26 (until August 5). These two very feminine planets align as a higher and lower octave of each other, creating a very fluid and open expression of femininity. Venus represents love, magnetism and attraction, while Neptune (the higher octave of Venus) represents spiritual love and the melding of spiritual energies. This conjunction allows beauty, femininity and personal attraction to be connected with the higher spiritual vibrations of the universe. This is an ideal time to connect with one's own guardian angel and spirit guides.
While Venus is sextile to Saturn (July 26 –August 1), we can gain some control of our love relationships, and better understand boundaries and limitations, particularly with regard to family and entertainment related matters. It is through this aspect that love relationships are given an opportunity for stronger levels of commitment or responsibility. This is the time to protect loved ones with guidance and to teach them about discipline. Perfect timing brings pleasure. Venus sextile Saturn teaches us how to hold on to and maintain the things we love –those places, people and things that matter to us. True love has a binding and lasting affect and this aspect often shows us the ways in which love stands the test of time.
Aries, Taurus, Gemini, Cancer, Leo, Virgo, Libra,
Scorpio, Sagittarius, Capricorn, Aquarius, Pisces
For more information about your Horoscope and what the stars have in store for you, order one of our detailed


Astrology Reports!
Free Weekly Horoscope for your Sign
Aries: No pain, no gain, as the saying goes and if you want to achieve your reward, you'll need to put the effort in and endure a certain amount of strife or conflict. Events this week may bring out the warrior in you which is no bad thing since this is when you're at your best –fighting for something you passionately believe in. To give yourself the best chance of success, follow your intuition and pay attention to your hunches. The planets are activating the deep, soulful, psychic areas of your chart, granting you the wisdom to know what needs to be done, so trust your inner self.
Order your personalized Astrology Reports
---
Taurus: The Full Moon around July 22 could be especially tense and may leave you feeling somewhat out of the picture. This state won't last long and can be alleviated through offering the hand of compromise and love to any person with whom you have recently had a problem. The purpose of the Full Moon is to help bring clarity to any confusion or conflict with your home life, your relationships and your professional needs and ambitions. Try to find a balance that works for everyone.
Order your personalized Astrology Reports
---
Gemini: The theme of giving and receiving may be relevant this week as this is a good time to look at the balance of give and take in your relationships. Do you give too much and find yourself being taken advantage of? Do you give control to others, or do you withhold out of fear and insecurity? The planetary alignments will help you to change the way you see yourself, ultimately enabling you to become more empowered, both in your financial situation and in your dealings with others.
Order your personalized Astrology Reports
---
Cancer: Take care around the Full Moon when things look rather volatile. It seems you will have a choice between anger and resentment or celebration and appreciation. Remember that you always have a choice as to where you put your focus. With Mars, Jupiter and Mercury in your sign, it's imperative that you focus on what is important to you, regardless of whatever may be happening in your personal and professional life. Change or disruption of some sort is likely and you may have to stand firm in the face of strong opposition. Be assertive, but refrain from dominating others; otherwise, you could find yourself dealing with explosions.
Order your personalized Astrology Reports
---
Leo: Your physical body looks like it needs some attention, and what's needed here is balance. This may mean eating a more balanced diet and being moderate in your habits and exercise. And let's not forget the importance of a balanced inner life too. A turbulent emotional state can wreak as much, if not more, havoc on the body as an inappropriate diet and lifestyle, so strive to soften any anger, frustration and resentment while at the same time allowing long suppressed emotions to be given healthy expression. Courage and balance are the approaches that you need to apply to your life right now in order to get you through.
Order your personalized Astrology Reports
---
Virgo: The Full Moon on Monday will heighten the clarity of Mercury turning direct so this should be the date around which you can start moving forward again. To ensure that you're in prime position to make the most of the possibilities, make time to meditate and answer your soul's need for silence. A quiet and peaceful mind will increase your chances of being in the right place at the right time, as you'll be more in tune with the Tao.
Order your personalized Astrology Reports
---
Libra: This month's Full Moon illuminates your 5th Room of Family/Children/Pets. Information that has been kept from you pertaining to family will soon be revealed. This is a very good time to travel and visit with family or to make some long distance calls to family to chat and catch up on what is going on, but you may also hear the news through non-family individuals. The Full Moon illuminates a romantic relationship or creative project. Your ideas at this time are cutting edge and rise from some deep place within you.
Order your personalized Astrology Reports
---
Scorpio: This month's Full Moon in Aquarius occurs in your solar fourth house and illuminates your domestic situation, family, parents, your home. Aquarius, like Scorpio, is a fixed sign, so you're likely to be more stubborn on and around this Full Mon. However, there is something in your life in need of attention and you may be finding it difficult to think positively in the face of current challenges, but if you can apply courage along with the belief that you can do more than you've previously done you will soon find that what you once thought was a barrier mysteriously dissolves.
Order your personalized Astrology Reports
---
Sagittarius: If you feel you've been wounded, then you need to give yourself time to heal and to forgive anyone who might have behaved in a way you found upsetting. Try not to blame yourself or others; rather, forgive and move on. The Full Moon indicates that the worst is over, and now it's time to heal and learn from your experience. The light returns after what may have been quite a dark few weeks, but there is still some healing that needs to be done, so even though you may be feeling better and more inclined to get back into life, you will benefit from not rushing the process of transformation and healing that is trying to take place within you.
Order your personalized Astrology Reports
---
Capricorn: This month's and next month's Full Moon in Aquarius illuminate your 2nd Room of Receiving/Income/Money. These aspects highlight your finances to give you insights into your beliefs about money. This week is an ideal time to start a project with someone as a very significant "income earning" opportunity is coming your way. There's no need to feel daunted by the scale of what you might be taking on; all that's needed is courage because right now, the universe is asking you to be big and bold in your ambitions with others.
Order your personalized Astrology Reports
---
Aquarius: You will need to make a real effort to circumnavigate the stress in your life if you are to capitalize on the benefits of this week's Full Moon. But, then, perhaps what's needed is not an avoidance of the stress but an understanding of why it's happening, along with the right mindset for dealing with it. Whatever emerges this week could well show you what you're no longer prepared to endure, either consciously or unconsciously. An unconscious response to inner unhappiness could be illness, an accident, someone behaving in a way that causes you upset or an event that brings about sudden change. A conscious reaction to your inner frustration could involve making a decision to release certain areas of your life that aren't doing you any favors. If you are trying to keep too many plates spinning in the air, this is the week when you begin to question why you're making yourself jump through hoops.
Order your personalized Astrology Reports
---
Pisces: "Everything you can imagine is real." Hold on to this quote by Pablo Picasso as the Full Moon on Monday may raise doubts in your mind about what is possible. Keep working on any belief that says whatever you are thinking or hoping for is too far-fetched, and call on the courage in your heart to steer you though the waters of doubt. You may also need to look at healing more than your beliefs as the Full Moon draws your attention to your physical well-being. Strangely, it looks as though much of your malaise can be alleviated by acting with courage and going for what you want. Nip any victim or self-pitying tendencies in the bud since being proactive and going for what you want and deserve will do wonders for your health
Order your personalized Astrology Reports
---
For more information about your Horoscope and what the stars have in store for you, order one of our detailed