Aries, Taurus, Gemini, Cancer, Leo, Virgo, Libra,
Scorpio, Sagittarius, Capricorn, Aquarius, Pisces

Overview of this week
The Center for the New Age is
pleased to present
your Free Weekly Horoscope
for July 28, 2013 — August 3, 2013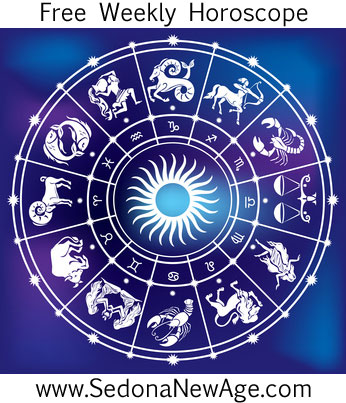 Aries, Taurus, Gemini, Cancer, Leo, Virgo, Libra,
Scorpio, Sagittarius, Capricorn, Aquarius, Pisces
On Monday, July 29th, a rare grand sextile with 6 planets, along with the Moon in Taurus, graces the heavens. This forms a 6 pointed star formation encircling the solar system. It holds the geometric form of our potential to seed a global heart of compassion along with an honoring of the Earth and the feminine, as the six yin or feminine signs are involved. We will see more support for Women's Rights and more women becoming influential.
Last Quarter Moon in Taurus on Monday focuses the general course of our moods on creating some sense of order in our financial situations and encourages the need for creature comforts and esthetically pleasing or luxurious surroundings. There is often a focus on cleaning up and/or selling various useful artifacts that have collected in our lives. This is a good time to transform one's atmosphere into a more useful and practical working order. Letting go of attachment to material things that have bogged one down with too much maintenance or disruptive costs may very well be the best move. Certain kinds of sacrifice produce some very remedial freedoms.
July 31 until August 19, Mars in Cancer is square to Uranus in Aries. The potential for harsh action is very strong with this aspect and should not be underestimated. Masculine fortitude and the enigmatic force of chaos are in a volatile and difficult phase of expression when Mars is square to Uranus. This aspect is akin to a pressure cooker; it may seem dormant at first, but if not carefully handled, the aftermath can be a real mess. It is wise to completely avoid any extremely risky undertaking that may rock the boat of fiery activity.
Venus in Virgo sextile Mars in Cancer (August 2 –August 16) will bring shy and virginal attractions, and home oriented displays of heroism and worthiness. It is here that feminine (Venus) and masculine (Mars) forces have an opportunity (the sextile aspect) to support each other. At this time, many vital love matters are being stirred and are bringing numerous opportunities.
Aries, Taurus, Gemini, Cancer, Leo, Virgo, Libra,
Scorpio, Sagittarius, Capricorn, Aquarius, Pisces
For more information about your Horoscope and what the stars have in store for you, order one of our detailed


Astrology Reports!
Free Weekly Horoscope for your Sign
Aries: The auspicious six-pointed star promises a rebirth alongside growth and development in your personal, home or domestic life provided you can put the effort in, which of course you can because you're made of strong stuff. Remember that if you want to create something of real value, you can't be afraid of change – and maybe even temporary discord. Allow your inner child to come out and play as in going to the park or riding a bike. This is also a time of love and spending extra time with a significant other.
Order your personalized Astrology Reports
---
Taurus: The six-pointed star is an auspicious one for you and looks likely to open one or two doors that will enable you to live in a more creative and heart-centered way. In fact, this planetary alignment is all about honoring your feelings and identifying what brings you joy, so in whatever situation you currently find yourself, first trust your feelings; if it doesn't make you feel good, move away from it toward something that makes you feel happy. If you can't more away from it, try to find a way of changing the way you're viewing the situation. Since other people are likely to be instrumental in helping you create the happiness you seek, you will benefit from being sociable, friendly, helpful and accommodating. At the same time, be prepared to take a risk, especially if an opportunity arises that seems to be just what you want. The ultimate message for you this week is that you need to be a little more daring. Push out of your comfort zone, try new things, break your routines and become a little less predictable.
Order your personalized Astrology Reports
---
Gemini: This week's six-pointed star illuminates the areas of your chart connected with work, money, success and recognition and offers you the potential for a shift in consciousness connected with any or all of these things. There may be an ending of some sort or a sense of completion that allows change to manifest in your material life. You may feel excited and motivated to do something new and powerful as the Sun in Leo has you all charged up about something and you will be talking and abundantly sharing your thoughts and ideas.
Order your personalized Astrology Reports
---
Cancer: The planetary formations this week are quite spectacular especially the very rare alignment of the six-pointed star. Your sign forms the pinnacle of all these energies which suggests that this is a week of extreme importance for all Cancerians. The incredible planetary alignments are asking you to release all blocks to giving and receiving, to raise your self-esteem by recognizing that you are a divine child and to therefore celebrate your existence. You have the opportunity to show the world what you can do and it looks like something pretty big. As you receive and improve your bottom line, be sure to honor your debts and those who have helped and assisted you.
Order your personalized Astrology Reports
---
Leo: Are you searching for that which will bring you the excitement and meaning you seek? The inspiration can only be found within your own heart. Instead of looking for something outside of yourself, ask yourself what you can create. Ask what will bring you joy. Look for ways in which you can become more playful. This week's amazing six-pointed star shows that the way to happiness is through celebrating what you have while drawing on your creative and psychic juices to create things in your life that give you meaning.
Order your personalized Astrology Reports
---
Virgo: This week's six-pointed star on Monday looks particularly auspicious for you, as one of the points is Venus in Virgo. This is almost certain to benefit you in some way, even if it's just that you feel peaceful, harmonious and happy for a day. You're likely to be feeling better about yourself, which will lead you to make more favorable impressions on others who may in turn decide that they want to help you. Certainly, interactions with friends, associates and contacts could be particularly beneficial on this day, and you in turn might be able to help others. In fact, thinking about the mysterious meaning of the star in the sense of what it's asking of you, it's largely about your relationships in combination with your own personal desires and what you wish to create in the world. This would suggest that there is someone (or maybe more than one person) who is going to be instrumental in helping you to manifest your desires and this six-pointed star should soon be revealing how you will receive that help.
Order your personalized Astrology Reports
---
Libra: What do you want from life? How can you fulfill more of your ambitions? These may well be relevant questions as the six-pointed star illuminates the material and success regions of your chart. Perhaps there's something you would love to do but previously lacked the confidence to go for. If so, now is the right time. The powerful cosmic alignment is opening a portal for increased finances, greater meaning and soulfulness in the work that you do, and the passion and enthusiasm to chase your dreams. The other half of the six-pointed star relates to your emotional and inner life, and in some way, these two very different spheres of life need to connect. Your psychic and spiritual self contains the answers about what will work best for you, so make time to explore your inner world, and you may soon find yourself with reason to celebrate.
Order your personalized Astrology Reports
---
Scorpio: Recent events may have been leading up to some sort of healing crisis or reassessment of your life's meaning. You could, therefore, have been feeling a little lost like a ship without a rudder or an explorer without a compass. Perhaps this week it's becoming apparent that something has to give, especially if your health and well-being haven't been great or if personal issues or destabilizing events in your daily life have been drawing on your attention. If you are tired, rundown, or exhausted, then this is the time to stop and pause for thought. The only way to recharge your batteries is to plug into something that has energy and meaning for you, so this is a good time to consider what makes you feel energized , what you love doing, and when you are happiest. This is the week for an honest appraisal of your life, and when you have some answers, you can begin to formulate a new life structure for yourself.
Order your personalized Astrology Reports
---
Sagittarius: Focus on creating balance in your life, your physical health and your relationships this week. The six-pointed star suggests that inner contemplation leading to a shift in consciousness is the way forward for you, and by paying attention to your intuitive feelings and making time for your dreams, psychic development and soulful pursuits, you will find yourself right where you need to be. The Sun in Leo highlights your 9th Room of the Mind stimulating your brain to think about the many things you want to do. This is a powerful manifestation time so as your mind fills with thoughts and ideas, be sure to write them down onto paper so that the materialization process may begin.
Order your personalized Astrology Reports
---
Capricorn: This week's amazing six-pointed star highlights the relationship angles of your chart as well as the creative and adventurous areas. To make the most of the opportunities for growth, creativity and positive developments in your one-on-ones, you need to be receptive and listen to your intuition. Follow your instincts and hunches, and be open to whatever flows your way. Passion of some sort may be a feature, but try to guard against destructive passion, typically felt as anger. Instead, look to see how you can join forces with others so that you can achieve something of significance.
Order your personalized Astrology Reports
---
Aquarius: Once you've dealt with or at least come to an understanding of the challenges in your life, you can then begin to move toward the opportunities contained within this week's wonderful star-shaped alignment. For you, the six-pointed star opens doorways toward growth and development in the areas of work, success, recognition, money and achievement. Make sure that the direction you're moving in is one that will allow your life to expand and grow, a direction in which your work or business can benefit from new challenges. And finally, make sure that any decisions or changes that you make have your health and well being at the center.
Order your personalized Astrology Reports
---
Pisces: This week's six-pointed star is highly auspicious for you, as it contains opportunities for good fortune, fun and happiness and suggests that the way forward for you now is through creativity and heart centered living. This may mean that it's time to explore your untapped creative abilities, or it may mean that it's time to live a life that contains more color and vibrancy that you have fashioned with your own hand rather than one that seems to have been thrust on you. Now is the time to become more conscious of what you're doing and why, and to look at how you can invite more joy into your experiences. Take a moment to consider what gives you meaning and make it your mission to make these things a bigger part of your everyday existence.
Order your personalized Astrology Reports
---
For more information about your Horoscope and what the stars have in store for you, order one of our detailed