Aries, Taurus, Gemini, Cancer, Leo, Virgo, Libra,
Scorpio, Sagittarius, Capricorn, Aquarius, Pisces

Overview of this week
The Center for the New Age is pleased to present your Free Weekly Horoscope for June 1 — June 7, 2014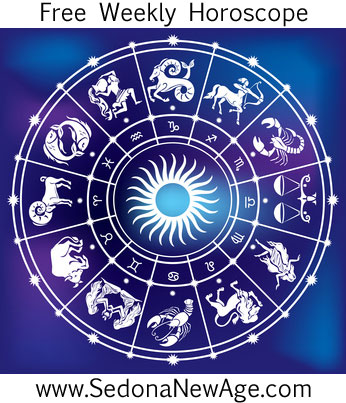 Aries, Taurus, Gemini, Cancer, Leo, Virgo, Libra,
Scorpio, Sagittarius, Capricorn, Aquarius, Pisces
Venus in Taurus is sextile Neptune in Pisces from June 4 to June 10. Love, art, beauty and feminine expression enhance spirituality. Love is given an opportunity to infiltrate in a spiritually enhanced fashion. This aspect can have a strong healing effect on the soul and reaches into the feminine parts of our being with a calm fortitude. Faith and belief in love matters may be rewarded at this time, and love matters may be enhanced where similar beliefs are shared. This is a time to persist with loving expression and devotion towards one's beliefs.
As we anticipate our summer plans, the First Quarter Moon in Virgo on June 5 provides a strong desire to follow through on dreams and desires with detailed clarity. Virgo Moon encourages us to assess matters properly and to be pragmatic and specific when delegating certain tasks or jobs. First Quarter Virgo Moon is an excellent time to launch a health program and to cleanse the body of excess toxins.
On June 7 Mercury begins its second retrograde of the year (in Cancer) ending on July 1 (in Gemini). If you ignore this celestial signal that it's time to back off and do things that begin with "re" such as relax and rejuvenate, then your experiences might include some of the more negative potentials of this transit: annoying personal and business miscommunications, travel mix-ups or delays and electronic or mechanical breakdowns. For the next ten days when Mercury is retrograde in Cancer, any progress in the housing market and the plight of people who are homeless may be stalled. Take this as a clue to relax and view it as a healing period when it's okay to back off and take time to rest and recuperate.
Aries, Taurus, Gemini, Cancer, Leo, Virgo, Libra,
Scorpio, Sagittarius, Capricorn, Aquarius, Pisces
For more information about your Horoscope and what the stars have in store for you, order one of our detailed


Astrology Reports!
Free Weekly Horoscope for your Sign
Aries: If you're wondering when you're going to have a nice, quiet, easy life, the answer is probably not yet. Your ruler is once again squaring up for a fight with Uranus and Pluto while Mercury turns retrograde in your zone of home and family. All of this would suggest that your personal life is going to be a focal point, but you can help to smooth the path by letting go of the past. On a simple level, this would involve having a clear out (cleaning the clutter) at home. At a deeper level, it might mean looking at your emotional baggage and deciding that it's time to move on. The more you can express your feelings while being aware that what pushes your buttons today might have its roots in the past, the more you'll be able to work toward a breakthrough.
Order your personalized Astrology Reports
---
Taurus: Throughout the year, Mars has been calling you to become more productive, organized and effective in your life. How do you feel you are progressing with this particular challenge? If there's still room for improvement, it might be brought to attention this week. Perhaps there is a better way to do something. Maybe you could be more effective if you tried a different approach. Maybe you could function better if you balanced your work with your health, perhaps through adequate sleep or a better diet. Maybe you need to ease off a bit and give yourself more time to do the things you enjoy. Moderation is probably the key, and the more you can get a balance between work, rest and play, the more successful you will be.
Order your personalized Astrology Reports
---
Gemini: It's important to remember that just because something isn't happening now, it doesn't mean that it will never happen. Sometimes we have to be patient. Sometimes we have to acknowledge that for whatever reason, the time isn't right or that circumstances could be better. It may also help to check whether you are somehow stopping yourself from moving forward. So often we put the brakes on our own progress because of underlying fears. This week as Mercury grinds to a halt, it may be worthwhile to spend a little time just pausing and taking stock of your life. Once you have a clearer idea of where you want to be, you can begin to take steps toward making it happen.
Order your personalized Astrology Reports
---
Cancer: Sometimes we can't move forward until we've closed the door on the past. As Mercury grinds to a halt in your sign and heads back to your zone of endings, it might be a good time to do some serious letting go, especially if you can't seem to get to where you want to be. Whether you need to sever a connection to a person, place, memory or situation, do so with peace in your heart, knowing that as you release, you create space for new things to come into your life. You will find that the more you let go of the past, the sooner you will have something to celebrate.
Order your personalized Astrology Reports
---
Leo: Mercury grinding to a halt in your soulful zone brings the opportunity to connect with your spirit and download answers and insights that could be very helpful to you in your present situation. This is the week to search out inspiration, especially if the color has drained out of your life. Good questions to ask yourself include: What makes you feel inspired? How can you bring more of this into your life? You could also look at creativity to reveal hidden truths. Art, music, poetry, journaling, and dream work could all be wonderful ways of understanding yourself better while assembling a photographic diary or album could be a positive way of dealing with any sadness or nostalgia.
Order your personalized Astrology Reports
---
Virgo: The focus is on your purpose in life, your direction and your vocation, so now might be a good time to contemplate where you want to be going. This is an ideal time to create a new vision of your future, and it doesn't matter whether you need to make a major change or just a few tweaks, as the planets will support you in manifesting that which is most important to you. Don't worry about how you're going to create the life you want, for with passion in your heart and a determined mind, you will get there.
Order your personalized Astrology Reports
---
Libra: Some things can't be hurried and sometimes there are no maps to help us get where we need to be. Sometimes it feels as though we're very much alone without a compass. If only someone would show us the way or if only we could stumble across a signpost. Mercury slows to a halt this week at the top of your chart, effectively signaling a slowing down of your progress and certainty. At this stage, it's fine to feel unsure, and the best thing you can do is pause and enjoy the view from where you're currently standing. In time, you'll gain a renewed sense of clarity that will enable you to take a step closer to your ambitions.
Order your personalized Astrology Reports
---
Scorpio: You may have to put your plans on hold, as life seems to have other ideas about what you should be doing. Perhaps the meaning of Mercury turning retrograde for you is to consider how much you're carrying and whether you should free yourself from one or two of your burdens. This is likely to be a year in which you've taken on greater responsibility, or it might simply be that you're doing more of what needs to be done rather than what you'd like to do. This week could see a climax of this situation, and you might need to question whether all your duties and responsibilities are preventing you from actually enjoying life.
Order your personalized Astrology Reports
---
Sagittarius: You may be keen to bring something to completion, but Mercury retrograde could have other ideas. You will most probably need to be patient this week, since all might not go according to plan or move as quickly and efficiently as you would like. Instead of trying to make things happen, a better use of your time might be to turn your attention inward and contemplate the deeper side of life. This may mean that your thoughts turn toward lost loved ones or complex psychological emotions such as jealousy, anger or desire. If you can be bold and venture down into your depths, you could just emerge with a golden nugget of wisdom.
Order your personalized Astrology Reports
---
Capricorn: We are often prisoners of our own minds. This is because we've no idea what's really possible, so we play safe or find all kinds of reasons why change would be bad. This week, it could be useful to examine what stands between you and success. Is it really other people, work, or family commitments? If there's something that you want, Saturn's trine to Jupiter says it's possible. You just need to believe it is.
Order your personalized Astrology Reports
---
Aquarius: You may need to hang on to your hat, as June could be a wild ride. You might begin to feel the winds of change beginning to rattle your bones, and if you don't act on this, you might find yourself feeling frustrated, acting rashly, or losing your temper. It's far better to see what needs to be done, and then calmly and collectively applying the courage that you need to bring about the desired outcome. Despite the volatile cosmic weather forecast, there should still be opportunities for pleasure and enjoyment this week. If you can make time for creative or fun pursuits, you will be moving in harmony with the planetary energies.
Order your personalized Astrology Reports
---
Pisces: As the Sun reaches the lowest part of your chart, it might be helpful to remind yourself that there's no rush. It also doesn't matter if you can't see how you're going to get to where you need to be because all will unfold in its own time. For now, you're encouraged to spend a little time in quiet introspection, to enjoy time at home and to reconnect with your family. "A man travels the world over in search of what he needs and returns home to find it." It is time now for you to return home, for this is where you will find your inspiration.
Order your personalized Astrology Reports
---
For more information about your Horoscope and what the stars have in store for you, order one of our detailed