Aries, Taurus, Gemini, Cancer, Leo, Virgo, Libra,
Scorpio, Sagittarius, Capricorn, Aquarius, Pisces

Overview of this week
The Center for the New Age is pleased to present your Free Weekly Horoscope for June 22 — June 28, 2014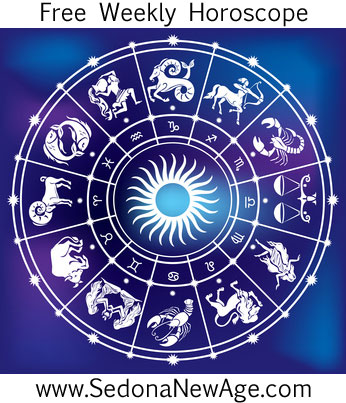 Aries, Taurus, Gemini, Cancer, Leo, Virgo, Libra,
Scorpio, Sagittarius, Capricorn, Aquarius, Pisces
On Monday Venus, the influence of love, magnetism and attraction, enters Gemini, the personification of duality (June 23 –July 18). There is an attraction towards the need for variety and more than one avenue of expression with regard to affections. Subtle and playful love comes with words. For some folks, the love nature may vacillate between the giving and the taking process of fulfilling relationships. Gossip and talk concerning love matters may be especially prevalent at this time. Gemini people will be touched by love and may find themselves flirting a lot, as Venus crosses over their natal sun.
On June 25 (until the middle of July) the fiery Mars in Libra assumes active opposition to the radical and explosive power of Uranus in Aries. The potential for harsh action is very strong with this aspect. There is intensity in the air concerning our relationships (Mars in Libra) and the need to find independence and freedom (Uranus in Aries). Take caution in regard to risky undertakings that may rock the boat of fiery activity. Those who are affected by this aspect are likely to be stir-crazy and in strong need of revolution. Anger and frustration can be stifling at times, causing the need for freedom and a definite breakthrough.
New Moon in Cancer on Friday beckons to our moods to tune into newly emerging feelings about ourselves. The New Cancer Moon invites fresh experience and brings new desires to cherish the child within and build up a fresh outlook on our home life. Cancer focuses on the nurturing strength of the mother. This is a good time to bring new things to the home and brighten up one's outlook with caring and uplifting moods and feelings.
Aries, Taurus, Gemini, Cancer, Leo, Virgo, Libra,
Scorpio, Sagittarius, Capricorn, Aquarius, Pisces
For more information about your Horoscope and what the stars have in store for you, order one of our detailed


Astrology Reports!
Free Weekly Horoscope for your Sign
Aries: The New Moon on June 27 brings the chance for new beginnings in your home and family life, suggesting that this is a good time to wipe the slate clean and start afresh. No matter what has been going on, you can put it behind you and move on. This is a great New Moon for making positive changes to your home, from moving houses to redecorating or applying some feng shui cures. It's also great for turning over a new leaf with a family member if all hasn't been going smoothly recently. If things have just been discordant or challenging at home, the New Moon is a positive omen for moving on from all of that. The other good news is that the day of the New Moon coincides with the final peak of the volatile T-square that will have been making life awkward so at week's end life should begin to get much easier.
Order your personalized Astrology Reports
---
Taurus: Although New Age people speak of the momentous shift in consciousness, the truth is that we can have shifts in consciousness each and every day. It's only a matter of perception and becoming more aware. This week a New Moon arrives in the zone of your mind and brings with it the chance of a rise in your levels of perception. In the smallest sense, this could be the ability to see something in a different way that could feel inspiring or bring a sense of understanding or clarity. In the biggest sense, it could result in your having a new vision of your life in which you suddenly see what needs to be done, or you get a clear knowing of what you want to do. Either way, the New Moon should have the result of turning on a light bulb in your head, leading to a eureka moment.
Order your personalized Astrology Reports
---
Gemini: The New Moon on June 27 is good news for your finances and material situation, so this is a good day to turn over a new leaf in your approach to monetary matters. You might wish to focus on abundance and prosperity, knowing that what you focus on grows. Keeping a gratitude journal would be a good move at this point because it's a great way of drawing your attention to all that you do have, thus minimizing what is lacking. If this side of life hasn't been so good, use this day as a turning point. It might be a couple more weeks before matters resolve themselves to your satisfaction, but what you do now will help your result to be better. Think of yourself as a gardener planting some new seeds; it will take a while for these seeds to appear, but the more you tend to them now, the stronger and healthier they will be in the weeks and months to come.
Order your personalized Astrology Reports
---
Cancer: The New Moon in your sign on Friday is good news for you as it represents a turning point in your life so if things haven't been great, now is the time you can expect positive changes. There is still an element of letting go to be done, especially with regard to your past, but the New Moon should help enormously with this, enabling you to see that the past is gone and the future is where the potential lies. There is perhaps one tricky challenge you have to deal with, and this involves removing any mask of pretense so that emotional honesty can be experienced by you and others. Pluto's long journey through your relationship zone is highlighting the games that people play and how most people are not as honest or straightforward as we might like to think but as you set the example of authenticity, others will either follow suit or drift away. "To thine own self be true" is your message for this week.
Order your personalized Astrology Reports
---
Leo: A New Moon in your zone of endings on Friday suggests that this is a good time to say goodbye to a phase of your life. This is especially true if you have gone through a challenging time over the past year or two. The New Moon signifies that you're now at the end of such difficult times and that you can now prepare for new beginnings. Begin to get rid of as much baggage and clutter as you can, whether it's physical, mental or emotional. Be courageous in eliminating all that isn't working for you, knowing that the spaces you create will be filled by exciting new things in the months and years to come. If you can find a moment to consider how you can bring shape and form to any hopes and wishes you have for the future, it will be time well spent. New beginnings are just around the corner, so make sure you're ready to capitalize on them.
Order your personalized Astrology Reports
---
Virgo: This week's New Moon is a very positive and quite inspirational one for you as it brings with it the potential for new beginnings and bright opportunities for your future, but if you're not careful, you could sabotage this positive potential by feeling sorry for yourself. Maybe something isn't going exactly to plan, or maybe you're feeling excluded or a bit like an outsider. Maybe you feel that you're not being properly understood or appreciated. Whatever the problem, don't let it create a "what's the point" attitude. Sometimes we have to be tested by challenges and hurdles or the doubts of others to make sure we're serious about our intentions. Keep your mindset positive and remember that a great attitude seems to magically connect us to all sorts of serendipitous opportunities that were absent prior to adopting an optimistic outlook.
Order your personalized Astrology Reports
---
Libra: The New Moon on June 27 brings a sense of completion as one cycle ends and another begins. Now is the time to focus on your future and your direction in life, perhaps setting some intentions regarding where you want to be going, your vocation, and your career or life purpose. This New Moon brings a sense of possibility and if you want to set sail for new horizons, you've ambitions to fulfill, or you're looking for new beginnings in your life, the end of June should open one or two doors. Make the most of this by making sure your attitude is positive, embracing and growth seeking.
Order your personalized Astrology Reports
---
Scorpio: Possibilities, inspiration and new adventures are the wonderful themes for you this week as the New Moon on Friday falls in one of the most optimistic areas of your chart. If the past few weeks have been challenging, this week should feel like a breath of fresh air and this would be a good time to contemplate your ideas and dreams or to take yourself off somewhere for a bit of adventure. Ultimately, whatever you do this week should have at its core the opportunity to broaden your horizons and expand your sense of what's possible.
Order your personalized Astrology Reports
---
Sagittarius: The New Moon on June 27 is a cleansing one for you, effectively wiping away pain and emotional debris that you have accumulated. You should, therefore, end the week feeling more refreshed and with greater optimism and lightness than before, but it won't hurt to help the process by making a conscious decision to let go of the past and to release any painful memories. This week could prove to be a turning point in your emotional state as healing occurs. There's also a great opportunity for healing in your relationships –with people past and present as well as with your own fears, especially where your own mortality is concerned. See this as a letting go time and prepare to be willing to cast aside anything that is not helpful to your psychological well-being.
Order your personalized Astrology Reports
---
Capricorn: Friday's New Moon is good news for your relationships, especially if you're looking to turn over a new leaf in matters of the heart. This New Moon bodes well for new relationships and for making new connections, as well as improving existing unions. It may also be a good idea to let go of any baggage that could be affecting a current relationship or to look at how you can move an existing relationship forward. Either way, it's time for positive changes in this area of your life. It also might be helpful to remember that what you focus on grows, so if you focus on what's wrong, you'll simply end up with more to complain about, whereas if you focus on what you like about the other person, the relationship is likely to blossom under your loving approach.
Order your personalized Astrology Reports
---
Aquarius: The New Moon on June 27 bodes well for your health, especially if you want to see positive changes in this area. It's also good news for your work and daily affairs, so it's ideal for turning over a new leaf or creating new opportunities. In fact, these are two aspects of your life that could recently have been cause for concern, but it might have been that challenging circumstances made it difficult to make progress. Now, though, with the New Moon and the peak of the Mars-Uranus opposition, matters can be brought to a head and then resolved. If other people are involved, then the solution may be to strike a balance between intimacy and freedom. This is very hard to do since we naturally lean toward one or the other, but successful relationships require both a heartfelt connection and the space to be ourselves. The more you can create this balance in your personal life, the happier you will be.
Order your personalized Astrology Reports
---
Pisces: If recent times have seemed a bit heavy, then this week's New Moon is good news for you, as it occurs in the fun and enjoyment section of your chart. This is your permission to let your hair down and have a good time. It's also great for exploring your creativity and having fun with your children. However, to really make the most of the light-hearted enjoyment that this week contains, you will need to make sure you're not carrying any suppressed tensions. Try to be mindful of how you're feeling and if you're aware that something is amiss, dig deep to find it. The more you can release any anger, frustration, sadness or regret, the sooner you'll be able to enjoy the gifts and pleasures that are currently waiting for you.
Order your personalized Astrology Reports
---
For more information about your Horoscope and what the stars have in store for you, order one of our detailed