Aries, Taurus, Gemini, Cancer, Leo, Virgo, Libra,
Scorpio, Sagittarius, Capricorn, Aquarius, Pisces

Overview of this week
The Center for the New Age is
pleased to present
your Free Weekly Horoscope
for June 2, 2013 — June 8, 2013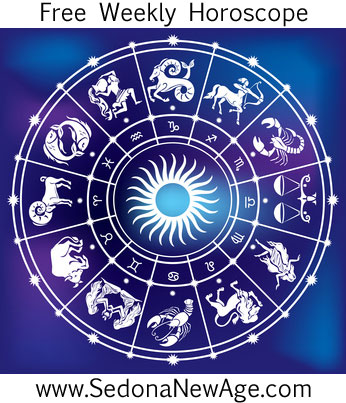 Aries, Taurus, Gemini, Cancer, Leo, Virgo, Libra,
Scorpio, Sagittarius, Capricorn, Aquarius, Pisces
On Sunday, Venus enters the nurturing sign of Cancer, an appropriate place for the expression of love and affection. It invites those with rocky love relationships to patch things up and to do so with more heart and less uncertainty. Venus will be in Cancer through June 27th encouraging our affections and affinities to be carefully placed and nurtured. When attractions occur, they will have a lasting impression and will seem very strong and emotionally sound.
Neptune goes retrograde from June 7th through November 13th. The transiting retrograde causes sensitivity and receptivity to be much more acute. Due to this heightened receptivity, we are allowed to see far more than is possible when Neptune is direct. When Neptune turns retrograde, our feelings are more astute at picking up and perceiving the illusive. It is easier to ascertain information about issues that have eluded us while Neptune was direct. It is essential that we do something about the problems that we pick up on while Neptune is retrograde because they can worsen when Neptune goes direct. As one's perceptions become more acute, it is important to listen more, listen to the "inner voice," so that you can see more of what is going on around you. It is essential that you talk about what you are feeling, sensing or absorbing because Neptune retrograde can produce a type of psychic overload for very sensitive people and it is vitally important that you avoid drugs, chemicals and stimulants while Neptune is retrograde. Protect yourself by refraining from associating with addictive personalities, psychic attractions, and overwhelming people who drain your energies.
June 8 to June 13, Mercury in Cancer squares Uranus in Aries creating explosive mental states and causing some people to speak abrasively or to promote overly radical ideas. Tact and diplomacy are likely to go right out the door when religion is discussed. Communications with regard to some very emotional topics may come up against unusual or explosive reactions. Harmony is always best achieved when we exercise discretion –nonetheless, there are times when we must speak our minds. This really is a time to watch what you say: communications have the potential to shake matters up considerably.
The New Moon in Gemini on Saturday allows for new thoughts, ideas and feelings to flow. New Moons are like clean slates. It's a time to begin a process of strengthening and celebrating your energy, and plan new vistas for growth, particularly mental growth. This represents a time for paying attention to those newer thoughts, ideas and caprices in the wind. This would be a good time to initiate a new round of creative writing.
Aries, Taurus, Gemini, Cancer, Leo, Virgo, Libra,
Scorpio, Sagittarius, Capricorn, Aquarius, Pisces
For more information about your Horoscope and what the stars have in store for you, order one of our detailed


Astrology Reports!
Free Weekly Horoscope for your Sign
Aries: There is a strong chance this week that you could end up going around in circles, especially if you're trying to achieve something or wanting to get from A to B. It may be that you're also suffering from a sense of confusion or loss of direction, not quite sure what you should be doing or where you should be going. However, if you can let your imagination speak to you –through daydreams, fantasies, intuition, art, fiction or music –you will get a clear indication as to what the next step is. Allow your imagination and your intuition to be your guiding light, and this week may yet turn out to be rather enjoyable and quite magical.
Order your personalized Astrology Reports
---
Taurus: With a cluster of planets in your money zone, this is a good week to focus on creating more abundance in your life. You will find that you have more energy, enthusiasm, and motivation for making money. The planets are also urging you to consider how you make your living and whether you can make improvements so that you either find greater enjoyment in what you're doing or are better rewarded for your efforts. It may also be worth bearing in mind that other people could be influential in your fortunes this week, and by being gracious, charming and interested in others, you may make a favorable impression that leads to opportunities and lucky breaks. And on a different note, any sadness or sorrow that presents itself needs to be acknowledged so that it can be released from your body. Keeping things in or distracting yourself from uncomfortable feelings will only have a negative impact on you and your body in the long run, so let it out.
Order your personalized Astrology Reports
---
Gemini: This is the week to really go for the things you want as a dynamic cluster of planets align in your sign giving you the energy, motivation, and positivity needed to accomplish your desires. You're also being given a green light to enjoy yourself and to focus more on what you want to do and less on what you have to do. It's good news for your work, ambitions and finances, as a glorious grand trine enhances the material side of life, enabling you to put your ideas into practice. You are likely to be even more persuasive than normal, so if you need a favor or if there's someone who can help you, don't be afraid to ask, for this week it's very much a case of "ask and you shall receive."
Order your personalized Astrology Reports
---
Cancer: Venus and Mercury in your sign are blessing you with the ability to persuade and positively influence others, so this is good news if you need a favor from someone. More important, though, is that you strive to truly focus on the other person and see things through his or her eyes. By looking for the good in someone rather than being irritated, you instantly change the dynamic between you to one of mutual like and respect. When people feel good in your company, you're halfway to winning them over as well as creating a peaceful and harmonious atmosphere.
Order your personalized Astrology Reports
---
Leo: This week blesses you with a wonderful alignment of planets in your social zone. This is good news for the party-loving side of you, as there should be opportunities to mix and mingle, along with invitations that could lead to new friends or contacts who will be beneficial to you in the future. If you have an idea or project that you wish to unleash, then this is the perfect time to get it out there and back it up with the full weight of your passion and belief. No one else will blow your trumpet for you, so get out there and show the world what you have to offer.
Order your personalized Astrology Reports
---
Virgo: Desire is the first stage in the manifestation process. Without it, nothing much happens. With Mars at the top of your chart, it looks like you know what you want, so the next step is to be focused and determined. Make an action plan, write your goals down, or create some other vision of your future. Use the power of your mind which is strong right now to move you toward that which you desire. Then when all of these factors are in place, you need to be patient. It may be that whatever you want won't happen quite as quickly as you would like, but that will simply make the attainment of your wish all the sweeter when it does arrive.
Order your personalized Astrology Reports
---
Libra: Venus and Mercury are the best of friends throughout the whole of June which is great news for you especially as they are joining forces with Neptune and Saturn in the work, success and money angles of your chart. Expect a new beginning or a positive development of some sort, and the more you can combine a leap of faith with constructive action, the more successful you will be in the manifestation of your intentions. Aside from the theme of success and prosperity, there is also a very adventurous dimension to June. If you're prepared to push beyond your comfort zone and catapult yourself into the realm of possibility, you may well find yourself experiencing miracles this month.
Order your personalized Astrology Reports
---
Scorpio: Many Scorpios have the habit of pushing themselves too hard. You'll often carry on when you don't feel well or sacrifice sleep and leisure time to get something done, making it all too easy to ignore your body's cries for rest and play. As Mars begins his journey into your zone of transformation, it may become apparent that something needs to change, and it could be something as simple as taking some time out and rediscovering the magic and mystery in life. If your health could be better or if you've lost your sparkle and joie de vivre, it might be worth reminding yourself that "all work and no play make Jack a dull boy." Try to reconnect with what makes you feel passionate and alive, and you'll soon be back on track.
Order your personalized Astrology Reports
---
Sagittarius: The Sun in Gemini highlights your 7th Room of Partnership along with Mars (action) and Jupiter (enhancement) providing wonderful opportunities for finding love and deepening your relationships this month. Now's the time to take a relationship to a new level, to make a commitment, to take a risk, to find someone special, to turn over a new leaf, or to simply enjoy being in the company of someone you love. Perhaps your greatest challenge this week lies in being able to reveal your true feelings. Vulnerability won't make you weak; it will strengthen your relationships.
Order your personalized Astrology Reports
---
Capricorn: This is likely to be a busy month but one in which you should at least be able to get lots done. You can make good progress with your work and any other work-related tasks, such as jobs around the home and anything that needs sorting. You will have plenty of energy to tackle these things, but you must take care not to overdo it. Otherwise, that energy will be quickly depleted so before you throw yourself headlong into all manner of business, take heed and never hurry. Listen to your inner voice and trust in its guidance. If you can do that, all will be well.
Order your personalized Astrology Reports
---
Aquarius: There is a strong emphasis on having fun for much of June so if you want to make the most of the good fortune surrounding you at present, you will seize any opportunities to enjoy yourself as well as put your energy into creative projects, children and hobbies and recreation. On a deeper level, the planets are urging you to make more heart-centered choices so that you can live a more authentic life. Sometimes we have to be a little bit selfish in order to be the person we came here to be, and the planets are urging you now to move toward that which will make you happy.
Order your personalized Astrology Reports
---
Pisces: Mars's arrival on the scene could bring some conflict with regard to family matters or the pleasure you take in your home. Try to be mindful of this as you go about your days and aim to be more patient and tolerant with loved ones and frustrating domestic appliances! You may also find the need to be patient when it comes to getting where you want to be since Mars is also squaring your ruler (Neptune), resulting in frustrated passions. It's likely that you'll be raring to go but find that you keep sinking into quicksand. There is an antidote to the frustration and that is to adopt a more laidback approach to life. Give yourself more time and allow space in your day to relax, create, play and have fun. And before you know it, the impasse will have shifted and you'll be able to make progress once again.
Order your personalized Astrology Reports
---
For more information about your Horoscope and what the stars have in store for you, order one of our detailed