Aries, Taurus, Gemini, Cancer, Leo, Virgo, Libra,
Scorpio, Sagittarius, Capricorn, Aquarius, Pisces

Overview of this week
The Center for the New Age is
pleased to present
your Free Weekly Horoscope
for June 30, 2013 — July 6, 2013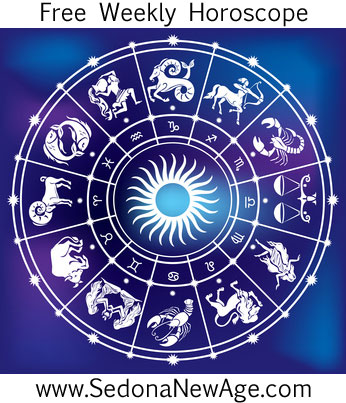 Aries, Taurus, Gemini, Cancer, Leo, Virgo, Libra,
Scorpio, Sagittarius, Capricorn, Aquarius, Pisces
This is a very calm, perhaps even boring week for the universe. Most of the transits occur from mid-July forward. The only significant occurrence in terms of the zodiac this week is Venus in Leo squares Saturn in Scorpio from the 1st of July until the 10th.
This aspect creates obstacles and restrictions concerning the timely expression of love and sometimes creates blocks in the flow of care and love due to external responsibilities and restrictions that cause and create separation. It may be difficult to engage in some romance, as there may seem to be something always getting in the way. Sometimes people are distracted from properly providing care and concern where it is most needed due to the high demands of the world at large. No matter how much one prioritizes their focuses of love, it is still likely to be misinterpreted on some level during Venus square Saturn. While this aspect is occurring, it is wisest to work a little harder at love related matters. Perhaps it is best not to get bent out of shape over some people's need to create restrictions and limitations which, for the time being, allows these folks to protect and guard their sense of harmony and peace while the trouble behind these love related matters is being worked out.
Aries, Taurus, Gemini, Cancer, Leo, Virgo, Libra,
Scorpio, Sagittarius, Capricorn, Aquarius, Pisces
For more information about your Horoscope and what the stars have in store for you, order one of our detailed


Astrology Reports!
Free Weekly Horoscope for your Sign
Aries: July looks like a month of change for you, and the focus begins this week with your personal life –your home and family situation in particular. Mercury retrograde in this area suggests that there's something that needs sorting out. It could be a situation with a family member or something connected with your home. For example, when Mercury goes retrograde in the domestic area, it's often a time when jobs need doing around the house, from redecorating to fixing things Either way, your attention is likely to be fixed on matters close to home, but there is another side to the Mercury retrograde transit that involves exploring your inner self and your past. You may find yourself wondering if the situation you find yourself in is what you really want or if you feel bound by other people's wishes and expectations. The ultimate purpose of Mercury retrograde in this deep area is to help you discover what home is. This is more than a physical home; it's actually about what feels like home to you. Can you identify what things, places or activities make you feel at home? Your answers may mean that in order to live a life that has more meaning for you, you will need to make one or two changes.
Order your personalized Astrology Reports
---
Taurus: Some people are very good at acting in the moment and making or seizing opportunities. Others are a little more reticent and tell themselves that tomorrow they'll do this, that or the other. It doesn't take a psychologist to figure out what group of people is more likely to live a richer, more fulfilling life. Mercury's retrograde motion asks you to consider what you might be putting off, from little jobs that need doing to make your life function more effectively to bigger postponements, such as signing up for that art class you've been talking about for ages or making inroads to changing your job or financial situation. Your life is waiting, and all that's needed is a more motivational approach.
Order your personalized Astrology Reports
---
Gemini: There is a big emphasis on money and your material life this month, but before that, perhaps the first thing you need to do this week is take a leaf out of retrograde Mercury's book and slow down a little. In fact, you may even need to stop and review one or two things. It will be very difficult for you to make progress until you attend to what needs tending to, so take heed of any feelings of dissatisfaction, frustration, boredom or emptiness, and turn within for the answers. Some of what you need to address will involve your material situation, whether you need to get things sorted out and be more organized, deal with a pressing financial matter, or look at how you earn your living. Stress, frustration, and dissatisfaction could all be signs that you're not making the most of yourself and that by finding ways to express more of your talents and focus on what you can give rather than on what you might be getting (or not getting), you may find your way to a greater sense of fulfillment.
Order your personalized Astrology Reports
---
Cancer: Although Cancer is a sign given to worrying about everyone else, there are times in life when it's appropriate to turn the spotlight on yourself. As Mercury heads back through your sign, this is definitely one of those times. If you just get on with life without making time to consider what is important to you and what you would like to do with the next stage of your life, you could easily miss the glorious opportunities currently on offer. Throughout the month, Jupiter forms a grand trine from your sign with Saturn and Neptune, suggesting that if ever there were a time for manifesting your dreams, this would be it, so turn within and listen for your intuition that will prompt you as to what to do next. This is one time in your life when the universe is giving you permission to focus on your own needs, so don't feel guilty for making your well-being your first priority.
Order your personalized Astrology Reports
---
Leo: This might not be the most positive week you'll ever have, but if you can tune into your inner self and look for the meaning behind events, you will emerge much the wiser. There is a lonely feel to proceedings, so maybe there's something you need to go through that nobody else really understands. Maybe you just need some time on your own, or circumstances may mean that you have little choice but to be on your own. Try not to struggle against this, as the more comfortable you can be with your situation and the more you can turn within for guidance and insight, the easier you will find it. It may be that whatever you discover about yourself will enable you to make some important and valuable changes in time to come.
Order your personalized Astrology Reports
---
Virgo: Much of July will see your thoughts dwelling on your goals in life and whether you need to re-evaluate your plans for the future. If you haven't gotten as far as you'd like, then now is a good time to rethink. Perhaps you need to make some adjustments or change your course. Friends, contacts, groups and acquaintances are also likely to be a theme, and again you may find yourself re-evaluating one or two of your friendships or wondering about your role within a group. Ultimately, what's needed is the courage to do what feels right, perhaps dropping one or two responsibilities that may feel more like burdens or changing the dynamics of a friendship or group involvement. There is very much a people theme to this week, and there are opportunities for meeting new people –whether friends, business contacts or love interests –so make sure you're ready to join up with others and to receive the lucky breaks that might come from your interactions.
Order your personalized Astrology Reports
---
Libra: With a glorious grand trine highlighting the material areas of your chart, the whole of July is ripe for potential as far as your work, money, and ambitions are concerned. Before you start to make big progress though, you might want to revise and review some of your plans and goals, for Mercury retrograde at the top of your chart suggests that you may need to readjust your trajectory slightly. This is the time to think about your vocation and what success means to you. Ask yourself how you would know when you are successful. Ralph Waldo Emerson's quote may be helpful: "To be yourself in a world that is constantly trying to make you something else is the greatest accomplishment." If you don't feel that you are managing to be completely authentic, this is a good week to transform your thinking and shed your old habits and beliefs. Remind yourself this week that the more able you are to be true to yourself, the easier you will find it to be successful in the outside world.
Order your personalized Astrology Reports
---
Scorpio: The month begins with a lovely grand trine that activates the pleasure and enjoyment regions of your chart. The even better news is that this configuration lasts all month, so you should have plenty to feel good about as the days and weeks roll by. This week, retrograde Mercury is asking you to redefine your hopes and plans for the future. In mundane terms, this planetary event could cause a little havoc with travel plans, so give yourself more time when getting from A to B and double-check all your arrangements. At a deeper level, this transit may provoke philosophical questions along the lines of "What's my purpose in life?" This could lead to a sense of uncertainty or restlessness as you wonder if there's more to life than you're currently experiencing. If this is the case, what's needed is more meaning and if you are willing to turn within which is what a Mercury retrograde transit asks of us anyway, you will find your answers to living a more meaningful life.
Order your personalized Astrology Reports
---
Sagittarius: Trying to juggle too many balls in the air will inevitably lead to something crashing down around your ears, so before that happens, why not take some time out to consider if all the things you're currently trying to do are really necessary. If your nervous system feels overloaded, then you need some quiet time to renew your tired, frazzled spirit. Mercury retrograde in your zone of transformation is asking you to go within and access your inner self so that you may connect with the truth within –your truth, not society's, your parents' or anyone else's. If you can go on a retreat, then great; otherwise, find a tree in a quiet spot and just sit and relax. Your sanity will thank you for it.
Order your personalized Astrology Reports
---
Capricorn: With such a strong focus on your relationships, the question needs to be asked: What do you need to say and to whom do you need to say it? This is an ideal time to clarify an issue, to resolve a problem with someone, or to get something off your chest. It is probable that something was left hanging with a certain person. Perhaps there are some loose ends to tie up or an explanation that needs to be given. Either way, now is the time to have that conversation. Remember too this week, that your family and close one-on-ones are the most important features of your life, even if it sometimes seems like they're the bane of your existence. If you are feeling fragile, misunderstood, or isolated, it's pointless looking outside yourself for love and validation, because ultimately you need to value yourself. This is a week to turn to the divine center of yourself and tap into that power that reminds you you're so much more than what you think you are.
Order your personalized Astrology Reports
---
Aquarius: If you want to create a new vision in your life, you will need to stop clinging to the past. We each carry around with us so much of the past from regrets and hurts to unresolved baggage and the subsequent fear, we are stopped from creating and seizing new opportunities or just enjoying the present. The planets are currently asking you to look at whatever it is that you may have buried and release it. This could be mistakes you've made or something that isn't working out in your current life. Don't keep holding on if your heart isn't in it. Mercury retrograde asks you to look honestly at your life and in particular, your work (or how you spend your days) and your health with a view to making changes.
Order your personalized Astrology Reports
---
Pisces: This week and the following weeks in July put you in the very enviable position of being able to take big steps forward to manifesting your dreams and visions. However, in order for you to do this, you need to ensure that you have no ball and chain strapped to your ankle! This is an opportune time for you to release your baggage whether it's from last week, ten years ago, or back in childhood. Many Pisceans have difficult childhoods or aspects of family life that need healing, so if you really do want to make the most of this rare opportunity to manifest your dreams, you need to liberate yourself from the past. Forgive yourself and others for their mistakes, heal your wounds and let go of any conviction you have in suffering. Most Pisceans have an unconscious belief in anguish which is why you have more than your fair share of traumatic or sorrowful experiences. You can change all that now. All you need to do is make a conscious declaration to exchange sorrow for joy.
Order your personalized Astrology Reports
---
For more information about your Horoscope and what the stars have in store for you, order one of our detailed