Aries, Taurus, Gemini, Cancer, Leo, Virgo, Libra,
Scorpio, Sagittarius, Capricorn, Aquarius, Pisces

Overview of this week
The Center for the New Age is
pleased to present
your Free Weekly Horoscope
for June 9, 2013 — June 15, 2013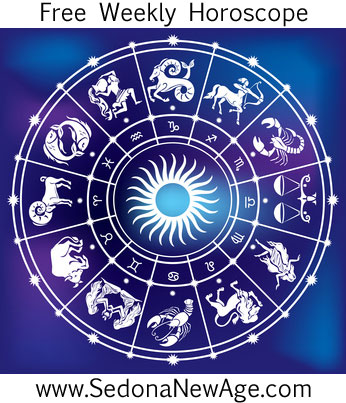 Aries, Taurus, Gemini, Cancer, Leo, Virgo, Libra,
Scorpio, Sagittarius, Capricorn, Aquarius, Pisces
The very important aspect – Saturn in Scorpio trine Uranus in Pisces –commences Tuesday and we can expect to be under the influence of this aspect for the next three months. Historically, events taking place under this aspect have been traumatic in nature requiring a long time to get over if that's even possible. But here's the good news. Saturn and Uranus are changing their tune now as they are both in water signs of the zodiac in the favorable trine position. This brings a positive note to our changing world. Saturn represents disciplines and responsibility in whatever form it takes. Uranus represents an influence creating the need to break free of old guidelines and outmoded lifestyle. The trine aspect creates a harmony between these two powers which are very much like opposites. With this current aspect, the concept of change for the better is emphasized and the need to end one thing and begin another will influence many of us to make important decisions.
Venus, the planet that governs love and magnetism is square to Uranus, the planet of chaos and disruption beginning Wednesday for this week and next. It may be difficult for love to flourish in a spontaneous and carefree fashion and there may be obstacles placed between love and freedom. This influence may be testing the power of your love to withstand chaos. Be assured in self-love and empower affection with personal integrity. People are changing at a rapid rate and it is essential to let love take its course concerning issues of personal freedom. Applying pressure only increases the force of an explosion.
Mars emphasizes all forms of action, while Pluto represents the transformational powers of destiny. These two planets in the square position (June 15 –July 20) spell out the potential for trouble with regard to our actions. Strong disruption between generations is likely to occur at this time. This aspect does imply that this is a more likely time for an "attack" to occur from power-driven sources. Actions or conflicts concerned with higher powers are likely to backfire. It is best not to bluff those of a higher or unanticipated authority at this time. The hurdles of taking action in hopes of creating a transformation may be very dangerous. This may be a particularly difficult time to fight addiction; it is also the most crucial time not to give up the fight.
Aries, Taurus, Gemini, Cancer, Leo, Virgo, Libra,
Scorpio, Sagittarius, Capricorn, Aquarius, Pisces
For more information about your Horoscope and what the stars have in store for you, order one of our detailed


Astrology Reports!
Free Weekly Horoscope for your Sign
Aries: Venus joins Mercury in your domestic area and influences your thoughts to be focused on love, romance and creativity. If you work out of your home, then you're feeling quite satisfied with whatever you do. You may already work with your partner or spouse, but if not, it's a possibility. The merits of positive thinking are sometimes overvalued. It isn't possible to always be in a good mood or to constantly think in a positive way, but there are times when it helps to be reminded of the power of one's mind. If you can cultivate a sense that you can accomplish anything, you will be on track to manifesting a new vision.
Order your personalized Astrology Reports
---
Taurus: The advice for you this week, Taurus, is to be confident, determined and enthusiastic as this will not only help you achieve your desires but will also serve to draw positive experiences to you. Your relationships are also favorable this week under a wonderful grand trine, so connecting and communicating with others is likely to be fortunate for you while commitments of all kinds look auspicious. This week, declare your love and cement your bonds!
Order your personalized Astrology Reports
---
Gemini: Reality follows thought so do your best to keep your thoughts and feelings upbeat this week since this will draw positive events and opportunities to you. It seems like you're ready for change and part of that change involves seeing yourself or life in a new way. Perhaps you're breaking out of your previous limitations. Maybe you're ready to push out of your comfort zone. Maybe you're not prepared to put up with an unsatisfactory situation anymore. The wonderful thing is that you now have the energy, enthusiasm and motivation to grab life by the horns and make as much of it as you possibly can.
Order your personalized Astrology Reports
---
Cancer: Let go of a situation that isn't doing you any favors! This may require some courage in confronting something that you would rather leave festering in the closet. We all have things from the past that we would rather ignore, but every unresolved issue remains buried, clogging up our energy and potentially affecting our health. If your energy is low or your spirits are down, take this as a sign that there is some heaviness in your psyche that needs addressing. If you can express any sadness, sorrow, regret or guilt, you will be doing yourself a big favor. Ideally, you will find a creative way to express your inner angst –painting, music, dance or writing poems or stories in a journal are all great options for helping you release blocked emotions.
Order your personalized Astrology Reports
---
Leo: We all get dealt a hand of cards at birth, some of which are positive and some not so. The trick, as we navigate our way through life, is to take the most of whatever cards we've been dealt. This suggests that there will always be certain parameters within which we are bound. Most of us are never going to be famous. Many of us won't experience great wealth and lots of us don't have what it takes to be astronauts, athletes or bestselling writers, but we all do have something that we can make the most of. It's time to think about what you can do rather than fretting about what you can't. A difficult situation can always be improved, a talent can be nurtured, a relationship can be healed and the past can be forgiven.
Order your personalized Astrology Reports
---
Virgo: Getting from A to B isn't always a straight or trouble free path. Sometimes we have to take a detour or negotiate problems. Sometimes you feel like giving up and turning back because the path appears to come to a dead end or becomes too treacherous. Don't give up hope if you're finding progress tough this week but you may have to think constructively in order to negotiate the barriers to success. A mature, persistent and sensible attitude will help you attain your goals, so keep on pushing forward.
Order your personalized Astrology Reports
---
Libra: Can you believe that anything is possible? If you can, you may find yourself holding the key to a bright new world, but first you have to negotiate your way through any feelings of guilt. Perhaps there is someone who might be envious or disapproving of what you're doing, but you must have the courage of your convictions and not give up in the face of powerful opposition or allow yourself to be knocked off course by destabilizing events. All of this may be tiring so give yourself the love and care you need in order to function effectively. Push beyond your comfort zone, embrace the unknown, and step out on a new journey. And remember, if it feels right in your heart, don't let anyone else talk you out of it.
Order your personalized Astrology Reports
---
Scorpio: If this year has seemed a bit heavy with too much work and responsibility and not enough fun and lightheartedness, then all that is about to change so long as you are ready and willing to embrace a lighter time. With Venus and Mercury forming a wonderful grand trine in your zone of travel and adventure, the scene is set for lighter times and increasing optimism. Now is the time to consider what would expand your horizons and give you a new lease on life, for soon enough the opportunity will come for you to make this a reality.
Order your personalized Astrology Reports
---
Sagittarius: This week is simply wonderful for matters of the heart and is ideal for starting fresh with someone and for being lucky in love. It's likely that at least one of your relationships is a source of joy right now, whereas another relationship could be tricky. Wherever there is conflict, try to be the one who offers the hand of compromise. When you can understand where the other person is coming from, you will find it much easier to be tolerant and forgiving. This week holds many positive opportunities where relationships are concerned, and the more you can freely give and receive love, the happier you will be.
Order your personalized Astrology Reports
---
Capricorn: Although there could be some tension in your personal life, the potential for reaching a new level of understanding is high, and the more you can listen and empathize, the more likely you are to be able to break through this tension to a place of peace. Perhaps you would benefit from looking at how you can integrate the different aspects of your life –your work-life balance, for example, or bringing more of what you would enjoy into your life. As with last week, you may need to keep an eye on your health, especially with regard to overindulgence, and this would be the perfect week to start a new regime and adopt some positive new habits.
Order your personalized Astrology Reports
---
Aquarius: Have you forgotten how to play? If so, try seeing the world through a child's eyes once again. This will doubtlessly involve slowing the pace of your life so you can stop and notice things that adults are usually too busy to see. If you have children, this is the perfect week to spend time with them and observe how they take delight in the simplest of things. You may say you don't have time for this, especially in a week where it seems you're extra busy, but if you can't make time in your day to relax and have fun, the question is, what sort of life have you created? Is it one in which you're truly happy? You have a choice this week to either get caught up in the frantic pace of life or decide to step back and pause for thought. If you choose the latter, you will find much to feel surprisingly joyful about.
Order your personalized Astrology Reports
---
Pisces: This is the week to welcome joy and happiness into your home as well as embrace, change and create your environment the way you would love it to be. This week also bodes well for improved family relations especially if things have been a bit strained recently. You will find that if you listen to your intuition, you will find the answers to any questions you have, and acting on your instincts will lead you to the right course of action. If there is any tension in your life, it can be offset by being creative. Dance, art, poetry or writing would be particularly good outlets for you now, so get to expressing yourself through one of these pursuits.
Order your personalized Astrology Reports
---
For more information about your Horoscope and what the stars have in store for you, order one of our detailed