Aries, Taurus, Gemini, Cancer, Leo, Virgo, Libra,
Scorpio, Sagittarius, Capricorn, Aquarius, Pisces

Overview of this week
The Center for the New Age is pleased to present your Free Weekly Horoscope for March 23 — March 29, 2014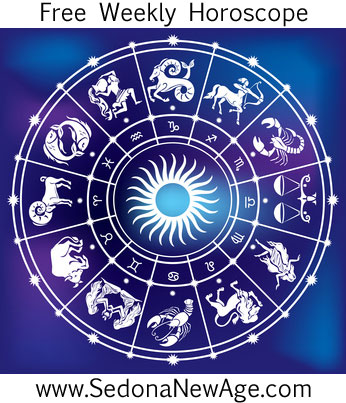 Aries, Taurus, Gemini, Cancer, Leo, Virgo, Libra,
Scorpio, Sagittarius, Capricorn, Aquarius, Pisces
Mercury in Pisces trine Jupiter in Cancer (March 26 –April 1) is a most favorable aspect that brings good news of expansion and prosperity to those who are open to broadening their awareness. Mercury brings news while Jupiter brings wealth and prosperous change. This serves as a good time to advertise and put information out there concerning one's business endeavors. For some folks, Mercury trine Jupiter serves as an advantageous time to ask for a job or a loan or a good time to provide a service which may have a bearing on a potential promotion. This is an especially good time to look openly for opportunity when sharing information and to promote oneself and one's capabilities.
Mercury in Pisces sextile Pluto in Capricorn (March 28 to April 1) serves as a good time to reach out to those of another generation and make an attempt to communicate something vital. Communications and discussions are enhanced with this aspect and information news and will be noteworthy.
Starting March 29th, Venus in Aquarius trine Mars in Libra provides a terrific aspect for promoting harmony in relationships. This is a good time to get to know your mate better. When Venus and Mars are well harmonized by this ideal aspect, there is a great opportunity (until the middle of April) for peace and healing in relationships. However, no matter how much one prioritizes a focus on love, it is still likely to be misinterpreted on some level during the first week when the Venus square Saturn aspect might create obstacles and restrictions concerning the timely expression of love. This aspect sometimes creates blocks in the flow of care and love due to external responsibilities and restrictions that cause separation so while this aspect is occurring, give it your best –keep singing the praises of love and applying the law of attraction, but expect some challenges nonetheless.
Aries, Taurus, Gemini, Cancer, Leo, Virgo, Libra,
Scorpio, Sagittarius, Capricorn, Aquarius, Pisces
For more information about your Horoscope and what the stars have in store for you, order one of our detailed


Astrology Reports!
Free Weekly Horoscope for your Sign
Aries: The past few weeks have been very much about surrendering yourself, but now, with the Sun in your sign, you're in a much better position to take action. This is an ideal time to break out of a rut, change direction or decide to change something about yourself, whether it's your appearance or an aspect of your personality. Your aim should be to make changes that will result in greater balance and harmony in your life so if things are a little one-sided or you're not doing enough of what you enjoy, now is the time to make the change.
Order your personalized Astrology Reports
---
Taurus: You should be feeling more at home within yourself this week, and more content with wherever you are and whomever you're with. That's not to say that you won't want to make changes. In fact, because you're likely to have flashes of inspiration, it's highly likely that you'll be motivated to do something different, but the action you take will be fueled by excitement and understanding rather than fear and confusion.
Order your personalized Astrology Reports
---
Gemini: This week there is a good possibility that you become involved in a new friendship or you could meet someone who acts like a catalyst for change. Or you could get a chance to do something different or manifest a dream. It is highly likely that a door of opportunity will open. It is, of course, up to you whether you walk through it or not, but if you decide to play it safe, you could be turning away from something that would be really good for you. Why not look out for the new and the exciting and take a bold step toward it!
Order your personalized Astrology Reports
---
Cancer: Mercury, the messenger planet forms an engaging and sympathetic aspect with Jupiter, the planet of prosperity that is in your sign this week. This should result in happier as well as more compassionate feelings for you, and with this security, you need to be bold, daring and courageous. Perhaps you need to join forces with another and put your trust in them. Maybe you need to make a decision or quit standing on the sidelines and take part in the game. The more daring and adventurous you can be, the more you will be rewarded by exciting new developments.
Order your personalized Astrology Reports
---
Leo: It seems that all the heaviness of the past is falling away right now, leaving you with a sense of excitement about your potential and your dreams for the future. Some form of higher guidance could be instrumental in helping you see things differently, whether it's the insight from a dream or a message from a mystic or healer. Be open to high guidance, as it will speak clearly to you now about which path to take. All you need to do is trust and believe in your dream.
Order your personalized Astrology Reports
---
Virgo: Venus creates greater harmony in your daily work life and the way you maintain your health this week. Experimenting with various nutritional programs or alternative therapies for health is certainly advisable. It's also high time you moved on from old painful situations. Now is the time to adopt a new vision and a celebratory approach to life. So much of what we experience in our lives comes down to our attitude and what we unconsciously expect. Decide this week to cast out any negative expectations and to break free from dark memories or grief so that you can begin to live in a more joyful fashion.
Order your personalized Astrology Reports
---
Libra: This is a very important week for you –one in which pretty much anything could happen. You can certainly expect a change of some sort, most probably connected with a relationship. Refreshing and liberating changes involving others are the order of the week. This is an ideal time to turn over a new leaf in your relationships, and a partnership in need of livening up will almost certainly feel the winds of change blowing through it. You may experience the hand of fate reaching into your life and changing things for the better. It may well be that this is the week when life takes a different turn, and you find yourself on the path to your true destiny.
Order your personalized Astrology Reports
---
Scorpio: There are two areas of life that are ripe for positive, new developments: your work and your health. Perhaps you will see a change in your work. It could be a change that you find exciting, refreshing or liberating. If things have been a little stagnant, then they won't be for much longer. If your health is in need of renewal, this is an ideal time to begin a new diet, lifestyle or regime that will change your health for the better. Much of what is going on with your health relates to your mind and your thinking. Although many of the problems that we encounter are due to our unconscious patterns and beliefs, this is one time when you're beginning to understand what these thoughts and patterns are and this will enable you to take greater control and make the appropriate changes.
Order your personalized Astrology Reports
---
Sagittarius: If you find yourself in less than jovial spirits, it may be that there is some sorrow that needs releasing. Don't bottle your feelings up, but let them be free so that you can heal and move on. Focus on what you love doing, especially if you've forgotten or felt unable to indulge in fun things –a hobby, a pleasurable excursion, creative expression, a night out, or having fun with others. Give yourself a break and devote this week to exploring positive new experiences.
Order your personalized Astrology Reports
---
Capricorn: Embrace the developments that are taking place in your life right now, and do what you can to turn them into the potential for new beginnings. This week could signal an end to the past and your biggest challenge is in not allowing complacency to get the better of you. Take nothing for granted; don't rest on your laurels, and keep working toward your goal. With Mercury in your third house of communication, this transit brings a beautiful intuitive flow to your conscious mind and fires up your imagination. Make good use of this gift.
Order your personalized Astrology Reports
---
Aquarius: Prepare to throw back the curtains of your mind, fling open the windows and watch as the cobwebs are blown away by the refreshing breeze of change. Everything begins with our thoughts and our attitude. Where previously you may have had misguided concepts about yourself, soon you will begin to clear these false notions from your mind which will leave you in prime position for not just feeling good about yourself and life but being able to make positive changes in your world.
Order your personalized Astrology Reports
---
Pisces: This is a perfect week to turn over a new leaf in your material work, to make a new purchase, to start a new job or to cut yourself free from debt. All that's needed is a little courage and creative ingenuity on your part. With Mercury in your sign, your imagination slams into high gear, your intuition is sharper and your conscious mind absorbs other people's moods like a sponge. It's important to hang out with positive, up-beat people in order for you to maintain an optimistic and constructive attitude in your own thoughts and endeavors. Think about what you have to offer and realize that some things aren't worth your time and effort. Whatever the case, it's time for change.
Order your personalized Astrology Reports
---
For more information about your Horoscope and what the stars have in store for you, order one of our detailed