Aries, Taurus, Gemini, Cancer, Leo, Virgo, Libra, Scorpio, Sagittarius, Capricorn, Aquarius, Pisces
Overview of this week
The Center for the New Age is pleased to present
your Free Weekly Horoscope for May 17 — May 23, 2015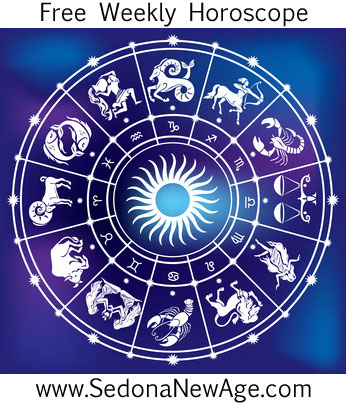 Aries, Taurus, Gemini, Cancer, Leo, Virgo, Libra, Scorpio, Sagittarius, Capricorn, Aquarius, Pisces
May 18, New Moon in Gemini allows for new thoughts and ideas to flow, and new feelings about the way we are thinking will begin to emerge. New Moons are like clean slates. It's time to begin a process of strengthening and celebrating your energy and to plan new vistas for growth particularly in the area of emotional well-being. It's a time to pay attention to those newer thoughts, ideas and caprices in the wind. This would be a good time to initiate a new round of creative writing or to apply a new mental discipline in a manner which will eventually become more personally beneficial. Making a new attempt at reaching out to an old friend or opening up communications with a new circle will bring great new insights to one's field of knowledge at this time.
Venus in Cancer opposes Pluto in Capricorn (May 22 –June 1). The love we feel for home –and those places from which we draw a nurturing spirit (Venus in Cancer)–will be diametrically opposed to those elements and conditions of life that transform our homes and home-life into something more career based (Pluto in Capricorn). Matters concerning love, beauty and affection may be overwhelmed by powerful forces or unforeseeable twists of fate. These fateful forces may be intruding somehow on the objects or people we love and admire. Some people find it difficult to support loved ones through severe kinds of hardship, yet now is the time to offer support to them, despite the opposing forces that appear too harsh or overwhelming. This aspect may well bring on an acute awareness of the desire that some have for power, and the need to have power over loved ones. No one, no matter how powerful, can justifiably tell us what we love, who we love, or how we are to love. Deep in our hearts swells the truth. When the going gets tough, look to your heart!
Aries, Taurus, Gemini, Cancer, Leo, Virgo, Libra,
Scorpio, Sagittarius, Capricorn, Aquarius, Pisces
For more information about your Horoscope and what the stars
have in store for you, order one of our detailed
Astrology Reports!
Compatibility Report compares your temperaments and personalities. This information is powerful if you are married or living together.

Love Cards Report will reveal as much information about you and your partner as possible, using an ancient and highly accurate system called "The Book of Destiny".
Free Weekly Horoscope for your Sign
Aries: As Mercury grinds to a halt (with the New Moon in your finance zone), slow down for a while and assess your situation. Firstly, this is a good opportunity to create new financial beginnings, whether that's turning over a new leaf in managing or earning money, or whether you're being valued enough at work. Secondly, Mercury retrograde suggests this isn't the time for rushing but for carefully considering your options. Thirdly, Jupiter in your creativity zone hints at looking to do more of what you enjoy; if you can find a way to do this without compromising yourself financially, then that's great. What you may need is a reminder that God exists within you, and all you have to do to live a life in accordance with your true self is to access that divine spark within. When you can do this, perhaps through mediation or through doing things that you love, you will automatically find yourself on the right path.
Numerology Report is a personal profile and one year forecast based on advanced calculations of your name and birth date.
---
Taurus: The New Moon falls in your sign on May 18, making this a great opportunity to turn over a new leaf in your life. Perhaps this is your chance to leave the past behind or liberate yourself from a limiting situation, whether inflicted by yourself or others. Perhaps you're realizing that you don't have to stay stuck and that it's often your own beliefs that keep you in a prison of your own making. This New Moon hold the keys to set you free, so take some time around May 18 to consider what you would like from this point on. How would you like to change your life, from the big things to the small details? Consider what you would and would not like to do. Let your answers form a new vision of your future.
New Age Natal Report is designed as a guide for your growth and personal evolution in the New Age.
---
Gemini: Almost all of us carry wounds from the past. Sometimes we are very aware of what these wounds are; other times, we are not so aware. As a New Moon falls in your zone of the past, it's an ideal time to heal. This is especially important if you're not in full health (physically, mentally, or emotionally). Try to identify where the pain has come from, and find a creative way to release it, perhaps by painting, dancing or doing a ritual or a guided journey. The more able you are to release your pain from the past, the more likely you are to find energy, inspiration, and vibrant good health returning.
Merlin Report could be beneficial in self-help and self-transformation.
---
Cancer: When our lives don't work properly, where there's too much of one thing and not enough of something else, we begin to malfunction. This malfunction could manifest itself as illness or exhaustion or as more than your fair share of bad moods, anxiety or stress. Conversely, when our lives are balanced and flowing, our minds and bodies flow in a harmonious fashion too. Saturn's position in your chart along with Mercury retrograde, are urging you to look at where you need to be more organized or balanced. Look at where you might need to do less of one thing in order to give more time to something else. At the same time, the New Moon will ensure that any changes that you begin now will almost certainly reap positive results for your future well-being.
---
Leo: This week's New Moon on May 18 offers the opportunity to set a new course, change direction, or plant some new seeds for your future success. It bodes well for all your professional endeavors and is great if you're waiting for a door to open to allow you to progress. Make sure that your new beginnings are in alignment with your authentic self as Jupiter's presence in your sign reminds you of the importance of personal growth and fulfillment. It's not enough anymore to do something just for the sake of it or for the security it offers; your choices now need to be heart based, and this week is the perfect time to start.
Child Astrology Report is been designed as a guide for parents, to help with the child's growth and alerting the parents to problems that the child could face in their life.
---
Virgo: The New Moon in your travel zone isn't just great for planning adventures; it's also extremely positive for new beginnings in terms of a more positive approach to life. This will be particularly helpful to Virgos whose lives haven't been too easy in recent times, as the New Moon brings enthusiasm, optimism, and lightness of spirit. This New Moon may help you to move on from the past and step forward into a new life with faith and hope.
Astrological Solar Return Report offers you a practical guide that helps you analyze this year's prospects and to learn from them.
---
Libra: This week's New Moon alongside Mercury retrograde is cleansing and cathartic, so if there's something you want to be rid of, May 18 is a good day for letting go. We all carry some degree of emotional pain around with us, but over time this becomes draining, and if we don't regularly release the old stuff, it can cause blockages in the form of illness, exhaustion, depression or general malaise, so use this New Moon to clear out your issues. Write in your journal, clean out your cupboards, get rid of clutter, or forgive someone who hurt you in the past. As you gently release all that you no longer need, incredible amounts of energy and positivity will return and inspire you to get moving again.
Astro Forecast Report gives you actual dates when the energies influence your life in a given time period.
---
Scorpio: The New Moon in your opposite sign offers the chance for new beginnings in relationships, making May 18 a great day to turn over a new leaf in matters of the heart. It's not just romantic relationships that look set to benefit from this New Moon, but any relationship that is in need of renewal. By allowing the past to be past, you can instantly improve any relationship and move it forward to a new level. A good quote for you this week comes from Robert Brault: "If I could do it over again, there would be a hand I'd take…and a silence I'd break."
Cards of Destiny Report is a one year forecast based on Robert Camps book and age-old "cards of destiny" our ancestors gave us.
---
Sagittarius: The New Moon on May 18 is a very positive omen as far as your work and your health are concerned. If either one is in need of improvement, take some time to plant some positive seeds that will, in time, flourish into wonderful outcomes. If your health requires you to turn over a new leaf, then do so on May 18 or 19, as these are very good days to begin a new regime. New jobs or work roles are also favorable now as is coming up with new ways of working. At its simplest level, this New Moon offers you the chance to look at how you spend your days and to begin shaping them into something that fills you with satisfaction.
Relocation Information Report (3 locations) can be of great assistance if you are contemplating a move.
---
Capricorn: The New Moon on May 18 falls in your zone of fun, making this the ideal time to focus more on what you enjoy and to make it a greater part of your life. Romantically and creatively this is an auspicious time for new beginnings, so if you wish t begin a new project, art class or romance, set your intentions around May 18. Perhaps the best use of this New Moon, though, is to focus on living a more authentic life. In other words, think about what resonates with you and makes your heart sing. Are there any areas of your life in which you're just going through the motions, or worse, compromising yourself for money, security or comfort? Perhaps it's time to remove your mask and allow the real you to step forwards.
Cayce Past Life Report describes your character traits, relationship potentials and challenges as well as career potentials and even more based on Edgar Casey Readings.
---
Aquarius: The New Moon on May 18 is great for turning over a new leaf in your domestic life. This could be the start of something new: an addition to the family, a new home, a reunion with a family member, or changes to your abode. On a deeper level, this New Moon suggests a transformation is under way. Because changes are occurring at a deep inner level, it might be fun to watch what is going on around you and see it as a reflection of your changing inner self. And if you want to help the process, clear out your old junk and make a new space in your home; consider redecorating or applying some Feng Shui to cure problem areas. By making changes in your physical reality, you'll enhance the transformation process taking place within.
Karmic Past Life Report examines possible past life connections using astrological methods.
---
Pisces: The New Moon on May 18 encourages you to fully participate in life. It is a good day to start viewing life in a different way. We always have a choice as to whether we see the glass as half empty or half full, and this New Moon seeks to remind you of that. Your experience of life is determined by how you approach it, so perhaps the best quote to sum this up is from Earl Nightingale: "A great attitude does much more than turn on the lights in our worlds; it seems to magically connect us to all sorts of serendipitous opportunities that were somehow absent before the change."
Karmic Insight Report comes from an esoteric point of view your birth chart is a portrait of your soul's intention for this lifetime, the lessons to be learned, qualities to develop, problems to be resolved, services to be rendered.
---
For more information about your Horoscope and what the stars
have in store for you, order one of our detailed
Astrology Reports for Couples!
Compatibility Report compares your temperaments and personalities. This information is powerful if you are married or living together.

Love Cards Report will reveal as much information about you and your partner as possible, using an ancient and highly accurate system called "The Book of Destiny".