Aries, Taurus, Gemini, Cancer, Leo, Virgo, Libra,
Scorpio, Sagittarius, Capricorn, Aquarius, Pisces

Overview of this week
The Center for the New Age is
pleased to present
your Free Weekly Horoscope
for May 19, 2013 — May 25, 2013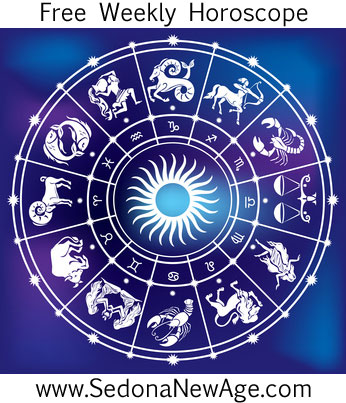 Aries, Taurus, Gemini, Cancer, Leo, Virgo, Libra,
Scorpio, Sagittarius, Capricorn, Aquarius, Pisces
For the first half of this week, Mercury in Gemini is sextile Uranus in Aries focusing talk, information and news on unusual occurrences. This aspect gives us the opportunity to freely speak our minds and to address the turmoil that exists in our lives.
Mercury and Venus are conjunct in the communicative and adaptive sign, Gemini. This will bring a very charming and naturally observant quality to our communications. Any words of love or adoration uttered for the next couple of days will come across with thoughtful intent and with clear reception particularly if this expression of love is very sincere and genuine. Mercury conjunct Venus in Gemini brings a playful and curious tone to discussions among loved one. Be sure to let those whom you love know it; sometimes it's what isn't said that disquiets the heart. Hold no expectations in the expression of love, and take no offense if your attempts to express love are poorly interpreted. Know that there is a need to communicate love occurring now, and that the most simple and direct way to express love might be best.
The Full Moon in Sagittarius on Friday brings visionary awareness to our moods with many actively seeking to gain new insights about life. Full Sagittarius Moon emphasizes an exploration of the senses and philosophical endeavors. There is often a tendency to go way out beyond the usual bounds and discover new territory. How we chose to perceive and develop our understanding of this new territory has a lot to do with what stage in our life we have come to and what kind of philosophy best suits our own individual needs. Profound and extraordinary kinds of realizations and events often happen during the Full Sagittarius Moon.
A Lunar Eclipse occurs when the Earth moves between the Moon and the Sun, blocking the light that reflects off the Moon's surface back to Earth. This phenomenon occurs this week during Friday's Full Sagittarius Moon. Some believe that eclipses bring darker than average moods. Some see this as mere superstition while others may base this belief on their personal experiences. Sagittarius says, "I see." Friday moving into Saturday is an important time to be aware of intuitive hunches and predictions. This may also be a challenging time to make progress with a tight schedule.
Aries, Taurus, Gemini, Cancer, Leo, Virgo, Libra,
Scorpio, Sagittarius, Capricorn, Aquarius, Pisces
For more information about your Horoscope and what the stars have in store for you, order one of our detailed


Astrology Reports!
Free Weekly Horoscope for your Sign
Aries: It is good to remember that while Uranus is traveling through your sign, you will thrive if you are prepared to let go of your old life, because a new one is trying to make itself manifest. Are you currently juggling too many balls in the air? Or maybe you feel like you're balancing on a balloon that's hovering over a bed of nails. Either way, it looks as though something's about to drop or pop. The lunar eclipse is likely to bring such a scenario to a head, and this is when you'll be faced with the reality of a situation. Perhaps an illusion is being shattered, or maybe you're being faced with the debris that you once swept under the carpet. Reality may feel rather wobbly this week, but you will deal with it far better if you're prepared to see things as they really are and look at ways in which you can deal with it in a constructive way.
Order your personalized Astrology Reports
---
Taurus: This week is about your self-worth and what you value, so if you're not getting what you want, it could be because either you don't place enough value on it or deep down you don't feel you deserve it. It would be very beneficial if you could spend some time going within to look at the ways in which you might restrict yourself or sell yourself short. See if you can identify any hidden beliefs that say you're not good enough or that you don't deserve to have a wonderfully happy, abundant life. Look back at the messages you were given as a child about money and the material world. Were you told that money doesn't grow on trees? Was there a lack or tension around money? Or was it the opposite –too much importance was placed on the material, perhaps leading you to feel you need to work too much to create (an illusion of) security? What you discover may well be the incentive you need to create a change for the better. However, there is a fly in the ointment in the form of the Lunar Eclipse on May 24. This could reveal some confusion or uncertainty that needs to be cleared up, or there might be something you need to do before the wonderful abundant potential for you of planetary activity can be unlocked.
Order your personalized Astrology Reports
---
Gemini: Now is a good time to consider how balanced your life is. If one area is dominating your thoughts, time and energy while other areas are languishing on the sidelines, try to make some adjustments. Perhaps you could start by determining what you would like more of in your life and what you would like less of. Does your body need more care? Do you need to spend less time working or doing chores? Create a new vision of your life –perhaps make a collage or write out a plan –and refer to it often. Is there someone in your life who's not much use to you? If so, the Lunar Eclipse on May 24 will bring things to a head and shed light on what has probably been a confusing situation. It may be that someone has been less than truthful, or it may be that someone was just being weak or unreliable, all of which may have been unsettling for you. Confusion in your personal life could also have an impact on your professional world. Maybe the two are linked or the confusion is sabotaging your ability to make progress and achieve your vision. Still, despite the fogginess, it looks likely that you will emerge triumphant and successful and it may be a case of not allowing someone else's weakness to deter you from being happy and successful.
Order your personalized Astrology Reports
---
Cancer: On Friday the Sun, Mercury, Venus and Jupiter all align in the sign of Gemini in your 12th Room of the Soul/Karmic closet as the Full Moon illuminates your 6th Room of Health/Work. Through the planetary energies of these bodies, you have been doing lots of work on and with a karmic relationship. According to this planetary alignment, you've had a lot of relationship work to do. Through the Full Moon Eclipse in your 6th Room of Health/Work, a new way of doing things is revealed. You and another may team up and work together. In doing so, you may realize how to be a better partner in general. The Lunar Eclipse on May 24 is strongly suggestive of the need to pay attention to your health, your work or possibly both. Perhaps you need to get the balance right between the two. If there is something within you that needs healing, you could start by letting go of the past because it looks as though you are holding on to something –a person, place, situation, memory, hurt, or regret that is really doing you no favors.
Order your personalized Astrology Reports
---
Leo: The Lunar Eclipse on May 24 occurs in the romance and creativity area of your chart, a distinct plus. Emotions that surface in this area should be positive. Something happens that sets your passions on fire. Whatever the situation, it would seem that creativity is the key to the solution. It may be that you need to adopt an imaginative approach by changing your perspective or brainstorming a few ideas. It may seem that you are stuck, but by looking at the issue from a different angle, you will begin to see a way forward. The trick is to not limit or restrict yourself. Otherwise, you could end up backing yourself into a corner and missing out. Keep all your options open and ask other people how they would deal with the situation.
Order your personalized Astrology Reports
---
Virgo: As of Sunday all negative influences will pass out of your life. After Sunday, you will gain clarity and other people will –for the time being at least –cease to be a source of confusion and uncertainty which will then enable you to focus your thoughts on where you're going and what you need to do to get there. Fortune favors the bold, and while it would certainly do you no harm to be strong or courageous in a particular situation, you are in such a favorable position that things are likely to work out well for you whatever you do. Your only "fly in the ointment" is likely to be other people. It may be that someone is a source of concern and this is draining your time and energy. It looks likely that there will be a frustrating challenge connected with your personal life and your professional ambitions. The latter looks really good for you with lots of potential and good fortune helping you on your way, but if situations closer to home demand your attention, then it may be difficult to make progress.
Order your personalized Astrology Reports
---
Libra: Sometimes we put on a front to please others because we're afraid if we show our true selves that others won't like us. Maybe it's time for you to accept the good and the not-so-good parts of yourself. In so doing, you will be able to accept the less than pleasant aspects of others too. This could lead to much deeper and richer relations with others. It's especially important for Librans to remember that no one is perfect, no matter how much you wish that were true. Our foibles are what make us human and loveable and when you stop trying to please others by always being good, you will free yourself and the other person too.
Order your personalized Astrology Reports
---
Scorpio: On May 24th, the Sun, Mercury, Venus and Jupiter all align in the sign of Gemini, in your 8th Room of Assistance as the Full Moon Eclipse illuminates your 2nd Room of Income/Money/Receiving. Wow! This is your time of receiving through another. Someone wants to be with you, and wants to help you. However, Saturn which transits your sign works on your fears, discomforts, insecurities and trust issues. Saturn in your sign may cause you to distrust others, often wondering whether or not someone is telling you the truth. Take a good, long look in the mirror this week and face your insecurities. Find the positive in all of your negatives and do not let your fears keep you from enjoying life in its fullest.
Order your personalized Astrology Reports
---
Sagittarius: From time to time, things happen that temporarily knock us off our perches. At these times, we may feel disorientated, confused or uncertain. The Lunar Eclipse on May 24 occurs in your sign and is likely to coincide with an unsettling couple of days. It's highly likely that the source of the confusion and uncertainty relates to your personal life –perhaps someone at home, a family member or someone who is close to you. It may be that what's going on around you makes it difficult for you to focus and concentrate on what you need to do, so you will need to do your best to maintain a disciplined approach. You may also need to be firm with the people in question, or you may need to be the strong and reliable one. Although the days around May 24 could be tricky, the good news is that where there was confusion, soon there will be clarity. The eclipse will bring matters to a head that have been obscured by confusion for too long.
Order your personalized Astrology Reports
---
Capricorn: On May 24th, the Sun, Mercury, Venus and Jupiter all align in the sign of Gemini in your 5th Room of Health/Work, representing a beautiful coming together of a business or work partnership or relationship. It may be that you and another work on your health, fitness or nutrition together. Planetary energies align you and this other to work together and it becomes a very harmonious situation. In addition, the Full Moon Eclipse in your 12th Room of the Soul represents a partial revealing of your soul's plan which has to do with you and this other aligning and working together. New people are all around you and your new place in the world reveals itself and takes form bringing you not only comfort, but pleasure as well.
Order your personalized Astrology Reports
---
Aquarius: If domestic obligations have been weighing heavily on you recently, it's especially important this week that you begin to nourish your heart with lighthearted pursuits that make you feel good to be alive and the good news is that this positive change is just the beginning. It's time to let the good times roll as the planets align in your house of fun, so if you're still finding that life is serious and filled with too much drudgery and responsibility, the Lunar Eclipse should bring the need for balance to your attention. If you deserve some playtime –and who doesn't??? – the eclipse gives you permission to throw down the dish cloth and immerse yourself in far more inspiring and creative activities.
Order your personalized Astrology Reports
---
Pisces: This week, even if it proves difficult at times, remember the importance of celebrating the life you have, and in time, you will find that there becomes even more to celebrate. The Lunar Eclipse could be tricky, but if you've been developing appreciation for the life you have, you will pass through the awkward patch much more easily than if you're caught up in disgruntled mode. Family members, domestic matters and your work or professional responsibilities are likely to pull you this way and that, but if you remember to come back to your center and speak your truth, you will successfully negotiate your way through the difficulties.
Order your personalized Astrology Reports
---
For more information about your Horoscope and what the stars have in store for you, order one of our detailed