Aries, Taurus, Gemini, Cancer, Leo, Virgo, Libra,
Scorpio, Sagittarius, Capricorn, Aquarius, Pisces

Overview of this week
The Center for the New Age is pleased to present your Free Weekly Horoscope for May 25 — May 31, 2014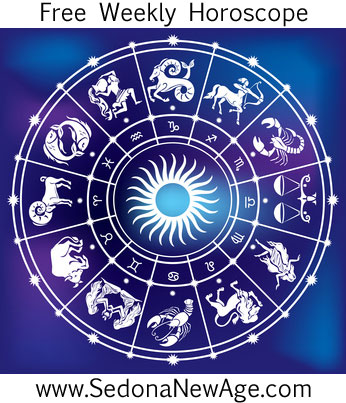 Aries, Taurus, Gemini, Cancer, Leo, Virgo, Libra,
Scorpio, Sagittarius, Capricorn, Aquarius, Pisces
The New Moon in Gemini on Wednesday allows for new thoughts and ideas to flow, and new feelings about the way we are thinking will begin to emerge. New Moons are like clean slates. It's time to begin a process of strengthening and celebrating your energy and to plan new vistas for growth, particularly in the area of emotional well-being. Pay attention to those newer thoughts, ideas and caprices in the wind. This would be a good time to initiate a new round of creative writing or to apply a new mental discipline in a manner which will eventually become more personally beneficial. Making a new attempt at reaching out to an old friend or opening up communications with a new circle will bring great new insights to one's field of knowledge at this time.
On Wednesday, Mercury sextile Venus teaches us of the necessity to speak out about our love needs and focuses discussion on the things to which we are attached and which we treasure. This day is an opportunistic and beneficial time to sing your praises of love!
Venus enters Taurus on May 28 until June 23. Here in the sign of Taurus, Venus is at home nurturing our sense of sensual pleasure and enhancing our appreciation of the spring season. Venus in Taurus brings out aesthetic awareness, as well as a greater emphasis on the love of having valuable items, wealth and riches. Sensual pleasures are enhanced with Venus being at home in the territory of Taurus. Venus draws and attracts and Taurus represents material acquisition and containment. Now is the time to acquire, polish, clean and beautify the things that give us a sense of truly having something. To create beauty around oneself is to enhance a sense of well being.
May 29 Mercury enters Cancer until June 17. Our attention focuses on feelings and senses. This is a time when many people will appear to intuit their way through conversations. Thoughts may blend with moods as the emphasis on emotional expression takes the stage. As Mercury goes through the sign of Cancer, take special note of a tendency for people to talk more specifically about their feelings, defenses, and the need to be nurtured. Mercury in Cancer makes some people more intuitive to the thoughts of others and this may be an easier time to interpret people's thoughts by observing their emotional body language.
Aries, Taurus, Gemini, Cancer, Leo, Virgo, Libra,
Scorpio, Sagittarius, Capricorn, Aquarius, Pisces
For more information about your Horoscope and what the stars have in store for you, order one of our detailed


Astrology Reports!
Free Weekly Horoscope for your Sign
Aries: A wonderful New Moon on May 28 is tuning you into an optimistic frame of mind, but you need to carefully sift through any information that comes to you if you want to make the right choices. Be especially wary of those professing to be in connection to the higher planes as what appears to come from a higher source could be misguided. You may also need to be cautious before taking your dreams at face value –or anything else that you might normally read meaning into. Divine inspiration is the way forward, and your best chances of accessing this are through meditation, quiet time alone, or prayer. Ultimately, you know if something feels right or not, so if any information leaves you feeling confused, unsettled or less than good, it might not be from the highest source. Sometimes we want to believe something because it's convenient or offers an escape, but the more you can cut through illusions, the more you will be able to access the truth, and it's the truth that will show you the way forward.
Order your personalized Astrology Reports
---
Taurus: The new Moon in your money zone on May 28 is great for your finances and your material world, so if there's something you feel you want or need, then use the energies of this New Moon to channel your desires. However, something may not be what it seems so view any apparent opportunities very carefully with your eyes wide open, and go through all financial dealings with a fine-tooth comb. It may be that an opportunity comes your way, but you are not getting the full picture, or you could end up deceiving yourself that an opportunity is just what you need when actually it isn't. You may be thinking of making a purchase that may not really be a good buy. Don't be swayed by others and trust your instincts. Be wary of your own delusions, and aim to be as realistic and grounded as you possibly can in all material matters this week.
Order your personalized Astrology Reports
---
Gemini: The New Moon in your sign on Wednesday is your annual opportunity to create a new start. Whatever has gone before, let it go and concentrate on your future. Now is the time to consider what you need for your own happiness and where you are going with your life. Think very carefully about this, though, as the New Moon's square to Neptune suggests you could easily deceive yourself into believing something that's not true. This is particularly relevant with issues connected to your career and vocation or your direction and purpose in life. If you find yourself wondering what you should be doing next, be careful about allowing yourself to get caught up in pointless fantasies or wishful thinking. Concentrate of what inspires you, but make sure you back that up with serious intent. This is a point at which you can certainly change your life. Just take your time before deciding which direction you're going to head off in and make sure whatever choices you make feel right in your heart.
Order your personalized Astrology Reports
---
Cancer: This week's New Moon on Wednesday is a replenishing one for you, especially if you can take the time to go within and nurture your inner self. What you need to be vigilant about is a tendency to believe your own propaganda. In other words, this is a week to question your own beliefs about yourself or life. Or it may be that you come into conflict with someone else's beliefs. Being aware of the conflict is fine; it can be healthy and interesting to be aware of how differently you think from others. The danger lies in being subtly manipulated by the beliefs of another, which could throw you off kilter. Question everything that doesn't feel quite right and ultimately trust your own internal compass. The successful theme that is emerging in your life will continue so long as you can be true to yourself and pay attention to your feelings as they won't let you down.
Order your personalized Astrology Reports
---
Leo: The week's New Moon on May 28 is a wonderful opportunity for you to break free from the trials of the recent past and surge forward into a lighter state of affairs. This New Moon brings the potential to turn over a new leaf in a particular friendship, or even to make new friends and associates. There is just a word of caution relating to other people because it looks as though there is a deceptive or undermining influence at work behind the scenes. Be watchful and don't automatically believe what you're told. Focus on where you want to be going, and don't involve yourself in the complex game playing of others.
Order your personalized Astrology Reports
---
Virgo: The New Moon at the top of your chart on Wednesday is a wonderful omen for your success and for positive developments in your life in general, but be wary of other people trying to undermine you. Someone doesn't have your best interests at heart, so keep your eyes and ears open and be on the alert for deceptive people who might tell you what you want to hear without it being genuine. Watch for people who subtly but cleverly manipulate you into doing what they want which, in turn, could knock you off your own course. Virgos are kind and helpful people, but this is a very good week to make sure you set some boundaries.
Order your personalized Astrology Reports
---
Libra: It's time to broaden your horizons and set sail for new adventures as a New Moon occurs in your adventure zone. This, therefore, is a good week for trying out new things, from new ideas and plans to new people, places and situations. Sometimes, we need a little courage to push out of our comfort zones and this is where you are at this week. Remind yourself that staying with what we know results in stagnation. Be bold and courageous this week, and see where the current of life takes you. A warning, though: Whether your adventures are of the heart and mind or more physical terrain, make sure that your plans and dreams are viable, realistic and grounded. Then all will be well.
Order your personalized Astrology Reports
---
Scorpio: The New Moon on Wednesday speaks of a transformation, so this is a great opportunity to let go of the old. This may mean allowing a part of yourself to go, or it may mean letting go of a situation that has been causing you pain. Scorpios are good at using pain as a catalyst for change and growth, so this week should feel rather positive as you begin to emerge stronger and renewed. However, there is a deceptive element to this New Moon and you need to be very vigilant of other people's (or even your own) motivations. There could be secrets and intrigues, none of which are healthy and the best course of action is the one that avoids game playing. Look behind the masks of others if you suspect that all isn't quite right and at the same time, refuse to play any emotional or psychological games. Be honest, open and transparent and expect nothing but the same from others. Anyone who isn't willing to drop the mask of pretense might not be worthy of your time.
Order your personalized Astrology Reports
---
Sagittarius: It's time to turn over a new leaf in a particular relationship. If all hasn't been ideal recently, you can use the fresh power of this New Moon to turn things around and start afresh. Try not to let family or domestic matters sour the potential for positive change. This is also a good opportunity to meet someone new, but you will at the same time need to have your eyes open, because people may not be what they seem. Don't be in a rush to believe what people say, and don't fall for romantic promises that you suspect may not be met. Now is maybe not the best time for a heart-to-heart, since people may not say what they mean, and confusion and misunderstanding could easily occur. Instead, try to communicate with feelings. By making compassion, tolerance and unconditional love your focus, you stand a very good chance of elevating at least one relationship to a new level.
Order your personalized Astrology Reports
---
Capricorn: If you're looking for new beginnings in the area of your work or your health, then the New Moon on May 28 is good news. This is the perfect time to begin a new health regime, begin a new job, start a new project or come up with a new idea. However, make sure that whatever you start now is based in reality, as you could be prone to fantasy and illusion. If someone looks at you with skepticism when you reveal your latest plans, take heed, as there may be a grain of truth in the doubt. To avoid things collapsing at a future date, make sure that you're not building sandcastles too close to the tide. How viable is your plan? Are you able to follow through? Is it just wishful thinking? As a Capricorn, you're not normally prone to such states of mind, being a realist, but this is one time when it might be worth getting the thoughts of a person whose opinions you trust –just to make sure you're on the right track and to help alleviate any confusion. If you can access inspiration rather than fantasy, then all will be well.
Order your personalized Astrology Reports
---
Aquarius: If you sometimes wish that your life were more colorful, creative or romantic, this week's New Moon is perfect for setting your intentions. First though, you may need to stop clinging to some aspect of your past. Pluto's long journey through your psychological basement is encouraging you to purge and cleanse yourself of all your old baggage, and this is what you must do if you want to step forward into that bright, colorful life you sometimes catch glimpses of. It's all there waiting for you, so take whatever is no longer relevant and bid it farewell. It won't be long before something wonderful takes its place.
Order your personalized Astrology Reports
---
Pisces: This week's New Moon is a good omen if you're looking for change or positive new beginnings with your home, family and domestic life. This would be a good time for moving house, redecorating or engaging in a spot of feng shui. The energies are also supportive of peeling away a layer or two of your emotional self, which could happen naturally if you're witnessing changes at home, since it's our homes and families that are our biggest mirrors. There is a sense that you are blossoming –coming into your own –and this internal spring will find its way into your home life, perhaps through a spring cleaning or an injection of new life, color or some other change. The only word of caution is that you need to be mindful of any change that you make. In other words, change should be for the right reason and not as a way to escape. So long as you're clear about what you're doing, this could be a very inspiring week.
Order your personalized Astrology Reports
---
For more information about your Horoscope and what the stars have in store for you, order one of our detailed