Aries, Taurus, Gemini, Cancer, Leo, Virgo, Libra,
Scorpio, Sagittarius, Capricorn, Aquarius, Pisces

Overview of this week
The Center for the New Age is
pleased to present
your Free Weekly Horoscope
for May 26, 2013 — June 1, 2013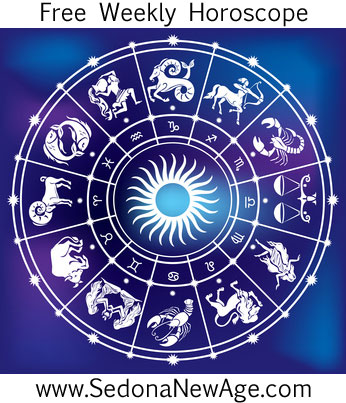 Aries, Taurus, Gemini, Cancer, Leo, Virgo, Libra,
Scorpio, Sagittarius, Capricorn, Aquarius, Pisces
For most of this week, Mercury and Jupiter are conjunct in Gemini. News and discussions (Mercury) revolve around our joys, our prosperity and our wealth (Jupiter). Thoughts and information with regard to a prosperous and visionary breakthrough will be highlighted through this aspect. This may be the time to share our thoughts with others about our visions. On a more mundane level, it's a great time to boost the morale of others by complimenting them on their skills, or for communicating the need for a job or financial loan.
On Tuesday, Venus and Jupiter are conjunct in Gemini. The powers of attraction (Venus) blend with the powers of prosperity (Jupiter). This is a time to enhance love relationships and realize the precious value of love in its most limitless sense since the influence of Jupiter reminds us that the resources of love in the universe are inexhaustible, and love's great bounty is designed to be shared. Love can be infectious and the more love is disseminated, the more there is to share and expound upon.
Mercury enters Cancer on Friday. For a couple of weeks, Mercury will be in the sign of the crab, Cancer. Now the shift in communications turns from attention to detail (Mercury in Gemini) to a focus on feelings (Mercury in Cancer). This is a time when many will appear to intuit their way through conversations. Thoughts will tend to blend with mood as the emphasis on emotional expression takes the stage. As Mercury goes through Cancer, take special note of the tendency for people to talk more specifically about their feelings, their defenses and their need for nurturing. Mercury in Cancer makes some people more intuitive to the thoughts of others and this may be an easy time to interpret people's thoughts by feeling their emotions.
With the Last Quarter Moon in Pisces on May 31 comes a dreamy sort of atmosphere. A mysterious and enchanting quality of reflection is occurring, allowing the imagination to roam with consistent accuracy touching the core of our beliefs. Waning Pisces Moon tends to keep us entranced by those areas of our life that bring depth and meaning. At times like this, many may choose to be intoxicated on substances that block pain and fear in an effort to escape. Of all the celestial bodies, the Moon undergoes the most aspects to other planets on a daily basis, reflecting on our subconscious, and constantly influencing our moods. This serves as a good time to cleanse the spiritual cobwebs of our own lives, and to reinforce personal fortitude with the strength to overcome addictions using sheer willpower and belief in oneself.
Aries, Taurus, Gemini, Cancer, Leo, Virgo, Libra,
Scorpio, Sagittarius, Capricorn, Aquarius, Pisces
For more information about your Horoscope and what the stars have in store for you, order one of our detailed


Astrology Reports!
Free Weekly Horoscope for your Sign
Aries: See if there's any way you can reduce the amount of stress you're under. Often we become stressed because we're trying to do too much; busyness with not enough time create stressful situations, and we get stressed because we're doing things that we'd rather not be doing. Sometimes we don't have much of a choice in this, and if that's the case, you need to find ways to deal with it such as shifting your perspective to find the good in your situation or doing breathing and relaxation exercises. However, if you are beginning to see that you could make changes that will ultimately be to your benefit, then do so. Even though it may be more awkward in the short term, your future self will thank you for it.
Order your personalized Astrology Reports
---
Taurus: Whether you need to take action or to become aware of an attitude, belief or way of doing things that holds you back, it's highly likely that there will be a shift this week that generates understanding and a chance to put the final piece of the puzzle into position. The end of the month, then, could feel very satisfying as your realize where you might previously have been going wrong, along with an understanding of what you need to do to make things right.
Order your personalized Astrology Reports
---
Gemini: Any duplicity or deception in your world right now could be holding up a mirror to what you need to see or learn about yourself, so try to look for the lessons in this. It may be that you have colluded in some way, either turning a blind eye or allowing yourself to be kidded that all would be well. Take such events as a sign that you need to trust yourself more in the future and not be taken in by others. Once you have cleared the air, this is something that will soon fade into the background and you'll find that the end of the month has many pleasures and happy opportunities for you to enjoy.
Order your personalized Astrology Reports
---
Cancer: Pluto (planet of transformation) moves back and forth through your 7th Room of Partnership taking you through some very, very strong situations with another involving aggressive comments and behaviors. It's easier said than done to tell a Cancerian to move on, but this is one such time when you need to release that which doesn't belong in your present. As you do this, you will find that your physical health and well-being improve from rising energy levels and vanishing aches and pains to feeling much happier in yourself. So say goodbye to your baggage and prepare to feel a whole lot lighter.
Order your personalized Astrology Reports
---
Leo: Expressing yourself through creative means –art, written, music – unblocks stuck feelings and gives rise to new insights and awareness that could lead to a change in your thinking. Perhaps you need to adopt a more creative approach to your life in general, seeing yourself as the artist and your life as the canvass. How bold, daring and ambitious will you be? The answer is to remember that you are the artist –or scriptwriter –of your life and as such, you have the power to change things. If you choose not to, unexpressed energies begin to stagnate in the body, solidifying and causing health challenges and issues. Is that what you really want?
Order your personalized Astrology Reports
---
Virgo: In your 3rd Room of Creativity pertaining to thoughts, plans and ideas, there exists the planet Saturn which may cause you to procrastinate. Maybe what you need to do is share your thought/plan/idea with another and perhaps that other person may assist you in materializing it. On the other hand, Saturn in your 3rd Room may cause you to have second thoughts about sharing with another. It's a quandary you will have to overcome. If you find yourself falling into a "poor me" syndrome or blaming yourself for a situation that makes it difficult for you to make a decision, give yourself a positive pep talk. No good comes from self-recrimination. Forgive yourself and you will find that you end the month on a high note.
Order your personalized Astrology Reports
---
Libra: Is something connected with your work or your health leading you to think that something isn't possible? Actually, it is possible, and it will become increasingly obvious over the next few weeks that the cosmos is smiling favorably on you and is happy to wave its magic wand to bring about a happy outcome for you to celebrate. You may already be seeing a turn of events and that you're feeling much more optimistic about your future. This is just the beginning. So long as you continue to be open and honest and so long as you are willing to offer the hand of compromise, you will find that all goes well. In fact, the end of the month is likely to see you walking on air, and it may well seem that a miracle has taken place.
Order your personalized Astrology Reports
---
Scorpio: You will benefit from that which seeks to change some pattern or dynamic that has been working against you, so look within and make some brave changes this week. This may involve letting go or it might involve confronting your own shadow. At times, you may feel confused and matters connected with children, creative projects or knowing what you want could feel rather uncertain. However, clarity will soon be found and by the end of the month you will be able to see clearly what you want and what you need to do.
Order your personalized Astrology Reports
---
Sagittarius: Mars in your area of health fills you with speed, force, energy and motivation so that you may quickly take care of what needs to be taken care of. Use this week to pay extra close attention to your health and body and be sure to take the bull by the horns and do the work that needs to be done. Through the end of the week Mercury transits Gemini, your opposite sign and the partnership area of your chart. This transit should result in some insightful conversations with both business and personal partners. If you're in a committed relationship, then you and your partner may be discussing your individual goals and dreams and talking about how to integrate them more fully into your relationship. In business, you and your partner agree on the fundamentals and very possibly sign a contract specifying details and arrangements.
Order your personalized Astrology Reports
---
Capricorn: It's time for a new vision in your life, but first there's an illusion that needs to be broken. If there's anything in your world that isn't "real," then this week is highly likely to bring some sort of revelation, realization or awakening through which you are able to see things as they really are. It could be something about yourself, or it could relate more to your daily life. Something that may have lain dormant for a long time could be becoming clear, or something that was buried within you might be rising up to your conscious mind. Noting your dreams or any unusual occurrences in your life could be useful pointers and may reveal what you need to do to manifest this new vision. Don't be afraid to challenge others if they don't initially agree or approve of your revelation. The most important thing is that you are able to live in your own truth.
Order your personalized Astrology Reports
---
Aquarius: Sometimes we have to remind ourselves that the boring jobs can wait and that there are times when it's much more important to revive your spirits than it is to keep on top of everything at work and home. Do yourself a favor, and take yourself off for the day, or even better, for a few days. If you can't do that, then let your inner child out to play. There are many way to delight your inner child and it's your vitally important job to think of at least one or two ways in which you can do that. The Sun, Mercury, Jupiter and Venus all align in your 5th House of Children/Family/Pets. You may be inheriting new family members or pet(s), but these planetary aspects could also represent your finding and aligning with a soul mate. This soul mate may be a best friend or the start of a new love relationship. The universe's message for you this week is to go and have some fun and be excited with what develops.
Order your personalized Astrology Reports
---
Pisces: With Saturn in your 9th House of The Mind telling you things that may be untrue and Neptune moving back and forth through your sign lifting your mind and spirit outside of your zone, be very aware of how you think and process your thoughts this week. The combination of these two planetary energies can make you a little crazy in your head and through your emotions. There will be those times where you will just think and feel as if the worse is about to happen. There will be those times where you may just let your thoughts and imagination run away with you. You may start acting a little crazy and a little nuts. Be aware of that, Pisces. Do not stress! You have everything you need within you and by being in your center and remaining true to your ethics, you will be able to see what is real and true.
Order your personalized Astrology Reports
---
For more information about your Horoscope and what the stars have in store for you, order one of our detailed