Aries, Taurus, Gemini, Cancer, Leo, Virgo, Libra,
Scorpio, Sagittarius, Capricorn, Aquarius, Pisces

Overview of this week
The Center for the New Age is
pleased to present
your Free Weekly Horoscope
for November 24, 2013 — November 30, 2013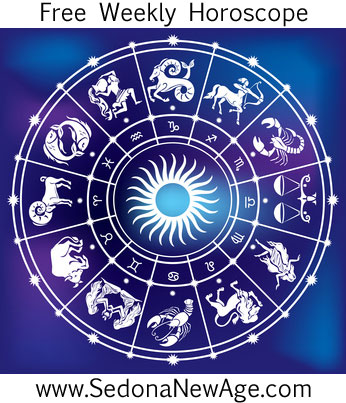 Aries, Taurus, Gemini, Cancer, Leo, Virgo, Libra,
Scorpio, Sagittarius, Capricorn, Aquarius, Pisces
November 25 is the Last Quarter Moon in Leo. When the Moon is waning in Leo it urges us to take special care of ourselves as well as the children in our lives. Projects of interest are sometimes considered to be children as well. If you have a hobby of special interest, take the time to brighten and enliven this work which represents your own talent and bears the mark of your own approval. This Moon simply calls for more playfulness, and the warmth of loving hearts in the chill of autumn. Throughout the day, jokes will fly, toys of special interest will be admired and moods will reflect childlike frolic and revel. If you're serious about not being distracted by such playfulness, a quiet workspace may be the key. If you must work with others, allow the frivolity to flow. The work will get done, but the child in everyone has to play now and then.
Monday (November 25 – December 3) Mercury in Scorpio conjunct Saturn in Scorpio will bring talk about the need to put an end to the useless or unwanted components of our lives. It will focus our thoughts on the areas of life that have reached limitations, or where timely new beginnings –or endings –are occurring. Overall, Mercury conjunct Saturn tends to bring out a strong tone of seriousness in communications. There is a restriction, a discipline, a carefully considered emphasis of thoughts placed on our communications; and there is a serious intent to get the word across in no uncertain terms. There is the strong implication at work that we must be seriously responsible for what we say particularly around authority and in official public statements.
Mercury in Scorpio is trine Jupiter in Cancer from November 28 until December 4. Mercury gets the message out there, the trine aspect brings gifts and positive breakthroughs, and Jupiter brings prosperity. This most favorable aspect brings good news of expansion and prosperity to those who are open to broadening their awareness. This is an excellent time to learn new skills which will improve one's livelihood and better one's outlook. This is also a great time for salespeople to make sales, and for people to advertise and put information out there. For some folks, Mercury trine Jupiter is an advantageous time to ask for a job or a loan, or to provide a service which may have a bearing on a potential promotion. Look openly for opportunities when sharing information and promote yourself and your capabilities.
Venus in Capricorn opposite Jupiter in Cancer (November 28 –December 3) brings on a significant awareness of the dynamics of attraction and wealth. During this aspect, we are often made aware of how the expenses of our pleasures and fantasies are opposed to or overwhelmed by economic division. Custody battles are hard fought under these circumstances and the process of overcoming personal loss requires a great deal of effort to attain the healing power of love. Money related tests and troubles in relationships are often a factor under this aspect. Venus opposite Jupiter increases awareness of the need for sensual pleasure and of what determines the depth or character of that pleasure. If it seems as if the things you love or are striving for are completely out of reach, this phase of Venus opposite Jupiter may be part of the cause.
Aries, Taurus, Gemini, Cancer, Leo, Virgo, Libra,
Scorpio, Sagittarius, Capricorn, Aquarius, Pisces
For more information about your Horoscope and what the stars have in store for you, order one of our detailed


Astrology Reports!
Free Weekly Horoscope for your Sign
Aries: After what has probably been quite a heavy or even depressing time recently, the good news this week is that your optimism and joie de vivre make a welcome return along with an increasing anticipation about the possibilities that lie ahead of you. All that you've been going through in recent times will have been necessary in order to get you to a place where you can see things differently. And where once you may have felt trapped, restricted or burdened by difficulties, now you are gaining a sense of freedom and adventure. Make the most of this by pushing out of your comfort zone, by trying out new experiences –even if they feel a bit scary –and believing that anything is possible.
Order your personalized Astrology Reports
---
Taurus: Relationship problems are probably the number one source of most people's angst. When we're not happy in our dealings with others – especially those closest to us who have a lot of power over our levels of peace, happiness and contentment –that negativity can ripple out into all other areas of life, which can then make it seem like life is a struggle. What we have to try to remember is that the pain we experience as a result of knowing and interacting with others is what enables us to grow and learn. We don't just learn about life; we learn about ourselves too, so when you're feeling a sense of loss, alienation, loneliness, anger, frustration or insecurity, know that this challenge contains a gift: the potential to transcend and transform your previous way of being.
Order your personalized Astrology Reports
---
Gemini: Are you currently trying to juggle so much that you feel like everything's about to collapse in a horrible mess? It certainly seems as though you're taking on a lot and having to keep lots of different balls in the air at once –all the more reason then, to insist on having a short break in the day when you can be still. You may say that you haven't got time to pause for thought, but this is all the more likely to lead to a collapse. Even if it's just a five minute meditation or swapping the ironing in favor of an activity that brings you joy, there's always a way to deal with stress. And if all else fails, just shrug your shoulders, let it all collapse around you and simply enjoy the chaos. Just as night always follows day, order and sanity will return in their own good time.
Order your personalized Astrology Reports
---
Cancer: We all know that the more we try to force something or struggle against the tide, the more likely we are to get nowhere. Sometimes the best approach is a soft, fluid one that dances with –rather than against –the flow of life. It may seem that you have too much to do and not enough time. There may be things you feel you need to get done or make happen, but a rigid or aggressive mindset will only make matters worse. This is a good week to apply mindfulness. Try to be present in whatever you're doing without letting your mind race ahead to all the other things you need to do. Staying present and actually enjoying the experience of whatever is happening will enable you to move with grace and fluidity through time, and everything you need to do will be done with a sense of effortlessness.
Order your personalized Astrology Reports
---
Leo: It's time for some light relief as the Sun journeys into your house of fun. Now is the time for play –especially after the past few weeks, which might have been anything but fun! Make the most of this window of opportunity for the more pleasurable things in life. Make time for your hobbies, recreation, relaxation and creativity. Allow your romantic bighearted nature to have full expression. Enjoy good company and laugh plenty. Dance, sing –anything to shake off the heavy vibration of recent times. There are times when it's important to remember that life is for loving and living and this is one of them.
Order your personalized Astrology Reports
---
Virgo: The mind is so full of clutter –what happened yesterday, who said what to whom and the to-do list, along with a host of worries, doubts, hopes and idle fantasies. All of this gets in the way of a mind that is focused and a focused mind makes things happen. Perhaps it's time for you to have a mental defrag. The Sun dropping to the bottom of your chart is indicative of the need for a little time to yourself, to disconnect from the busyness of life, and to pay attention to your emotional self, perhaps releasing that which has built up over time and could be clogging up your energy. So aim to reflect, rest, and clear your mind. When you've done that, you will start to catch glimpses of the possibilities that lie ahead.
Order your personalized Astrology Reports
---
Libra: Throughout much of November, your focus is likely to have been divided between your material situation and your personal life. There may have been times when you felt bogged down by the emotional drama, making it difficult to concentrate on areas such as your direction, work, ambition and finances. This isn't necessarily a bad thing, since the opportunities for you to progress in your vocation or to take off in a new direction will be ongoing for some time. The more you can resolve any underlying psychological and emotional issues, the more likely you are to make the right choices in the future. It's worth remembering that sometimes what we think we want isn't necessarily what our hearts want. The good news as we hurtle toward the end of the year is that you're about to gain a much clearer sense of what your next step on the journey is. Just be aware that it might not be what you previously had in mind.
Order your personalized Astrology Reports
---
Scorpio: Is there a situation or relationship that would benefit from a little more honesty and transparency? Mercury's conjunction to Saturn in your sign brings forth the need for honest conversation as well as seeking to avoid the pitfalls of power games. It can be hard to admit, but we're all capable of planning, scheming and manipulating people and situations to turn things in our favor. Now is the time to make sure you strive to be real while encouraging the same in others. If someone else can't appreciate what's really important to you, it might be time to question the validity of the relationship. Make it your mission this week to not fall foul of the clever words of others –words that might leave you feeling guilty and unworthy –and ensure that your words to others are kind, constructive and empowering.
Order your personalized Astrology Reports
---
Sagittarius: Radiance begins to return to your world again after what could have been a quite emotional or heavy time. The Sun's arrival in your sign brings a welcome respite from the drains on your energy, and you should soon start to feel more motivated and positive about life. In fact, this is a good week to contemplate what you actually want and to focus on fulfilling your own personal ambitions. There may still be a need to conclude any unfinished business so that you can start to clear the decks in preparation for new beginnings in the future. This may involve confronting any sadness or other emotion that might have been put to one side as well as engaging in serious conversations that will enable matters to get sorted. You will at least, have opportunities to enjoy yourself in and among the seriousness, since the Sun in your sign is nothing if not positive, fun and happily engaged with life.
Order your personalized Astrology Reports
---
Capricorn: The year thus far has probably been quite eventful, and while there may have been plenty of drama and excitement, the changes that you've been through have probably left you in need of a rest. While you may feel that there's still plenty to do and sort out, it won't do any harm to take your foot off the gas for a week or two and try to slow down the pace of life. If you find that your energy seems less available than normal or if you feel the need to curl up in solitude with a book or your thoughts, then follow your inner promptings. This is a great time to reconnect with your inner self, your needs, and to recharge your batteries. You may be moving into a time of fruitfulness, but your blossoming will be all the richer for taking time out to nourish your mind, body and soul.
Order your personalized Astrology Reports
---
Aquarius: If we all truly realized that we're not insignificant, that our existences matter and that without us, something is missing, then perhaps we wouldn't feel such a strong need to compete and prove our worth. Over the past few weeks, the planets have been asking you to consider whether what you're doing with your life is truly how you wish to be living. If all the responsibilities that sit on your shoulders or the activities or work you engage in are coming from your heart, or if you do them either because you feel you have to or because they make you feel better about yourself –if you don't currently feel at home in some aspect of your life –you have two options: change or acceptance.
Order your personalized Astrology Reports
---
Pisces: Whether consciously realized or not, all Pisceans are currently engaged in a process of healing. For some, this will mean that the body is calling for attention –perhaps via aches and pains, low energy, illness, accident or injury. For others, the mind is the focal point, bringing about a need to talk things through, read, study or understand. In both cases, what's actually needed is clearing and forgiveness of the self and others. And the more clearing, healing and forgiving you can do, the more you will accelerate your consciousness, leading to deeper spiritual connections and greater access to higher wisdom. Even though there may be times when it feels like an arduous process, keep on with your efforts, knowing that a vitally important process is taking place –one that will ultimately lead to greater compassion for yourself and others.
Order your personalized Astrology Reports
---
For more information about your Horoscope and what the stars have in store for you, order one of our detailed