Aries, Taurus, Gemini, Cancer, Leo, Virgo, Libra,
Scorpio, Sagittarius, Capricorn, Aquarius, Pisces

Overview of this week
The Center for the New Age is
pleased to present
your Free Weekly Horoscope
for October 6, 2013 — October 12, 2013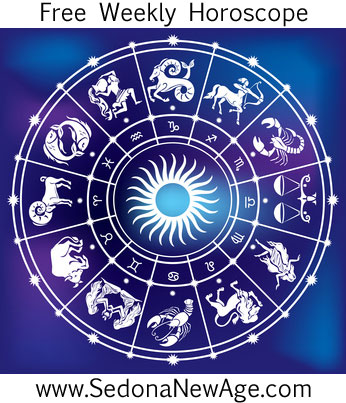 Aries, Taurus, Gemini, Cancer, Leo, Virgo, Libra,
Scorpio, Sagittarius, Capricorn, Aquarius, Pisces
Venus enters Sagittarius on Monday (October 7 –November 5). The planet of love and the expression of affection is enhanced by the inspired character of Sagittarius. Venus in Sagittarius brings out a love of the arts, travel, philosophy, cultural exploration and sports achievements. With this comes a positive and outgoing spirit of camaraderie among people in general, and the effort to take affections beyond the usual bounds is certainly present.
Mercury and Saturn conjunct in Scorpio (October 8 –October 13) will bring talk about the need to put an end to the useless or unwanted components of our lives. It will focus our thoughts on the areas of life that have reached limitations, or where timely new beginnings –or endings –are occurring. Mercury conjunct Saturn tends to bring out a strong tone of seriousness in communications. There is a restriction, a discipline, a carefully considered emphasis of thoughts placed on our communications; it's a serious intent to get the word across in no uncertain terms.
First Quarter Moon in Capricorn on October 11 brings a strong emphasis on the need for concentration and effort. Some staunch determination is required. There is a mounting concern to complete projects. The harvest ripens and the physical force of the world is hard at work to bring the fruition of the harvest to the place where it can be celebrated. The need to hunt for a steady job, a marketing edge or a secure investment keeps us vigilant and focused. Capricorn Moon reminds us to be diligent with our efforts and to work towards gaining a sense of accomplishment. People are greatly moved by the acknowledgement of merit.
Aries, Taurus, Gemini, Cancer, Leo, Virgo, Libra,
Scorpio, Sagittarius, Capricorn, Aquarius, Pisces
For more information about your Horoscope and what the stars have in store for you, order one of our detailed


Astrology Reports!
Free Weekly Horoscope for your Sign
Aries: Nobody can have his or her foot on the gas all the time –not even an Aries! We all periodically need a break and time to slow down and focus on our own needs. As Mars comes to the end of his journey through your House of Fun, so does your inclination to turn your attention toward more pleasurable or creative activities or to simply enjoy a slightly slower pace of life. Make the most of it because things are going to change and the more you fill up your psychic tank, the more energy you'll have to give others over the next few weeks.
Order your personalized Astrology Reports
---
Taurus: Don't let confusion and misunderstandings with others distract you from more important aspects of your life. Although someone may be less than reliable –or worse, less than honest or upfront –try not to take it so seriously. In fact, the more lighthearted you can be, the better this week will turn out. A playful spirit will ensure that no harm will come and that you dance your way into the right situations with the right people at the right time. This may lead to opportunities for growth and expansion in your work as well as positive developments with your health.
Order your personalized Astrology Reports
---
Gemini: With your ruler, Mercury, right next to somber Saturn, you may find yourself feeling increasingly serious or despondent about a certain situation –or even life in general. It sometimes requires courage to go against the grain and follow your own drumbeat. It is in many ways easier to go with the crowd and not cause a rumpus, but you know what price you pay for not being true to yourself. As the Sun journeys through your zone of self-expression, you need to be asking yourself, "What fills me with joy? What do you enjoy, and what would you love to be doing? This is the week when you need to be courageous enough to say, "This is who I am and this is what I'm going to do."
Order your personalized Astrology Reports
---
Cancer: How are you when it comes to your own company? If you're quite content with time alone, then this week could prove to be rather enlightening since the Sun's journey to the lowest part of your chart requires you to turn your attention inward to determine the answers to any current dissatisfaction or uncertainty. This is one of those times of the year when it's acceptable to turn down invites, to have an extra hour in bed, or to take yourself on a weekend retreat. What you discover in your quiet solitary moments could be instrumental in revealing the next step on your journey.
Order your personalized Astrology Reports
---
Leo: No matter what difficulties you might have been dealing with, and no matter how draining a situation has become, you will soon have reasons to feel a lot more cheerful and that increasing positivity will ripple out into your universe and begin to change the wheel of fortune in your favor. It is often noted how a group –even a very small one –has a more powerful effect than a lone person trying to bring about the same effect. There is power in numbers and certainly for you right now, the last thing you should be doing is hiding yourself away, for the universe wishes for you to participate a little more in this wonderful mystery of life. If there's something you wish to achieve, then the more you can join and connect with others, the more successful you're likely to be.
Order your personalized Astrology Reports
---
Virgo: If you haven't been firing on all cylinders lately, the good news is your energy, motivation and desire to start new projects will soon be resuming. Until that occurs, use the time to consider what you would like to do, what you would like to change, and where in your life you need to be bold and adventurous and make your plans and preparations. Part of that preparation might involve having an open and honest conversation with someone which may initially seem a bit difficult but will feel much more liberating when you've got it out of the way.
Order your personalized Astrology Reports
---
Libra: Whatever you desire, the most important thing is to remember the importance of closing the door on that which has gone so that your energy can be freed to focus on the here and now. See your trials as a master teacher would, living by Nietzsche's famous phrase –"That which does not kill us makes us stronger." The world is divided into people who feel it's okay to go for what they want and those who don't. You could say that those who don't feel it's okay to go for what they want are caught in victim mode; they see themselves as undeserving and feel unable to claim all the good the universe has to offer. Jupiter at the top of your chart is currently asking you to question your barriers to success – the attainment of your ambitions, financial reward for your hard work, having a beautiful home, having a happy family or experiencing true love. Search for any feelings of guilt, any sense of smallness. Root out any little voice that says "Who are you to allow your light to shine?" and confront it with a louder more confident voice that says, "Well, actually I do deserve this happiness!'
Order your personalized Astrology Reports
---
Scorpio: To determine what's best for you, this week you simply need to allow your inner voice to be heard. You can best do this by making sure your life isn't too busy, hectic, or noisy. Create quiet spaces in your day –relaxing in the bath, walking the dog, or writing in your journal. The more often you pose a question and wait for the answer to come, the more often you will tune into your inner guidance and know what to do and when to do it. It pays to periodically pay attention to that consciousness and examine it to see if it's working in your favor or not. Examine your beliefs to see if you can change one or two to enable yourself to make different choices. You could, for example, look to see if any current health problem is related to a belief in suffering. Holding on to hurt and pain is a great way to perpetuate the suffering. See if you can let go of your emotional pains –past and present –to see if physical healing occurs. Ask yourself if there's anyone you need to forgive –including yourself – because forgiveness is a great healer.
Order your personalized Astrology Reports
---
Sagittarius: As Venus makes a welcome return to your sign, this is the time to bring more pleasure, beauty and enjoyment into your life from revamping your appearance and indulging in your favorite pleasure to enjoying the company of friends or taking a few days off to explore somewhere you've always wanted to visit. Venus in your sign also puts you at your most charming and agreeable with the result that your relationships are likely to be a source of pleasure and any difficulties can be quickly smoothed over with a little compromise. All in all, this is a week to focus on what brings you pleasure and makes you feel good, because when you feel good, other people around you are likely to feel good too.
Order your personalized Astrology Reports
---
Capricorn: Despite the changes and uncertainty that may be going on in your life, you can still make progress with a particular aim or ambition. The time is also ripe to examine your life as a whole and consider whether you're happy with the direction you're heading in. Questions to contemplate include: "What does success mean to me and am I experiencing enough of it? How can I progress further in my career? Am I really happy with what I'm doing or could I make changes that will be better for me? How can I get myself noticed in my profession?" This is a great time to concentrate on what you would like to achieve and to make contact with people who will help you achieve it.
Order your personalized Astrology Reports
---
Aquarius: Your challenge this week is to broaden your horizons. It's easy to get stuck in familiar routines, which can over time, leach the sparkle from our lives; fortunately, it doesn't take much to get that sparkle back. From the bigger adventures such as going on vacation or going back to college through to the smaller adventures such as trying a new place to eat and choosing something from the menu that deviates from what you would normally eat, there are many ways to open your eyes to the rich variety of life. Seek out ways in which you can refresh yourself, especially if life has become a bit stagnant, and enjoy the thrill of trying out new experiences.
Order your personalized Astrology Reports
---
Pisces: We all have dreams. While the attainment of your dream may seem far-fetched or unattainable, there are always small steps you can take to get closer to it. The first step is to drop resistance and work through any fears. This could be your goal for this week: to entertain your dream and look at your resistance. Write down your dream, and if you don't think it's feasible, look within to see what excuses you're telling yourself. Where do they come from? Is it a valid reason, or is it just an excuse? Be prepared to drop any beliefs that say something isn't possible. Once you've cleared any resistance, you'll be ready to take your first steps to manifesting your big idea.
Order your personalized Astrology Reports
---
For more information about your Horoscope and what the stars have in store for you, order one of our detailed