Aries, Taurus, Gemini, Cancer, Leo, Virgo, Libra,
Scorpio, Sagittarius, Capricorn, Aquarius, Pisces

Overview of this week
The Center for the New Age is
pleased to present
your Free Weekly Horoscope
for September 1, 2013 — September 7, 2013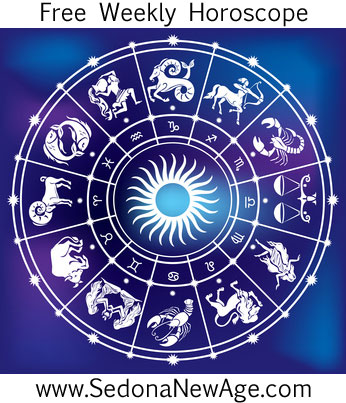 Aries, Taurus, Gemini, Cancer, Leo, Virgo, Libra,
Scorpio, Sagittarius, Capricorn, Aquarius, Pisces
This is an extremely calm week in terms of the zodiac. Mercury continues its transit of Virgo (since August 23) and will enter Libra next week.
The only significant cosmic event is the New Moon in Virgo on Thursday that invites us to start all over again with the growing process of our feelings. This Moon calls to our feelings to apply a new form of skepticism, a new way of analyzing and to apply caution. How about a new way of accounting or a new set of health practices? Finding new resources is often a common practice during the New Virgo Moon. This is the time to organize and prepare for the autumn season, a time when making adjustments is essential. New Virgo Moon assists us to prepare for the changes occurring around us in the physical world.
Aries, Taurus, Gemini, Cancer, Leo, Virgo, Libra,
Scorpio, Sagittarius, Capricorn, Aquarius, Pisces
For more information about your Horoscope and what the stars have in store for you, order one of our detailed


Astrology Reports!
Free Weekly Horoscope for your Sign
Aries: The New Moon falls in your health zone on September 5. This is a great day for turning over a new leaf and making some positive changes to your health, so why not start a new regime with diet or exercise? It's also a perfect time for letting go of bad habits or for changing your routine into something healthier or more productive. You may also want to consider releasing one or two of your burdens, as this will create a lighter feel and have a positive effect on your health so if your heart isn't in something, see if you can let it go. Your body might thank you for it.
Order your personalized Astrology Reports
---
Taurus: Much of your time and energy may be taken up with domestic matters, but it would be a shame to overlook the potential of the New Moon on September 5 which for you is about new ventures in creativity, enjoyable activities and having fun. This is a New Moon that asks you to bring more pleasure, joy and creativity into your life and to consider what you love doing and make that more a feature of your days. Self-expression is your key theme and it would be a good idea to remind yourself that it's okay to be you.
Order your personalized Astrology Reports
---
Gemini: Before we can move on to a new phase in life, we first have to finalize matters from the past. This week's New Moon on Thursday offers you the chance to do just that, which in turn will bring about a sense of wholeness. No matter what has gone on in the past, and no matter how profoundly you may have been affected by your past, this week's New Moon offers the chance to move on from it, so if you've felt that something was missing or that you needed closure on something, this should be the week when you find the missing piece of the puzzle.
Order your personalized Astrology Reports
---
Cancer: The more we give out, the more we get back. It's a simple but often overlooked equation in life. Sometimes we can get into a vicious circle of trying to get what we want, failing and then struggling even harder to bring the elusive desire to us. If there's something you currently want, try opening yourself up to be the provider of your desire. If, for example, you want more love, give more love to others without thought of return. If you want greater happiness in your work, find things to love about your job. This will then radiate out to attract more things for you to feel good about. Under this week's New Moon, try to open yourself up more and share your precious gifts with others. This will quickly alleviate any negative mindset that might be keeping you in a place of lack.
Order your personalized Astrology Reports
---
Leo: With Mars in your sign, the sky's the limit in terms of what you achieve right now, so make the most of his biannual visit by focusing on what you want to accomplish and setting to it. If you need courage for a difficult situation, then Mars will help you do what needs to be done. If you need energy and motivation, then these also should be in greater supply than normal. Mars also gives you permission to focus on what's important to you, so this is less a time for running around after others and more a time of following your own motivations and desires. This nicely complements the New Moon's arrival in Virgo, as this asks you to be clear about your values. What is most important to you personally, and are you living it? If freedom is high on your list of values but it feels like your freedom is limited, then this is a good week to begin making changes. Finally, this is a positive week for financial new beginnings and for raising your consciousness where money and material matters are concerned. By writing down the changes you would like to see on the day of the New Moon (Thursday), you will be harnessing the power of the planetary energies and make it more likely to bring your desires to fruition.
Order your personalized Astrology Reports
---
Virgo: If approximately 95 percent of our behavior is unconscious, how do we know that what we're currently doing and thinking is born of a conscious free-thinking mind? How do you know that it's what you really want? And how do you know if another person's actions are enlightened too? As Mars ferrets about in your zone of the past and the unconscious, it would be advisable to look beneath the surface of things and to get in touch with any lost, repressed, or fragmented parts of yourself. This is especially applicable if you find yourself feeling angry, frustrated, victimized, confused, guilty or alienated. It's also good advice if you find yourself acting in ways that raise a few eyebrows. Sometimes we do or say things without knowing what has come over us. While it's a good time to focus on creating new beginnings in your life, it's also important to make sure that your choices, decisions, words and actions are coming from the conscious part of yourself.
Order your personalized Astrology Reports
---
Libra: Are you fully in the present, or is your attention focused on the past? Do you find yourself drifting back to times gone by, wondering how different things might be if such a thing had or hadn't happened? Or are you trying to unravel a mystery that may never be able to be solved? In short, are you missing out on what is happening here today in favor of something that no longer exists or can't be changed? This week's New Moon advises you to close a door on the past and let go of anything that is preventing you from being fully present. As you become more present, you may realize that there is far more joy to be found in the here and now than there was back then.
Order your personalized Astrology Reports
---
Scorpio: Mars at the top of your chart suggests that you can really go places now if that's your desire, so success, recognition, progress and the fulfillment of your aims and ambitions are all available to you now. The New Moon on September 5 casts an optimistic and fortunate glow over proceedings, further hinting at success or celebration. The only things you have to watch out for are frustration and impatience, since obtaining your desires and goals may not be as swift or trouble-free as you would like, but determination will pay off, and you should end the week feeling at least some sense of achievement.
Order your personalized Astrology Reports
---
Sagittarius: It's not so much the quality of the hand we get dealt in life, but more how we use the cards we've been given that determines our success and happiness. Some people are good at turning adversity, disappointment, failure or even tragedy into a springboard for something better. Others may sit about bemoaning their lack of good fortune. It doesn't matter whether the circumstances in your life appear to be adverse or favorable right now; what matters is that you find a way to turn even the biggest sorrows and challenges into something meaningful, and this week you can.
Order your personalized Astrology Reports
---
Capricorn: If we don't pay attention to our deep inner needs or our reason for being here, something in our lives will happen to make sure we have to face up to the truth of who we are and what we want. One of the best examples of this is when someone is in the wrong job and becomes unemployed. At first, there may be shock and anger, but talk to that person a year or two down the line, and he or she will tell you it was the best thing that ever happened to him or her. Maybe they found their true vocation or they realized they wanted to stay at home with the kids. It may be that you're not happy with your present situation but you may be afraid to take the plunge. The question to ask yourself this week is would you rather jump or be pushed? While there are no guarantees in life, courage will be richly rewarded and will almost certainly result in a soft landing.
Order your personalized Astrology Reports
---
Aquarius: Many of the problems between people occur because of judgment. We all have our opinions on what is right and wrong, and when someone else violates our own moral standards, the natural tendency is to either pass judgment or react with anger or upset. Mars in your opposite sign suggests that someone is rubbing you the wrong way, while the New Moon in your psychological zone suggests that you might be taking things more seriously than they need to be. Try not to overreact this week or make judgments about the behavior of other people. It may help to remember that we often aren't aware of the complexities in another person's life that cause them to act the way they do, and the more we sit in judgment, the more we squeeze the joy out of our own lives. Whatever is upsetting you now, let it go, and you will find your joy and well-being soon return.
Order your personalized Astrology Reports
---
Pisces: There is a relationship theme throughout much of September, and it all begins with a New Moon on September 5 enabling you to turn over a new leaf in at least one of your partnerships. Whether you need to develop or improve an existing relationship or you are looking for someone new, this New Moon will help you find the love you're searching for. It's vitally important that you remember to communicate since little can develop or change between two people without this exchange of thoughts, ideas and feelings. If there's something you need to say, say it; it could well be the catalyst for an important transformation.
Order your personalized Astrology Reports
---
For more information about your Horoscope and what the stars have in store for you, order one of our detailed