#Horoscope #Aries #Taurus #Gemini #Cancer #Leo #Virgo #Libra #Scorpio #Sagittarius #Capricorn #Aquarius #Pisces #Horoscope – overview of this week
The Center for the New Age is pleased to present
your Free Weekly Horoscope for May 7 – May 13, 2017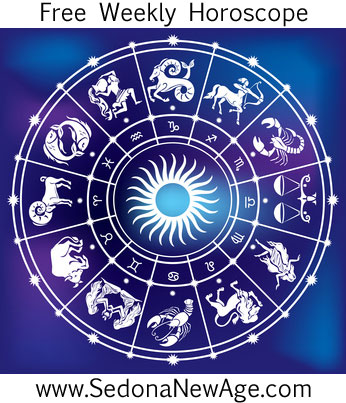 Receive our Free Weekly Horoscope in your Inbox
---
Aries Taurus Gemini Cancer Leo Virgo Libra Scorpio Sagittarius Capricorn Aquarius Pisces
Full Moon in Scorpio on May 10 intensifies our moods. As the lunar fullness builds to a crescendo of emotional dramas, our emotional patterns are being played out in interesting ways. Intense desires – and what provokes them – reveal a lot about who we are and what we need to appease the satisfaction-hungry inner child. Silly entertaining fun, and off-the-cuff kinds of play and humor are good medicine. The Full Scorpio Moon is a good time for garden lovers to transplant flowers and shrubs as well as plant seeds. Safe physical exercise and activities are excellent avenues of release.
Mars in Gemini is square Neptune in Pisces (May 11 – May 24). Heated activities run into obstacles concerning the work of Great Spirit and the fulfillment of spiritual harmony. Mars is in Gemini and there may be some thought provoking disruptions that intrude on or impede our spiritual level of experience. Active aggression occurs around spiritual groups and religious institutions, often targeting the belief systems of others. This aspect also brings the potential for accidents and temper tantrums, especially with regard to opinions about substance abuse and sacred matters. It is important not to get so wrapped up in the spiritual side of things that physical world realities are overlooked. While Mars square Neptune occurs, it is best to anticipate confrontations concerning moral or spiritual issues. When this aspect passes, it will be easier to put spiritual beliefs and practices back on course without too much conflict or interference. Meanwhile, stay aware and ready to deal with whatever comes along.
Mercury in Aries trine Saturn in Sagittarius May 11 – May 13) brings favorable dialog concerning where to draw the lines. This is a good time to make an impression, to teach and to communicate to others those important matters that must be clarified. Timely information and news represents a gift or blessing. Important news comes with this aspect. News concerning the end of a long and arduous task brings relief.
Mars in Gemini trine Jupiter in Libra (May 12 – May 17) may be the time to act on opportunities as they arise and to set one's visions and dreams into a feasible plan that holds the potential for favorable actions to occur. Mars activates and stirs action while Jupiter represents not only our sense of economy and how to advance, but our sense of philosophic and visionary awareness as well, allowing us to realize new talents and new means of livelihood, the intake of wealth, and well being.
Aries Taurus Gemini Cancer Leo Virgo Libra Scorpio Sagittarius Capricorn Aquarius Pisces
For more information about your Horoscope and what the stars have in store for you, order one of our detailed
Astrology Reports!
Want to know the theme of your relationship? This report compares your temperaments and personalities, whether you are married or living together.
Compatibility Report
Reveal as much information about you and your partner intention of opening doors of understanding and awareness.
Love Cards Report
Free Weekly Horoscope for your Sign
Aries: Most of us in the West have more than we need – food, possessions, money. Many of us think we need more money, but the truth is that we could always use more money: the more we have, the more we tend to spend. This week as the Moon grows full across your material and financial zone, it would benefit you to consider where you might be clogged up. Perhaps if you created a space, more of what you really needed would flow in – energy, ideas or opportunities. Clear out what you no longer need, and don't be in a rush to replace it with impulsive buys. Enjoy the feeling that less is more, for a while at least.
---
Discover a personal profile and 1-year forecast based on advanced calculations of your name and birth date.
Numerology Report
---
Taurus: If you sometimes wonder why you are the way you are, prepare to be illuminated! Most people are an enigma to themselves, never mind to others. Sometimes you might not understand yourself. If so, the Full Moon in your opposite sign on May 10 will leave you under no illusions since other people are likely to readily point out your faults (or star qualities). Some of what is said might be worth listening to since others are likely to be valuable mirrors at this time, reflecting back to you your strengths and weaknesses. If you are willing to look in the mirror, even if you don't initially like what you see, your courage will be rewarded as you begin to make those small changes that will enable you to be the kind of person you want to be.
---
Need a guide for your growth and personal evolution based on astrological influences upon your personality?
New Age Natal Report
---
Gemini: The Full Moon on May 10 is likely to turn your attention to your work or your health, or maybe both. With Mars in your sign, your energy levels are likely to be bolstered, so if you're feeling tired or run down, then something is seriously amiss. You should take some time to figure things out. Overall, this Full Moon should simply serve to highlight problems in your day-to-day life at home or at the office. At least there should be a growing sense of clarity now so if there's been some confusion lately, this Full Moon should do much to illuminate matters. Perhaps you need to get the balance right between rest and work or between organization and chaos. This is a good week to sort yourself out.
---
This interpretation of your birth chart is written in simple language could be beneficial in self undestanding.
Merlin Report
---
Cancer: The Full Moon on May 10 encourages enjoyment but doesn't favor work and duty, so if you try to be productive or get all your chores done, you might find yourself swimming against the tide, at least until May 11 or 12, at which point, work and organization become favorable. Until then, take your opportunities for fun and follow your feelings and impulses. If you don't feel like working (and you have a choice in the matter), don't. Do something you feel like doing instead. This moon favors work of the creative kind though, as long as you're not taking it too seriously. However, a little goofing off and playing with the kids or the dog, heading to the beach, or savoring a long lunch with friends will lift your spirits and open you up to divine inspiration, which will, in the long run, be more useful than putting your nose to the grindstone.
---
Indra reveals your life's contradictory urges & drives as well as your basic motivation, perceptions, inclinations and character.
Indra Report
---
Leo: This week's Full Moon on May 10 activates the work and home areas of your chart, bringing a certain amount of tension to proceedings, especially if your work and lifestyle balance is off-kilter. In fact, if you are willing to make some changes, this Full Moon will enable you to see how you can create a better work-life balance. Whether home or family feels claustrophobic right now or you're longing for more quiet time, the days around May 10 are ideal for figuring out what's most important to you. Sometimes life carries us along at quite a speed that we forget our priorities and what we need to do to create fertile soil in which we can grow and flourish. This is your time for dropping anchor and prioritizing that which makes you feel rooted and secure.
---
Want a detailed report for parents to help with the child's growth to strengthen the assets and avert possible problems that the child could face in their life?
Child Astrology Report
---
Virgo: This is likely to be a busy week as the Full Moon sails through your zone of short journeys and communication. This is a good time to communicate with neighbors, siblings, friends, and acquaintances on a deeper level in the sense of getting your message out there. Your only challenge is to make sure that your deeply held beliefs don't sabotage your best intentions. As Stephen Covey says, "If you want small changes in your life, work on your attitude, but if you want big and primary changes, work on your paradigm." This is a great week to work on either your attitude or your standard which will enable you to live a more joyful and creative existence.
---
Want a birthday to birthday practical guide to help you recognize opportunities and to learn from them.
Astrological Solar Return Report
---
Libra: The Full Moon on May 10 illuminates the financial area of your chart and brings with it the opportunity to experience clarity and insight in material matters. Part of this clarity might be that you need less, not more, especially when it comes to possessions. Do you really need another pair of shoes or the new book to add to the ever growing pile? Now is the time to appreciate what you have or to show it off and make the most of it rather than adding more. Less is more, as they say, and this is a philosophy that might benefit you now. Too much clutter creates confusion and low energy, but a few carefully chosen objects strategically placed can have a very uplifting effect. Maybe you need to reduce your workload rather than add to it, or perhaps you should consume less of the foods that aren't good for you. Take a look at your life to see whether it might benefit you to apply the "less is more" approach.
---
Want to know the actual dates when the energies will influence your life in money, career, relationships, and communicaton?
Astro Forecast Report (3 months)
---
Scorpio: It's time to let yourself shine and bask in the limelight as the Full Moon occurs in your sign on May 10. Emotions may be heightened for a day or two, but this could work in your favor if you're participating in social events. Conversely, you might prefer to spend some time in quiet contemplation, allowing the light of the Moon to illuminate any dark, dusty corners of your psyche, thus enabling you to see yourself better. There is also the potential to gain clarity and insight into a particular relationship, or the other person could prove to be instrumental in helping you in some way. Whatever you choose to do and however you navigate the waters of the Full Moon, this is likely to be a week when relationships are key. You can learn a lot about yourself in the process.
---
Want a one year forecast to understand the scope of influence for your personal Cards of Destiny?
Cards of Destiny Report
---
Sagittarius: The Full Moon on May 10 asks you to get the balance right between your outer life and your inner life – or your mundane world and your spiritual world. Any imbalance could reveal itself around this time in the form of illness, fatigue, a low mood or an outburst. Observe these incidents as messages from your soul. Something is trying to get through from the subtle realms, whether you take that to be from your soul or some other divine source. It would benefit you to be quiet enough to be able to sense the message. If the message is that you're doing too much (or not doing enough) of what you love, then use whatever transpires this week as an incentive to make one or two constructive changes.
---
Contemplating a move? This report tells how you will react to the energies of the specific locations for relationships, finances, and security.
Relocation Information Report
---
Capricorn: The warm glow of friendship beckons as the Full Moon illuminates the social area of your chart on May 10. Now is the time to connect with friends and acquaintances, attend a gathering, or enjoy a meal with friends and allow yourself to shine. You might find that you have the power to influence, charm, or seduce around this Full Moon, so use your powers wisely. Avail yourself of this Scorpio Moon is to consider your future role, either in the community or within a group, and use your power to make changes to be a force for good.
---
Discover your character traits, relationship and career potentials – based on Edgar Casey Readings.
Cayce Past Life Report
---
Aquarius: The Full Moon at the top of your chart on May 10 is good news for your professional life, goals and ambitions, as it should feel easier to toot your own horn. Certainly a little self-promotion won't go amiss right now. Another positive feature of this moon is that any uncertainties or loose ends will soon be sorted out. This Full Moon also brings with it the chance to see where your life might be out of balance and how you can make the necessary adjustments.
---
Discover your past life connections that can carry over into your current life, accounting for interests, habits, even phobias.
Karmic Past Life Report
---
Pisces: Now is the time to throw back the curtains of your world and invite more light into your life. The Full Mon encourages you to think big, expand your vision of what's possible, and believe in yourself to manifest your plans. Remind yourself that you can if you think you can. No matter whether you already have a plan or vision in mind or whether it's just a seedling of an idea, nurture whatever wants to grow. With just a little love, care and attention, it will grow and soon gather its own momentum. This is a good week to remind yourself that what we focus on grows, and what we don't focus on withers and dies. Make sure your focus is on what matters to you and that nothing of importance is being neglected.
---
Discover your soul's intention for this lifetime, the lessons to be learned, qualities to develop, problems to be resolved, services to be rendered.
Karmic Insight Report
---
For more information about your Horoscope and what the stars
have in store for you, order one of our detailed
Astrology Reports for Couples!
---
Want to know the theme of your relationship? This report compares your temperaments and personalities, whether you are married or living together.
Compatibility Report
Reveal as much information about you and your partner intention of opening doors of understanding and awareness.
Love Cards Report