Aries, Taurus, Gemini, Cancer, Leo, Virgo, Libra,
Scorpio, Sagittarius, Capricorn, Aquarius, Pisces

Overview of this week
The Center for the New Age is
pleased to present
your Free Weekly Horoscope
for March 31, 2013 — April 6, 2013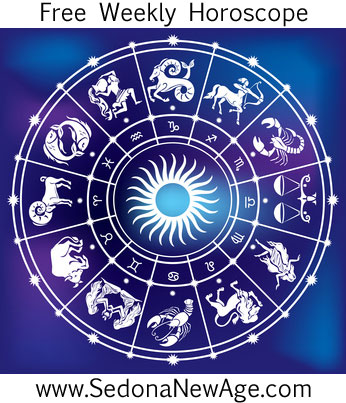 Aries, Taurus, Gemini, Cancer, Leo, Virgo, Libra,
Scorpio, Sagittarius, Capricorn, Aquarius, Pisces
Last Quarter Moon in Capricorn occurs on Wednesday emphasizing the need to take control as well as let go of control wherever it is needed. Capricorn Moon connects our moods with a serious undertone of needing and wanting to take hold of our goals and summon results. The Saturn-ruled Capricorn emphasizes time and the timeliness of important events. This may be the time to address the importance of pending deadlines. Is it time to proceed or is it time to let go? Certain quests in life may not be meeting personal needs. Is something that lacks substance taking up too much time in your life? Life is so serious with Capricorn Moon, and in its last quarter waning state it reminds us that in order to be in control we must let go of what we can't control.
Beginning Saturday for the next couple of weeks, Venus and Mars are conjunct. This aspect brings together the feminine and the masculine in the sign of Aries. The expression of beauty, love and attraction (Venus) assumes a fascination for the warrior spirit. Mars, the planet of action and masculine drive and force is at home in Aries, the sign it rules, where it initiates activities in the most forward and direct manner possible. Venus conjunct Mars brings out our passionate tendencies and puts many folks in touch with the power of love in action and with active attraction. This is the time to express love ardently and sincerely and to receive love just as well. This is also a good time for an individual to get in touch with both the masculine and feminine aspects of the self, and to create peace between those active and passive parts of the personality.
Aries, Taurus, Gemini, Cancer, Leo, Virgo, Libra,
Scorpio, Sagittarius, Capricorn, Aquarius, Pisces
For more information about your Horoscope and what the stars have in store for you, order one of our detailed


Astrology Reports!
Free Weekly Horoscope for your Sign
Aries: Your month gets off to a lively and positive start with the Sun, Mars, Venus and Uranus all in your sign, making this the week to enjoy creative activities, start new projects and bring more love and beauty into your life. The potential for enjoyment is high, and you will benefit from engaging in social events and artistic interludes. Therefore, a trip to the art gallery with some friends would be an ideal use of the current energies. Or why not try your hand at a creative craft or artistic skill yourself? Much enjoyment can be experienced now by tuning into your inner self through art, music and creativity. Remember that it isn't the end result that's important but the process. Engaging in art opens the heart and allows blocked emotions to flow, so allow your inner self to move and express itself through creative activities. This is also a good week to make changes to your life, from big changes to seemingly smaller changes, which may nonetheless still have a substantial impact on your well-being and happiness.
Order your personalized Astrology Reports
---
Taurus: "Slow down and relax" is the message from the heavens this week. There's no need to try too hard or invest masses of energy into situations. A cluster of planets in your soulful zone suggests a better use of your energy would be to turn within and contemplate matters of the heart and soul. This may mean asking for higher guidance or it may mean finding ways to access your inner world and release any suppressed feelings. Don't try to cover up any such feelings with busyness, as you will only run out of steam and weaken your immunity. A new beginning is just over the horizon, but first you need to prepare yourself and this means getting plenty rest, clearing the decks and making space to enjoy yourself before the busyness begins.
Order your personalized Astrology Reports
---
Gemini: A lovely cluster of planets in your zone of hopes and wishes makes this a hugely optimistic time and one in which you can really sparkle. Aside from taking positive steps toward creating a brighter future and a general sense of good fortune washing over you, this is also the time to make new contacts, develop friendships and generally enjoy yourself. You should be feeling extra sociable right now and you can make the most of the planetary energies by getting out with friends and putting the focus on recreation and enjoyable outings. This week could be the beginning of a new dawn for you, so be bold, adventurous and willing to embrace the future.
Order your personalized Astrology Reports
---
Cancer: With a cluster of planets in the success region of your chart, it would seem that for the next few weeks the world is your oyster. This time is particularly auspicious if you are hoping to make changes or progress in your work, vocation or career and now is the time to take determined steps toward your goals in life. Gaining greater clarity on your purpose is also possible now, and you will surely be feeling more passion and excitement for what lies ahead of you. Don't be afraid of change if it will enable you to do more of what you enjoy, and don't be afraid to confront the truth about any situation that makes you unhappy. "Onward and upward" is your message for this week.
Order your personalized Astrology Reports
---
Leo: Now is the time to think big and believe in your ideas. What is it that you want to do? Or what do you want to be? There is great possibility open to you now and even challenges won't be able to hold you back for much longer as a change or breakthrough looks imminent. If you've been struggling against the tide, take solace that the tide will soon be moving in your favor and life will get easier. In the meantime, have patience and envisage what you would like to happen and then take whatever steps you can to make your thoughts a reality. This is also a good week to travel or go on an adventure. If time or money is in short supply, remind yourself that just going somewhere different for just a day is an adventure. Consider that doing something you've never done before is also an adventure. Enjoy the experience of stepping into the unknown, as it will broaden your horizons and reveal aspects of your personality that you never knew existed.
Order your personalized Astrology Reports
---
Virgo: What do you need to break free of? How can you be more yourself? In what way have you been contained or held back? The current lineup of planets in your psychological zone is giving you the opportunity to break patterns, move away from restriction and manifest some sort of transformation. There may be a deep need for change, particularly of a psychological or emotional nature and this may require you to dig deep within yourself to unearth the truth. Since this will at times feel rather heavy, remember to punctuate the darkness with lighthearted activities to create some balance. You will create better results in a shorter time frame if you are able to maintain a positive state of mind, so remember to make time for that which nourishes your soul.
Order your personalized Astrology Reports
---
Libra: Sometimes we can carry a physical ailment or an emotional wound for months or even years, often without much change or progress. Then, one day, we realize that the problem is gone. Sometimes, we know why it went. Maybe we experienced a particular treatment that cured the problem, or we took a course of action or adopted a new philosophy, but other times, the reason why the problem lifted remains a mystery. This week you can look forward to a breakthrough or healing of some description. It might be a breakthrough with a physical or emotional problem, and it could well be connected to the past. There's no need to analyze too much or wonder how or why you experienced your breakthrough. Just trust that the time is right for you to do so and give thanks that, to some degree, you are being liberated from your past.
Order your personalized Astrology Reports
---
Scorpio: There's no denying that sometimes life can feel like an uphill struggle and if you've recently had to deal with frustrations and difficulties, then the good news is that a breakthrough is just around the corner. You are most likely to see positive changes with your health and your work or daily life, and this will in turn have a positive effect on your outlook. This is a good time to get things done and to work at being more organized and efficient so that your life functions more smoothly and effectively. You will find that you have the energy to do everything that needs to be done and although this is likely to be a busy and demanding time, if you remember that the planets are currently urging you to put service to others before your own needs, then you might feel less inclined toward frustration. Do what needs to be done with a happy heart and you will enjoy a great sense of satisfaction knowing that you're helping others and being productive.
Order your personalized Astrology Reports
---
Sagittarius: It's fun, fun, fun for you as the planets line up in your recreation area, so why not take some time out to do more of the things you enjoy! In fact, you shouldn't need to make much effort to create happy times since opportunities for fun and enjoyment will occur naturally and spontaneously –just remember to say yes when they present themselves. You may also find that an event or situation is occurring that, although it may appear difficult, is actually an opportunity for you to relax your controls and be more flexible. Instead of worrying about something or trying to control the outcome, why not allow it to take care of itself. This more fluid and relaxed approach to life is your way forward this week, so remember that there's nothing you really need to do other than relax and enjoy yourself.
Order your personalized Astrology Reports
---
Capricorn: Although the first two or three days this month might feel rather intense and uncomfortable, there is a great opportunity for change to occur, especially if you can guard against taking the moral high ground. You may find yourself embroiled in a family or domestic situation that you would really rather do without, and even if it creates feelings of anger, upset or disorientation, try to remember that if you remain nonjudgmental and take things one step at a time, all will unfold in a way that can be resolved. There is always a hidden gift in any situation, and it's your task this week to find the hidden gem among the chaos and clutter.
Order your personalized Astrology Reports
---
Aquarius: Money, it's said, makes the world go round, so if a global bankruptcy is declared tomorrow, what will happen? Will the world stop spinning on its axis or the Sun struggle to rise in the morning? You may have suffered a loss or be managing with less than you're used to, but in the great scheme of things this won't make much difference to your level of happiness unless, of course, you allow it to. Your perspective is everything and if you can shift it from what you don't have to what you do have, you may find you have much to be grateful for.
Order your personalized Astrology Reports
---
Pisces: Do you know that this year, more than any other, is your big opportunity to manifest a miracle or make a dream come true? Perhaps it's already in the process of manifesting, but if you feel like you could use some help for the next stage or if you've been feeling that it might never happen, then take solace because Saturn's return to your ruler Neptune is like a helpful hand up the ladder. Trust that you are being guided, and know that if you keep asking for assistance and then get out of the way, your dream or miracle will begin to take shape..
Order your personalized Astrology Reports
---
For more information about your Horoscope and what the stars have in store for you, order one of our detailed