Aries, Taurus, Gemini, Cancer, Leo, Virgo, Libra,
Scorpio, Sagittarius, Capricorn, Aquarius, Pisces

Overview of this week
The Center for the New Age is
pleased to present
your Free Weekly Horoscope
for April 14, 2013 — April 20, 2013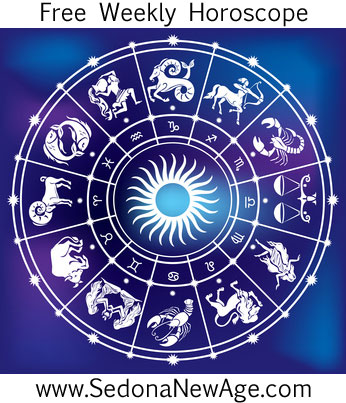 Aries, Taurus, Gemini, Cancer, Leo, Virgo, Libra,
Scorpio, Sagittarius, Capricorn, Aquarius, Pisces
Venus enters Taurus on Monday until May 9th. Venus in Taurus is the time of an extraordinary attraction to beauty. In Taurus, Venus is at home nurturing us with sensual pleasure and enhancing our appreciation of nature and earthly bounty as well as our appreciation for quality and specialty craftsmanship. Venus in Taurus brings out aesthetic awareness, and places a greater emphasis on the love of having valuable items, wealth and abundance. Venus attracts and draws, and Taurus emphasizes the need for material acquisition, attainment and beauty. During aspect, to create beauty around oneself is to enhance one's sense of wellbeing.
The First Quarter Moon in Cancer on Thursday urges us to share our feelings and take care of emotional needs, particularly in our home. Home focused activities bring warm expressions of contentment. With First Quarter Cancer Moon, the emotional current tends to be magnified. Nutritional foods and trustworthy company are important components of the day's activities.
Mars enters Taurus on Saturday and will remain there until May 31. Mars represents all modes of action. In the fixed earth sign of Taurus, Mars' action is particularly worked out through the physical realm, making this a primary time to work active energy through the body, or to take affirmative action in the physical world, moving or activating it to change. This is a time when many of us will take strong actions with our financial and material welfare. Mars in Taurus is obstinate energy, and although great things can be achieved, it will be done in a slow, plodding way, which can feel more like an aggravating blockage at times than a "slow and steady" wins the race type of drive. While Mars is in Taurus, we'll all have an excellent opportunity to fight (Mars) for what we value (Taurus) most and to pursue our financial goals with incredible steadfastness.
Mercury and Uranus are conjunct in Aries as of April 20th, giving birth to radical, bright, enterprising and competitive ideas. This may raise some very interesting and unusual questions about who we are and what we choose to do with our need for freedom. Consciousness raising talk is prevalent. Mercury conjunct Uranus magnifies the volume of shocking or question-raising news and stirs the minds and mouths of rebels and nonconformists who are inspired to speak out.
Aries, Taurus, Gemini, Cancer, Leo, Virgo, Libra,
Scorpio, Sagittarius, Capricorn, Aquarius, Pisces
For more information about your Horoscope and what the stars have in store for you, order one of our detailed


Astrology Reports!
Free Weekly Horoscope for your Sign
Aries: The one thing virtually guaranteed to extend your life span is education. The longer a person spends at school, the longer he or she is likely to live. However, you don't need to head back to college to start extending your life; simply signing up for an art or cooking class at a local adult education center will have a positive effect. Jupiter is still in your zone of learning, so if you're not currently stretching your mental muscle or discovering the joys of learning a new subject, then you should start looking around at what you could do. The life force within you is increasing, and ideally you should be channeling this into changing your life or learning something new, and you might very well add a few years to your life in the process!
Order your personalized Astrology Reports
---
Taurus: Venus enters your sign on April 15 instantly lightening the atmosphere which has probably been a bit serious or heavy in recent times. Perhaps you need some playtime and Venus will help you to remember the importance of enjoying yourself and having fun. Any creative activity will help you to reconnect with the magical side of life and open you up to inspirations. You need to step away from responsibility and drudgery and move toward fun, magic and creativity. On Saturday the Sun and Mars follow Venus into your sign, adding to the lighter, more positive mood as well as giving you a renewal in energy, enthusiasm and motivation. Now is the time when you can start to move forward and even manifest a new beginning, if that's what you've been hoping for.
Order your personalized Astrology Reports
---
Gemini: Bob Dylan's definition of success – A man is a success if he gets up in the morning and goes to bed at night and in between does what he wants to do – relates to personal fulfillment rather than what society deems to be successful. This would be a good week to contemplate whether you are being a success or not. Do you spend your days doing what you want to do? Do you even know what you want to do? If you're in any way unsure about how you would like your future to be, ask for higher guidance. One by one, the planets are moving from your future zone into your soulful area, signaling a time of rest, respite, recreation and spiritual connection before they move into your own sign next month. This being the case, if there's something you need to know, talk to a wise friend or ask your higher self and then watch for the signs that your request is being answered.
Order your personalized Astrology Reports
---
Cancer: Every so often, doors of opportunity open up for us, but we always have a choice whether we step through those doors or decide to stay in our comfort zone. Right now doors of opportunity are opening for you beckoning you toward new beginnings and change. So the question is, are you ready to step through into the unknown? All you need is a little courage and faith, but if you feel unsure, ask for guidance then commit to your ideas and impulses. This is not the time to play it safe and if you can take a leap of faith, then you'll almost certainly find yourself in a better, more fulfilling place.
Order your personalized Astrology Reports
---
Leo: It is time to change your outlook on life, and you can't do that if you stay within your comfort zone. The current planetary alignments are encouraging you to push beyond what is comfortable – to take a risk, to be courageous and to expand your consciousness and sense of self through learning, discovering and growing. Whether you choose to do this through physical adventures such as travel and movement or through emotional or mental means such as ending or beginning a relationship, learning a new subject or taking on a new job, doesn't matter; what matters is that you leave your familiar, comfortable life in favor of something new and unknown. Who knows how it will turn out, or who knows where it will lead. One thing's for sure: you will never know unless you do it.
Order your personalized Astrology Reports
---
Virgo: Don't expect this to be a calm and peaceful week. Your temperature is likely to be rising and it would seem that drama is brewing or someone or something is getting you hot under the collar. Or you may be gripped by a fervent need to know. April 18 looks to be a particularly intense day and if you cannel the energy constructively, you will find your answers and may well experience a change or even a rebirth as a result of what you discover. Take care, though, not to let your emotions run away with you. If you would like more peace and harmony in your life, then make a conscious effort to move your perspective away from conflict and drama. As you focus on peace, you will naturally move toward it.
Order your personalized Astrology Reports
---
Libra: If you're still experiencing challenges, difficulties and conflicts in your relationships, then it won't be long before matters calm down and peace returns. However, it may be that before you reach that point, you have a decision to make. You can't always do what's best for everyone; sometimes you have to do what you feel is the right thing and sometimes you have to make the choice that calls to you, so remember this week, in the face of quandary and confusion, to follow your heart and let your truth be your guide. You might have to be prepared to disappoint one or two people, but remember that in trying to please all the people, invariably someone will end up being disappointed anyway. Do what feels right, and you won't go far wrong.
Order your personalized Astrology Reports
---
Scorpio: Your might be so busy living your life and being productive that you haven't had time to read this. In fact, you might be reading this week's forecast next week when there will be a more relaxing pace. If you do find the time to sit down and read, then pat yourself on the back for managing to factor in some precious relaxation time. It will no doubt help to keep you sane and healthy during this busy period. Also, aim to be aware of your intuitive voice and psychic impressions that are trying to get your attention. One of the downsides of being busy is that we miss the subtle signs from the universe and the quiet whispers of our inner selves. Trust what you feel and you will be guided to the right actions.
Order your personalized Astrology Reports
---
Sagittarius: If you find yourself stuck between a rock and a hard place this week, ask yourself what your heart wants to do. Others may accuse you of selfishness, or you may worry that this is how you'll be perceived, but what matters now is that you are able to engage in your desires with a clear conscience. This may mean asserting your right to pursue your interests or it may mean making changes that are more in line with your heart as opposed to your head. So long as you act with honesty and integrity and strive to give to others in a fair and balanced way, there is nothing to feel guilty about. Make your decision and pursue it with a passion.
Order your personalized Astrology Reports
---
Capricorn: We can generally cope with whatever may be going on in the outside world so long as our home life is stable. This week it might be a good idea to withdraw your attention from professional and other external matters and concentrate on that which is closest to you since it is probably your home life that is most in need of your attention right now. From a lack of stability and conflict to things in your home that need fixing and family bonds that need mending, your greatest duty now is to your home and family. Interestingly, this is also the area in which your greatest possibilities for happiness and fulfillment can be found so just because things may be challenging doesn't mean that they won't have a happy ending or that you can't find joy within your current situation. Change your vantage point and the whole situation will change too!
Order your personalized Astrology Reports
---
Aquarius: The majority of people tend not to achieve what they want because they're too easily distracted. We all have so many thoughts going around in our heads that there is little time or space for focused thinking. Sometimes, however, a startling insight will appear out of the blue that points the way forward, or we have an idea that turns out to be a stroke of genius. This week you are right on cue for having a wonderful idea that could be a shortcut to success. Just make sure that you give it the time and energy it deserves by following it up with action.
Order your personalized Astrology Reports
---
Pisces: The trick to freeing yourself from a restrictive situation and getting more of what you want lies in being creative and innovative so instead of focusing on what you haven't got and what you need, switch your thinking to how you can create it. Come up with as many different ideas as you can; be innovative, brainstorm and solicit other people's ideas. Then when you've got your ideas or a solution, take action. Mars in your money zone is urging you to be dynamic in the pursuit of your desires, to change your situation and to go for what you want. Venus is also asking you to see yourself as deserving – a worthy recipient of abundance and blessings and maybe an easier life too. You don't need to struggle so much. Life was never meant to be hard, but we bought into the religious belief of suffering which keeps us lowly and so much less than what we could be. It's time to break free of that now and to believe that there's nothing wrong with living a happy, relaxed, pleasant and prosperous life.
Order your personalized Astrology Reports
---
For more information about your Horoscope and what the stars have in store for you, order one of our detailed