Aries, Taurus, Gemini, Cancer, Leo, Virgo, Libra,
Scorpio, Sagittarius, Capricorn, Aquarius, Pisces

Overview of this week
The Center for the New Age is
pleased to present
your Free Weekly Horoscope
for April 21, 2013 — April 27, 2013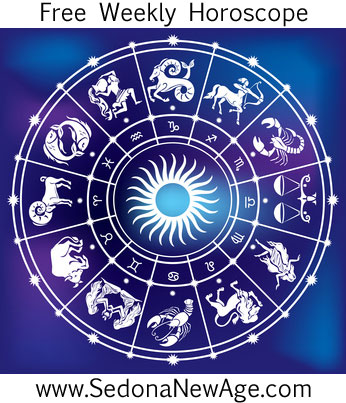 Aries, Taurus, Gemini, Cancer, Leo, Virgo, Libra,
Scorpio, Sagittarius, Capricorn, Aquarius, Pisces
This week, Mercury in Aries is square Pluto in Capricorn exposing the difficulties in communication involving power issues. It is especially important to be aware of what we choose to say (or even think) about powers that appear greater than ourselves. These powers are sometimes closer to us than we believe. This may be a particularly difficult time for some folks to discuss matters involving permanent change. Mercury square Pluto also presents challenges to communication with other generations.
Venus in Taurus is trine Pluto in Capricorn starting on April 24 and lasting about a week. This aspect often allows a breakthrough to occur for those who fear accepting the work of fate. Adoration and loving energy flows more easily between generations and Venus trine Pluto can often help us to overcome the pain of separation concerning love. It is the place where love triumphs over death. Replace what is lost with the act of love itself. In this there is great power.
Full Moon in Libra on the 25th brings events that revolve around such things as law, the justice system, friends and marital partners. Relationships are a balancing act. Friends will share their strengths as well as their weaknesses. Troubled times can strengthen even the weakest links in friendship. Refuse to contribute to the weakness of a friend; nurture friendship with patience, understanding and encouragement. Use this Full Libra Moon energy to empower your relationships. Diplomacy, peace and goodwill can be achieved among loved ones, but a definite effort is required.
A partial lunar eclipse that can be viewed only in Eastern Europe or Africa, Central Asia and Western Australia, also takes place on April 25th. A lunar eclipse occurs during a Full Moon when the earth moves exactly between the Sun and the Moon, breaking up their natural monthly opposition. During a lunar eclipse, the effect on us can be confusion or clarity. This is a great time to change destructive emotional patterns such as toxic relationships or addictions. On the flip side, a lunar eclipse can bring on some insecurity within our personal lives. Realize that all signs will feel the effects of the eclipse differently. It's imperative to remember that everything is meant to happen for a reason, no matter how stressful or confusing things appear on the surface. Eclipses are designed to change our lives around for the better. Remember that without change, there would be no growth.
Aries, Taurus, Gemini, Cancer, Leo, Virgo, Libra,
Scorpio, Sagittarius, Capricorn, Aquarius, Pisces
For more information about your Horoscope and what the stars have in store for you, order one of our detailed


Astrology Reports!
Free Weekly Horoscope for your Sign
Aries: It's easy to blame the current economic climate when we have financial difficulties. We say that people can't afford our services, that competition is high, or that there aren't as many opportunities as normal. While this all may be true to a degree, there are still people who are thriving and enjoying a prosperous time. What's their secret? They are constantly thinking up new ideas to keep things interesting. Whether you're self-employed, working for a company, or have some other way of manifesting money, the lunar eclipse on Thursday suggests it's time to change things. Let go of the past and adopt a playful attitude with whatever you're doing.
Order your personalized Astrology Reports
---
Taurus: With the Sun, Mars and Venus all in your sign, this is your time to shine. So why does it feel like you're carrying the weight of the world on your shoulders? If life feels anything but joyful right now, there's something not quite right and the lunar eclipse on Thursday will bring it to your attention. Perhaps the problem lies with another person or your responsibilities that you feel you have to uphold. Perhaps this eclipse will be the turning point you need to release one or two of your burdens. It is possible that these burdens are psychological in the sense that you create an illusion of restriction and heaviness via your own thoughts and attitudes. You just need to switch your perspective to one that looks for the joy in your life.
Order your personalized Astrology Reports
---
Gemini: There is a strong healing theme this week and the lunar eclipse on Thursday could be the time when it becomes apparent that things need to change. Perhaps there is an illusion that needs to be shattered and an acceptance of reality as it actually is. If you have been living in a dream world, events around April 25 could be uncomfortable, but this will bring about a much-needed clarity that will then enable you to move forward. It may also be a good idea to take particular note of your dreams this week, as they may contain important messages or insights that could help you.
Order your personalized Astrology Reports
---
Cancer: The lunar eclipse on April 25 is your cue to put down tools and head off toward more fun and pleasurable pursuits. The chances are that you've been busy and working hard the past few weeks, even if that was just thinking hard about your future and what you want to achieve. Now as the planets shift from work to social fun, it's time to let your hair down a little and enjoy yourself. This is the perfect week to connect with friends, get creative, visit interesting places, go to the theater, see a film, experience a musical performance and accept invitations to social events.
Order your personalized Astrology Reports
---
Leo: Just as a pond becomes stagnant without fresh water, so too do we become stale if we don't regularly experience new things. There is a new direction opening up for you now, a direction that could be very successful and fulfilling for you. You do, of course, have a choice as to whether you stay with what's comfortable and familiar, but you know that if you stick with what you know that your life will carry on pretty much as it has been. If, however, you take the path of change and growth, you can be assured that your life will change and that a different set of opportunities and circumstances will present themselves.
Order your personalized Astrology Reports
---
Virgo: For much of April, there has been a relationship theme, and consequently, you may have experienced some dramatic emotional highs and lows. You may have been busy exposing the truth and uncovering secrets or hidden feels all of which could have left you feeling a little exhausted. If you're tired of the intensity, weary of the darkness, and drained by the emotions, then it's good news as the lunar eclipse on April 25 sees light and optimism returning to your world, Now is the time to leave your cares behind and head out on an adventure of some sort. Treat yourself to a short break and exotic holiday or simply take off for a fun day out.
Order your personalized Astrology Reports
---
Libra: This month's Full Moon/partial eclipse in Scorpio harmoniously angles Neptune in Pisces in your 6th Room of Health/Physical Labor. There is a situation where you may eagerly and excitedly pitch a sale to someone. Whatever you are pitching looks good and feels good. However, you've got Saturn moving through your money area which will test you to do as you say. And, you have Neptune moving through your Room of Health/Physical Labor, possibly causing you to think and feel as if you can produce more than you really can. Beware of making big promises all for the sake of receiving big money from others for you will be challenged to perform as agreed and if you are unable to perform as this way, Neptune may cause you to be very ill as your un-kept promises stagnate in your body, creating some health issues. So, Libra, be very aware of what you are promising to another, all for the sake of receiving money.
Order your personalized Astrology Reports
---
Scorpio: The pace of life slows this week to a more manageable tempo. You may still be busy, but the emphasis is shifting from jobs, tasks, responsibilities, work and your well being to your relationships and it seems if you want to make things easier, you have to let go. You may need to let go of the need to be in control, or the need for a certain outcome. You may need to let go of a critical or judgmental attitude. It's easy to pass judgment on other people, but everyone is different and we all have our own way of doing things. If you want your relationships to run smoothly this week, especially around the lunar eclipse on Thursday, aim to let people be and ease up on your controls.
Order your personalized Astrology Reports
---
Sagittarius: Now is the time to get productive, so ask yourself what needs doing that you've been putting off. Which areas of your life need sorting? How can you become more efficient and organized so that your life runs more smoothly? Is there an area of your life that needs your attention? If so, now is the time to bring it into balance. Your work and health may take up most of your attention this week, but don't forget about the people who matter to you Attend to the jobs that need doing and devote time to improving your health if necessary, all the while remembering that what matters most are your relationships
Order your personalized Astrology Reports
---
Capricorn: As the Sun journeys into your house of fun and creativity accompanied by Venus and Mars, the mood begins to lighten considerably. Now is the time to turn your attention to lighter matters after all the domestic sagas of the past few weeks so seize every opportunity to have fun, laugh, create and generally be merry. The only tricky moments could be around the lunar eclipse on April 25 when you may feel a little down or isolated. If you're feeling unloved, neglected or rejected, be the one to reach out to offer love rather than waiting for the situation to magically resolve itself. This is also a good time to look at improving your health remembering that the best prescription for good health is regular doses of laughter.
Order your personalized Astrology Reports
---
Aquarius: We all make mistakes. We all occasionally do things or don't do things we wish we hadn't or had done. If there's something you wish you'd done differently, or if there's a current situation that calls for more honesty and integrity, the lunar eclipse on Thursday is your opportunity to change or to right a wrong. This eclipse asks you to think about where you're going in life and if you're not happy with your current trajectory, to start making changes. Your home and family life may also be calling for your attention and maybe there are things you need to attend to before you can move forward in the outside world. The best way to do that is to get creative which is a much more empowering productive state to be in than guilt. This about what you can do rather than what you can't do.
Order your personalized Astrology Reports
---
Pisces: Anything is possible! There are things that you may wish to materialize in your life that feel more impossible than possible. This is the week to start believing that so long as you have faith, you might very well get your miracle. 2013 carries the general theme of miracles coming to pass, but for you now, it is particularly relevant. The lunar eclipse on April 25 is urging you to question your beliefs that cast doubt on your hopes and to then make a decision and take action. If you can follow these steps, success awaits.
Order your personalized Astrology Reports
---
For more information about your Horoscope and what the stars have in store for you, order one of our detailed