Aries, Taurus, Gemini, Cancer, Leo, Virgo, Libra,
Scorpio, Sagittarius, Capricorn, Aquarius, Pisces

Overview of this week
The Center for the New Age is
pleased to present
your Free Weekly Horoscope
for April 28, 2013 — May 4, 2013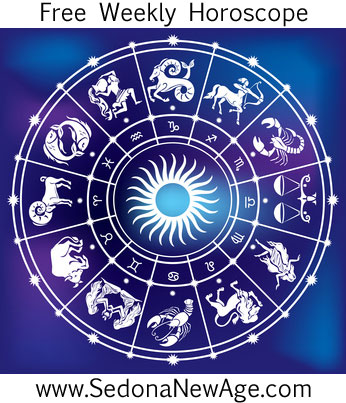 Aries, Taurus, Gemini, Cancer, Leo, Virgo, Libra,
Scorpio, Sagittarius, Capricorn, Aquarius, Pisces
Mars in Taurus is opposite Saturn in Scorpio on Tuesday and Wednesday. This aspect always makes us acutely aware of the timeliness of our actions and the importance of acting in a timely manner, or doing something about a problem before it's too late. Medical emergencies often crop up with this type of aspect when it affects people personally. It is always important to pay attention to those aspects of one's life that are active and hold the potential for accidents. "Look before you leap" is good to apply during the crucial time of Mars opposite Saturn.
Mercury enters Taurus on Wednesday remaining there until May 15. During the next two weeks, our thinking is practical. We need to digest the information we receive. Communication is grounded in a deep connection to nature. Our self confidence inspires other and we easily elicit the support of those in positions of authority. It's a time for leadership, power and transformation.
Last Quarter Moon in Aquarius on May 2 encourages our conscience to have compassion for fellow human beings and to assist and guide others despite what we may perceive as their ignorance. A kind word or sympathetic ear has great healing power and oftentimes promotes peace. This is the ideal picture of the Aquarian way; however, what the Moon in Aquarius really connects us with are the dichotomies and ironies of the human experience. Humanitarian efforts are highlighted at this time and particularly in those who derive joy from pleasing and serving others.
Mercury is sextile to Neptune starting Friday and continuing for only a few days. This short lived but beneficial aspect serves as a good time to communicate with those who are an aid in spiritual matters. This is an opportunistic time to apply the work of dreams, hopes, prayers and spells. Take this opportunity to internalize thoughts and beliefs and mould them into a workable understanding.
Aries, Taurus, Gemini, Cancer, Leo, Virgo, Libra,
Scorpio, Sagittarius, Capricorn, Aquarius, Pisces
For more information about your Horoscope and what the stars have in store for you, order one of our detailed


Astrology Reports!
Free Weekly Horoscope for your Sign
Aries: Patience isn't normally one of your strong points, but it's a virtue that you will need to apply if you are going to be able to deal with the frustrations that you currently face. Your financial/material status is likely to be posing one or two challenges, and it may feel as though you just aren't getting anywhere. Remind yourself that this will pass sooner than you think and by turning your attention elsewhere, you may find that the situation resolves itself without your needing to constantly worry or push at it. Allow matters to unfold in their own time and strive to avoid irritation, impatience and anger.
Order your personalized Astrology Reports
---
Taurus: It's getting close to crunch time when a decision has to be made. Change is coming and you need to be ready. If previous months have seemed stagnant or frustrating, all this is about to change. Perhaps there have been times when you felt weary or as if you were trying to get past a brick wall, but now, with the Sun, Mars, Mercury and Venus all in your sign, you have much more energy , motivation and passion to turn things around. You still have an obstacle to climb, but you will find it nowhere near as daunting as what it might appear. This is the week to look at how you can integrate all the different components of your life into one workable whole. Remind yourself that you have the strength necessary to attain your current desires.
Order your personalized Astrology Reports
---
Gemini: You may feel like you're going nowhere this week, so instead of trying to force progress, why not just relax and allow yourself to drift quietly and let life unfold in whatever way it wishes. Your main priority is that you rest and take care of your physical body so the best thing you can do this week is let go of any need to do anything and take some time for yourself to rejuvenate and take care of yourself. This may mean eating healthier, catching up on sleep or having space in the day to relax and unwind or do something that restores your spirit. Creative activities and those pursuits that we love are often the best ways to revive lagging energy and despondency. Think about doing more of what you love, and you'll soon be feeling brighter.
Order your personalized Astrology Reports
---
Cancer: Who or what is stopping you from doing what you want to do? Are you sure? Maybe the barrier you see between yourself and your goal isn't actually as real as it seems. With just a little testing, it may actually give way quite easily. If you find yourself on the outside looking in, remember that all you have to do is push open the door and join in the dance. Your future is looking very bright and full of opportunity and new beginnings, so don't let excuses born of fear and doubt stop you from experiencing life's joys.
Order your personalized Astrology Reports
---
Leo: It's often tricky getting the balance right between one's home life and professional interests and this looks like one of those weeks when frustration might get the better of you largely because you feel your duty lies with your home and family but your desires and passion lie elsewhere. Perhaps you want to get on with a project but don't have the time due to personal demands. Maybe you have an ambition that you want to get off the ground but someone or something is getting in the way. Or maybe you're being made to feel guilty for not giving enough time and attention to your nearest and dearest. Take a moment to consider whether you are giving enough to your family and home life. If you feel you are, then there's no need to feel guilty about ploughing some of your energy into other interests. Ultimately only you know whether you're doing the right thing or not, but if you do decide to sacrifice your ambitions for the sake of domestic responsibilities, then try to do so with a happy heart. Otherwise, there's not much point in doing it!
Order your personalized Astrology Reports
---
Virgo: As the planets line up in your zone of travel and adventure, this is a really good time to push out of your comfort zone and open yourself up to new places, people and different experiences. Obviously this is a great time for a holiday or other form of adventure, but it's perhaps just as important that you look at ways In which you are stuck or limited and seek to break out of these. You may need courage to confront these restricting situations, since it can be difficult sometimes to face up to the fact that we may be living or behaving in a way that pleases other people but not ourselves. Now is the time to be daring, to take a risk, to challenge your own preconceptions and to expand beyond what you previously thought was possible. Root out those limiting beliefs that say, "you should do this" or that "such a thing isn't possible." The biggest favor you can do yourself this week would be to keep repeating to yourself that anything is possible.
Order your personalized Astrology Reports
---
Libra: May carries a powerful theme of rebirth and transformation along with changes and developments in your financial situation. Although there may be some bumpy moments, you will emerge at the end of this month in a much better and happier position than when you began it. For now, however, let us consider that changes are taking place deep within you which may not always feel comfortable or pleasant. Since rebirths are often painful, it might be wise to ensure that you have a supportive person with you who can help you deal with whatever emotions are coming up. This could be someone close to you, a healer or therapist, or a combination of the two. Don't be afraid to ask for assistance and support to help you do what you need to do.
Order your personalized Astrology Reports
---
Scorpio: There is a strong relationship theme to your life this week, and it is highly likely that someone is a source of consternation. At the very least, there's someone who seems to be taking up a lot of your time, thoughts and energy and you may need to ask whether this is healthy or not. Perhaps you need to withdraw a little and give yourself some breathing space. Of course, if your emotions are involved, this is easier said than done and you may find yourself locked in some sort of struggle. The way through this impasse is to be the bigger person and soften your point of view. When we are in disagreement with someone, it's easy to feel that we are right and they're wrong. They're also thinking that they're right and you're wrong. Try to drop your views of what's right and wrong remembering that when you sit in judgment of someone, you become rigid and unhappy. By being the one who gives, you immediately heal the situation and that really is the most important victory to pursue. However, if you need to let go of someone, do so knowing that no one leaves your life unless they're meant to.
Order your personalized Astrology Reports
---
Sagittarius: As the planets line up in your zone of work and health, these are two areas that will be demanding your attention this week. Your work is a feature because it seems like there's so much to do not just in your job if you have one, but with all the things you need to get done in your life in general. There is a very busy feel to life right now, all of which could impact your health. Sagittarians are not usually known for their slow and steady pace nor do they slow down at the first warning sign. If you do too much, you could find yourself unable to do half as much as you could if you'd made time for rest and relaxation. Don't overdo it, and you may find you make it to the end of the week in fine fettle having accomplished what you needed to do.
Order your personalized Astrology Reports
---
Capricorn: Although the planets are aligning themselves in a challenging way, at least the challenge is easier for you than for the other signs because it involves bringing more fun and play into your life. If you find yourself faced with a problem or dilemma this week, it's almost certain that putting down the tools and doing something fun and lighthearted will lift your spirits and alter your perspective sufficiently enough for you to be able to view the situation in a much more positive light.
Order your personalized Astrology Reports
---
Aquarius: What are you putting off or delaying? It could be something as straightforward as a job or task that needs doing or a project that needs finishing. Perhaps there is something at home that needs your attention, or it could be something a little more complex, such as a conversation that needs to be had or a change that needs to be made. The two areas of life most likely to be calling your attention right now are your home and your business and if you find yourself delaying what needs to be done in either of these areas, it might be time to look at why and then get on and do what you need to do.
Order your personalized Astrology Reports
---
Pisces: With Saturn in your 9th House of the Mind and Neptune in your sign, be very aware of how you think and process your thoughts for the combination of these two planetary energies can make you a little crazy in your head and through your emotions. You may have reached a point where you need to question what you know to be true. You may need to challenge your own or others' preconceptions so that you can be more than you were before. It is highly likely that you are in some way limiting or restricting yourself maybe for the benefit of others, but most likely out of fear of change. Maybe it's time to let out a mighty roar and begin to express your true self.
Order your personalized Astrology Reports
---
For more information about your Horoscope and what the stars have in store for you, order one of our detailed