Aries, Taurus, Gemini, Cancer, Leo, Virgo, Libra,
Scorpio, Sagittarius, Capricorn, Aquarius, Pisces

Overview of this week
The Center for the New Age is
pleased to present
your Free Weekly Horoscope
for May 12, 2013 — May 18, 2013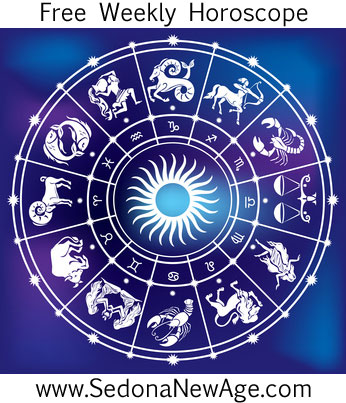 Aries, Taurus, Gemini, Cancer, Leo, Virgo, Libra,
Scorpio, Sagittarius, Capricorn, Aquarius, Pisces
On May 13 for a week, Venus in Gemini is square Uranus in Pisces. It may be difficult for love (Venus) to flourish in a spontaneous and carefree fashion (Uranus) and there may be obstacles or obligations placed on love and spiritual freedom. This influence may be testing the power of your love to withstand the extremes of chaos disorder and sudden change. Be assured in self-love and empower affection with personal integrity. People are changing at a rapid rate and it is essential to let love take its course where it relates to personal freedom. Focuses on love and the pursuit of sensual pleasures may seem to send some folks stir crazy for a while, but within a few days matters will settle down from the disruption.
Mercury is the ruling planet of Gemini. When Mercury enters Gemini on May 15, it will increase our attention to detail that will cover a wide range of topics and subjects of interest. Mercury in Gemini directs and orchestrates information in an interesting and captivating fashion. The thing to remember is that information is not always well researched or even a correct and accurate representation of the truth. Take any information received with a grain of salt.
Throughout the day on Friday, there is a strong investigative curiosity occurring with the First Quarter Moon in Virgo. The need to maintain fluidity both on a logical and practical level of application, particularly with regard to circulation of information, is emphasized. This is the time when our energies and actions are placed on the maintenance of warmer days ahead. As we anticipate our summer plans, there is a strong desire to follow through on certain dreams and desires with detailed clarity. Virgo Moon encourages us to assess matters properly and to be pragmatic and specific with certain tasks or jobs.
Aries, Taurus, Gemini, Cancer, Leo, Virgo, Libra,
Scorpio, Sagittarius, Capricorn, Aquarius, Pisces
For more information about your Horoscope and what the stars have in store for you, order one of our detailed


Astrology Reports!
Free Weekly Horoscope for your Sign
Aries: There is still a financial theme to your life this week and your motto is "Make hay while the sun shines." Motivation and determination are the keys to your success so if there's something you want, your dynamic approach will ensure you get it. It also looks likely that a change of some sort is occurring and it should be the sort of change that feels liberating and revitalizing. If, however, you're feeling unsettled by what's going on, then it may be worth asking yourself if you're trying to hold on to something that is preventing you from encountering new experiences.
Order your personalized Astrology Reports
---
Taurus: Be ready to embrace a new beginning and to make any necessary changes to your life that will be for your long-term good. Aside from this being a week when you're likely to see change, there is every chance that your financial situation will improve too. In fact, you are likely to be luckier than normal, so whether you find a shiny coin on the pavement or land yourself a nice pay raise, you have every reason to feel abundant this week. The Sun and Mars are still in your sign, giving you the energy and determination to make things happen while Mercury, Venus and Jupiter are currently residing in your money zone. Your thoughts are likely to be turning toward the financial and material side of life. This is, in fact, a very auspicious combination when good fortune is likely to manifest much more easily than normal so if you have any ideas for generating extra cash, then start implementing them as soon as you can.
Order your personalized Astrology Reports
---
Gemini: Perhaps it is time for a new vision, and in order to do that, you need to get quiet and allow glimpses of that vision to come into your consciousness. If your energy levels or your enthusiasm and motivation have been low in recent times, then Venus, Jupiter and Mercury in your sign will encourage a feel-good factor. Even if you don't have masses of energy, there should still be much to feel positive about and by adjusting your perspective slightly so that you notice more of the good in your life and less of the bad, you will find yourself feeling positive and optimistic again.
Order your personalized Astrology Reports
---
Cancer: Thus far, this has probably been a busy month with the emphasis on social activities, friends and groups. The pace will soon begin to slow, allowing you to catch up on some much needed rest and relaxation. You may also have been busy implementing plans and taking steps toward manifesting your dreams for the future. You will find that as long as your desires and motivations are in alignment with your heart, doors will magically open and whatever you need will appear just at the right moment. If you haven't materialized as much as you'd like, there's still time to capitalize on the good fortune that's got your name written on it. Everything will happen much more easily though, if you don't struggle or take things too seriously, so try to adopt a playful approach, dancing lightly through your days and noticing the joy in life.
Order your personalized Astrology Reports
---
Leo: The urge to move your life forward has been strong in recent weeks. Although you are still feeling determined and ambitious with regard to a particular matter, the planets are now beginning to remind you of the importance of other aspects of your life, such as friends, social life and getting out and about. Much joy can be found now through your friends and social interaction, so although you've still got plenty of demands on your time, catching up with a friend or partaking in a workshop or evening class will enable you to return to your tasks with a much more positive spirit. In and among all the busyness, don't forget to list to your intuition, especially around May 16 and 17 when it will be particularly strong. Trust your gut feelings on these days, as they will undoubtedly give you the answer you need and point you in the right direction.
Order your personalized Astrology Reports
---
Virgo: It's time to begin putting your ideas into practice especially those ideas that could in some way change your future or lead to a sense of achievement. The planets are moving into your zone of career, vocation and ambitions, so this is really good news if you're hoping to make changes or experience a fortunate turn of events. There may initially be a little confusion not just about what you want to do, but in general, as Neptune forms an unhelpful aspect with Mercury. You could, under this influence, find it difficult to see the wood for the trees or to know whether you're coming or going. The best use of this energy is to be as flexible as you can and not rely too much on anything or anyone.
Order your personalized Astrology Reports
---
Libra: Librans can often suppress their own choices and desires out of a fear of conflict and upsetting others but this is one time when you need to honor your feelings and needs. With Jupiter and Venus in your zone of possibility, your fears are probably unrealistic and you're likely to experience a far more positive outcome than you could have previously envisaged. So go for change and let courage, truth, and integrity be your guide. The intensity of recent weeks is beginning to fade to be replaced by a sense of renewed possibility and optimism, but there is still a need to remove any masks and pretenses so that you can be completely real and honest in all your relationships.
Order your personalized Astrology Reports
---
Scorpio: This week, your ruling planet Pluto, forms a rare and exact square to Uranus. This signals your big opportunity to make a change that will in some way liberate you. In order to get to the point, you may first need to challenge your beliefs or perceptions about something. Are you holing yourself back? Are you doubting yourself or the possibility of what you want? It may be time to make a change that improves your health and well being or a change that liberates you from something you don't like about your work or daily life. It need not be a huge change, but it should be one that feels fresh and energizing and brings the possibility of a new beginning.
Order your personalized Astrology Reports
---
Sagittarius: The pace of life begins to slow this week allowing you more time to do the things you enjoy. There's still quite a bit that needs doing, and it's doubtless there will still be demands on your time, but at least life won't be quite as hectic as it's been recently. The good news is that the emphasis is switching from work and jobs that need doing to fun and relationships. In fact, there is much potential for joy if you are able to make time to connect with others. This would be the ideal week to spend time with your partner or invite friends over for a meal or simply tell someone how much you love him or her. It may also be helpful to look at how you can have more fun with the people who are important to you, especially your partner. All Sagittarians have the potential to find love this week; all you have to do is focus on it.
Order your personalized Astrology Reports
---
Capricorn: While there is still potential to create a more authentic life and do more of what you love and enjoy, the planets are beginning to shift their emphasis toward your work and your health. There is much opportunity for success and achievement, so if you used the eclipse to contemplate changing your job or looking at how you could manifest what you want, then the omens are very good indeed. Ideally, you will be looking at how you could expand your role or take on work that will challenge you and bring more growth, and any steps you take in this direction are likely to work out well. As far as your health is concerned, you probably just need to rest a bit more and take time for nourishing pastimes. Jupiter and Venus are currently blessing you with their benevolent rays, meaning that you are likely to be protected from any serious health disorders but you do need to watch out for overindulgence. If you can remember that moderation is the key, then you won't go far wrong.
Order your personalized Astrology Reports
---
Aquarius: As the planets begin to line up in your house of fun, the heaviness of recent weeks should be easing and giving way to opportunities to do more of what you enjoy. There is still an emphasis on your domestic situation, but the balance is beginning to shift in favor of enjoyable pastimes rather than stuff you feel obligated to do. Now is a good time to put your feet up and enjoy a little more space in your life. It's a good time to contemplate what you'd like to do from little fun things to larger scale changes that will bring a more permanent sense of joy to your life.
Order your personalized Astrology Reports
---
Pisces: Following last week's theme of gratitude and appreciation, why not see how many reasons you can find to celebrate. In our culture, we tend to only celebrate big life events –birthdays, passing exams, marriages, and so on, but this seems like a waste of our joyful potential so maybe you could celebrate if the sun is out, if you finish your work ahead of schedule, or if you get an uncharacteristically good night's sleep. There are basically two ways of living your life: one is through the eyes of deprivation, which results in complaining and feeling miserable; the other is through the eyes of celebration which looks for any excuse to enjoy life and feel appreciative, no matter how much you have.
Order your personalized Astrology Reports
---
For more information about your Horoscope and what the stars have in store for you, order one of our detailed