Aries, Taurus, Gemini, Cancer, Leo, Virgo, Libra,
Scorpio, Sagittarius, Capricorn, Aquarius, Pisces

Overview of this week
The Center for the New Age is
pleased to present
your Free Weekly Horoscope
for June 16, 2013 — June 22, 2013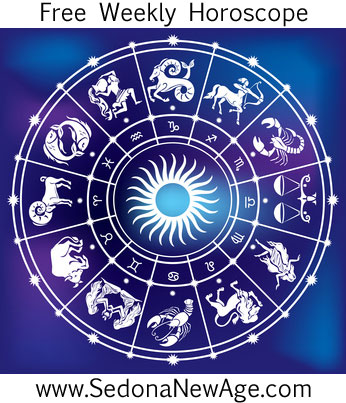 Aries, Taurus, Gemini, Cancer, Leo, Virgo, Libra,
Scorpio, Sagittarius, Capricorn, Aquarius, Pisces
There is a strong investigative curiosity that occurs with the Sun in Gemini and the First Quarter Moon in Virgo, June 16. Both these Mercury ruled signs are emphasizing the need to keep the flow going both on a logical and a practical level, particularly when it comes to relaying information. As we anticipate our summer plans, there is a strong desire to follow through on dreams and desires with detailed clarity. Virgo Moon encourages us to assess matters properly and to be pragmatic and specific when delegating certain tasks or jobs. First Quarter Virgo Moon is an excellent time to launch a health program and to cleanse the body of excess toxins.
On Monday Mars in Gemini is sextile to Uranus in Aries through next week. Serious forces of combat are ignited in unanticipated ways. Mars governs all activities and forces of action. The sextile aspect puts this Mars energy into a position of opportunity and hope with regard to the explosive, unpredictable and chaotic energies of Uranus. Both of these planets are charged with forceful energy and vitality as well as being violent and unsettled at times. Masculine forces are forging ahead abruptly and loudly. The overall qualities of Mars sextile Uranus are very fiery, although not necessarily completely destructive. It is important to look for the opportunity and potential in all sources of raw masculine energy.
Friday marks the Summer Solstice, the celebration of the longest day of the year with the solar light as a symbol of life, the life of growing things (crops and livestock) and the sustaining nourishment the growing things will provide. Let's commemorate old traditions and create new ones while giving thanks to the Sun for life and light.
Mercury is conjunct Venus, from Friday until next week. When these two planets are conjunct, the energy suggests the need to communicate. This conjunction of Mercury and Venus takes place in the sign of Cancer. This is often a time when intimate and loving thoughts are shared willingly to make compromises in relationships to maintain harmony. The true expression of love is very sincere and genuine and there will be a lot of talk about the commitment to love. This is the time to articulate our needs – to speak out on what we want and need to have – particularly when it comes to sharing love with another.
Aries, Taurus, Gemini, Cancer, Leo, Virgo, Libra,
Scorpio, Sagittarius, Capricorn, Aquarius, Pisces
For more information about your Horoscope and what the stars have in store for you, order one of our detailed


Astrology Reports!
Free Weekly Horoscope for your Sign
Aries: During the past twelve months, Jupiter has been journeying through the zone of your mind. If you made the most of his visit, you might have taken up a course of study or decided it was time to get your message out there; perhaps you decided to write, teach or speak. The purpose of this Jupiter transit was to expand your mind and enable you to think bigger and more optimistically so that you could experience more that life has to offer. During this last week of his journey, you should be feeling rather buoyant and may even experience some kind of growth in consciousness. There is certainly a strong likelihood of your expanding your mind in some way, perhaps seeing something in a new light that could lead to change or even a rebirth. Enjoy Jupiter's grand finale in your mind zone and think as big as you dare.
Order your personalized Astrology Reports
---
Taurus: The emphasis is still on your material situation –from the work you do and the prosperity you have to your possessions and your values. As Jupiter reaches the end of your financial zone, there is still time to make some positive and lasting improvements. Whatever you do, it might be wise to ask yourself if the thing in question will bring you growth or not. Ideally, whatever you choose to do, materially speaking, should result in a sense of expansion. A good example of that would be trading a safe but dead end job for something more meaningful and challenging. This is also a good week to undergo a little healing and any improvements you can make to your physical self –perhaps eating less or exercising more –the better.
Order your personalized Astrology Reports
---
Gemini: This is the last week that Jupiter spends in your sign, but he should leave you in a better place than he found you twelve months ago. Perhaps he has helped you to grow and change. He's probably helped you to expect more from life than what you were settling for. He may have helped you to change your relationships or work, to start a new project, to learn a new subject, or to bring more fun and adventure into your life. Now as he waves farewell and prepares to work wonders on your finances, he is reminding you of the importance of fun and a playful spirit. Spend a moment this week thinking of how you can make your life more fun and adventurous. And since this is your birthday month, you simply have no excuse for not taking every opportunity to celebrate, socialize and thoroughly enjoy yourself!
Order your personalized Astrology Reports
---
Cancer: A phase of your life is coming to an end, so get ready for new beginnings and increased optimism. Jupiter is now in his final week of his visit to your zone of soul, spirit and the past, so the past year could have seen the spiritual side of things developing, which could have been very enriching. Jupiter will also have helped you to reframe events in the past so that you were able to see them in a more positive light. Perhaps you are even able to move on from things you previously found emotionally trying. During this week, it would be beneficial to make sure you have done as much forgiving and letting go as you possibly can do so that you will be in a prime position to benefit from Jupiter's year long visit to your sign, which begins next week. Take some time this week to rest, reflect and release any anger, hurt or sadness that you may be feeling. Then you can get ready to focus on your future with a spring in your step.
Order your personalized Astrology Reports
---
Leo: As Jupiter and the Sun join forces, you are likely to be feeling in top form. Aside from feeling jovial, benevolent and more optimistic than you have in a while, there is also a satisfying sense of completion. Perhaps you have the final piece of the puzzle to put into place or it may be that the different areas of your life are starting to fit together. Maybe you've finished a project or completed something you set out to do. Enjoy this feel-good factor and give yourself permission for some much needed rest and relaxation.
Order your personalized Astrology Reports
---
Virgo: If you wish to get ahead, emerge victorious, experience a successful outcome, or turn a trying situation into something productive, the planets are on your side. They're also on your side if you wish to influence people and get them on your wavelength, or if you wish to make new contacts or friends or simply enjoy a fun social life. There is much to enjoy in life right now, and there's also plenty of scope for success. It all depends on what you want, but it may help to remember that, with the current alignment of planets, the sky is your limit.
Order your personalized Astrology Reports
---
Libra: All this year, Jupiter has been helping you believe that anything is possible. And now, as he approaches the top of your chart, he will help you turn that optimism into reality. This will be a week in which your positive spirit knows no bounds, and aside from being the ideal time to go on holiday or experience some sort of adventure, it's also wonderful for contemplating what you would love to happen in your life and opening yourself up to the possibility that it could happen. You don't, at this stage, need to know how it's going to happen; just enjoy the nice feelings of imaging it. Try the experience on, much like you'd try on a piece of clothing in a changing room. Get used to the feel of it, and then allow your inner voice to guide you or draw you toward the next step.
Order your personalized Astrology Reports
---
Scorpio: Throughout the past twelve months, Jupiter has been traveling through your house of transformation helping you to heal a damaged part of yourself. This may or may not have resulted in some form of physical illness or malaise, but whether you've felt well or not, you may have realized that something deep within you was out of sorts. Maybe it became apparent that there was an emotional or psychological wound that needed healing, or perhaps your health hasn't been as strong as it used to be. The key to rediscovering your well-being and life force lies in the celebration of life's mysteries so take some time to ponder the mysterious side of life –perhaps through the exploration of your inner self, looking into death and the afterlife, seeking spiritual guidance, or losing yourself in art or music. Take time to celebrate the wonderful magic and mystery of your life, and soon your vigor and enthusiasm will return.
Order your personalized Astrology Reports
---
Sagittarius: Whether you have a celebration planned for this week or not, there is a very jovial mood in the sky, so take every opportunity to take pleasure for yourself! Sagittarians don't usually need much of an excuse to enjoy, but sometimes the busyness and stress of life can lead you away from having fun and if you've been feeling tired or run down lately, take that as a sign that you need to bring the fun back. Constant activity is never a healthy thing, so give yourself some time to relax, enjoy and connect with your loved ones.
Order your personalized Astrology Reports
---
Capricorn: As Pluto reaches a critical point in your sign, it might be timely to ask how the rebirth is going. Are you managing to let go of the old you –or your old existence –so that you can create a new life? Is there a habit or a way of being that you would do well to change? Or is there a situation that could be released so that something new can take its place? Don't be afraid to release the past, because the sooner you do, the sooner you can move on and enjoy new experiences. This is also a good week for improving relations with people, from smoothing troubled waters, to telling someone what they mean to you. "Share your feelings and bare your soul" is your mission for the days ahead.
Order your personalized Astrology Reports
---
Aquarius: Over the past twelve months, Jupiter has been journeying through your fun and creativity zone, helping you to see that there's more to life than work. Hopefully during this past year, you have pursued more of your interests and hobbies, spent less time working, enjoyed the company of children, or developed a creative skill. This is Jupiter's last week in your fun zone until 2025, and as he exits, he should leave you with something to celebrate or enjoy. Perhaps it will be an event that you're looking forward to, or maybe it's the memory of a positive or joyful experience that you had. Try to preserve this good feeling and carry it with you into whatever you decide to do next. It seems that your true purpose in life is calling, and to fully manifest this, you need to be doing what brings you joy which is what this Jupiter transit has hopefully been teaching you.
Order your personalized Astrology Reports
---
Pisces: For the past year, Jupiter has been helping to bring more joy to your personal life and to find where you belong. As a result, many Pisceans will have experienced a house move or a change in living arrangements. Some will have witnessed an addition to the family, while others may have found freedom from domestic ties or tricky family relations. If life hasn't been so rosy, Jupiter may have shown you what needs to change so that you can work toward improving your personal life. Jupiter has also been helping you to find more joy in life, but instead of looking outside yourself for it, you would have simply been more likely to feel it from within you. Hopefully, Jupiter has left you a little happier or more content with yourself and your place in the world. Now, as he prepares to leave this area of your life, he is asking you to do one of two things depending on your circumstances. If all is well, why not celebrate what you have? If, however, there are improvements to be made, Jupiter asks you for courage to face what needs to be done. Try not to make negative judgments about the situation you're in and look instead for the meaning or purpose behind it. Once you have identified the lesson, resolution should be easier to find.
Order your personalized Astrology Reports
---
For more information about your Horoscope and what the stars have in store for you, order one of our detailed