Aries, Taurus, Gemini, Cancer, Leo, Virgo, Libra,
Scorpio, Sagittarius, Capricorn, Aquarius, Pisces

Overview of this week
The Center for the New Age is
pleased to present
your Free Weekly Horoscope
for June 23, 2013 — June 29, 2013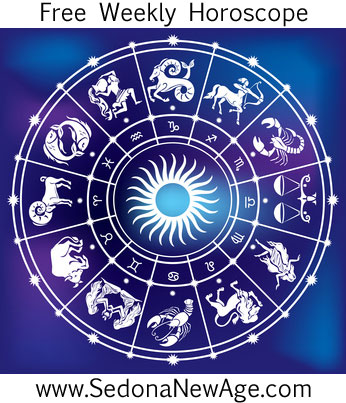 Aries, Taurus, Gemini, Cancer, Leo, Virgo, Libra,
Scorpio, Sagittarius, Capricorn, Aquarius, Pisces
Sunday, the Full Moon in Capricorn brings serious moods focused on the duty of fulfilling goals and celebrating important achievements. It is the Capricorn way to celebrate achievement by setting greater goals and striving for higher ground. Moon in Capricorn focuses our attention on the need to work towards making important things happen. It is not enough just to know which way our livelihood takes us. It is the determination and persistence to keep it going and to make it stronger that brings a firm sense of triumph and belonging when we achieve our goals and objectives.
For the next few weeks (June 26 until July 20), Mercury will be retrograde in the sign of Cancer disrupting motherhood, nurturing or care-giving and domestic or home-related subjects. Emotional subjects, especially mother-related, will be very difficult to articulate. This is a good time to attempt communications more than once or twice, and to be persistent as well as patient. A real test of our patience occurs while Mercury is retrograde in Cancer, causing susceptibility to worry, callousness or rejection. At first it may be difficult to sit through everyone's excuses and misinformation, but eventually there will be a logical explanation to Mercury related setbacks.
Venus in Leo (June 27 – July 22) brings out the more playful side of love. Venus represents the expression of love and affection; it is the influence of magnetism, beauty and of feminine refinement. It represents what we want to attract to ourselves. In the sign of Leo, Venus brings out desires and needs for personal attention. Magnetism is one of Leo's most endearing traits, and it is this magnetism that brings what Leos want most: loving attention. Love affairs may be torrid and dramatic, while affections, when first initiated, can seem very ardent and sincere. One might be hesitant to believe that a too-good-to-be-true relationship is actually occurring. On the other hand, if it doesn't feel harmonious, it may be because the love affair is more focused on the demands and needs of just one person. Leo demands a lot of affection and when Venus comes into play, the need for attention sometimes outweighs the need to reciprocate that attention. It is always wise not to have expectations in love matters and to be sure that the joys of exchanging love are balanced.
The Last Quarter Moon in Aries on Saturday brings energetic moods, but we may find that barriers may occur between emotions and our sense of personal identity. Since the Moon is in Aries, this expression of mood has little trouble emerging and creating new energies. Last Quarter Moon requires us to release pent-up emotional energy, unless of course, the energy creates a desired positive response in which case, congratulations! Dropping problems with the ego is one of the keys to this waning Moon. Overcoming tension, anxiety and grudges are other ways to work out Last Quarter Aries Moon energy.
Aries, Taurus, Gemini, Cancer, Leo, Virgo, Libra,
Scorpio, Sagittarius, Capricorn, Aquarius, Pisces
For more information about your Horoscope and what the stars have in store for you, order one of our detailed


Astrology Reports!
Free Weekly Horoscope for your Sign
Aries: Jupiter's move into Cancer (Tuesday) brings the potential for happier times ahead on the family and domestic front. This could result in a change of abode, an addition to the family, better relationships with people close to you, or a positive new beginning with your home life. Jupiter will also help you to find your place in the world by helping you to access your deepest feelings, thus enabling you to have a stronger sense of who you are and what you want. It all begins this week under a glorious grand trine which for you suggests the potential for greater contentment and increasing emotional awareness. Now is the time to contemplate your ideal home, what constitutes a happy family, and ultimately, what makes you happy at a fundamental level.
Order your personalized Astrology Reports
---
Taurus: For you, Jupiter's change of signs on Tuesday means that imagination will be the key to your success over the coming weeks and months. It has been said that if you can imagine something, it is halfway to becoming real. This is your task now as Jupiter begins a year-long journey through your zone of the mind. The use of your imagination is important on another level also. It can reveal to you what your soul is longing for, so pay attention to those idle fantasies and daydreams. They may have a message for you. This, then, is the ideal time to start visualizing what you want. It's also a perfect time to expand your mind through study, so find a subject that excites you and rediscover the joys of learning. If you have a message that you would like to get out to the world, whether it's through writing teaching or speaking, once again, this is a good time. Finally, as Jupiter and the Sun connect with a grand trine, you are likely to be fortunate through other people, so whether it's business, friendship, love or learning, the people who come into your life now could be beneficial. Existing relationships could also be advantageous, so connect with others as much as you can and see where a positive mental attitude combined with meetings, dealings and commitments may take you.
Order your personalized Astrology Reports
---
Gemini: Over the past year or so, the theme has been on personal growth. You may, therefore, have learned a lot about yourself and made choices that will enable you to express more of your potential in the future. Now, as Jupiter moves into your money zone and forms a wonderful alignment with Saturn and Neptune, it's fair to say that your material outlook is very good. This, then, would be the ideal time to think about and focus on how you can generate more prosperity in your life and how you can make better use of your talents. It's also time to think about making your dream a reality and to make positive improvements to your work. If you are in any way bored, frustrated or fed up with either your financial situation or your job, things are about to change for the better and with a little positive motivation, those changes could be quire spectacular.
Order your personalized Astrology Reports
---
Cancer: It's time for a fanfare as Jupiter and the Sun bounce into your sign, bringing renewed optimism, confidence and a desire to change your life for the better. Jupiter's arrival signifies a new chapter of life, and along with opportunities and a general feel-good factor, the deeper purpose of his visit is to help you find the answers to questions such as Where do I belong? What do I need to make me happy? What do I want to do that will be fulfilling and growth inducing? Over the course of the next twelve months, Jupiter will help you find your place in the world, but it starts now with an increasing sense that anything is possible and that by making choices that feel authentic and heart-centered, you will begin to create a life that is a wonderful reflection of you at your best.
Order your personalized Astrology Reports
---
Leo: There is a rather lazy feel to events this week, so if you want to get things done, you will have to apply some discipline. Otherwise, it will be all too easy to recline and enjoy some precious rest and relaxation time. There is, of course, nothing wrong with this; in fact, we all need a time out, and it's never healthy to be busy all the time. However, if you don't want to maintain your old habits or situations, you will need to get yourself up a bit. In fact, the best use of the energies this week would be to allow time for introspection so that you can understand yourself and your life a little bit better. This is especially true if you've been feeling that things are happening that don't seem right or fair. What may be happening is that buried things in your unconscious are beginning to express themselves in your outside world, offering you clues as to what you need to look at. The good news is that Jupiter's move into Cancer this week signifies the beginning of a year of spiritual and inner development. From this point on, it would be good to keep a dream diary or a journal to log your thoughts and feelings in. Much buried treasure will come to light between now and next year, and you can do much to help it on its way by spending more time on matters connected with the psyche and soul.
Order your personalized Astrology Reports
---
Virgo: Jupiter's change of signs is very favorable for you, casting a bright light on your future and bringing new opportunities for you to manifest your hopes and dreams. Your social life looks set to sparkle, and over the next twelve months, you are likely to benefit from other people –especially your friends –while new acquaintances and contacts could prove to be especially helpful and generous. Jupiter's advice to you, if you want to make the most of the goodies that the universe wishes to bestow on you, would be to say yes to as many invitations and opportunities as possible. Get out there and mix with people, and be open to making new friends as well as enjoying good times with your existing friends. Jupiter's move into Cancer is likely to make you feel like you're an arrow being released from a bow, so providing that you have no sabotaging tendencies or unconscious blocks, you can, from this point on, make rapid and impressive progress toward your future hopes. Indeed, now is the time to start manifesting your dreams.
Order your personalized Astrology Reports
---
Libra: Jupiter's move into Cancer is good news if you're hoping for positive developments with your work, career or ambitions. If you have a project you'd like to be successful with, or if you'd like increased business or a promotion, or even a new direction, Jupiter's change of signs bodes very well for you and its positive influence will be helping you to move onward and upward for the next twelve months. However, this positive start could be easily overshadowed by your own negative outlook. Although this negativity will be short lived, you could waste the positive potential of Jupiter's entry to the success region of your chart by being too caught up in the affairs of others. If you find yourself sitting in judgment of others, and friends are the most likely target, remind yourself that this is a waste of the positive potential that surrounds you. Redirect your focus to where you want to be going, and pay no attention to what others are doing or what they may be thinking of you. If you want to manifest your dreams, you need to be less influenced by the opinions of others. Do whatever it takes to raise yourself-esteem to the point where you feel deserving of that which you desire, and let go of all negative thoughts, judgments, and doubts. This has the potential to be a big week for you if you can keep your thoughts and feelings positive.
Order your personalized Astrology Reports
---
Scorpio: Jupiter's move into Cancer is good news for you as it suggests lighter times are coming. At the very least, it should do much to offset the heavy vibration of Saturn in your sign, bringing increased optimism and a desire to break free from your confines and restrictions. On the one hand, this would be a good time for an adventure, since anything you can do to break out of your comfort zone will be very good for you. Whether it's a holiday, a short trip, or just a day out here and there, make the effort to see new places and experience a much needed change of scene. The other positive effect of Jupiter's move into your adventure zone is that you are now in the perfect position to start manifesting an important dram. If there's something you would love to do, have, or be, this is the week to start taking steps toward it. You never know. By this time next year, you could be living your miracle.
Order your personalized Astrology Reports
---
Sagittarius: Jupiter's move into Cancer brings opportunities to develop the spiritual dimension of your life. Much meaning and fulfillment can be found through turning your attention inward, and you may find that exploring subjects such as psychology, dream work, astrology, tarot and counseling are particularly beneficial now. This would be the perfect time to visit a medium especially if you haven't gotten over the loss of a loved one – to have a psychic reading, or to visit an astrologer or healer. You also look set to benefit from other people's resources while Jupiter travels through this sign, so you may receive money through legal means –an inheritance, or some settlement. Since it seems that your material needs will be taken care of, your soul will benefit from turning your focus toward the inner realms and learning more about yourself, life and the universe.
Order your personalized Astrology Reports
---
Capricorn: If you're looking for love, then it's good news that Jupiter begins a twelve-month stay in your zone of partnerships. Whether you're hoping for a new love or want to develop an existing relationship, Jupiter will help bring your romantic dreams to fruition. Let's not forget too that relationships extend beyond one's main partner, so you may find yourself meeting a variety of people who become important to you in the year that follows. Whether it's business, friendship or love, get ready to open your door to people and have the courage to initiate contact, to share your feelings, to take the plunge and to reach out for love. Sometimes it's a struggle for you to show people how much you love and care for them, but there is an opportunity to change that now, so begin this week by opening your heart to everyone in your life.
Order your personalized Astrology Reports
---
Aquarius: Jupiter's move into Cancer signals positive changes with your work and daily life. Now is a good time to consider whether your days are joyful. If not, or if there's room for improvement, Jupiter will do much to change things. You may, for example, take on a bigger role at work. Or you may grow and find greater fulfillment as a result of your job. Your life as a whole may seem to open up and be filled with more opportunities, and this would certainly be a good time to take the chance to improve a work-related skill or expand your knowledge so that you can become better at what you do. If your health could be better, then Jupiter will help here too, so long as you avoid overindulgence –one of Jupiter's side effects of his journey through the zone of health. So watch what you eat and try to cut back on rich, fatty food while increasing the amount of exercise you do. If you can begin to practice the art of moderation and decrease any negative habits, Jupiter will offer you a protective influence. Begin this week by assessing whether you think any part of you needs healing and Jupiter will help enormously if you take steps toward improvements. Finally, a grand trine influencing your work and finances reminds you that if you focus on what you love, new doors of opportunity will open that will enable you to get closer to fulfilling your purpose. So whether you experience a windfall, a raise, a promotion, a successful outcome to a project or ambition, or a new opportunity presents itself, this week is the start of good things to come in your material life.
Order your personalized Astrology Reports
---
Pisces: Jupiter traveling through the fifth house of creativity, fun, laughter, romance and general enjoyment is the best place for the planet of merriment and expansion, so it's wonderful news for you that this is exactly where Jupiter will be for the next twelve months of your life, and it all begins this week. If you feel like you could do with more pleasure, or if life has become at all staid or gray, then this Jupiter transit will really put the color back into your life –provided, of course, that you meet it halfway. No planet can work miracles if you are closed to it. It can be easy to let the positive benefits of Jupiter pass you by if your focus is fixed on the serious aspects of living, so you will at least need to open yourself up to the possibilities of happier times and say yes to opportunities for fun and frivolity. The purpose of this Jupiter transit is to get you living more from your heart and to discover more of your true self. For this reason, it is important that you follow your impulses and do what feels right. You may be thinking it would be nice to develop an artistic or creative talent. If so, don't think about it too long or make excuses as to why you can't or shouldn't, but pick up the phone and sign up for a class. On a deeper level, you may find it increasingly difficult as the months roll by to live with a certain situation, and you would be right to change it. Jupiter's move into Cancer is very good news for you and suggests that all you need to do to experience more joy and happiness in your life is listen to what your heart is saying.
Order your personalized Astrology Reports
---
For more information about your Horoscope and what the stars have in store for you, order one of our detailed