Aries, Taurus, Gemini, Cancer, Leo, Virgo, Libra,
Scorpio, Sagittarius, Capricorn, Aquarius, Pisces

Overview of this week
The Center for the New Age is
pleased to present
your Free Weekly Horoscope
for July 7, 2013 — July 13, 2013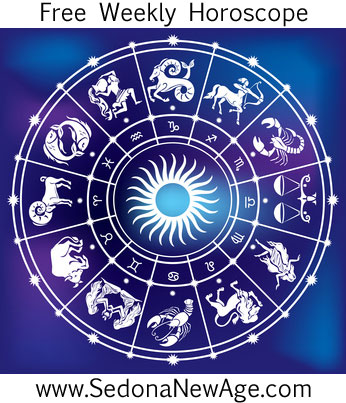 Aries, Taurus, Gemini, Cancer, Leo, Virgo, Libra,
Scorpio, Sagittarius, Capricorn, Aquarius, Pisces
Saturn, which represents time, restriction, responsibility and disciplinary acts has been retrograde since February 18th, and will go direct on Sunday until the end of 2014. Saturn retrograde often requires us to backtrack on many previous, as yet unfulfilled obligations and disciplines. Since February, Saturn retrograde has been a time of implementing, testing and correcting various types of security measures in our lives, and many sacrifices were made in order for us to feel a sense of completion and accomplishment. With Saturn direct in Scorpio, this is a good time to regenerate the discipline of our senses, to end destructive habits, particularly bad relationship practices, as well as to make new lifestyle choices and changes.
New Moon in Cancer on Monday brings renewed hope or renewed faith for those who happen to be going through emotional challenges. It also puts us directly in touch with our feelings and allows us to make room for new feelings to emerge. This newly waxing water Moon is an opportunity for garden lovers to start new cuttings and transplant plants and shrubs successfully. Taking the time to do a little extra pampering, or to do things that make us feel good about ourselves is a marvelous way to enjoy this New Moon in Cancer time.
Venus in Leo is trine Uranus in Aries from Monday the 8th until July 16th. Playful and romantic kinds of love and attraction (Venus in Leo) will bring positive breakthroughs (the trine aspect) through radical self-expression (Uranus in Aries). Dangerous love and taking chances become common occurrences. This aspect creates an attraction to the unusual, yet it allows a harmony to exist in love related matters while chaotic occurrences are taking place. Love at first sight is explosive at this time, but not necessarily long lasting.
Mars enters Cancer Saturday until August 27th. Action will likely focus on the home, one's means of transportation and matters of the heart. Mars represents action itself and all the heated qualities of human interaction. Mars is the God of War and inspires the warrior spirit of get-up-and-go that exists in all of us. Mars in Cancer emphasizes an active focus on the home, motherhood, household improvement or remodeling, possibly even a move to a new home. It shows in the defense of the emotions and the tender aspects of our being which we strive so hard to protect. Mars is a natural protector and defender but is also quite capable of offensive attack so we need to be aware of the potential for emotional flare ups, particularly with regard to the home.
Aries, Taurus, Gemini, Cancer, Leo, Virgo, Libra,
Scorpio, Sagittarius, Capricorn, Aquarius, Pisces
For more information about your Horoscope and what the stars have in store for you, order one of our detailed


Astrology Reports!
Free Weekly Horoscope for your Sign
Aries: Completion, rebirth, new life –these are the states that you could be experiencing as the New Moon brings endings and new beginnings, particularly in your personal life. This is a good week for putting the past piece of the puzzle in place, for tying up loose ends, and maybe even closing a chapter of your life. If things are changing, that's good, because they're meant to be. Even if things seem a bit challenging at times, remember that a new life is forming and that doesn't usually happen without a bit of upheaval so go easy on yourself and others, all the while reminding yourself that whatever changes are taking place are happening for all the right reasons.
Order your personalized Astrology Reports
---
Taurus: If your life feels in any way lacking –if you have any sense of emptiness, frustration or boredom –then this week's New Moon will help you determine what you need to do to bring more joy and meaning into your life. Perhaps you need to express and share more of your gifts or express yourself in a creative way. Maybe you need to be more involved in things, perhaps a group or project that you feel passionate about. Or maybe it's time to revitalize yourself by doing or learning something new. This week's New Moon, along with Mercury retrograde, will give you much to think about. Just make sure that when you've done your thinking and reached your conclusions that you take action.
Order your personalized Astrology Reports
---
Gemini: The New Moon on July 8th is the ideal time to turn over a new leaf in financial matters which may mean a more honest appraisal of your situation. Now is a good time to admit to any failings, mistakes, excuses and denials about your material situation. Since there is currently a grand trine illuminating this area of your life, you are in a perfect position to create and seize new opportunities connected with your work, money, success and achievement, so start as you mean to go on and aim to develop a new consciousness where money matters and work are concerned. Face up to anything that needs sorting and with a positive attitude, you will soon be reaping the benefits of Jupiter in your money zone –namely, abundance, prosperity, and financial good fortune.
Order your personalized Astrology Reports
---
Cancer: This week is of major importance to you and it looks like you are being called to make changes that will be of long term benefit to you. Now is a good time to release anything that isn't working in your life and to make positive changes that will enhance your body, mind and spirit. The New Moon on July 8th falls in your sign and is aligned with retrograde Mercury which is strongly indicative of the need for carefully thought-out changes and new beginnings. If you're not sure what you want, use your imagination to reveal your soul's longings. Allow yourself time to daydream and see where those daydreams take you. Don't be afraid to upset the apple cart if it means that you can create a new vision of your life. You may feel like an outsider for a short while as other people go against your wishes, so be prepared for a little conflict this week. Just don't let it stop you from doing what you feel in your heart is right.
Order your personalized Astrology Reports
---
Leo: The New Moon on Monday falls in your spiritual zone, making this the ideal time to heal any imbalances within your psyche, allowing suppressed issues to float up to your conscious mind so that they may be acknowledged and released. Paying attention to your dreams is advisable now, or talking to a counselor or therapist will also help you to unravel your private dreams and hidden pain, desires and sorrow. If your health could be better, then it is particularly important that you allow these buried aspects of yourself to be expressed. This is an ideal time for either a physical or emotional detox. The more you can release any poison in your system, the healthier you will become. All of this inner work combined with events this week could lead you to feel much more comfortable within yourself and your place in the world.
Order your personalized Astrology Reports
---
Virgo: People who consider themselves lucky are much more open with other people, striking up conversations and being positive in their body language. This week's New Moon on Monday suggests that life is ripe with potential right now, but it's worth remembering that these possibilities will come as a result of your interactions with others. Get out there, chat with people, and be friendly and interested in others. You never know. You might make a new friend or stumble across the answer to a problem. Keep in mind that other people are the keys to your success and focus on being the best friend, partner and acquaintance that you can possibly be.
Order your personalized Astrology Reports
---
Libra: This week's New Moon brings possibilities for positive change with your direction in life. This could mean some sort of life change, or it could reflect positive developments with your career or vocation. Since this New Moon is aligned with retrograde Mercury and at odds with Uranus and Pluto, these changes may initially not be smooth sailing, and for some Libras, events this week might seem anything but positive. It certainly looks as though there is some conflict in your personal life that could make it tricky to focus on where you want to be going, so try to keep your mind clear of discord so that you can focus on the new beginnings and opportunities currently on offer. This is a phase when you have the chance to make big progress in the material sphere of your life, so it's good to make sure that you are clear of any conflicting beliefs about money, work and success. If you feel guilty or undeserving about these things, then it could be that any conflict in your life is simply acting as a mirror for those beliefs. If it seems like something is stopping you from achieving what you want, your best bet is to look within for the saboteur.
Order your personalized Astrology Reports
---
Scorpio: Now is the time to broaden your horizons, break out of your comfort zone and reach out for new experiences. The New Moon on Monday suggests that it's time for a change and that change may well involve reframing your current view of life. You may, for example, begin to realize that "all work and no play" is not what life's about. You may be beginning to appreciate the merits of living a slower, more spacious life as opposed to one that's always busy and full of things to do. Perhaps this is the time to look at the balance in your life and if the scales are a bit wonky, do what you can to get them level. Whatever your current situation, this New Moon makes this a good time to travel, explore, expand, take on new beliefs, study, change your daily habits, visit new places and spend time in philosophical contemplation, all of which could lead you to some rather interesting conclusions.
Order your personalized Astrology Reports
---
Sagittarius: Sagittarius is not known for its introspection. Not surprisingly, you'd rather be off enjoying yourself, getting things done, or living life to the fullest rather than sitting around contemplating your navel or languishing in sorrow. Yet Mercury retrograde suggests that there's something you need to get to the bottom of. There is some truth that you need to reveal or some place within yourself that you need to venture to that might seem scary. It would certainly be easy for you to be complacent or to overlook something that might initially be a bit uncomfortable, but this week's New Moon suggests that transformation is close at hand, whether it's the transformation of a situation, a relationship or yourself. As soon as you start to shine a light on a problem, it begins to shrink so don't ignore that which is uneasy, and you'll not only find it easier than you imagined, but you'll also be richly rewarded for your courage.
Order your personalized Astrology Reports
---
Capricorn: The New Moon in your relationship zone on July 8 is your ideal time to start afresh in an important one-on-one. However, it may seem as though you need to go back before you can go forward. There may, for example, be something that needs resolving before you can experience your new beginning. This is a great time to have an important conversation, especially if there's something that you should have said in the past but for some reason never did. You may need to confront a little pain and sorrow, perhaps of your own making or maybe at the hands of the other person. Perhaps it's time to admit that mistakes were made on both sides and therefore now would be the time to forgive and move on. Tend to any ailing areas of your relationships and then you can look forward to creating a fresh start.
Order your personalized Astrology Reports
---
Aquarius: This week's New Moon brings the opportunity to liberate yourself from a situation that isn't working in your life. The situation could be something tangible such as a work commitment, home, health or relationship problem. Or it could be something emotional or psychological such as unresolved baggage that is dragging you down or a belief that holds you back. If you can release the past, change the way you see the challenging situation, and then get set to embrace a more creative and growth inducing set of circumstances, you will be on your way toward a more positive life. However, if you think your body, mind or soul has been wounded to such an extent that you've shut down, seek out help. Engage in activities that push you out of your comfort zone so that you begin to feel alive again because when you feel alive, you will begin to question anything in your life that isn't serving you, and that can only be a good thing.
Order your personalized Astrology Reports
---
Pisces: This week's New Moon falls in your house of fun which is auspicious if you want to embrace more creativity or enjoyment in your life. This is also good if you are ready to live more from your heart or to manifest a new positive and celebratory tone in your life. This week's planetary alignments are wonderful for manifesting your creative or adventurous dreams. All that's needed is a combination of vision, self-belief and discipline, along with a willingness to move toward what feels more joyful for you.
Order your personalized Astrology Reports
---
For more information about your Horoscope and what the stars have in store for you, order one of our detailed