Aries, Taurus, Gemini, Cancer, Leo, Virgo, Libra,
Scorpio, Sagittarius, Capricorn, Aquarius, Pisces

Overview of this week
The Center for the New Age is
pleased to present
your Free Weekly Horoscope
for July 14, 2013 — July 20, 2013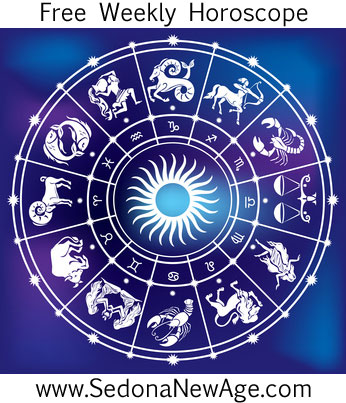 Aries, Taurus, Gemini, Cancer, Leo, Virgo, Libra,
Scorpio, Sagittarius, Capricorn, Aquarius, Pisces
First Quarter Moon in Libra on Monday encourages us to harmonize with our partners and friends. This is the Moon that beckons us to create balance in our relationships, particularly with those people who are close to us. With the Moon in Libra, life is all about making adjustments and these adjustments must be made for your own benefit as well as for that of others.
Uranus, the outer planet that represents revolution, chaos and big changes, commences retrograde activity in the sign of Aries on July 17 and continues in this mode until December 17, 2013. Uranus brings chaos and volatile or abrupt energies. It also inspires the need for change and breakthroughs towards the pursuit of freedom. When retrograde, the influence of Uranus teaches us to handle uncertainty. Many aspects of chaos tend to be sporadically repeated until the boundaries of restriction loosen enough so we can move more freely. Although Uranus liberates, for some people the retrograde process may seem to be excessively inhibiting, particularly if one's surroundings do not allow for much freedom. While Uranus is retrograde, be sure to set a standard for a certain degree of freedom in your life so that you can stop and smell the flowers this summer and into the days of autumn. Don't let this valuable time of the year slide by without allowing your inner rebel to kick up his or her heels once in a while. Freedom is a worthy thing to claim!
Since June 26, 2012, Mercury has been retrograde commonly causing heated communication mix-ups and confusion when relaying information. We'll be able to breathe a greatly needed sigh of relief on Saturday as Mercury, the planet governing the realms of communication, moves forward in the sign of Cancer. Take note that our faculties and manner of communicating will definitely improve. This will be a better time to start up projects and definitely will be a better time for discussing these projects with others.
On July 20, Mars in Cancer is trine Neptune in Pisces and Saturn in Scorpio. This Grand Trine leads to ease and stability between the energies involved, in this case, dynamic activity (Mars), self-discipline (Saturn) and spiritual transcendence (Neptune). Water signs revolve around feelings which often serve as a bridge between our material aspirations and our spiritual yearnings. Cancer arouses spiritual feelings through home and family. Scorpio stirs spiritual connection through deep psychological exploration, and Pisces awakens our desire to transcend and be united with the Divine. Mars guarantees that significant activities will occur and with Neptune in the trine position, these activities will act in harmony with spiritual and psychic awareness, all gifts from Neptune. Mars trine Saturn affects our actions with a sense of good timing. This is a favorable time to apply diligent practice to one's favorite activities and this may be just the time to favorably put an end to those factors in life which have held us back from a sense of achievement.
Aries, Taurus, Gemini, Cancer, Leo, Virgo, Libra,
Scorpio, Sagittarius, Capricorn, Aquarius, Pisces
For more information about your Horoscope and what the stars have in store for you, order one of our detailed


Astrology Reports!
Free Weekly Horoscope for your Sign
Aries: You are likely to be feeling full of power and passion this week, but take care that these invigorating feelings don't spill over into impatience and anger, especially with your nearest and dearest. As Mars squares up to Uranus and Pluto, there could be tension and more than a few sparks, so try to keep a balanced outlook. One thing that you will have in spades this week is courage, which will enable you to move mountains and make some changes that are very much to your liking. Recent times could have been frustrating, especially with your home and personal life, but as Mercury turns direct, you should find that you are able to move forward and make progress.
Order your personalized Astrology Reports
---
Taurus: You can if you think you can! With Mars and Jupiter in the zone of your mind, this is certainly a time when you're more inclined to believe that anything is possible. Make the most of this period of optimism by motivating yourself through positive thinking books and audio programs. Sometimes we just need the support and encouragement of others to help us believe that we can do something. This is particularly important advice if you find yourself feeling somewhat alienated or in conflict with others this week. Sometimes our nearest and dearest don't always support our ideas, especially if change is involved, so this is something that you may need to do yourself.
Order your personalized Astrology Reports
---
Gemini: You're likely to be feeling the desire for more of something in your life, possibly more money or a new possession or two. There is every chance that your wishes will be granted as Mars and Jupiter align in your money zone, giving you an abundant feeling. But make sure that the spending spree or the desire for more money and grander possessions isn't compensating for some inner pain or deprivation. A better use of the Mars, Mercury and Jupiter energies would be to slow down and enjoy the simple pleasures of life. There are simple soul-nourishing ways to enjoy life and they cost very little. There is nothing wrong with experiencing desire for more of the good things in your life, but the higher purpose of Mercury retrograde in your zone of resources is to examine your values to that you can become clear about what is really important to you. Once you are clear about what you truly value, you can make these things the cornerstones of your life.
Order your personalized Astrology Reports
---
Cancer: As Mars joins Jupiter and Mercury in your sign and forms a grand trine with Saturn and Neptune, you have the ability to make just about anything happen and to change your life in ways you might previously not have thought possible. Your current situation is best summed up by a quote often attributed to Goethe: "Whatever you can do, or dream you can do, begin it. Boldness has genius, power and magic in it. Begin it now." This isn't the time to sit about wondering if you're doing the right thing. Just follow your passion and let the universe take care of the details. Your energy levels, optimism and enthusiasm are on the rise and it's this combination that can manifest miracles. When Mercury turns direct on July 20, you can really start to make progress with your personal aims and ambitions.
Order your personalized Astrology Reports
---
Leo: It looks as though there's a situation that you sorely wish to be free of. You may not be dreading or longing for your last day, but you're probably dreading or longing for something. The cluster of planets in Cancer suggests that you feel like you're trying to wade through quicksand. It may be difficult to escape the past right now, whether that means having to face the results of your actions or having to deal with repercussions of family, childhood, or parenting issues. What's required to get you through this is courage. Be strong enough to stay standing in your present moment no matter how uncomfortable it may be, knowing that you have the strength to deal with anything that life may be testing you with.
Order your personalized Astrology Reports
---
Virgo: Mars joining the Sun, Mercury and Jupiter in your social zone increases your desire to get out there and make more of yourself, whether that's in terms of enjoying life and creating new relationships or in the sense of changing your life for the better and unleashing your ideas on the world. For whatever reason, recent weeks might have seen one or two frustrations with these (or other) hopes and desires, but when Mercury turns direct on Saturday, you will soon regain a sense of forward movement. You may have felt that you were being restricted, but there may have been a good reason for that. Maybe you weren't ready, or maybe you weren't seeing things in the most optimistic way.
Order your personalized Astrology Reports
---
Libra: Imagine that your current mode of transport is a rocket. How would that influence your choice of destination? Presumably, you'd no long be content to stay within your usual parameters, or if you did, people might look at you strangely and ask you why you weren't zooming off to explore new frontiers. Mars moving into the success and ambition area of your chart and joining forces with lucky Jupiter is your cue to think bigger and bolder than you ever have before. You have the capacity to achieve great things right now, so start by making some choices that will empower you to get more of what you want from life.
Order your personalized Astrology Reports
---
Scorpio: The latest neuroscience shows that the brain is very good at filtering out or ignoring anything that doesn't match the patterns and beliefs held in the unconscious. It's also amazingly good at filtering out millions of pieces of information each second and honing in on the one thing that is relevant to you right now. You will be familiar with an example of this when you're been deep in conversation in a crowded room and suddenly notice the mention of your own name or some topic of conversation that's recently been on your mind. What this shows is that we decide what is or isn't possible, due to the beliefs and patterning in our unconscious minds. Given that the Cancerian cluster (Grand Trine) is opening a door to miracles, it makes sense to seriously confront any doubts you may currently be having. Write down your thoughts and ideas this week in order to materialize such in the future, bringing to you great accomplishment and prosperity.
Order your personalized Astrology Reports
---
Sagittarius: This may not be the easiest time in your life. In fact, you might have to wrestle with some major life themes such as loss or betrayal, or you could be witnessing big changes to your everyday world that make this feel like a time of survival. "If I can just get through today" you might say to yourself, for today is probably all you can think about. Actually, this is the right approach, since trying to project your attention into the future could be stressful, so do try to stay in the present and just take each moment as it comes. It looks as though you will need courage to deal with the challenges that you currently face, and fortunately Mars in your transformation zone is on hand to give you access to reserves of strength you didn't know you had.
Order your personalized Astrology Reports
---
Capricorn: Watch out for drama and tension in your dealings with others this week. A feisty alignment of Mars, Uranus and Pluto will make it difficult to keep the lid on any stress you may be experiencing and it will also require mindfulness to not let irritability and anger get the better of you. You may need to assess whether you're trying to do too much. If you feel that you really can't make more space in your life, then look at tools and techniques to help you deal with the stress and anxiety. For example, walking and being in nature are very therapeutic for Capricorns, so try to get out most days and allow the natural world to ground and calm you. The good news is that Mercury turns direct on Saturday which will bring an end to any frustrations and difficulties in your relationships and general dealings with others.
Order your personalized Astrology Reports
---
Aquarius: Are you settling for less than you deserve? Are you enduring a situation that is doing you no favors? Is there something more that you could be doing, being or having? These could all be relevant questions to ask yourself as a sense of disgruntlement and frustration begins to build. It looks as though something really needs to change in your life and the Grand Trine on Saturday could be the critical point at which something gives and you can't go on pretending any more. You will need to watch your health around this point as the inner or outer stress could be taking a toll. "Transformation" is your key word this week, and the more you can let go and purge those toxic or outdated areas of your psyche/body/life, the more you will find yourself moving into circumstances or a state that brings a sense of celebration.
Order your personalized Astrology Reports
---
Pisces: This week you will have a clearer idea about what you want from your life. The Jupiter transit is a real blessing for you. Since it co-rules your sign, its transits are important opening doors for you in several areas including financial opportunities and career objectives. Early in the week, Jupiter moving through your 5th Room of Family/Your Inner Child awakens and accentuates your own inner child, making you more playful and lovely. Everyone loves happy, playful people! The Mercury retrograde in Cancer ends on Saturday and once it's in direct motion again, your love life straightens out, your muse starts behaving again, and your capacity for enjoyment knows no bounds.
Order your personalized Astrology Reports
---
For more information about your Horoscope and what the stars have in store for you, order one of our detailed