Aries, Taurus, Gemini, Cancer, Leo, Virgo, Libra,
Scorpio, Sagittarius, Capricorn, Aquarius, Pisces

Overview of this week
The Center for the New Age is
pleased to present
your Free Weekly Horoscope
for August 4, 2013 — August 10, 2013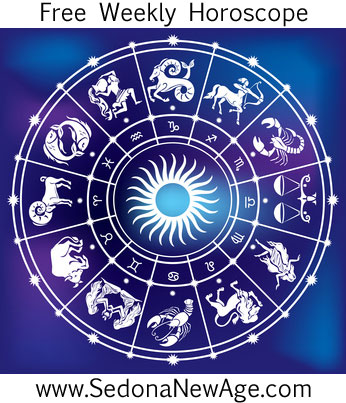 Aries, Taurus, Gemini, Cancer, Leo, Virgo, Libra,
Scorpio, Sagittarius, Capricorn, Aquarius, Pisces
New Moon in Leo on Tuesday brings positive new perspectives about personal goals, as well as inspiring a new outlook on the personal image. This is a good time to work on raising self-esteem. Image comes from within and is generated by the sheer magnitude of the will –it can come from no other than the self. Everyone has room to grow if they take time to apply some self-respect and discipline.
On Wednesday, August 7th, Jupiter is opposite Pluto. People in positions of authority could be more difficult than usual so it's best to compromise and cooperate in a way that allows us to remain true to our beliefs. Words may not be as powerful as leading through example. Wednesday is a day when areas of indulgence may become highly visible forcing us to re-evaluate our past and become clearer in our present. A trusting, optimistic outlook creates wonders during this aspect.
Now that Mercury is direct, after only a month, it enters the sign of Leo again on Thursday remaining there until August 23. This is an excellent time to effectively write or perform screenplays and comedy as our self-expression is more dramatic than usual and when Leo the lion speaks, it's a penetrating sound. Mercury in Leo puts the focus on information, news and discussions on entertainment and the connection of families. This is the time when many kids are turning to, or away from family, in an effort to find answers. They seek answers with which they can live, answers with regard to determining self-identity, as well as survival skills. Thoughts, ideas and communications shift toward a greater application of charismatic interplay as Mercury enters Leo.
Aries, Taurus, Gemini, Cancer, Leo, Virgo, Libra,
Scorpio, Sagittarius, Capricorn, Aquarius, Pisces
For more information about your Horoscope and what the stars have in store for you, order one of our detailed


Astrology Reports!
Free Weekly Horoscope for your Sign
Aries: The New Moon on August 6 reminds you that if you don't take charge of things, it's likely that fate or circumstances will step in and start taking over for you. Whatever you want to do, now is the time to start because you can't wait for all the circumstances to be exactly right. Nor can you hang around waiting for other people's approval. If something is calling to your heart –no matter if it's something small or so dramatic it's a major life change –the only person you need to be true to is yourself.
Order your personalized Astrology Reports
---
Taurus: Each time there's a New Moon, it brings with it an opportunity to create a new cycle. For you, this month's new cycle relates to your home, family and domestic life as well as your inner self, your childhood and your past. If there's something in your life that is currently causing you upset –especially if it relates to a pattern in your life – now is your chance to change it. Instead of focusing on what you don't want, start imagining what you do want. You will also find it easier to make progress now with domestic matters and relationships with your nearest and dearest. Concentrate on the new beginnings you would like to materialize and visualize them coming to fruition.
Order your personalized Astrology Reports
---
Gemini: A new attitude is the key to helping you move forward and bring about your desires, whether that's manifesting abundance and reaching for success or creating domestic bliss and personal happiness. This week's New Moon in your mental zone will therefore be a welcome event, making it easier to leave old mental habits and patterns behind and enabling you to see things differently. Be vigilant with your thoughts and challenge any assumption or initial reaction that is negative or habitual. Your consciousness is the key to your success, and by being mindful of what you're thinking, feeling, doing and saying, you can begin to incorporate some powerful changes into your daily life.
Order your personalized Astrology Reports
---
Cancer: With Jupiter, Mars and Mercury in your sign, you should be feeling more inspired, dynamic and optimistic than you have been for quite a while. You've also got the New Moon in your zone of money, making this an opportune time to focus on abundance, so materializing what you want should be easier than normal. With the combination of these planets in your sign, you now have all the tools you need to start changing your life for the better. And you're probably realizing that no one can do it for you; you alone are the instrument of your own sweet success.
Order your personalized Astrology Reports
---
Leo: This week's New Moon on Tuesday is a positive omen for change and new beginnings, so if you're starting a new project, breaking a old habit, beginning a new chapter of life, or leaving the past behind, keep reminding yourself that change is good. Rarely, however, is change easy and effortless so if you find yourself in a state of stress, remind yourself of the adage –no pain, no gain. Try also to live in the moment, taking each day as it comes, for when you look ahead at all that needs to be done, it could easily feel overwhelming. Set your intention to simply get through today with a smile on your face and tomorrow will take care of itself.
Order your personalized Astrology Reports
---
Virgo: We often feel lost or uninspired when we're about to have a breakthrough. Think back to the times in your life when you didn't know what you were doing or where you were going. Perhaps you were at a crossroads, perhaps you were just drifting, or maybe you were in a void – life had lost its color and you thought, "there must be more than this." Then your life changed or you moved forward in some way. The New Moon in your zone of endings suggests that you're ready to take a leap forward. It could be a leap in consciousness, or it could be a breakthrough in an area of life where you've been hoping for change or healing to take place. With Venus in your sign, remember that whatever changes are transpiring, they should be changes that make you feel good, joyful, abundant and deserving.
Order your personalized Astrology Reports
---
Libra: It's time to think about your future and with Mars, Mercury and Jupiter at the top of your chart, there should be no stopping you once you're clear about what you want. This is a great time to put yourself out there, participate, join in, forge connections and let people know you exist. If you want to make progress in the area of work and your vocation, this week contains some great possibilities provided you can be confident, assertive, optimistic and go-getting. You have a grand trine positively activating the money, work and success areas of your chart and it will be a long time before such a cosmic gateway like this one opens again, so make the most of it by being really clear and determined about what you want and then taking the appropriate action.
Order your personalized Astrology Reports
---
Scorpio: There is an adventurous theme to your chart at present, so ideally you would be pushing out of your comfort zone and seeking out new experiences. If you're faced with the choice of staying in a rut or trying something new, the latter would be the correct decision. This stretching of your wings also applies to your mental approach and it's a case of "you can if you think you can." The New Moon at the top of your chart is an omen of success, achievement and possible new direction while Saturn in your sign forming a grand trine with Neptune and Jupiter is once again urging you to turn your dreams and visions into concrete reality.
Order your personalized Astrology Reports
---
Sagittarius: Sagittarians need little encouragement when it comes to thinking positively and believing in the impossible, but every now and again it's good to remind yourself that your hopes and dreams –no matter how unrealistic they may seem to some people –have the potential to become manifest, so long as they are regularly nourished with faith, hope and determination. This week's New Moon falls in your zone of adventure, optimism and big ideas while Venus sits prettily in the success region of your chart. It's a potent combination for a successful outcome to whatever you're currently hoping for and it's a positive indication that your long-term goals have every chance of success too.
Order your personalized Astrology Reports
---
Capricorn: Your relationships look interesting right now as does your domestic life or the place you call home. If there is tension or uncertainty here, you might need to let go of the past. It seems as though you are carrying baggage from a time no longer relevant and the New Moon on August 6 will help you to either release or transform a difficult situation. If you find yourself in conflict with someone, perhaps making judgments or taking the moral high ground, then clear communication combined with tolerance will help to ensure that your relationships and encounters with others are filled with joy rather than recrimination and anger.
Order your personalized Astrology Reports
---
Aquarius: The New Moon on Tuesday is the perfect time to focus on a relationship maybe aiming to see it in a new light so that it can move forward. If a new start is needed, then this is the ideal moment to create a new beginning, remembering that the more you put in, the more you'll get back. If you blink, you could miss this opportunity though, since much of your attention is likely to be taken up with work of some sort, resulting in a busy time. There is certainly much potential for you to expand or experience joy, progress and satisfaction in your work, but don't forget that your relationships are also worthy of your time.
Order your personalized Astrology Reports
---
Pisces: Your keyword for this week is "playfulness." It is therefore your joyous task to consider how you can inject more fun into your daily activities and how you can develop a more playful attitude toward life in general. We all have burdens, responsibilities and things we have to do that we don't particularly like, but the key to a happy life is learning to accept those less–than-desirable elements and put love and fun into everything we do. Keep this in mind this week: playtime is an essential part of our daily routine, so go out and have some fun!
Order your personalized Astrology Reports
---
For more information about your Horoscope and what the stars have in store for you, order one of our detailed