Aries, Taurus, Gemini, Cancer, Leo, Virgo, Libra,
Scorpio, Sagittarius, Capricorn, Aquarius, Pisces

Overview of this week
The Center for the New Age is
pleased to present
your Free Weekly Horoscope
for August 25, 2013 — August 31, 2013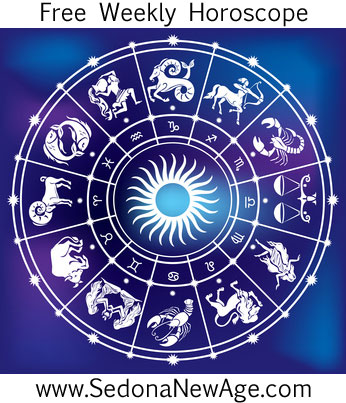 Aries, Taurus, Gemini, Cancer, Leo, Virgo, Libra,
Scorpio, Sagittarius, Capricorn, Aquarius, Pisces
Venus in Libra is square Jupiter in Cancer on August 27. Our experience of beauty and affection is challenged and tested with the difficulty of attracting or acquiring prosperity. Some might say that the act of appreciating beauty is a form of prosperity in itself. Unfortunately, this aspect may create the hardship of our not being able to acknowledge beauty as a form of wealth within itself. This aspect reminds us that something more than love's blindness is required in order for us to fully realize our riches. Love may be blocked from attainment in some fashion and travelling loves may be tested on some level. Those who require beauty through riches are challenged to potentially give up or sell desired objects that fulfill a sense of aesthetic attainment. There may also be a focus on the need to create curbs on spending in pursuit of pleasure. This may be trying particularly while love is being so ardently expressed with Mercury conjunct Venus. Don't let money matters spoil the beauty of loving affection, but expect the strong possibility that this might well be the case with others.
Last Quarter Moon in Gemini on Wednesday brings out talkative moods and informative interactions. People will have a lot on their minds and intellectual pursuits are emphasized. It is also the time to release any unwanted or frustrating mixed emotions by talking them through with others or simply processing them in your own mind.
Mars enters Leo on Tuesday. Leo is a fearless place for the planet Mars; sheer action is stimulated and animated here. Now through October 15, Mars in Leo generally brigs positive and fortifying energy to the scope of all action. It's a good time to get in touch with one's instincts and to activate personal willpower.
Mercury sextile Jupiter (occurring Thursday till Labor Day) is a most favorable, although short lived, aspect that brings the potential to receive good news of expansion and prosperity to those who are open to broadening their awareness. Mercury brings news while Jupiter brings wealth and prosperous advancement. For some folks this serves as an advantageous time to ask for a job or a loan. This is an especially good time to look openly for opportunity when sharing information and to promote oneself and one's actions. For some this may even be a good time to start a new enterprise.
Aries, Taurus, Gemini, Cancer, Leo, Virgo, Libra,
Scorpio, Sagittarius, Capricorn, Aquarius, Pisces
For more information about your Horoscope and what the stars have in store for you, order one of our detailed


Astrology Reports!
Free Weekly Horoscope for your Sign
Aries: If your home and family life has been a bit volatile as of late, then the good news is that as of August 28, matters should begin to calm down if you keep your wits about you. This is likely to bring to a head any conflict or tension between your home and domestic life, your relationships, your professional world and your own personal desires especially your desires for change, freedom or excitement. If you are moving toward change in any of these areas, then all is well and good. All you need to do is trust that you are heading in the right direction. If on the other hand, you find yourself caught in the middle of a metaphorical boxing match, you need to step outside the ring and ask yourself, calmly and collectively, "What do I want?" Let your answers guide you forward, regardless of whatever madness you may be leaving in your wake.
Order your personalized Astrology Reports
---
Taurus: This may not be the easiest week you've ever had, but it is a week in which an important breakthrough could be made if you persevere against the adversity. It's also a week rich with possibilities, so the choice is yours. Will you stay safe in your comfort zone, or will you push through your discomfort and take a chance, be courageous, and follow where your heart is leading? Your focus this week should be on that which liberates and excites you or encourages growth, creativity, adventure and expansion. Don't settle for what you've got if that is leaving you feeling trapped, gray and limited or is offering you less than you deserve. This is a great week for changing a less-than-satisfactory situation and inviting more color and possibility into your life.
Order your personalized Astrology Reports
---
Gemini: While we can consciously make certain changes in our lives such as quitting a habit or changing our jobs, there are other kinds of changes that reach much deeper and often happen without out conscious input or awareness. This kind of change is otherwise known as transformation, and it seems that this is what you're currently experiencing. Transformation is rarely easy or particularly pleasant, since it requires us to shed our old skin and let go of the past. In a sense, transformation is a lot like death: we know that life is about to change drastically but don't know what awaits us, which can be very frightening. Well, the good news is that whatever painful process you're currently experiencing, you will emerge on the other side renewed, replenished and reborn.
Order your personalized Astrology Reports
---
Cancer: This week it will be very difficult for you to keep playing a role that has been assigned to you. It will be difficult for you to keep smiling if that's what you're not feeling. It will become increasingly painful to pretend that all is well when it isn't. Some part of you is desperate for change. You can no longer keep denying this need. Perhaps your need is for a happy, beautiful, harmonious, and loving family or home. It certainly looks as though you need to identify what home and family mean to you and where you feel you belong. It may also be that the direction you're heading in needs altering. Perhaps there's somewhere else that is calling to you and that's not where you're currently heading, or it could be that you're caught up in games of power and manipulation whether it's your being controlled and dominated or your doing the controlling. This week brings you the opportunity to break free of ties that bind, restrict and limit while enabling you to drop any pretense and speak and act directly from your heart. Focus on finding the path, place, people and purpose that reflect your authentic self.
Order your personalized Astrology Reports
---
Leo: The end of this month marks the beginning of a turning point as Mars enters your sign. If recent times have seen you lacking in energy and motivation, then Mars's return to your sign will be a welcome event. It also marks the end of a phase in your life in which you might have been treading water or feeling like you weren't getting anywhere, so prepare to feel renewed passion, energy, and enthusiasm. Having Mars in your sign is rather like having a rocket strapped beneath you or having a warrior walking by your side. Take whichever of these two analogies feels most appropriate, and work with it. If you need the dynamic energy of the rocket, consider what you'd like to do and achieve, and then visualize yourself going for your dreams. If you need the strength and courage of the warrior, you can visualize him walking beside you as you face situations that are daunting. Your ultimate aim for this week is to make sure that everything is in place, all loose ends are tied, and all jobs are done so that you can move into the next stage of your journey without regret, remorse or unfinished business.
Order your personalized Astrology Reports
---
Virgo: With the Sun and Mercury in your sign, you're in a prime position to win friends and influence people. Now is the time to contemplate what you want and to then make it your mission to achieve it. Your energy and motivation should be on the rise, giving you the impetus to change things to your liking. Although you would benefit from time spent looking at yourself with a view to integrating more of what you would like into your life, this is also a great time to get out there and participate in life, and the Sun's return to your sign is likely to coincide with invitations and opportunities to do more of what you enjoy. Focus on fun this week, remembering that if challenges arise, you can easily overcome them with a mix of dynamic energy, positivity, and clear communication. Ultimately, the end of August sees you on course to where you want to be.
Order your personalized Astrology Reports
---
Libra: You will need to keep your wits about you this week as your ruling planet Venus embroils herself in a feisty struggle with Jupiter, Uranus and Pluto. As a result, there may be tensions involving your home life, your relationships and your career or your goals and ambitions. Equally likely, is a breakthrough in any or all of these areas, so after an initial period of struggle or conflict, you can expect to be celebrating. Perhaps there will be an opportunity or fortunate turn of events that brings about a feeling of success, achievement or potential. There could be possibilities for increasing your wealth; however, you may also be likely to throw caution to the wind where finances are concerned (not recommended under this configuration) or witnessing important changes in a relationship. Some kind of change or transformation involving your home or personal life may also be a feature, and if it's linked to liberation and exciting potential, then there's no need to look back. The more you can focus on personal empowerment, the closer you will be to finding your place in the world and enjoying it.
Order your personalized Astrology Reports
---
Scorpio: Under this week's grand cross that features your ruling planet Pluto, the ground may feel a little shaky beneath your feet. What you must try to avoid is feeling down on yourself. If you notice you're comparing yourself, your situation or your achievements unfavorably against others, you'll know you're heading down the wrong path. Instead of focusing on the negative, ask yourself what you need to do to change your situation for the better. Better still, look to see how you can find solace and acceptance where you're at. Ideally, you need to be focusing on growth and positive change, but if that's not doable, look for the good in your life and try to find the gift within your challenges. Keep reminding yourself that what you focus on grows.
Order your personalized Astrology Reports
---
Sagittarius: When change comes and we're catapulted into a new beginning or a new set of circumstances, we're often unsure as to whether it will work out for the best. We may worry if we're doing the right thing or if what's happening will turn out okay. It could be that your faith and optimism are being tested at the moment as the grand cross creates the kind of tension in your world that makes you wonder what it's all about. Whether you're actively creating change or you're having change thrust on you, you can reassure yourself with the knowledge that things couldn't go on as they were, so whatever is happening in your life now does so for a good reason. Embrace the change, and if new beginnings and adventures beckon, seize them with both hands.
Order your personalized Astrology Reports
---
Capricorn: Morality could be a theme this week with your being on the receiving end of other people's judgments about your life or alternatively, your casting judgment on the affairs of others. It could be likely that both of these scenarios are true with you and the other party thinking you're right and finding yourselves at a standoff. Family members or a situation involving your home could be tricky, but try to remember that everyone always thinks they're the ones who are right, and generally speaking, everyone tries to do the best they can with the knowledge and awareness they have at the time. Although disagreements are likely and frustrating circumstances almost certain, you can dissolve this rigid situation with humor, tolerance, love and compassion. Be the bigger, kinder person and watch as the tensions begin to melt.
Order your personalized Astrology Reports
---
Aquarius: This week's grand cross is likely to bring a situation to a head and the chances are that you'll be realizing it's time for a change of some description. Jupiter and Pluto are encouraging you to leave some aspect of the past behind and branch out into a new area. You need to be moving toward the kinds of activities, places and people that will bring growth and stimulation. If that means a spot of travel, taking up a new subject, embracing new ideas, changing your job or an aspect of your job role, or whatever else will breathe new life into a tired situation, this is the week to make your move. If you try to continue in the same vein as you have been, the frustration and tensions will reach a point where it becomes very damaging for your well-being, so look at your life with honesty and do whatever you feel needs to be done to liberate yourself from that which holds you back, creates stress, or limits your freedom of expression.
Order your personalized Astrology Reports
---
Pisces: There are times in life when we wish we could press the fast-forward button and move a trying situation along to bring into being that which we wish to experience. Frustration often emerges because we feel that things aren't happening fast enough and that could certainly be the case under this week's grand cross. Try slowing down and applying patience, reminding yourself that there is a season for everything and that when the time is ripe, progress will happen naturally. The celebration, good news or victory you seek, will come soon enough. In the meantime, slow down and enjoy the journey.
Order your personalized Astrology Reports
---
For more information about your Horoscope and what the stars have in store for you, order one of our detailed