Aries, Taurus, Gemini, Cancer, Leo, Virgo, Libra,
Scorpio, Sagittarius, Capricorn, Aquarius, Pisces

Overview of this week
The Center for the New Age is
pleased to present
your Free Weekly Horoscope
for September 8, 2013 — September 14, 2013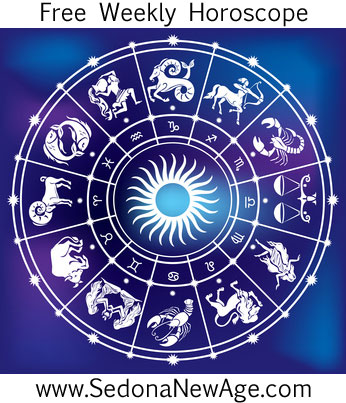 Aries, Taurus, Gemini, Cancer, Leo, Virgo, Libra,
Scorpio, Sagittarius, Capricorn, Aquarius, Pisces
Mercury enters Libra on Monday remaining there until September 29th. Mercury in Libra aligns us with diplomacy, tact and the need to connect with friends and loved ones. Libra is the cardinal autumn sign that emphasizes balance and adjustment. (A cardinal sign of the Zodiac is one that initiates a change of temperate zone season when the Sun makes its annual passage into it.) Mercury in Libra will bring a focus on harmonizing with others and preparing for the pending change of the seasons. This is a good time for people to communicate by gathering important information as our decision making process kicks into high gear.
The planet Venus which influences matters of love, beauty, art and attraction enters Scorpio on September 11 and continues its transit of Scorpio until October 7 bringing out deep and passionate levels. While Venus is in Scorpio, we may feel preoccupied with birth, sex, death and rebirth and transformation. Magnetism runs strong with Venus in Scorpio and love affairs are often torrid and well hidden. Sometimes the dark side of our love and our hidden fears surface while Venus is in Scorpio; this forces us to come clean about these feelings and to take strong measures to ensure the power of our love. Venus is in detriment in the sign of Scorpio. This may be a time to work out anxiety, fear and emotional stress relating to love. Sex is a common outlet under this type of stress. Love with passion is an empowering thing, but it is wise to be sure that the experience does not hinder the well-being of those who are close to you. The intensity of Scorpio love can sometimes overwhelm loved ones. Love shines best when it is mutually expressed.
First Quarter Moon in Sagittarius on Thursday allows our moods to be adaptable and responsive to the situations that arise. While the Virgo Sun reminds us to budget our resources for the changing season ahead, the Sagittarius Moon reminds us to reach out there while the brilliant beauty of summer is still occurring. Adventure and hope abound. Sagittarius says: I see –make use of the vision and take the time to see beyond.
Mars in Leo trine Uranus in Aries (September 14 –September 26) is an excellent influence for the warrior spirit, for men to work on their masculine energies and strengths, and to undergo male bonding rituals. This is a good time to tackle the breakdown of unwanted barriers that stifle the human spirit. Mars trine Uranus is bound to create fire somewhere and the heat can be worked to our advantage. In the triumphant mode, Mars trine Uranus creates fireworks of celebration and there is a certain sense of truly feeling alive.
Aries, Taurus, Gemini, Cancer, Leo, Virgo, Libra,
Scorpio, Sagittarius, Capricorn, Aquarius, Pisces
For more information about your Horoscope and what the stars have in store for you, order one of our detailed


Astrology Reports!
Free Weekly Horoscope for your Sign
Aries: Delays are not denials from the universe. Try to remember that as Saturn squares up to Mars, bringing about frustrations, delays and blockages. You may not be able to make as much progress as you'd like on Sunday and Monday, but this will soon give way to a smooth and easy path. It may also be prudent to consider whether the difficult situation you find yourself in is actually as problematic as you think or is largely a product of your own thinking. If you feel restricted, trapped, held back, or frustrated, try looking at the situation from a different viewpoint, and then you might realize that it's simply your thoughts or mental attitude that's keeping you stuck.
Order your personalized Astrology Reports
---
Taurus: If you feel that life is too serious, that you don't have enough fun or freedom to do what you want, whose fault is that? It's easy to blame circumstances or other people, but the truth is that we are the creators of our own lives. Sometimes it's not always easy to make that correlation, especially if we have unconscious beliefs that say life is a struggle or that we have to work hard for our money. If you don't know what your underlying core beliefs are, it's easy to find out. Just look at your life, for this will always be a reflection of what you believe, so if you want more fun, if you want to spend your days doing what you love, of if you'd like to turn a creative talent into a profession, create a belief that supports that and find yourself a mentor or a living example of someone who embodies what you wish to do or how you'd like to live. For the foreseeable future, you have Jupiter in your zone of beliefs reminding you that anything is possible; miracles can happen; and your attitudes, thoughts and beliefs are the key to changing your life.
Order your personalized Astrology Reports
---
Gemini: If you want to discover who you are and what your place in the world is, you have to engage in some quiet time. This is tricky for Geminis, as you thrive on busyness and movement. However, as the Sun reaches the lowest point in your chart, it would be worth making the time for some quiet contemplation so that you can discern the answers you seek. You can take yourself off on a solitary walk, engage in meditation, talk to a counselor or do anything to help you get in contact with your inner self. It's only when you can reach this deep, all-knowing, wise part of yourself that you will discover your next stage of the journey.
Order your personalized Astrology Reports
---
Cancer: It's amazing how much our attitudes are responsible for the outcome of our daily lives. If we are in a negative place, it won't be long before doors begin to close and life shrinks to a shadow of what it was when we were in a positive state of mind. With Jupiter in your sign, you are being encouraged to break out of any previous limitations, and it should be easier than before to think and feel in a positive, expectant way. With the Sun currently in your zone of mental attitude, it's possible that your awareness is being drawn to your thought processes and the general vibes you are giving out. Therefore, if all isn't as you would like it in your life, have a look to see if you might be emitting a negative attitude in the corresponding area, and if so, begin to transform the way you see it. Try to focus on gratitude and celebration for what you do have, and you will find that things begin to change.
Order your personalized Astrology Reports
---
Leo: Imagine trying to drive with the handbrake on. You probably wouldn't get very far, and you might wear the car out in the process. You are in a similar situation this week as Saturn squares Mars in your sign. It seems that there's something you feel you need or want to do, but circumstances seem to be making it rather difficult to get anywhere. Don't waste precious energy trying to force something that doesn't want to happen yet. However this frustrating impasse will soon dissolve. You just have to be patient and perhaps try to find the meaning behind any delays or blocks. Also, don't bottle up your frustrations. Try to find a release for your emotions. Either talk to someone understanding or unleash your frustration in a physical way, whatever works for you. By the end of the week, you should find your metaphorical handbrake is off and you can resume forward motion.
Order your personalized Astrology Reports
---
Virgo: As Venus joins Saturn in your communication zone and Pluto squares up to Mercury, what you say to others and what they say to you will be the theme for the next week or so. Perhaps you need to have a serious conversation with someone or you might just find yourself feeling less inclined toward frivolous lightweight exchanges. It's also likely that you're trying to do too much, which could easily lead to snappy words and irritation with people. Bear in mind the power of words and also of active listening: the more you can stop what you're doing and really listen to what people are saying to you, the more meaningful your relationships will become.
Order your personalized Astrology Reports
---
Libra: As Venus joins Saturn in your money zone, it's time to get serious about material matters. It may also be time to be more honest too, so if the way you earn your living is no longer working for you, it may be time to admit that and look at making some changes. The best use of the Venus-Saturn energies would be to consider your top five values as these could then give you clues as to what you can do to improve not just your material situation but your life too. So what are your values? Do you resonate with truth, freedom, creativity, fun, integrity, intimacy, harmony, peace, relating, learning, education, empowerment, inspiration? Identify what is most important to you. When you've got a clearer idea of what matters most in your life, you can begin to make the necessary changes.
Order your personalized Astrology Reports
---
Scorpio: Venus enters your sign on September 11, making this the time to get serious about frivolity. Now is the time to invite pleasure, beauty and romance into your life, to focus more on people and your relationships and to enjoy social activities. The more you can make what you love and enjoy a focus, the better. Mars is also very active in your chart right now, and if you're not mindful, he could easily dominate proceedings and push the lovely Venus out of the picture. If you find yourself turning down invites from friends because you need to finish that project, think again. It's great to be gripped by passion and intensity, and there's nothing wrong with striving for your goals, but remember that as you look back upon your life, the moments when you really lived are the moments when you have done things in the spirit of love.
Order your personalized Astrology Reports
---
Sagittarius: The Sun at the top of your chart bodes well for all kinds of ventures, and the more you focus on success and achievement, the more likely you are to be blessed with some kind of progress. This is certainly the time to get yourself out there and let the world know that you exist, especially in terms of your career/vocation. However, if you fully channel your energies into this one sphere of life, it would be a shame, as it seems the universe is asking something else of you –namely, your quest for meaning and the expansion of your consciousness. Delving into life's mysteries and exploring spiritual matters will richly reward you with all kinds of answers and insights, so whether you choose to explore the afterlife or your inner world, leave no stone unturned in your quest for the truth.
Order your personalized Astrology Reports
---
Capricorn: As the Sun journeys through your zone of adventure and possibility, you are being encouraged to expand your view of what is possible. This may mean entertaining an idea that you might previously have thought unfeasible. Or it might mean taking a step toward that which you would love to happen. Be creative in your thoughts and the ways in which you approach problems. Don't fence yourself in with narrow assumptions or limit yourself through lack of confidence or optimism. Remind yourself that anything is possible if you believe it is and then go in that direction.
Order your personalized Astrology Reports
---
Aquarius: No matter how different someone seems to us, we can always find something in common, and no matter how upsetting someone's behavior may be, we can always let forgiveness work its magic. Your challenges at present may well lie in the realm of relationships and your general dealings with others. There may be a clash of egos or a disagreement of how things should be. You may not approve of someone's behavior or even their attitude, or they may be disparaging of yours. You can bridge the gap with a change in your thinking; perhaps you could try to understand what makes them think or act the way they do, and as you take a step of acceptance toward them, they may also take a step toward you.
Order your personalized Astrology Reports
---
Pisces: There's nothing like a serious illness or a brush with death to bring about a reappraisal of one's life, and that reappraisal almost always involves a focus on the importance of people and relationships. As the Sun dances merrily through your relationship zone, you don't need to wait for a near miss to realize that the most important thing in your life is people. No matter what pressures you might currently face, and no matter how busy your life is, you can always make time for people who mean something to you, because one day they won't be in your life. Remind yourself today of what is really important and don't be afraid to let go of the superfluous stuff in order to connect more deeply with others.
Order your personalized Astrology Reports
---
For more information about your Horoscope and what the stars have in store for you, order one of our detailed