Aries, Taurus, Gemini, Cancer, Leo, Virgo, Libra,
Scorpio, Sagittarius, Capricorn, Aquarius, Pisces

Overview of this week
The Center for the New Age is
pleased to present
your Free Weekly Horoscope
for September 15, 2013 — September 21, 2013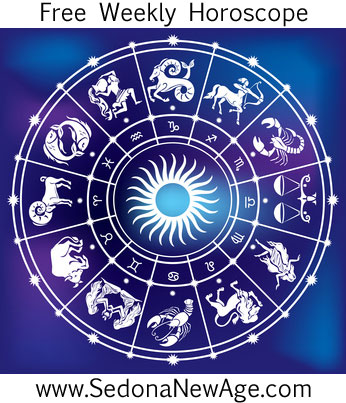 Aries, Taurus, Gemini, Cancer, Leo, Virgo, Libra,
Scorpio, Sagittarius, Capricorn, Aquarius, Pisces
Mercury in Libra sextile Mars in Leo may make this week a superb time to seek employment. This sextile aspect brings out opportunities that can be received, recognized, communicated and acted upon. People are likely to back up their statements with action and it would be a good time to apply diplomacy. Be sure to cover all bases regarding communications before taking action during this aspect. Applying active communication does have the potential for a very favorable outcome.
Venus in Scorpio conjunct Saturn in Scorpio on Wednesday (until next week) creates extremely passionate, deeply rooted and serious bonding between loved ones. This conjunction brings a favorable time to apply discipline in the arts and in love related matters. Venus conjunct Saturn represents our commitment and responsibility to the people and things we love and care about. It may also indicate there is a strong, timely quality about love matters taking place, or that love matters are undergoing a restriction, or possibly even closure of some kind. This conjunction of Venus and Saturn can go either way on the positive-negative scale, since the loving attraction of Venus can be either encouraged or thwarted by the responsible, serious and limiting discipline of Saturn's energy.
Pluto, which has been retrograde since April 12, 2013, moves into a smooth, direct pattern on Friday. Now that it is direct, we can better acknowledge the evolution of humankind's condition in order to survive and adapt to the challenges that are occurring on planet Earth. This transformation emphasizes consciousness, without which we would not be. This is not a time to take life for granted; rather, it is a time to participate in making life better by consciously transforming fear into determination and despair into belief in oneself. Pluto in Capricorn inspires a new journey where we build a new world for ourselves and for the generations to come.
Full Moon in Pisces on September 19 brings out the psychic in everyone. People can be very sensitive and as a result some people express themselves in a very artistic or perhaps even nonsensical manner. Dance, music, art and enchantment set the stage for full Pisces Moon activities. Beware – extensive drug and alcohol use and the need for escapism are often strong with this Moon. Many people become especially spacey, and parts of them may seem to drift off into alternative states of consciousness. Don't overdo anything as far as trying to accomplish the perfect atmosphere. A very little bit can go a very long way with the full Moon in Pisces. This is a harvest Moon, reminding us to take the best of this harvest season and enjoy it with sweet rapture.
Aries, Taurus, Gemini, Cancer, Leo, Virgo, Libra,
Scorpio, Sagittarius, Capricorn, Aquarius, Pisces
For more information about your Horoscope and what the stars have in store for you, order one of our detailed


Astrology Reports!
Free Weekly Horoscope for your Sign
Aries: This is not the best time to devote yourself to doing things you don't want to do. In fact, you might feel rather irritable if you feel you have to do mundane things when there are other pursuits and activities you'd rather be doing. It's okay to acknowledge this since Mars in your zone of fun and self-expression means that your energies will be best directed into activities that make you feel glad to be alive. This is the time to create, indulge in your hobbies, take time out from busyness and just allow time to unfold in enjoyable ways. Make no apology for demanding to be yourself and doing things you love. We all need a bit of "me time" to replenish our spirits. You will return to your work and daily tasks with more inspiration and joy if you make time for yourself.
Order your personalized Astrology Reports
---
Taurus: Anything is possible as long as you have belief and a good imagination. Once you are clear on what you want, the next and most powerful step is to visualize it or imagine what it would look like. This week's Full Moon suggests that there is something you're hoping for, but instead of simply wishing or hoping, why not take charge by first seeing the thing you want in your mind's eye and then be determined in your intention? Even if you currently face adversity or simply can't see how something might be possible, by believing and taking the first step, you set forces in motion that would be very hard to stop.
Order your personalized Astrology Reports
---
Gemini: This week's Full Moon will bring to light any frustrations or dilemmas connected with home and work. It may be that you're feeling stretched and that something has to give, or you may feel pulled in one direction while obligations are pulling you in another. Try not to be influenced by other people's opinions, and refuse to get bogged down in moral judgments; you have to do what feels right for you. Once again, engaging in quiet contemplation will bring forth the answers you seek, and they will be the answers that are right for you, so don't allow others to cast doubt on your decisions.
Order your personalized Astrology Reports
---
Cancer: Whether you think you can or your think you can't, you are right! The only person who limits you is yourself. This can sometimes be difficult to accept, because it seems that life and circumstances create barriers that appear almost impossible to traverse. This is when it can be good to read about restricted people who, against all the odds, have overcome insurmountable challenges to become great achievers. Regardless if you had a rotten childhood or currently lack the funds to move to your dream home or manifest your ideal business, the truth is that where there's a will, there's a way. Remember that with Jupiter in your sign, anything really is possible. All you have to do is believe and take the first step toward your dream.
Order your personalized Astrology Reports
---
Leo: There are times in everyone's life when we have to enter the void. In Greek mythology, the void would otherwise be known as the underworld, the place where Hades abducted Persephone for six months of the year. In modern life, we recognize the void as depression, as we journey into our own personal underworld. Although the void can be a frightening place to be, it is actually rich with potential and possibilities. There are positive aspects to the void and this is what you should be contemplating around the time of the Full Moon on Thursday when it may seem that the light has gone out of your world. If this is the case and the days about September 17-19 seem dark and empty, take it as a sign that you need to venture deep within your psyche to uncover your hidden possibilities. There is something within you that is ready to emerge, but you can only see what it is by becoming acquainted with your inner darkness.
Order your personalized Astrology Reports
---
Virgo: It is said that the truth will set you free. So what is it that you need to know, and how do you go about finding it? And what if you can't find the truth? Then what? Will you forever be imprisoned? As the Moon grows full in your opposite sign, it's highly likely that something you need to know will come to light. This is a week of increasing clarity and realization, which may well help to set you free. But try to remember also that true freedom comes from within and that no matter what another person says or does, sometimes the acceptance of "what is" is the only way to freedom.
Order your personalized Astrology Reports
---
Libra: Do you currently feel as though there is something lacking in your life? Perhaps you'd like more money, love, fun, passion, inspiration, energy or well-being. Or maybe you feel like you could do with more opportunity, success, or recognition. Well, the good news is that most, if not all, of these things can be manifested with a change of attitude. It's often the case that when we feel a bit flat, our finances, work and health also seem to go downhill. And the more things seem lacking, the flatter we feel, leading to a vicious circle. Saturn's conjunction to Venus could be pointing the way forward in revealing that your current attitude – which may be a little on the flat side –could be responsible for the corresponding lack of certain things in your life. Do whatever it takes to turn your thinking around. Read positive thinking books, surround yourself with upbeat people, make sure you do activities that make you feel good, and avoid negativity in the media and people who cause you to feel down. You have the opportunity now to begin a new cycle of creation, and the best way to do that is to radiate a positive energy.
Order your personalized Astrology Reports
---
Scorpio: When we feel passion for something or someone, it's generally a good sign that we're aiming our energies in the right direction. Conversely, when we feel flat and uninspired, it may be a sign that we need to make some changes, as we may not be connecting with our true purpose. This week's Full Moon reminds you of the importance of putting your heart into whatever it is that you're doing. If you find that difficult, you might need to be honest with yourself. What's needed in your life now is adventure. You might find that the more you can explore uncharted territory and enjoy new experiences, the more your inspiration and passion for life will return.
Order your personalized Astrology Reports
---
Sagittarius: Travel is renowned for expanding the mind, but it's not the only way to broaden your horizons. Learning a new subject or simply changing a few of your routines and habits can also result in shifts of consciousness. This is an ideal time to pack your suitcase and have an adventure. If you're currently feeling the urge to expand, grow, learn or experience new things, you may have to be true to that desire, even if it creates a little conflict with others. Try to find a middle way where everyone can be happy, but ultimately you need to acknowledge your growing need for answers and adventure.
Order your personalized Astrology Reports
---
Capricorn: When times are good, we need friends to share them with and enhance the enjoyment, but when times are bad, a friend's shoulder is an invaluable part of the healing process. No matter whether you're enjoying life and finding cause to celebrate or finding the daily grind a struggle, friends can help make your path a more joyous one. It may be that as Saturn and Venus connect in your zone of friendship, this becomes an area that would benefit from serious consideration –not just friends, but your social life too and how much you are participating in the world around you. Perhaps you have a friend in need of attention or a friendship that is beyond repair. Perhaps you would like more friends in your life or would like to deepen the ties you've already got. Maybe your social life is in need of some sparkle, or perhaps your friends are forgetting what you look like. Whatever the situation, this is a good week to turn your attention to the people in your life with a view to improving your social and personal world.
Order your personalized Astrology Reports
---
Aquarius: Some people spend their lives trying to avoid making mistakes. The world is full of people who live in fear. If you're currently worrying about making a big or small mistake, the source of your anxiety is likely to be found in getting something wrong or not succeeding. Ask yourself what would happen if you took the safe option. Would you be happy? Conversely, if you took a chance or pushed yourself to do the thing you fear, how happy would you be if it worked out or went well? The Full Moon on September 19 is likely to bring a hidden fear, worry or guilty feeling to light. Don't try to run from it, but instead see if you can transform it into something you can learn or benefit from.
Order your personalized Astrology Reports
---
Pisces: In recent times, your focus may well have been on other people and their needs. Now as the Moon grows full in your sign, it's time to focus on what you need. Pay particular attention to any feelings and emotions you experience around September 19 as these will show you what needs to change or what you need in order to be happy. Much of your time is likely to be taken up with work, day-to-day jobs and general business. Frustration may arise because either you have too much to do and not enough time, or things aren't going quite the way you'd like. Instead of focusing on the end result, which may take days or weeks to attain, try instead to stay present in each day, doing what you can and knowing that as you stay focused in the present moment you will get more done with a healthier state of mind.
Order your personalized Astrology Reports
---
For more information about your Horoscope and what the stars have in store for you, order one of our detailed