Aries, Taurus, Gemini, Cancer, Leo, Virgo, Libra,
Scorpio, Sagittarius, Capricorn, Aquarius, Pisces

Overview of this week
The Center for the New Age is
pleased to present
your Free Weekly Horoscope
for September 22, 2013 — September 28, 2013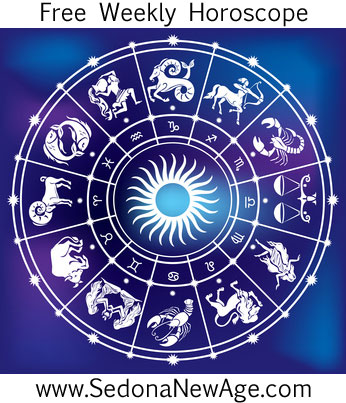 Aries, Taurus, Gemini, Cancer, Leo, Virgo, Libra,
Scorpio, Sagittarius, Capricorn, Aquarius, Pisces
The week commences with the Fall Equinox. It's Autumn. A mild chill tints the air and the Sun's brilliant light begins its departure from the Northern Hemisphere. Daytime and nighttime are equally long on Sunday. It's the magical time of the Autumnal Equinox, calling on us to create a support system and network of helpful friends to prepare for the darker and colder days ahead.
Last Quarter Moon in Cancer on Thursday elicits emotional concerns that require that extra bit of nurturing and understanding. Feelings must surface at times throughout the day. This is a good time to practice patience and to lend a listening ear. However, don't get caught up in allowing others to bend your ear if you feel like they are being manipulative or wasting your precious time. In group situations, it is wise to be patient and to practice kind and cool composure.
Venus in Scorpio is square to Mars in Leo from September 28 to October 8. Beware of the jealousy and the fierce competition that these planets in these signs will tend to create. Venus square Mars creates tension and obstacles between the forces of love and the forces of defense. The archetypal images of Venus and Mars are largely that of feminine and masculine counterparts, and this aspect may bring stress between people in love relationships. The pain of separation or the sorrow of unrequited love may be a symptom of this time, as the rocky boat of romance is due to have some notable ups and downs. On the other hand, the difficulties of these tests may strengthen the power of love and, although it is sometimes very difficult to endure love related conflicts, it is also a necessary process to ensure the authenticity of our love experience.
Aries, Taurus, Gemini, Cancer, Leo, Virgo, Libra,
Scorpio, Sagittarius, Capricorn, Aquarius, Pisces
For more information about your Horoscope and what the stars have in store for you, order one of our detailed


Astrology Reports!
Free Weekly Horoscope for your Sign
Aries: Having the wild and crazy planet Uranus in your sign is all about waking up and revitalizing your life. It's about being daring and making changes that are liberating and exciting. What we sometimes find, though, is that if we are reluctant to make the changes that will revitalize us, the planets will trigger certain events that enforce change on us. Take charge and make the changes themselves as opposed to resisting change and having your world turned upside down. Some Aries people have seen the not-so-nice side of Uranus in recent times with sudden upsets, illness and destabilizing events, but this week you get to see the nice side: a breakthrough in a tiresome or restrictive situation. The more you can work with Uranus by being receptive to change and looking at how you can break free from stagnancy and limitation, the more the events of this week will feel like a breath of fresh air.
Order your personalized Astrology Reports
---
Taurus: The week should get off to a favorable start as Venus forms a most pleasant link to Jupiter. It is therefore very likely that anything you do this week will be blessed in some way and things should go well. It would be easy to simply coast along and feel content with whatever's going on, which is fine in itself, but if you would like to make the most of your celestial good fortune, you should look to being creative, sociable or adventurous. This week also sees an end to any serious or negative feelings associated with your relationships, and you should notice a lighter vibration, which will encourage you to reach out to people more instead of hanging back or feeling like an outsider. All in all, it's a good time to think positively about other people, which could enable any or all of your relationships to blossom.
Order your personalized Astrology Reports
---
Gemini: The more you've recently been able to plumb your depths and discover your own truth, the better equipped you'll be for making the most of this week's self-expressive theme. Perhaps you will have discovered what you need to be happy, or maybe you've caught a glimpse of the next stage of your purpose. Maybe you've decided that you need to have more fun and pleasure in your life, or maybe you've simply decided to be true to yourself and live in a way that feels more authentic. If any of these have become apparent for you recently, then this week holds the promise of much enjoyment and perhaps a renewed sense of passion and direction. Regardless of whether or not you've already experienced a mini-enlightenment, this week has the potential to be fun, romantic, creative and delightful, so long as you are ready and willing to embrace these lighthearted themes.
Order your personalized Astrology Reports
---
Cancer: If life feels like a bit too much this week, make sure you have space for some quiet time, as this will give you the spiritual nourishment you need to tackle life's challenges. As the Sun enters the lowest part of your chart, you will benefit from taking time out from the busyness of life so that you can access your deepest needs, which in turn will enable you to become clearer about what you need to do next. This is an ideal time for meditation, quiet contemplation or time spent looking at your past with a view to healing certain issues. Courage may be required to transform a difficulty into an opportunity, but if you can face what troubles you, then you will soon emerge with a much healthier mind, body and spirit. Look within, and the answers will appear.
Order your personalized Astrology Reports
---
Leo: The Sun's entry into Libra should do much to lift your spirits. This is the most favorable time to cultivate a positive attitude, one that can turn on the lights in your world that were somehow absent before the change so have a look at your attitude and see if there is any room for improvement. Perhaps you could be more patient and tolerant of others. Perhaps you could get yourself into a mindset in which you believe that anything is possible. Perhaps you could cultivate more faith in a higher power or your intuition to guide you so that you'll always feel secure in what's happening. Or how about focusing on all the wonderful people and things you have in your life? Appreciation is a great attitude to have and when you couple your positive attitude with the dynamism of Mars in your sign, you will find yourself able to move mountains.
Order your personalized Astrology Reports
---
Virgo: Continuing on from last week's theme of truth and freedom, the one factor that keeps us trapped more than any other is being stuck in the past. Sometimes, for whatever reason, we feel unable to move on. Unresolved issues can eat away at us and keep us in a self-imposed prison. Karmic ties to people we should have let go of can also keep us stuck. This week as Mars goes deeper into your zone of the past, it might be a good idea to see what it might be timely to let go of. No matter if your baggage takes the form of people, places, possessions or physical clutter, this is a perfect time to have a clearing out and prepare to move on. Doing so will not only be tremendously liberating, but it will also open new doors to the future.
Order your personalized Astrology Reports
---
Libra: The Sun's entry into your sign on September 23 is the point at which you get to plug yourself back into the cosmic power grid and enjoy a surge of energy, inspiration and joy. This single transit is good news for your health, well-being, your mental state and creativity. You could also feel a sense of completion as one door closes and another one opens, since this week sees the beginning of a new chapter in your life so view this week as your own personal New Year and give some time to contemplating what you would like to do, change or manifest. You are doubly blessed this week as Jupiter forms a lovely link to your ruling planet Venus, making this a very favorable time for you when you are likely to be luckier than normal. Whether you find yourself on the receiving end of an opportunity or someone else's kindness and generosity, embrace as much as you can, say yes as often as is feasible, and remember to give thanks for all the wonderful things you have in your life as well as for the bounty currently heading your way.
Order your personalized Astrology Reports
---
Scorpio: Transformations can be large or small, but they are all in some way profound. We cannot fail to be changed by a transformative experience, whether it's the loss of someone we love or the birth of a child. Sometimes a very brief interaction with someone can have a profound effect while the physical transformation of dying your hair a completely different color or having it restyled can result in a profound sense of change. Quite often these transformations can lead to further changes, and this is where you are this week. Regardless of whether you perceive what is happening as good or bad, embrace it, for it will lead you toward creating a new vision in your life.
Order your personalized Astrology Reports
---
Sagittarius: Sagittarians have a reputation for always putting on a smiley face, even when they may be suffering inside. Your need to always be positive is commendable and is probably largely responsible for your perpetual good fortune and lucky experiences. However, there are times when it's okay to drop the happy façade and show your sadness, doubts and insecurities. For you, this takes courage, but the more you can open up and reveal your true feelings, the more likely you are to experience the healing you seek. It will also do wonders for your relationships, since vulnerability and emotional honesty allow others to get to know the real you. If that makes you feel uneasy, then you know you've got some work to do. Perhaps it's time to start loving yourself exactly as you are!
Order your personalized Astrology Reports
---
Capricorn: A Capricorn is usually happy when there's a goal to pursue, a target to achieve, a challenge to overcome, or a job to be done, so as the Sun sails over the career and ambitions area of your chart, you should find yourself in the spotlight for all the right reasons. Now is the time to get yourself noticed by doing the best you can possibly do, and if you're one of the ambitious Capricorns, let it be known that you're ready for bigger challenges. The path to success may not be as easy as you deserve, though, since Pluto's square to the Sun suggests complications even to the point of someone being devious or not having your best interests at heart. In this regard, the best advice for this week is to watch out for snakes in the grass and avoid power struggles while at the same time not allowing yourself to be treated unfairly or overlooked in your quest for success.
Order your personalized Astrology Reports
---
Aquarius: The Sun's entry into your house of travel and adventure brings a positive shift in energy, so if you've felt the past few weeks were a bit heavy, then this week should see you in lighter, more optimistic spirits. Now is the time to expand, explore and begin to think about what might be possible. Don't let adversity and challenge put you off. In fact, external resistance could be the grit you need to manifest your pearl! Embrace any challenges that come your way as they may prove to be the incentive for what you need to do.
Order your personalized Astrology Reports
---
Pisces: Although your thoughts may naturally gravitate toward more serious matters, there is still plenty in your chart to encourage you toward lighthearted and enjoyable pursuits. If you find yourself dwelling on deep matters, remember to balance them with more fun activities. It's easy for Pisceans to become overwhelmed with feelings and emotions, so you need to have a contingency plan –activities or distractions to help you move out of suffering mode and back to the jovial person you can so often be. Remember this week the importance of connecting with others and being a part of something that is bigger than yourself. When you move beyond your own suffering and connect with others, all sorts of new possibilities begin to emerge and your task now is to identify those possibilities and then make them into something real.
Order your personalized Astrology Reports
---
For more information about your Horoscope and what the stars have in store for you, order one of our detailed