Aries, Taurus, Gemini, Cancer, Leo, Virgo, Libra,
Scorpio, Sagittarius, Capricorn, Aquarius, Pisces

Overview of this week
The Center for the New Age is
pleased to present
your Free Weekly Horoscope
for September 29, 2013 — October 5, 2013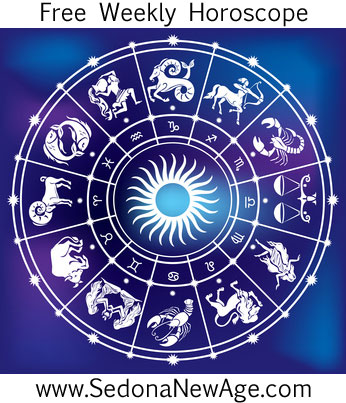 Aries, Taurus, Gemini, Cancer, Leo, Virgo, Libra,
Scorpio, Sagittarius, Capricorn, Aquarius, Pisces
Mercury enters Scorpio on Sunday and our communications and discussions for the next two and a half weeks focus on more intense fixations. Mercury in Scorpio is often a time when communications are veiled in secrecy and talk revolves around matters of intensity and sensitivity. This is a time to take caution with regard to matters of secrecy. It is also a time to be aware that a sharp tongue may easily cause a violent or challenging reaction. It is through this medium of Mercury in the sign of Scorpio that the expression of communications is seemingly fearless, obstinate, reckless and passionate deep down. From the wide range of indecent babble to the subtle perfection of clear articulation, discussion frequently delivers a powerful punch while Mercury occupies Scorpio.
Mercury in Scorpio trine Neptune in Pisces (October 1 –6) is a favorable aspect bringing thoughtful and engaging discussions and intuitive knowledge and perception. Communicate about spiritual needs with helpful counsel during this time and receive gifts of renewed faith in your own beliefs. Accept that some messages are there to spiritually uplift you. Spiritual affirmations and important messages may seem complex while these planets are trine, but they are designed to ease the mind and comfort the heart.
The New Moon in Libra on Friday is a time of reaffirming and harmonizing our relationships with friends and partners. It is also a time of new friendships as the shift to autumn activities creates a new working environment for many people. New rules, when diplomatically agreed upon, set the standard for how to create a more harmonious environment in the autumn days to come. The commitment to carry out the autumn trends that are beginning to take precedence, now starts to sink into our moods and the New Libra Moon reminds us to seek peace within.
Aries, Taurus, Gemini, Cancer, Leo, Virgo, Libra,
Scorpio, Sagittarius, Capricorn, Aquarius, Pisces
For more information about your Horoscope and what the stars have in store for you, order one of our detailed


Astrology Reports!
Free Weekly Horoscope for your Sign
Aries: This week is the time of happily connecting with "your other half", hanging out with friends and going to many social events. If you are single, this is a great week to go out and mix and mingle for as the Sun highlights your 7th Room of Partnership, it will be very easy for you to connect with a new friend/partner/playmate. This month's New Moon occurs on Friday in Libra, and Uranus in your sign is directly opposed to it. This could trigger some sudden, unexpected opportunities that seem to come out of the blue. You may be caught off guard and feel some tension or stress around these opportunities, but just take your time and pick the ones that feel right to you.
Order your personalized Astrology Reports
---
Taurus: The Sun in Libra highlights your 6th Room of Health/Work. Libra is the sign of friends and people; therefore, you will receive lots of new health, fitness and nutrition information through your friends and others. And, as you gather and receive new information, you will share such with your friends and other. Whatever you do, do not be a hermit this week. The best way for you to fix and heal yourself is through others, especially a significant other.
Order your personalized Astrology Reports
---
Gemini: With the Sun in Libra highlighting your 5th Room of Children/Pets/Family, this is a time of focusing your energy on them. This is a social time, a time of hanging out with family and friends, going to the theater, parks and museums. Someone in your family –a young female –is straying away from the home and family. She is stepping out into a new part of the world on her own. It is your option to give her support as she goes through her rite of passage. This is your test –to accept and see this situation through to a positive end.
Order your personalized Astrology Reports
---
Cancer: The Sun is in your 4th Room of the Home highlighting family and/or friends. This is a great week to plan and arrange a gathering in your home, or to find items for your home. Saturn and Mercury in your 5th Room of Family represents a time of focusing on family. Perhaps that is why the Sun in Libra motivates you to get together in your home. Have you perhaps met someone who has children and you and the other are planning to spend more time together? Your 5th Room of Family is ruled by the sign of Scorpio which represents your karma. Your Cancer spirit may be here to learn about children. Stop resisting what you have come here to do. Align with what it is that you are here to do with children and family and direct your focus on home and family. Balance, happiness and life fulfillment will follow.
Order your personalized Astrology Reports
---
Leo: As the Sun in Libra highlights your 3rd Room of Creative Communication this week, it assists you in focusing on such. This is a time of doing for the 3rd Room is the area of "doing"/action /materialization. Sun in Libra in your 3rd Room says there are many things to do and perhaps there are for you. There may be things you have needed to do on your home for a long time, and in this last year, you have done a little at a time. Begin this week to focus on your home; clean it up and rebuild it. You may be on the path of leaving your home and journeying to a new home either on or near the water. That is your soul's destiny, but you must first clean up your present home situation before you can move into your soul's home. You may have lots of work to do this month, so start this week and proceed toward your destiny.
Order your personalized Astrology Reports
---
Virgo: The Sun in Libra highlights your 2nd Room of Income/Money making this a time of focusing on such. Yes, there is extra income coming your way so starting this week, concentrate on your income and align with new ways to legally attract more. In the past year, one of your biggest lessons has been communication. You have needed to learn to speak up and out in every situation of your life. Saturn moves back and forth through your 3rd Room of Communication, testing you to speak strongly. At times, Saturn in this area of your life has made you feel like yelling and cursing, for that is just Saturn. It is time to express yourself through the highest words available. Starting now, pay homage to "Think before you speak." Otherwise, you may do more damage than good to your income!
Order your personalized Astrology Reports
---
Libra: Happy Birthday! The universe's spotlight is on you, highlighting everything about you. The New Moon on Friday falls in your sign. This happens only once a year and sets the tone for the next twelve months, so before Friday, list your desires for the next year. Focus on them; back them with emotion; then put the list somewhere you'll see it often. This New Moon ushers in new opportunities in your personal life and in that area of your chart where your natal sun is placed. For the past year, one of your main lessons has been income, money, receiving it and then figuring out what to do with it. You are in a generous time of attracting and receiving lots of income, but do not make definite decisions regarding money until after Mercury returns direct (November 10). Then you can move forward with your ideas.
Order your personalized Astrology Reports
---
Scorpio: This week, the Sun in Libra highlights your 12th Room of the Soul representing a time of quiet and meditation for you. However, Sun in Libra changes things somewhat in that it generally brings out the people, old friends and new. You may receive many calls and social invitations, and on one hand, want to go and participate. Yet, on the other hand, you may just feel like staying home and quietly being with yourself. Find the balance Scorpio! Socialization is a part of the circle of life. Participate in life. Socialize, meet, congregate and converse with others, for that is how you improve yourself. If you just sit at home being a hermit, you, as an individual, will never grow. Get out this week. Socialize, meet people, congregate, converse and improve yourself and expand your horizons.
Order your personalized Astrology Reports
---
Sagittarius: The Sun in Libra highlights your 11th Room of Friends/People & acquaintances this week. This is a social time for you. This is a time of getting out of the house and mingling with people. This is a time of gathering with friends and family. If you are single, this is a great time to meet someone as Venus moves through your sign and as the Sun highlights your social area. You are in a very strong karmic cycle. Everything that you have incorrectly done within this lifetime is being repeated. Everything you have done incorrectly is coming back around, which is a good thing. Do you remember saying, "If I had the chance to do that again, I would do it differently?" Well, this is that time!
Order your personalized Astrology Reports
---
Capricorn: You may be very busy this week, as many people find their way to you. Regarding the people who are around you and coming into your life, there are a number of low-vibration souls. These may be people who are used to getting money the easier way. Or, these may be people who have money, and their money buys them anything they want. These may be individuals who are cons and schemers. Don't get upset. Just recognize that the people in our life and those we attract into our life are reflections of us. See yourself in these people and then make a very strong decision to be different and better. The New Moon on October 4 falls in Libra, your career area. This one should bring in new professional opportunities that delight you. You could land a nice promotion, a raise, get a new office, launch your home based business or enjoy new opportunities or networking that will promote your career and future.
Order your personalized Astrology Reports
---
Aquarius: The Sun in Libra highlights your 9th Room of the Mind/Thoughts this week shining a very bright light on your mind, assisting you in seeing more clearly and understanding. Be sure to keep near a pen and note pad so that you may write down your thoughts and ideas. Your life is moving in a very positive direction, but there are challenges and tests. Through the planetary energies of Saturn in your 10th Room of Work/Career, something takes place that may not be on the up and up. Be aware, for something of low vibration lingers in the workplace. It could be that it is up to you to find a way to subtlety inform and help correct the situation.
Order your personalized Astrology Reports
---
Pisces: With the Sun in Libra highlighting your 8th Room of Sex/Debts/Assistance this week, this could be the beginning of receiving money and assistance through others. According to how the planets are aligning, you may be working on a new idea, and may have been working on this idea for quite some time. You may have already shared your idea with another or with others. With the New Moon in Libra on Friday, new opportunities surface in friendships and through your various social connections, that is, people around you who will partner with you, invest with you, donate to you and/or assist you with something you are working on or investing in. This week is particularly important as you will become aware of their interest and promote your scheme to the benefit of all.
Order your personalized Astrology Reports
---
For more information about your Horoscope and what the stars have in store for you, order one of our detailed