Aries, Taurus, Gemini, Cancer, Leo, Virgo, Libra,
Scorpio, Sagittarius, Capricorn, Aquarius, Pisces

Overview of this week
The Center for the New Age is
pleased to present
your Free Weekly Horoscope
for October 13, 2013 — October 19, 2013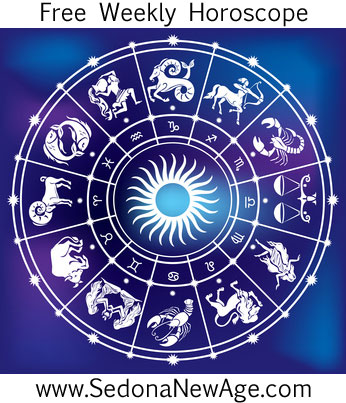 Aries, Taurus, Gemini, Cancer, Leo, Virgo, Libra,
Scorpio, Sagittarius, Capricorn, Aquarius, Pisces
Mars enters Virgo on Tuesday (October 15 –December 7) causing the heat of our activities to be focused on accounting, analyzing and nitpicking perfection. Throughout this time, many people will place an emphasis on being resourceful and clever and, when in battle, act prudently with cautious forethought.
Venus in Sagittarius is trine Uranus in Aries (October 16 –October 24). Tender hearted and motherly kinds of love and attraction will make positive breakthroughs in matters of belief and believing. This aspect brings a favorable attraction to revolutionary concepts. This is a time of freedom fighters and rebel love, and youth is easily attracted to the spirit of rebellion. Dangerous love and taking chances become common occurrences. Venus trine Uranus creates an attraction to the unusual, yet it allows a harmony to exist in love related matters while chaotic occurrences are taking place. Love at first sight is explosive at this time but not necessarily long lasting.
Full Moon in Aries on Friday charges our spirits with an extra dose of energy. All the high pomp and hype of this time is marked with the burning and willful force of Aries Moon activity. A warrior spirit touches us all, particularly with regard to the personal challenges in our lives. Be prepared for headstrong attitudes and potential rudeness. There will also be a great deal of confidence, enthusiasm and a pioneering spirit. This is a good time to celebrate and to enjoy the fruits of our labors.
In addition to the Full Moon, Friday brings us a penumbral lunar eclipse. Unlike a total or partial lunar eclipse, a penumbral eclipse occurs when the Moon is traveling through the much fainter, outer part of the Earth's shadow. Because the Moon is still exposed to some direct sunlight, this type of eclipse is often overlooked and mistaken for a normal Full Moon. As with any eclipse, the earth "short-circuits" the connection between the Sun and the Moon during a penumbral eclipse and the effect on us can be confusion or clarity. This day is a great time to change destructive emotional patterns such as toxic relationships or addictions. On the flip side, the eclipse can bring on some insecurity within our personal lives. Realize that all signs will feel the effects of the eclipse differently. It's imperative to remember that everything is meant to happen for a reason, no matter how stressful or confusing things appear on the surface. Eclipses are designed to change our lives around for the better. Remember that without change, there would be no growth.
Aries, Taurus, Gemini, Cancer, Leo, Virgo, Libra,
Scorpio, Sagittarius, Capricorn, Aquarius, Pisces
For more information about your Horoscope and what the stars have in store for you, order one of our detailed


Astrology Reports!
Free Weekly Horoscope for your Sign
Aries: With Mars changing signs on Tuesday, you will notice a quickening in the pace of your life. It will suddenly seem as though there aren't enough hours in the day. In addition, the lunar eclipse in your sign on Friday brings developments you might not initially approve of. Keep in mind that today's sorrows often turn out to be tomorrow's joys. Your personal and family life could feel challenging under this eclipse, but in fact, whatever may be going on at home or in your relationships will lead to your growth and development if you don't resist what is happening. Consider your own needs and feelings by all means, but your energy and attention really needs to be directed toward the welfare of other people and your home and family life.
Order your personalized Astrology Reports
---
Taurus: The lunar eclipse on October 18 is your big opportunity to put the past to rest, and in doing so, you will open the door to a more harmonious state. When we hold on to grudges, resentments, confusion, sadness and pain from the past, it keeps us locked in that time period, resulting in sleepwalking through life. Well, it's time to wake up! As you let go of the past, you will find that your energy, enthusiasm and motivation return, enabling you to do so much more and achieve a state of greater happiness and contentment. The more able you are to forgive others for their mistakes, the more you will be able to reach out and deepen your relationships. If you're currently feeling a little adrift emotionally, perhaps a little on your own, then take this as a sign that you need to do a little forgiving and letting go.
Order your personalized Astrology Reports
---
Gemini: This week's lunar eclipse is likely to bring an end to confusion, misunderstandings and problems connected with friends, acquaintances and the role you play in society. It may be, for example, that a friend has been behaving strangely or not being entirely honest with you. Or you may have been feeling uncertain as to what your future holds and what your role is. Groups or organized events could have been problematic, but all this should soon give way to clarity as the eclipse brings its light of illumination to proceedings.
Order your personalized Astrology Reports
---
Cancer: What you want, what others want and what the world desires of you may all be at cross-purposes this week, so how do you know which way to jump? The best path to follow is the one that will bring you growth. Any option that will result in stagnancy, predictability and security is probably the least beneficial option. The path that pushes you out of your comfort zone is where you need to be heading. How do you know that the less safe path will work out well? You don't. You simply have to trust and if you do that while refusing to look back, you will find that benevolent forces appear to support and assist you every step of the way.
Order your personalized Astrology Reports
---
Leo: If you want to set up a healing group, organize an event, or get to know your neighbors a bit more, this is the perfect week to do so and to inspire others with your energy and ideas and allow yourself to receive energy, ideas and inspiration from them in return. If you don't try, you'll never know, so if there's something calling you but you feel a bit apprehensive, ask yourself what you've got to lose and whether it's really worth playing it safe or keeping yourself small. The lunar eclipse on Friday seeks to remind you that there's a great big world out there, ripe for exploration and enjoyment, and even if you don't have it all figured out yet that's no reason not to take the first step!
Order your personalized Astrology Reports
---
Virgo: Don't feel that you have to hide your true desires or motivations. It's very important that you hold on to your values right now, so if there's something that doesn't feel right or something you feel you need to do, then say so. Much can be achieved if you adopt the right mindset. The good news is that on October 15 Mars begins its transit of your sign, bolstering your physical and sexual energy and enabling you to readily pursue your goals. This transit lasts until December 7 and enables you to accomplish a great deal in record time.
Order your personalized Astrology Reports
---
Libra: It's time to stop keeping yourself small and to show the world what you're capable of, to get a sense of your greatness and to imagine what magic this can do for yourself and others. What is holding you back? Other people? Circumstances? Your childhood? Is it a belief? Perhaps one that says, "I'm not clever enough, talented enough, or young enough." Perhaps you feel you lack the necessary funds or maybe you feel you need more support. The truth is, none of these are valid reasons for not doing what you currently feel drawn toward doing or experiencing. They are all, in effect, excuses that keep you stuck. If there's currently a gap between the life you want and the life you're experiencing, take a moment to ask yourself why. Under this week's lunar eclipse, it's time to remind yourself of the awesome power you possess and to start making the changes that will facilitate your growth.
Order your personalized Astrology Reports
---
Scorpio: As the Sun journeys through your zone of the soul, this is an ideal time to connect with your inner self and seek guidance or inspiration from a higher source. For example, you could take off for a day or a week, and as you experience new sights, inspiration may come. Or as you take yourself out for a long and quiet walk, the answer to a particular problem may appear. Don't worry if you find yourself in an introspective mode as this is exactly how it should be, and out of the soul searching may come priceless answers. The lunar eclipse on Friday brings the need for change in either your health or your work. What's needed is courage, courage to face what is really going on. Quite often, illness carries an emotional or psychological cause, so if you're not firing on all cylinders right now, give some thought as to what might be causing that. Do you feel an area of unhappiness? Are you carrying something from the past that is eating away at you? What do you need to let go of?
Order your personalized Astrology Reports
---
Sagittarius: This week's lunar eclipse on Friday may bring some rather big philosophical questions to light; you may find yourself wondering about the purpose of your existence –what you role is, where you belong, whether you're heading in the right direction, or how you're going to get to where you need to be. The first thing you need to tell yourself is that there's no need to rush. All will unfold naturally in its own time so perhaps the best approach is to just take each day as it comes, knowing that the answers you seek or the destination in mind will materialize in good time.
Order your personalized Astrology Reports
---
Capricorn: Family issues are likely to be brought into focus under this week's lunar eclipse, and any confusion you may have been experiencing should soon give way to clarity. This eclipse signifies that matters can no longer be swept under the carpet so certain facts may have to be faced. You may feel restless, impatient, or short-tempered. Take a few deep breaths, Capricorn. This is the time to focus on truth and whatever comes to light this week enables you to either develop an important relationship or move on to the future.
Order your personalized Astrology Reports
---
Aquarius: Many of our frustrations and blockages are actually illusions of our own making. We think we can't do something because of this, that, or the other. We may blame other people for our frustrating circumstances or the fact that we haven't enough money, qualifications, youth or energy, but the truth is we often use these excuses as get-out clauses so that we don't have to face our fears. Then there are times when our comfort zones have shrunk so small through lack of adventure that the thought of doing anything unfamiliar becomes far more anxiety provoking than it needs to be. This week, under the lunar eclipse, you will benefit from confronting the beliefs you have that keep you safe but ultimately restricted.
Order your personalized Astrology Reports
---
Pisces: This week's lunar eclipse is likely to highlight any problems in your financial or material world and brings with it the potential to bring more clarity and truth to this area of your life. If you feel you're being undervalued or underpaid, or if there is any kind of secrecy, confusion or irresponsibility, then this is the week when it will come to a head. The good news is that once everything is out in the open and facts have been faced, you will be able to move things forward in a constructive way.
Order your personalized Astrology Reports
---
For more information about your Horoscope and what the stars have in store for you, order one of our detailed