Aries, Taurus, Gemini, Cancer, Leo, Virgo, Libra,
Scorpio, Sagittarius, Capricorn, Aquarius, Pisces

Overview of this week
The Center for the New Age is
pleased to present
your Free Weekly Horoscope
for October 20, 2013 — October 26, 2013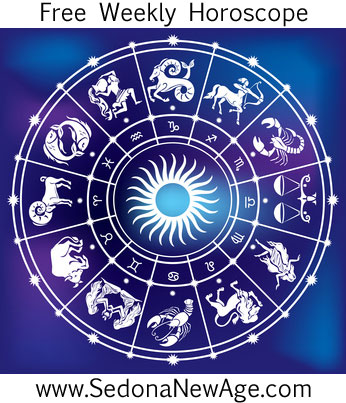 Aries, Taurus, Gemini, Cancer, Leo, Virgo, Libra,
Scorpio, Sagittarius, Capricorn, Aquarius, Pisces
Monday Mercury in Scorpio goes retrograde (October 21 –November 10). Mercury represents how we process information and communicate. Mercury retrograde describes an orbital shift as it moves backwards through a sign. This is a time of communication related setbacks, reiterations or inconsistencies. This is a time of going back over various topics and repeating or correcting a lot of information. Mercury retrograde in Scorpio causes communications of an emotional nature to be easily misinterpreted. It may be very difficult to accurately describe emotionally stirring experiences and it is best to mind the emotional sensitivity of others when attempting to communicate during this period. In turn, expect to be confused or perplexed by the emotional rants of others while receiving messages. And keep in mind it may be dangerous to joke about tender subjects like birth, sex, jealousy or death.
Last Quarter Moon in Cancer occurs on Saturday. Emotional healing takes time and the emotional concerns which are now surfacing require some extra nurturing and understanding. There will be emotional purging, and the complexity of handling emotional burdens. Some folks will be setting up emotional barriers for protection, and some folks will be inclined towards simply doing the service of caring and preparing a nurturing environment. This is a good time to practice patience and to lend a listening ear. However, don't get caught up in allowing others to bend your ear if you feel like they are being manipulative or wasting your precious time.
Aries, Taurus, Gemini, Cancer, Leo, Virgo, Libra,
Scorpio, Sagittarius, Capricorn, Aquarius, Pisces
For more information about your Horoscope and what the stars have in store for you, order one of our detailed


Astrology Reports!
Free Weekly Horoscope for your Sign
Aries: When we reach out and help others, we often forget about our own discomfort, so think of what you can do for another and you may find that surprising possibilities arise as a result of your emotional generosity. This may help you answer your big question for this week: "who or what do I need to let go of?" A cluster of planets including Mercury retrograde in your zone of transformation suggests your rebirth will only come when you have released that which needs to go. Although you may have many demands on your time, you will benefit from making time to contemplate the depth and mystery of life, from birth to death and everything in between.
Order your personalized Astrology Reports
---
Taurus: With the Sun, Saturn and Mercury retrograde all in your relationship zone, there is a heavy emphasis on your personal life making this a good time to think about what you want from your relationships. It may be time to get real about a particular relationship, either coming to a state of acceptance regarding its imperfections or reaching a decision that will enable changes to take place. It is also advisable not to rush things, whether it's a new relationship or an established one. Taking a day-to-day approach is advisable right now.
Order your personalized Astrology Reports
---
Gemini: As Mercury heads backward through your zone of health, work and day to day life, it would be advisable to give yourself more time to do the things you need to do. If you are mentally prepared for a little stress and some delays or frustrating situations, you will cope a lot better if and when they do happen. It's worth remembering that the purpose of Mercury retrograde is to give us time out from our usual busy lives in order to catch up on all those jobs that have been on the backburner for months or even years and to sort, clear, and improve our daily affairs.
Order your personalized Astrology Reports
---
Cancer: Mercury is retrograde in your Fifth House of Family. This retrograde may impact your love life, creative pursuits and communication with your kids so try to have your priorities lined up so that Mercury does not confuse issues or lead you astray in daily pursuits. If you have need to travel in the near future for business or pleasure, wait till after the retrograde period ends to purchase tickets and make definite arrangements. On a positive note, your work routine should move fairly smoothly this week so that you grasp the large picture of whatever you're working on. You feel comfortable with your energy and as a result an office flirtation could become a full-blown affair.
Order your personalized Astrology Reports
---
Leo: As the planets align at the lowest point of your chart, your focus and energy may naturally turn inward. Don't see this as a backward step. It is actually a necessary point of your development and the more you can release and let go of, the better you will feel. Reflecting on your childhood or past and forgiving others and making your peace with them is advisable this week. Spring cleaning your home is also a very good idea. This is not a good week to be pushing out or moving forward, especially where domestic matters are concerned.
Order your personalized Astrology Reports
---
Virgo: Mercury's retrograde motion through your mental zone may make it difficult for you to focus on forward movement, yet Mars in your sign is giving you the desire to get moving. It would seem that these two planets are currently at odds with each other as far as you're concerned, so you need to find a way they can work together. Perhaps the best approach would be to live each day as it comes without thinking much of tomorrow, next week, or the months ahead. Perhaps you can use the energy and motivation of Mars to help you sort your life out in small ways. If you imagine that your life is like a jigsaw puzzle, your task now is to make sure you have all the pieces in the right place.
Order your personalized Astrology Reports
---
Libra: Venus will help you to smooth over any rough areas with siblings and other relatives and prompts you to meet and greet and socialize. Romance may be as close as your back yard. You could meet an intriguing someone through a sibling or neighbor. If you're involved already, then you and your partner may be scoping out other neighborhoods for a possible move. As the planets pile up in your money, work and vocation zones, the possibilities of what you can achieve begin to multiply. There is currently a very strong emphasis on the material side of your life and you now have a rare opportunity to really develop your skills, create more of what you want, and find greater happiness in the work that you do.
Order your personalized Astrology Reports
---
Scorpio: If you feel frustrated, that is a clue that you want something that could be important to your well-being and now is the time to be honest about that. The same criteria can be applied to your work or daily life in that you may need to apply courage in order to bring about changes that will be for your highest good. With Venus in your Second House of Earned Income, money may arrive from an unexpected source –you might take a second job that proves more lucrative than you expected, or perhaps you land a raise. The other possibility with this transit is that you meet someone whose values are similar to yours. If the chemistry feels right, maybe not forever, but for now, don't be afraid to be yourself and do what feels good for you.
Order your personalized Astrology Reports
---
Sagittarius: Mars at the top of your chart is urging you on to bigger and better things, and this is potentially a time of progress and advancement, especially in your professional life. However, if you don't seem able to move in the direction you'd like, if you feel a bit stuck, then it may be that you have some unfinished business to attend to, most likely sorrow from the past. If you've experienced some sadness but haven't fully grieved or let go, then now is the time when you will find yourself in a strange place, emotionally speaking and you have to do something about it. Try to let go with the understanding that new beginnings can be just around the corner.
Order your personalized Astrology Reports
---
Capricorn: Now that the dust is beginning to settle on what's probably been a demanding few weeks, you can begin to focus on what's really important –namely, your relationships and your future. Mercury retrograde suggests that now is the time to focus on your friends and to iron out any problems that may have been building up. If your friendships or social scene are somewhat lacking, then now is a good week to try to rectify that. Questions to ask may include: "Are my friends of like mind? Do they support my vision and do we have similar hopes and dreams?" It's also a good time to contemplate how you yourself can be a better friend and to catch up with friends whom you haven't seen for a while.
Order your personalized Astrology Reports
---
Aquarius: If your fears are keeping you from making changes in your life direction, you need to be looking at how you can bring growth to your existence which may involve the need to be extremely honest with yourself and others. Once you have taken the first step, you will feel the thrill of the growth and adventure your soul is calling for. As a cluster of planets aligns at the top of your chart, the focus is on your direction and your professional life. However, with Mercury retrograde, progress won't necessarily be swift. This is usually a time for reassessing your direction and asking yourself whether you are happy with your career or with where you are going in life and whether you have any ambitions that need fulfilling.
Order your personalized Astrology Reports
---
Pisces: Try adopting a playful, more lighthearted approach particularly to any situation that has the potential to stress you out. Maybe more money will come your way if you don't attach so much weight to it. Be more creative and lighthearted, and you might find that things are more likely to go your way. As Mercury begins his backward motion, it may be advisable to try to slow down if you're trying to juggle too much. It's certainly not the best time for travel but if you must, be advised to pop your essentials in your hand luggage, as baggage is more likely to go astray while Mercury is in retrograde and takes some time out.
Order your personalized Astrology Reports
---
For more information about your Horoscope and what the stars have in store for you, order one of our detailed