Aries, Taurus, Gemini, Cancer, Leo, Virgo, Libra,
Scorpio, Sagittarius, Capricorn, Aquarius, Pisces

Overview of this week
The Center for the New Age is
pleased to present
your Free Weekly Horoscope
for October 27, 2013 — November 2, 2013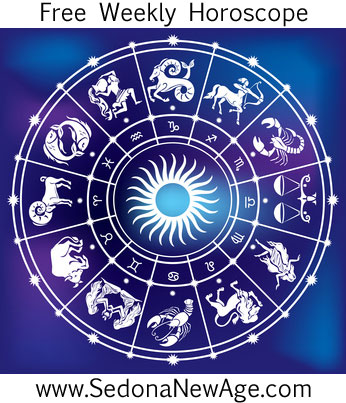 Aries, Taurus, Gemini, Cancer, Leo, Virgo, Libra,
Scorpio, Sagittarius, Capricorn, Aquarius, Pisces
Mars in Virgo trine Pluto in Capricorn (October 31 –November 13) influences actions taken now to be more likely to have favorable results or to be influential with higher powers. This is a good time to resolve personal aggression directed towards the views and differences of another generation or established powers. Mars, the god of war and Pluto, the underworld god (or hell raiser), may actually be reaching some favorable kind of truce. This is the time to encourage positive and powerful transformations.
On November 1 (until Spring 2014) Uranus in Aries squares Pluto in Capricorn. This aspect is too important not to stand up now and take note of it. It is one of the primary crucibles of the melting pot changes in 21st century evolution. This is not the sort of thing that occurs all at once. It steps into our lives like the vibration of a Giant's approaching footsteps. It is ominous, dangerous, frenzied and explosive but it's not the end of the world. It comes in the form of revolution (Uranus) in its struggles to mount the obstacles and to overcome the conflicts (the square position) of transformation and evolution (Pluto). Where corruption, oppression, and tyranny exist, a new revolutionary process begins as Uranus in Aries springs forth to an active initiative to explode with unprecedented surprise. Like so any historical moments, this one speaks to the chaotic complexity of pandemonium as it sweeps through the generations with unstoppable force and fervor. This is where civil unrest takes a stand with established systems of power and precedence.
Mercury in Scorpio sextile Mars in Virgo (November 1 –November 5) brings out opportunities that can be received, recognized, communicated and acted upon making this a superb time to seek employment. People are likely to back up their statements with action during this period, and it would be a good time to apply diplomacy. Bear in mind that Mercury is currently retrograde and communications have the potential of being misunderstood so be sure to cover all bases regarding communications before taking action during this aspect. Applying active communication does have the potential for a very favorable outcome.
Aries, Taurus, Gemini, Cancer, Leo, Virgo, Libra,
Scorpio, Sagittarius, Capricorn, Aquarius, Pisces
For more information about your Horoscope and what the stars have in store for you, order one of our detailed


Astrology Reports!
Free Weekly Horoscope for your Sign
Aries: This week is a good time to explore your attitudes toward death, sex, loss, fear or pain. Much can be gained by analyzing your dreams or engaging in some kind of therapy that helps you unearth and release any painful issues. You may find that your thoughts are becoming quite dark, heavy or suspicious, but that may be a sign that something needs addressing. Be bold and venture down into your depths because you may well emerge with a golden nugget of wisdom.
Order your personalized Astrology Reports
---
Taurus: The most important thing you can do this week is air any grievances and sort out any nagging problems. Honest communication should produce positive results so long as you can talk about things in a non-accusatory manner. The current planetary lineup favors a time-out from the usual way of relating which could mean engaging in some therapy to determine what you want and need as an individual within any relationship. Having some quality time without intrusions from children, work or family would be an excellent use of the current energies. All in all, this is a favorable week for rekindling any neglected relationships and for considering what love means for you.
Order your personalized Astrology Reports
---
Gemini: Tending to any jobs that have been building up and general tidying will have positive effects this week. If you're unhappy in your work, now is the time to give some serious thought to what you would love to do and how you can start making it a reality. It may be that things are changing around you and all you can do is go with it, but in other cases, you may need to instigate one or two improvements. Finally, this is also the time to get serious about your health so get a check-up, start a healthy new regime, have a detox, eat healthier food, sign up for that yoga class or try to rid yourself of an unhealthy habit. Ultimately though, it's worth remembering that stress is the biggest hazard to your health, so seeking to remove or deal with any stressful situations in your life will automatically have a positive effect on your well-being.
Order your personalized Astrology Reports
---
Cancer: As a cluster of planets align in your zone of fun and self-expression, it's time to make some space so that you can do more of what you love. Ask yourself if your life is an authentic expression of who you are. If the answer is no, or if there's room for improvement, you will need to be courageous in making the changes that will bring about a life that feels more true for you. Whether you feel the urge to be more creative, to focus on children or to simply invite more fun, love and romance into your life, remember that life is for enjoying and now is the ideal time to sit down and figure out what you love doing. Then make sure you go and do it!
Order your personalized Astrology Reports
---
Leo: Mercury retrograde is transiting your 4th Room of the Home, representing a time of pulling back, slowing down and going back through plans. Any major work on your home is best left until Mercury turns direct on November 10, but this week it is a good idea to get rid of stuff, remove negative energies and fix any problems before you try to push forward with new things. This is a time to reflect on your inner life, your family dynamics and what makes a house feel like a home. Once you have your answers, you can then set about making use of them.
Order your personalized Astrology Reports
---
Virgo: We are repeatedly told that we create our own realities with our thoughts. Actually, this isn't strictly true; we create our own realities via our feelings and unconscious beliefs, which are very difficult to change, especially when we're not even aware of them. Don't give yourself a hard time if you find your thinking to be less than jovial this week. In fact, the deeper you go, the more able you will be to connect with one or two of those unconscious beliefs that are running the show which will then enable you to change them into something that work better for you. What you can expect this week is liberation from the way things have always been as you begin to examine and subsequently change your mental approach.
Order your personalized Astrology Reports
---
Libra: Jupiter is urging you on to bigger and better things, but if there's any guilt, fear or lack of confidence about success and material gain, then it doesn't matter how many planets you have on your side trying to shower you with opportunities. You'll somehow manage to avoid them. While Mercury is retrograde in your money and values zone, take some time to question your beliefs about money and your levels of deservedness, especially if life isn't currently giving you what you want. It may be that you have to muster up the confidence, determination and sense of entitlement that will enable you to reach out for what you want with excitement and gratitude. It is also important during the retro period to check and double check bank statements, pay bills on time, and keep an eye on your credit rating. Take nothing for granted and if you make an appointment, double check to make sure you are responsible and present at the appointed time.
Order your personalized Astrology Reports
---
Scorpio: The planets are lined up in your sign, making this a potential turning point in your life. It is important that you make the time to contemplate what you want, since it would seem that your well-being depends on your making heart-centered choices. If you feel the urge to spread your winds and experience more that life has to offer, then honor that. If you feel the need to make a significant change that is calling to you, then you must take action. Listen only to your inner voice and do your best to not pay too much attention to the opinions and advice of others, remembering that what works for them might not necessarily work for you. Work out what matters most to you and then make it your mission to materialize it.
Order your personalized Astrology Reports
---
Sagittarius: The Mercury retrograde period favors therapy, meditation and introspection. Art, music, poetry, journaling and dream work could all be wonderful ways of understanding yourself better and revealing insight into yourself and in helping you come to terms with your past. Don't hesitate to delve deeply to confront whatever is buried or hidden in your own psyche. Coax what's hidden out into the light, where you can deal with it and resolve it. If you are experiencing sadness and nostalgia, then a positive way to deal with it would be to assemble a photographic diary or sort out all your old pictures and make an album. Ultimately, this is the time to acknowledge and then say goodbye to the past.
Order your personalized Astrology Reports
---
Capricorn: It is a good idea to review your commitments to groups with which you are involved this week. Do you still want to be a member, or are there other groups you feel drawn to? It is important at this point to contemplate your role within society and whether you're happy with what you give to others and the world at large. It may be timely to remind yourself that no man is an island, and if you've been feeling a bit lonely and isolated or if you've not been able to socialize much, then this is the perfect time to redress the balance and experience the joy of reconnecting with others.
Order your personalized Astrology Reports
---
Aquarius: It is a good idea to look back to see how far you've come and where you would like to head next. It may just be a case of making minor alterations to your course, or you may find that you need to give more serious consideration to what you want from life. This is a very important time period, and to get the most from it, you should make space to think about whether you're heading in the right direction or whether it's time to drop a project, plan or way of working in favor of moving toward that which hold genuine passion for you.
Order your personalized Astrology Reports
---
Pisces: The best use of Mercury retrograde in your zone of religion and philosophy is to contemplate the meaning of life –in particular, the meaning of your own life and what your purpose is. Now is a good time to re-evaluate and consider the next step on your path. Seeking guidance from a spiritual or wise person could help you to determine your own answers, so if you find yourself at any sort of a crossroads, then now is the time to search for the compass!
Order your personalized Astrology Reports
---
For more information about your Horoscope and what the stars have in store for you, order one of our detailed