Aries, Taurus, Gemini, Cancer, Leo, Virgo, Libra,
Scorpio, Sagittarius, Capricorn, Aquarius, Pisces

Overview of this week
The Center for the New Age is
pleased to present
your Free Weekly Horoscope
for November 3, 2013 — November 9, 2013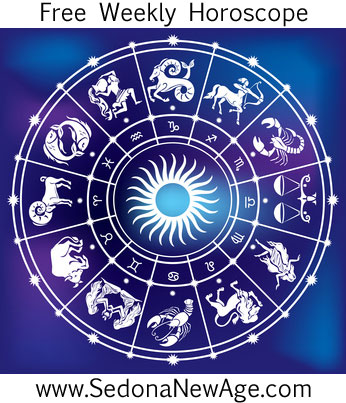 Aries, Taurus, Gemini, Cancer, Leo, Virgo, Libra,
Scorpio, Sagittarius, Capricorn, Aquarius, Pisces
The New Moon in Scorpio on November 3 encourages us to regenerate our hopes while transforming our fears into a courageous and renewed outlook for ourselves. This is the time to take bold steps to defeat undesirable emotional patterns and fear mechanisms. New Scorpio Moon casts new light on our ability to overcome pain and suffering. The New Moon coincides with a Total Solar Eclipse that brings an emphasis on controversies rooted in our feelings and emotional core. For some, the ability to have clear feelings may seem overshadowed, but it must be remembered that this is only a brief shadow. The fixed water sign of Scorpio in the ecliptic state often influences hurricanes, floods, storms and drought. This is the time to reassure those who are undergoing emotional drama and to be patient with emotional outbursts. Although this may not feel like a particularly easy time for starting anew, the Solar Eclipse touches our lives with a fluid and accepting kind of assertiveness to move through the greatest obstacles. Beware of the tendency for some people to lean towards substance abuse, depression and emotional instability.
On Tuesday November 5 through December 21, Venus' love energy will be rooted in its travels through the stoic and serious forces of Capricorn. Venus in Capricorn reveals a love of work and an attraction for the staunch and ardent duty of accomplishing goals. There is a love of stability and predictability that occurs with this aspect. This type of expression creates stable ground for the development of relationships and affections will be oriented towards impressing your loved ones with how hard you are working to provide for them
When Jupiter turns retrograde on Wednesday (until March 6, 2014), the action of Jupiter is reversed so that the emphasis is upon inner awareness and inner growth. It is an excellent time to get in touch with personal integrity. When Jupiter is retrograde, you should evaluate if you are not being honest with yourself because you are playing a role that is disloyal to your true self. Because of the spiritual approach to this Jupiter transit, it is not a time to initiate material activities. A business which starts while Jupiter is retrograde will find that much of the business is connected with altruistic and charitable concerns and good causes. Too much help is given for which the company will not receive payment. Obviously, it is excellent for initiating a humanitarian or fund-raising project.
Aries, Taurus, Gemini, Cancer, Leo, Virgo, Libra,
Scorpio, Sagittarius, Capricorn, Aquarius, Pisces
For more information about your Horoscope and what the stars have in store for you, order one of our detailed


Astrology Reports!
Free Weekly Horoscope for your Sign
Aries: Do you feel like you're being emotionally battered or psychologically bruised? Maybe you're up against something that pushes you to your limit, and maybe some days you wonder if you're strong enough to deal with it all. Well actually, you are, and this week's solar eclipse on November 3 signals an important rebirth or transformation in which you begin to rise like a phoenix from its ashes. This eclipse signals the beginning of the end of a painful or troubling situation.
Order your personalized Astrology Reports
---
Taurus: If your personal life could be better, then Sunday's solar eclipse will be a blessing as it will help you manifest constructive changes in your relationships. Perhaps there is one relationship in particular that needs some attention, in which case this week could bring matters to a head. The cosmic picture is ideal for making a commitment, turning over a new leaf and developing a new way of approaching your relations. It's also the time to cut away any dead wood in your personal life and this may mean moving on in some way. It may be that you've reached the end of a cycle and now is the time to decide which way you're going to go. This could be make-or-break time, so think carefully before you make any decisions.
Order your personalized Astrology Reports
---
Gemini: Sunday's solar eclipse is the ideal point at which to take a good look at your life with a view to turning over a new leaf. You may, for example, feel that it would be beneficial to become more organized so that your life functions more effectively and you feel more in control as a result. Or you may wish to start fresh in some aspect with your work, as it could be time for a new job, a different role, or a new way of working. If your health and vitality could be better, then this is your opportune moment to begin a new regime and create harmony between your mind, body and spirit. All in all, this is an important week when you need to cut away the dead wood to allow your life to flow more smoothly.
Order your personalized Astrology Reports
---
Cancer: Imagine two potential novelists sitting down to write a book. One is really passionate about the story and wants to share it with others; the second writer sees it as more of an intellectual exercise and wants the recognition and public acclaim. Whom do you think is likely to be more successful? This week's solar eclipse is your cue to follow your passion, to do that which makes your heart dance for joy. When you do what feels right for you rather than what your head thinks might be best, your chances of success will increase dramatically.
Order your personalized Astrology Reports
---
Leo: This is the week to make serious and constructive changes to your home and family situation. From buying or selling property, moving to a new house, redecorating or making changes to your home, and dealing with any legal matters or problems that need sorting, turning over a new leaf with a family member, taking on responsibility, or letting someone go, it's completely natural for your attention to be focused on matters close to home. It may also be appropriate to consider whether you are currently feeling like an outsider regarding your family and domestic situation. To be happy at home is perhaps the most important foundation stone to lay down, so if all isn't right, make the effort to change things and you might be surprised at the rewards.
Order your personalized Astrology Reports
---
Virgo: If you always do what you've always done, you'll always get what you've always gotten. This could be something to ponder on as the eclipse in your zone of the mind asks you to question how your approach or your thinking generates the reality you find yourself in. This eclipse brings a real chance to confront and change any negativity in your mind. Perhaps it's time to change a routine or a habit. Maybe it's time to find a way to deal with a habitual response to a certain challenge or, if you suffer from self-doubt, to find a way to change it into self-belief. Your aim under this eclipse is to lift your consciousness a notch by freeing yourself from limiting thoughts and behaviors.
Order your personalized Astrology Reports
---
Libra: We've probably all experienced both lean times and periods where we've felt abundant, and while frugality can be an important lesson, abundance is an altogether more pleasant state of affairs. The question for you as the solar eclipse falls in your zone of money is how abundant do you feel right now? Do you have enough of what you need? Would you like more, and if so, is there any guilt or awkwardness about admitting that you'd like more? If you want to change a limiting belief about prosperity now is the time so start planting new seeds of abundance, and do what you can to make constructive changes to your material situation.
Order your personalized Astrology Reports
---
Scorpio: A solar eclipse in your own sign that starts the week (Sunday) brings the need for some serious change, but before you get to that, you may have to experience a dark night of the soul. If you find yourself journeying into the void and feeling depressed or witnessing something difficult, don't run away from it. Sit with the feelings and journey into the darkness, because you will find the illumination that will guide you onto the right path. This eclipse is all about your direction and destiny, so if things aren't currently to your liking, or if you have been drifting along quite pleasantly but knowing that there's something else that you could be doing, then this is the week when you'll feel it. Don't be afraid to chop away the dead wood in your life from outworn friendships and aspects of your job that you've moved beyond. Be ruthless if you need to be, and if it seems like fate is stepping in to do the chopping for you, go with it, for everything that happens now is exactly as it's meant to be.
Order your personalized Astrology Reports
---
Sagittarius: Nothing lasts forever. There eventually comes a time when we have to say goodbye and move on. The same can be said for painful or challenging situations; they too don't last forever and this week's solar eclipse is a good omen that things are about to get better. Any sense that you've had about groping in the dark is about to dissolve. Confusion will be replaced with clarity, upset with peace, and discord with harmony. The more able and willing you are to put the past behind you, the easier it will be to move into a place of peace and happiness.
Order your personalized Astrology Reports
---
Capricorn: The solar eclipse is likely to bring a change that sets you on a different path. The good news is that, regardless of whether you perceive the change as positive or not, what happens this week will enable you to create a new vision of your future, and you should soon have a sense of the amazing possibilities that are about to unfold. Tuesday Venus enters your sign marking the start of one of the most romantic and creative periods for you all year. Your creativity is remarkable and other people are attracted to you and your ideas with Venus in your sign.
Order your personalized Astrology Reports
---
Aquarius: Sunday's solar eclipse at the top of your chart is strongly indicative of a new direction opening up for you. This is the week to think about your future and where you are going. If you have been working toward a particular goal, there is a good chance that this week will bring progress or even some sort of celebration. This is certainly a good time to make constructive changes as far as your direction or your career and professional life are concerned, and all that may be required is an adjustment or shift in your attitude. Remember that how you view situations determines how you will experience them; someone who expects failure is likely to meet with disappointment, so be vigilant with your mind, and do your best to tune into the wavelength of positive expectancy, success and celebration.
Order your personalized Astrology Reports
---
Pisces: Your personal message encapsulated in Sunday's solar eclipse is best summed up in the following quote: "The real voyage of discovery consists not in seeking new landscapes but in having new eyes." Of course, there's nothing wrong in seeking out new experiences, places and people. An adventurous spirit is healthy and growth inducing, but sooner or later we either have to return to the familiar or we find that the new and exciting soon becomes old and routine. If you find yourself feeling tired of the same old thing, begin to look at it with new eyes. Are there any ways in which you can improve or build on what you've already got? It may be that participation is the key, because the more we throw ourselves into something and become a part of it, the more meaningful it becomes. Ultimately, your quest this week –and for much of the month –is to find greater meaning and connection in your life.
Order your personalized Astrology Reports
---
For more information about your Horoscope and what the stars have in store for you, order one of our detailed