Aries, Taurus, Gemini, Cancer, Leo, Virgo, Libra,
Scorpio, Sagittarius, Capricorn, Aquarius, Pisces

Overview of this week
The Center for the New Age is
pleased to present
your Free Weekly Horoscope
for November 10, 2013 — November 16, 2013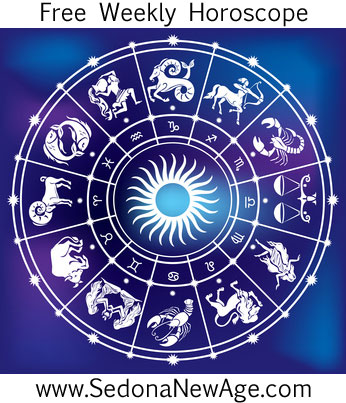 Aries, Taurus, Gemini, Cancer, Leo, Virgo, Libra,
Scorpio, Sagittarius, Capricorn, Aquarius, Pisces
This is a very positive week in the sense that two major planets –Mercury and Neptune –relinquish their retrograde actions with attendant negative results and assume a forward moving action with constructive outcomes.
To begin the week, we can breathe a greatly needed sigh of relief as Mercury, retrograde since October 21, generally causing emotional mix-ups and confusion in relaying information, goes direct on Sunday in the sign of Scorpio. Take note that our faculties and manner of conveying information will definitely improve by mid-week. This will be a better time to clear up misunderstandings, and definitely will be a better time for discussing emotional matters with others.
Neptune resumes a direct-moving course after five months (since June 7, 2013) of being retrograde. This will regenerate our spiritual and intuitive work and facilitate our development. Neptune is in Pisces, influencing the flow of the evolutionary processes of belief systems. As Neptune proceeds further into Pisces, we will learn to achieve a higher and freer sense of spiritual awareness –a sense that something divine is occurring, even though it cannot be explained in mortal terms. The planet of spiritual peace and serenity is in its home base, Pisces, where our spiritual experience is infused with adaptable and inspiring believability. Neptune's calming and forgiving nature will help us to let go of malicious and non-productive thoughts and will melt away cold-heartedness.
Venus in Capricorn squares Uranus in Aries on Thursday and is conjunct Pluto in Capricorn on Friday.
Venus, the planet that governs love and magnetism, is undergoing the square aspect to Uranus, the planet of chaos and disruption. It may be difficult for love (Venus) to flourish in a spontaneous and carefree fashion, and there may be obstacles placed between love and freedom. Be careful not to become too personally affronted by explosive or radical love matters. This influence may be testing the power of your love to withstand chaos. Be assured in self love and empower affection with personal integrity. People are changing at a rapid rate and it is essential to let love take its course concerning issues of personal freedom. Applying pressure only increases the force of an explosion.
Venus conjunct Pluto often places affections and love right where they are needed most: the areas of life that are deeply challenging and sometimes traumatic. It also intensifies love related efforts and, at times, our affections may seem overpowering or daunting in some way. Venus conjunct Pluto represents the union of beauty and strength. This is a time of deep confessions and secrets revealed. One of the powers of love is that we can always find it, even when we are alone, or in a barren or dormant state of being. Venus conjunct Pluto is a good time to find love's powers and unite them within.
Aries, Taurus, Gemini, Cancer, Leo, Virgo, Libra,
Scorpio, Sagittarius, Capricorn, Aquarius, Pisces
For more information about your Horoscope and what the stars have in store for you, order one of our detailed


Astrology Reports!
Free Weekly Horoscope for your Sign
Aries: When we think of healing, we usually think of the physical body, but illness in the body is actually the end result of imbalances in the mind and emotions. As the Sun and Saturn connect in your psychological zone, you have the opportunity to bring balance and harmony to an area of yourself (or your life) that may be rather turbulent. And as you work toward healing your anxiety, pain and fears, thus bringing peace to your inner self, you will find that everything from your health to your relationships begins to improve. The easiest way to create that sense of peace within is to go with the flow regarding whatever is happening in your life. Try not to fight against what is, for all is unfolding exactly as it should, and in time, you will be in a better position to understand the reasons.
Order your personalized Astrology Reports
---
Taurus: Would we have any problems if we didn't have relationships? In fact, you could take that a step further and pose this question: Would life be problem-free without other people? Well, probably, but it would be pretty lonely too. Try to remember that this week whenever you feel that life might be easier without someone else's problems. True love weathers any storms, and the closeness and strength that develops through dealing with the not-so-nice side of relationships plants seeds for future blossoms to grow in the garden of your heart.
Order your personalized Astrology Reports
---
Gemini: Mercury turning direct this week is good news if you've been feeling stuck, frustrated or bogged down in the daily minutiae of life. You should soon find that life begins to move and expand again, allowing you glimpses of the possibilities on the horizon. This is also an opportune time to strive toward success in your working life or to manifest positive developments with your health. Sometimes all that's needed to create a happier body is a happier mind, so watch your thinking and aim to pluck yourself out of any negative or despondent thinking before your body has time to mirror the mental malaise. Constructive progress should be your motto now, so do whatever you can to improve your situation.
Order your personalized Astrology Reports
---
Cancer: Remember the story of the ugly duckling? All the other ducklings rejected him and so too did all the animals he came across until one day he met a beautiful swan who recognized him as one of their own and away he flew, happy at last that he had found his tribe. The current planetary placements are asking you to find your own tribe if you haven't already done so. This isn't just about finding the kind of people you belong with but about engaging in the right activities too. Trying to be like everyone else when you don't really fit in is a recipe for unhappiness, so if the job you do, the people you hang out with, or the place you live in doesn't feel like you, now is the time to start creating a more authentic life. The way to do this is simple: Listen to your inner voice.
Order your personalized Astrology Reports
---
Leo: Life may seem pretty serious right now as the Sun and Saturn hang like a heavy weight at the bottom of your chart. It may have been difficult to make progress, and maybe there's been one thing after another to sort out and not enough help and support. The good news is that all domestic, home/property and family matters should begin to ease up soon. And although you'll still have a lot to do, at least you'll be able to make progress, so it won't feel so much like an uphill climb. For other Leos, the problem may have been more emotional in origin with events from the past or childhood coming into play. Much can be resolved now if you're prepared to dig deep and make the journey that only you can make.
Order your personalized Astrology Reports
---
Virgo: Some experts in the law of attraction tell us that we can manifest anything. While it's important to generate a positive state so that you are more likely to attract good things, you can ease up on yourself a bit knowing that the odd fear isn't going to bring disaster to your door. The other bit of good news is that although you might not be able to manifest absolutely anything, you are in a prime position to make substantial progress with a particular desire, so pursue your ambitions and aims safe in the knowledge that you're more likely than normal to achieve them.
Order your personalized Astrology Reports
---
Libra: Nothing worthwhile is ever achieved without effort. No matter what it is, we have to apply courage and determination if we want to end up with something to celebrate. If you've faced a situation with courage or if you've been working hard or putting a lot of energy into something, this is the week when your efforts are likely to pay off. While you shouldn't rule out the potential of a lucky break, it's far more likely that you'll find yourself in celebratory mode because of your own merit, and that will feel far more meaningful than a random stroke of good fortune. Try not to let personal dramas or emotional issues spoil your chances of success this week, since you are currently in the perfect position to create long-term growth and progress in what matters most to you. Forgiveness and letting go could be the keys to keeping yourself calm, centered and focused on where you're going.
Order your personalized Astrology Reports
---
Scorpio: Although this may not be the easiest time in your life, it's also a time of possibility when the sky is the limit in terms of what you can experience and achieve. Try to rise above the daily burdens, responsibilities and commitments that you feel you have to deal with, and put your focus instead on what is actually possible. This is a really good week for thinking about what you would like to manifest in your life and then putting into place some structures that will allow it to happen. Much growth and progress can be made this week, so remember to keep focused on what you can do rather than all the stuff you'd rather not have to do.
Order your personalized Astrology Reports
---
Sagittarius: If you want to make the most of your current window of opportunity for progress and success within your career and future, you will need to be vigilant for distractions and emotional happenings that could knock you off course. Mars at the top of your chart makes this the ideal time to pursue any ambition you may have, to make headway with a project and to generally push yourself forward in the outside world. However, a buildup of planets in a very sensitive area of your chart suggests that you may easily be swept away by emotional undercurrents that may have more to do with the past than the present. Be careful not to get caught up in that which isn't "real" without rejecting the insights and growth that can come from inner exploration and spiritual development.
Order your personalized Astrology Reports
---
Capricorn: There is so much potential in the planetary lineup this week that it would be a shame if you sidestepped it by getting caught up in judgments. When we view situations and people in a black-and-white fashion such as good or bad, right or wrong, acceptable or unacceptable, we become rigid and joyless. Instead of focusing on separation, try to integrate the differences between yourself and another or between your current situation and the situation you would like. Try not to judge your circumstances as a problem but to accept them just as they are. With your softer, more accepting attitude, you might then find that life opens up for you, and the positive potential that is waiting for you can begin to take shape.
Order your personalized Astrology Reports
---
Aquarius: Can you handle the responsibility or is it all getting to be a bit much? Wouldn't you just like to drop all those commitments and disappear for a while, to put your feet up and bask in the tranquil turquoise waters of some distant paradise? Well, although it looks like escapism isn't an option right now, you can begin to bring a bit of balance to things. If you continue to think you've got to hold it all together and be the one who makes sure everything runs smoothly in case it all comes tumbling down or if you feel that you can't put aside your duty for a day trip to the beach, then you need to rethink your schedule. Be vigilant of pushing yourself too far this week. Concentrate on the vision you would like created, and do whatever you feel you have to do, but try to make time for a little spontaneous play. It will do wonders for your motivation and enthusiasm.
Order your personalized Astrology Reports
---
Pisces: One of life's ultimate challenges is to live in the moment. Staying focused in the present and not dwelling on the past or worrying or planning for the future is something very few people manage to do for any length of time. Yet this is where most of our angst comes from. Trying to live in more than one time frame at the same time or live in a time that doesn't exist is a recipe for insanity. If you find yourself caught up in the past or hopping forward into the future, you're unlikely to find peace or answers. Don't fret about the details of your future plans or torture yourself with past regrets. Instead, be open and available to what comes your way each day and then you will be able to see that the present is a gift.
Order your personalized Astrology Reports
---
For more information about your Horoscope and what the stars have in store for you, order one of our detailed