Aries, Taurus, Gemini, Cancer, Leo, Virgo, Libra,
Scorpio, Sagittarius, Capricorn, Aquarius, Pisces

Overview of this week
The Center for the New Age is
pleased to present
your Free Weekly Horoscope
for November 17, 2013 — November 23, 2013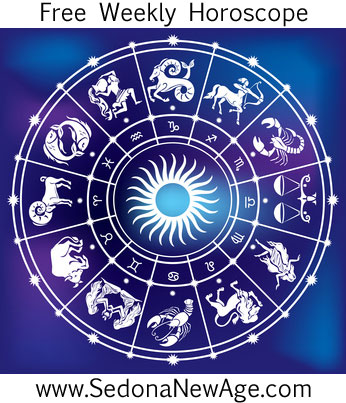 Aries, Taurus, Gemini, Cancer, Leo, Virgo, Libra,
Scorpio, Sagittarius, Capricorn, Aquarius, Pisces
On November 17, the Full Moon in Taurus reminds us to take the time to enjoy and create beauty around us and to indulge a little bit in some luxurious pleasures or leisure time. To not have the things that are needed to live a practical existence is to be acutely aware of those needs. For most, this usually translates into a lack of money or a lack of stable surroundings. The standards we set for ourselves determine the ups and downs of our economy. Start by believing that the thing you need is something you deserve to have. Ask Mother Moon to bring you ownership and she will teach you how to sow for the harvest of your needs, as well as your desires.
November 19, Mercury in Scorpio is sextile Pluto in Capricorn. This aspect brings an opportunity for us to get the message across to people in strong positions of power and authority. Mercury is in Scorpio, focusing discussions on matters of birth, sex, death and transformation. Pluto in Capricorn is forcing us to acknowledge our resources and to use them wisely. Mercury in Scorpio deals with the hidden nature of power controllers and their propensity to distort the facts. This is an opportunistic time to reach out to those of another generation and make an attempt to communicate something vital.
Also on Tuesday, Mars in Virgo is sextile Jupiter in Cancer (November 19 –November 30). This aspect brings the opportunity for action to be endowed with reward. Those who act on specific urges and impulses to achieve their heart's desire are more likely to make a breakthrough during this aspect. This is a time to make true efforts to promote career skills or to enhance a career move. Remember –action is required; mere good intentions will get you nothing while this aspect is in full force. This is a good time to go adventuring and exploring while Mars sextile Jupiter promotes opportunities.
Aries, Taurus, Gemini, Cancer, Leo, Virgo, Libra,
Scorpio, Sagittarius, Capricorn, Aquarius, Pisces
For more information about your Horoscope and what the stars have in store for you, order one of our detailed


Astrology Reports!
Free Weekly Horoscope for your Sign
Aries: If there's one thing you probably need right now, it's courage –courage to face your inner demons, courage to deal with external demons, or courage to confront a situation that isn't right. If there's one person who can stand up and fight the good fight, it's you! Remember that you were born under the sign of the warrior and people can only have power over you if you let them This week's Full Moon is about to bring clarity to a situation that will bring freedom from angst, worry and insecurity. All you need to do to help that process is stand up for what you believe in.
Order your personalized Astrology Reports
---
Taurus: This week's Full Moon in your sign represents a turning point and will enable you to find clarity where before you felt only confusion or uncertainty. There is real potential for a shift in consciousness with the Full Moon and by that, it doesn't necessarily mean you'll be achieving the status of an ascended master –more that you'll be seeing things with fresh eyes, from a new vantage point. It could also be that you have an "aha" moment where the light bulb switches on in your mind and you suddenly understand something or find an insight that illuminates the way forward. There is still a strong emphasis on your relationships at present, so be prepared for illumination to occur in matters of the heart too.
Order your personalized Astrology Reports
---
Gemini: It takes a lot of courage to confront painful issues that we would rather keep pushed to one side, but the thing is that the more we try to ignore a feeling, the more it will demand attention at some point along the way. It could be weeks, months or years down the line, but sooner or later it will have to find a way out. Quite often sadness finds its expression through "watery" conditions like colds and chest problems. The running nose, streaming eyes and mucous in the chest are all reflective of unshed tears. So too are water retention and swellings. This week's Full Moon may bring a sad condition to the forefront. If you can muster the courage to allow this sadness to be and then see if you can simply let it go, you will soon find yourself on the path to liberation and wellness.
Order your personalized Astrology Reports
---
Cancer: What would you really love to do? If money, commitments, responsibilities, age, education and any other barrier you can think of didn't exist, what would you do? Jupiter in your sign is pushing you to do and be more, to follow your dream and make the most of your gifts, talents and potential, as well as making enjoyment more of a priority. What's needed to clear any hurdles, of course, is courage to face your fears and doubts but also the courage to stand up to the reactions of others and ultimately to be true to yourself.
Order your personalized Astrology Reports
---
Leo: Everyone loves the feeling of achievement that comes with completing something. No matter if it's the last splash of paint on the walls, the final sentence of a book, the last figures tallied up your year's accounts, or the sign going up over the door of your new business, it feels great to reach the end of a project, task or venture and that is exactly what you can look forward to this week. If there's something you've waited a long time for, something you've put a lot of effort into, or something you've been wanting to come to fruition, the wait is over. You can now begin to enjoy that wonderful sense of relief and accomplishment, as well as the delicious sense of anticipation for the next step of the journey.
Order your personalized Astrology Reports
---
Virgo: When a person is on a mission, it's very hard to knock him or her off course. People who believe in what they are doing are driven by passion and aren't easily deterred by the dissent, doubts, or pessimism of others. Now that your ruler, Mercury, has turned direct, you should find that not only can you start to move forward in some area of your life, but you also feel the momentum of desire taking you toward your goal. Don't allow guilt or the need for others to support you stop you from doing what is important. If you believe in yourself and what you're doing, you will get to where you need to be with the outcome you want.
Order your personalized Astrology Reports
---
Libra: No Libra likes losing control or having to deal with intense and messy emotions; you'd much rather everything be pleasant and civilized, but this week's Full Moon is likely to dredge up some uncomfortable emotional debris from the depths of your inner self. No matter if it's anger, jealousy, fear, loss or any other painful feeling, the only way to deal with it and heal it is to confront it with courage. The potential gift of this Full Moon is transformation, and the more able you are to explore the origins of whatever troubles you now, the more you will be able to find inner peace. You may also discover that your emotional bravery and honesty brings you closer to someone with whom you may have previously had issues.
Order your personalized Astrology Reports
---
Scorpio: How do we know when it's healthy to compromise and when it's healthy to maintain our position and assert ourselves? This is the question you may be faced with under the Full Moon on Sunday. The focus will be on a particular relationship and what you want versus what they want. It may only be a small thing, such as which film to see, or it may be something major, such as a disagreement over moving to a new house. Actually, in both these examples, there needs to be agreement or compromise, but if you find yourself being asked to do something that feels wrong or that perhaps challenges your ethics, undermines you, or restricts your right to certain freedoms –then you have to seriously question whether the other person has your best interests at heart. To deny yourself something that is necessary for your growth just so the other person doesn't have to deal with his or her own uncomfortable feelings is an example of unhealthy compromise and is something that needs to be watched out for under this Full Moon. Be fair, but don't compromise your own truth.
Order your personalized Astrology Reports
---
Sagittarius: Although we might feel under pressure to always be productive, to always be busy and engaged in some sort of meaningful activity, the truth is that periods of slow time when we don't actually have to do anything are healthy and valuable. Slow time is vastly undervalued in our culture, yet the more we can switch off from business so that we can just be, the more open we become to insights, inspiration and creativity as well as enjoy a less-stressed mind and body. This week, you have permission from the universe to enjoy some slow time, so try to simply flow with the tide wherever it seems to want to take you and enjoy the journey.
Order your personalized Astrology Reports
---
Capricorn: You have a real chance to bring unity to your life so that every area –relationships, work, money, hobbies, health – all come together like pieces of a jigsaw. Your own sense of power and strength is growing. Your relationships have the potential to blossom and grow. Your increasing sense of adventure and optimism is encouraging you to believe that more is possible, and your ability to shape your future into the kind of life you want is growing by the day. You may find that around the time of the Full Moon on Sunday, your sense of clarity regarding your future and your ability to create it increases to such a point that you feel ready to make a change. Just remember that your focus needs to be on joining forces with others rather than keeping yourself separate and on sharing what you have rather than holding back through fear. You have everything you need right now, and the more you trust like a child, the more things will come to you.
Order your personalized Astrology Reports
---
Aquarius: If you ignored last week's advice and continued to avoid time out for relaxing play, then this week's Full Moon could certainly bring matters to a head. If you're spreading yourself too thin –shouldering too many responsibilities, spending most of your time doing this, that and the other –or if your life is consumed with doing rather than being, this week's Full Moon might have something to say. Listen for complaints from your nearest and dearest or concerned advice from your friends and liberate yourself from the need to be all things to all people. This might well be the time to focus on manifesting your purpose, but make sure that your purpose is heart centered rather than ego based. If you don't feel completely happy doing what you're doing, then it's probably not your real purpose.
Order your personalized Astrology Reports
---
Pisces: We come into this life on our own, and we will exit on our own. Of course, many of us believe that we have spirit guides and helpers to help us navigate our way through life, but whether we actually experience this guidance is another matter. Imagine how much easier it would be, though, if we could access this higher guidance. We would lose our fear, worry and uncertainty. We would know exactly what to do and when to do it. This week's Full Moon will help switch on the light of illumination within you, and you will find that no matter how much or how little support you've got, the strength of your own knowing will be enough to guide you through any uncertainty.
Order your personalized Astrology Reports
---
For more information about your Horoscope and what the stars have in store for you, order one of our detailed