Aries, Taurus, Gemini, Cancer, Leo, Virgo, Libra,
Scorpio, Sagittarius, Capricorn, Aquarius, Pisces

Overview of this week
The Center for the New Age is
pleased to present
your Free Weekly Horoscope
for December 8, 2013 — December 14, 2013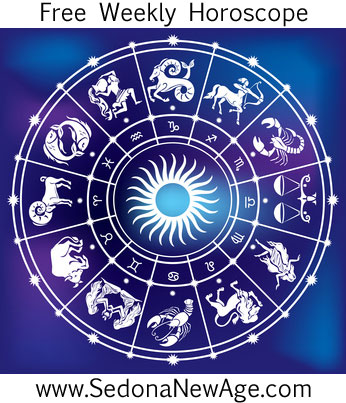 Aries, Taurus, Gemini, Cancer, Leo, Virgo, Libra,
Scorpio, Sagittarius, Capricorn, Aquarius, Pisces
The week begins with the First Quarter Moon in Pisces. During this time, moods are easily impressionable. A drifting, spacey, dreamy sort of consciousness leads to strong psychic awareness. Music, art and poetry fill the senses with creative intuition. Unhappy people may turn to intoxicants to escape their troubles. Passive, cheerful and kind sentiments will be greatly appreciated. Deep meditation and spiritual practices will empower the imagination at this time.
Tuesday Mercury in Sagittarius is trine Uranus in Aries (December 10 –December 16) stirring up adventurous, resilient and philosophical thought processes that are radically enterprising. This is a good time to record your thoughts and delight in brilliant thinking and information. Much of this dazzling thinking may seem like propaganda or information with a radical twist. Catch phrases, radical concept statements and ideas are often born under this aspect. Sensationalism, or matters of censorship, may be emphasized but Mercury trine Uranus also allows for impressive concepts to shine through and be worded in a way that actually makes sense.
Mars in Libra is sextile Neptune in Pisces (December 14 – December 21). This aspect brings the vitality of Mars into a favorable position with the spirit-awakening influence of Neptune. Those who act on their visions and the ceremonies of their particular belief systems will have an opportunity to connect with a very profound spiritual experience. There is an irony at work with these two forces: Mars is active and masculine, while Neptune has a very nebulous and passive guise that affects our deeper inner sense of beliefs and spirit. When these two planets are placed in a favorable position to each other, personal spiritual breakthroughs can be made.
Aries, Taurus, Gemini, Cancer, Leo, Virgo, Libra,
Scorpio, Sagittarius, Capricorn, Aquarius, Pisces
For more information about your Horoscope and what the stars have in store for you, order one of our detailed


Astrology Reports!
Free Weekly Horoscope for your Sign
Aries: It would seem that you have been a bit too nice for too long. You have perhaps been suffering at the hands of another, or a situation may have been making you miserable. All that will change now that Mars has entered into Libra, your opposite sign. If there's someone you need to stand up to or a situation that needs to be tackled, then this is the ammunition you need. You will, of course, get the best results not from firing off and letting rip with years of suppressed anger, but by being assertive. Many Aries need to learn the value of assertiveness since many of you either succumb to angry outbursts or find yourselves being too nice. As Mars journeys through your relationship zone for eight months, you will have plenty of opportunities to learn this lesson, so don't beat yourself up if you get it wrong a few times.
Order your personalized Astrology Reports
---
Taurus: Are you ready to get busy? It seems the universe has big plans for you over the coming year, and it all begins this week with Mars in your work zone. You may feel excited, or you may feel overwhelmed, but all you need to remember is to pace yourself. You just have to take it one step at a time. The more you focus on the end result and all that needs to be done to get there, the more overwhelmed you're likely to feel. If you're starting a project, taking on a new role at work, sitting down to write a book, starting a long course of study, moving house, or preparing to become a parent, just ask yourself, can I do what needs to be done today? The rest will take care of itself.
Order your personalized Astrology Reports
---
Gemini: Life is full of possibilities, but sometimes we have to be in the right frame of mind to notice them. Fortunately, you are becoming more and more aware of what it is that you do want, or at the very least, you're getting clearer about what you don't want. You now have a very real possibility to create a new vision of your life, to be more than you were before. Mars in your creative zone is your permission to follow your heart, so if your heart's desire is to move house; relocate to another part of the country; ditch a mundane job in favor of your true passion; take a chance in love; explore your artistic side through words, music, paint or imagery; or anything else, then this really is the time to do it. Above all else, demand to be yourself and express who you are to the world.
Order your personalized Astrology Reports
---
Cancer: The only thing that is certain is change, and this is where you are this week. The planets are building to a dramatic end-of-year climax, and everyone will be affected –some in small ways, some more noticeable. This is especially true for you as the planets begin to take their positions on the sensitive angles of your chart. You can no doubt feel that something is shifting or that change needs to happen. This week, as Mars begins a long journey through the home, family and inner self regions of your horoscope, you can rest assured that whatever has been grumbling deep within you will soon be brought out into the light, and this can only be good news in terms of positive future change.
Order your personalized Astrology Reports
---
Leo: As Mars begins an eight month stay in the communication region of your chart, you have a big opportunity to be heard. If you have something you feel needs saying –a conversation you need to have with someone or a desire to express yourself in a creative way, then this is the time to get started. It is also a good time for freeing yourself of negative thoughts, as Mars is nothing if not positive, motivated and dynamic, so you should at the very least find yourself bursting with an idea or two. If you've been wondering when life was going to get moving again with you at the helm, then Mars' arrival is very good news for you.
Order your personalized Astrology Reports
---
Virgo: Who would like more money? If your hand is in the air, then here's some good news. Mars is now in Libra, the sign that for you represents your material and financial world, and since Mars is going to be having an extra long stay in this region of your chart, he must think you need a bit of assistance in generating more cash. Perhaps the first question to ask is, could you be making better use of your talents? In times gone by when money didn't exist, people used the word "talent" for "money" and in the vast majority of cases, we get paid in accordance with how much value we add to the world. The second question you need to contemplate is whether or not you would feel guilty or uncomfortable with more money. It's amazing how many self-employed people –particularly in the healing and spiritual professions –feel bad about charging more than minimum for their services. This is a great week for looking at your beliefs around how deserving you feel and for realizing that the world will pay you precisely what you feel you are worth.
Order your personalized Astrology Reports
---
Libra: Mars is now in your sign and begins an eight-month period of motivation and dynamic energy when you can get your life moving in the direction you want it to go in which will lead to opportunities and possibilities you probably can't even imagine yet. There will be opportunities for success and achievement along with greater motivation to begin a project or to finish something of importance. Either way, you will be moving and leaving no stone unturned in your quest to achieve that which matters most to you. Mars will also give you permission to put yourself first for a change, which means you'll be giving more thought and taking more action toward that which makes you happy
Order your personalized Astrology Reports
---
Scorpio: There comes a point in any performance when the curtain falls and the performers take a bow and head backstage for a well-earned rest. With Mars now in your zone of seclusion and spiritual renewal for a much longer duration than normal, it seems that you too need to take a bow and head off for some rest and relaxation. We're not meant to always be on full, and you are now coming into a phase when you need to replenish. Perhaps the past few years have been demanding. Perhaps you've given a lot and now you need to give back to yourself, so whether you take yourself off for the occasional weekend or simply take an extra hour in bed each night, be mindful of your need to slow down and engage with your inner self.
Order your personalized Astrology Reports
---
Sagittarius: Mars, the planet of action and motivation is in an eight month stay in Libra, good news for you because the area of your chart that will be activated throughout this time will be your social life. Incorporated into this are friends, groups, organizations and charitable or community ventures. In short, you're soon going to be busy making a difference in other people's lives, which will, in turn, lead to a greater sense of happiness. Your friends will no doubt be delighted that you're going to be spending more time with them, and it could also be that a group or organization benefits from your ideas. Alternatively, you may decide to pursue an idea that will have a positive impact on others; if so, now is the time to begin to take action.
Order your personalized Astrology Reports
---
Capricorn: This week Mars begins a long stay in the ambition, vocation and career area of your chart. This is wonderful news if there is something you want to achieve or accomplish. Saturn's trine to Jupiter is also good news in terms of opportunities and fortunate turns of events, so the more you can work toward what you would like to achieve, the more you will be rewarded over the coming months. If you would like to advance at work, begin or develop a business, get moving with a project or an idea, or simply show the world what you're capable of, now is the time to begin.
Order your personalized Astrology Reports
---
Aquarius: As Mars begins its long journey over the successful region of your chart, you will soon –if you're not already –be gripped by a desire to prove something to the world. Perhaps it will be to achieve a goal. Maybe it will be the desire for recognition for your efforts. Whatever it is, before you head off into the limelight or take any kind of action for that matter, ask yourself what it would take in order for you to truly be yourself. How would you know when you were being yourself? If you're not sure, then ask yourself what you would love to do rather than what you think you should do.
Order your personalized Astrology Reports
---
Pisces: Sometimes it takes a while for us to see the possibilities that surround us, and sometimes, because of our state of mind or a particular life phase, it seems as though we are stuck in a place devoid of possibilities. This is when we simply tread water or just go through the motions. Although it might seem like not much is happening, we are preparing inwardly for a time when possibilities and opportunities will present themselves again. You are now entering such a time, and it should feel as though life is beginning to open up. If it's not yet upon you, just be patient a little while longer because a new cycle is just around the corner when anything will be possible for you.
Order your personalized Astrology Reports
---
For more information about your Horoscope and what the stars have in store for you, order one of our detailed