Aries, Taurus, Gemini, Cancer, Leo, Virgo, Libra,
Scorpio, Sagittarius, Capricorn, Aquarius, Pisces

Overview of this week
The Center for the New Age is
pleased to present
your Free Weekly Horoscope
for December 15, 2013 — December 21, 2013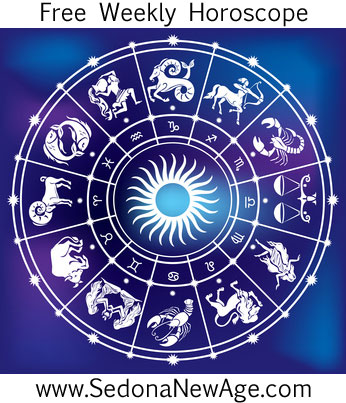 Aries, Taurus, Gemini, Cancer, Leo, Virgo, Libra,
Scorpio, Sagittarius, Capricorn, Aquarius, Pisces
The Full Moon in Gemini on December 17 brings amazing talk, speeches, mind games and intellectual pursuits. People may tend to babble senselessly and very few are able to keep their minds on what they're doing, thinking or feeling for very long. Ideally, this is a good time astrologically to pace one's self and relax the mind at various intervals. It may also be a time when our minds are relentlessly active and difficult to calm or ease. Full Moon in Gemini goes straight to charging our nervous systems and we quickly discover that quieting down or easing an overworked nervous system takes some extra time after it has been running at top speed.
On Tuesday, Uranus, known for stirring up calamity, goes direct having been retrograde since July 17, 2013. Now the planet of chaos and rebellion moves steadily forward in the sign of Aries, awakening the pioneering spirit of humanity, perhaps even inspiring breakthroughs in courageousness, leadership and self-motivation. We all feel the need to break out of oppressing conditions of life. As Uranus moves forward, the volatile quality of its work demands the utmost intelligence and knowledge as each level of urgency is unveiled. Uranus is the ruler of Aquarius and teaches us to seek higher levels of intelligence through unusual, brilliant and open indeed measures. The next time the urge for unabashed rebellion makes you kick up your heels, remember to kindle the light of love for humankind's wisdom. This is, after all, the Age of Aquarius.
The Sun enters Capricorn on Saturday. Let us all celebrate the Winter Solstice. The Sun King returns from the ashes of the longest night. The lengthening days of the Sun are finally here and a new season and cycle begins. Capricorn days of the Sun is a perfect time to focus on goals, and to discipline one's nature to make daily tasks add up to something worth accomplishing. Although tedious and often predictable, the Capricorn nature makes sure the job is done and done well.
On December 21, the planet of love and magnetism, Venus, begins the retrograde process in the sign of Capricorn until January 31, 2014. Those who struggle with their own sense of self-love may have a difficult time with Venus retrograde. Venus brings a yearning for affection, pleasure, beauty and for the things we love. If we cannot identify with whom we are and love ourselves unconditionally, then we are likely to attract people and things to ourselves that cause conflict and confrontation. It is important to maintain and respect the source from which love flows, to recognize true love for what it is, as well as to maintain a love and respect for yourself and your personal needs. True control comes from within and the retrograde Venus helps us to internalize our understanding of love relationships altogether.
Aries, Taurus, Gemini, Cancer, Leo, Virgo, Libra,
Scorpio, Sagittarius, Capricorn, Aquarius, Pisces
For more information about your Horoscope and what the stars have in store for you, order one of our detailed


Astrology Reports!
Free Weekly Horoscope for your Sign
Aries: Go easy on yourself and if you feel a little insecure, find way to nurture yourself. A kind and loving attitude toward yourself is vital right now. There may be only a short time to go before Christmas, but that doesn't mean that the process of transformation that you're currently undergoing will stop and wait for the new year. Sometimes the timing of certain things is a bit awkward, and this could be one of those times. What's needed is courage to be true to yourself, courage to press on with what is important to you and courage to stand up to others if necessary and let it be know what you need.
Order your personalized Astrology Reports
---
Taurus: Although the arrival of Mars in your work zone would suggest that it's time to get busy, Venus about to turn retrograde suggests it's not! As a result, you may feel a sense of urgency with all that needs to be done and yet lack the motivation to do it. Ideally, you would be able to take yourself off for some high-quality solitude. If you can't escape to a soul-nourishing place for a while, then there are compromises. You could ensure that your nearest and dearest understand that you want some quiet time –even if it's an undisturbed hour in the bath or curled up in bed with a book. If you see the more problematic effect of Venus slowing down, you may feel more alone than normal, perhaps feeling that no one understands you. Take this as a cue that you need to understand yourself. Don't distract yourself from any uncomfortable feelings this week; try to determine their root cause
Order your personalized Astrology Reports
---
Gemini: The Full Moon in your own sign on December 17 is your permission to be self-indulgent and pay attention to your own needs. Much of December has been geared toward other people and what they want potentially obscuring your own desires, but this is the point at which the focus turns to you. You may find yourself feeling a little emotional around this point. If so, pay attention. Your feelings are there for a reason. This is a great week for communicating with someone and letting him/her know how you feel. This in itself should be very liberating, as when others know how you feel, changes can begin to happen.
Order your personalized Astrology Reports
---
Cancer: As Venus turns and heads backward through your relationship zone, it looks as though there is something you need to sort out. It may not be an easy issue to tackle, so you may need to find your courage before speaking up or taking action. It looks as though something can't carry on as it has been, and the Full Moon on December 17 is your cue to move on. Don't let something keep eating away at you. Accept that even though you might not be able to see it yet, there is something better for you around the corner, so long as you can close the door and start looking to the future.
Order your personalized Astrology Reports
---
Leo: As the Moon grows full in your opposite sign, you may temporarily find yourself feeling like an outsider. You may want one thing, but someone else doesn't quite see where you're coming from. Or the other person wants something, but you can't see his or her point of view. Either way, there could be a sense of separation this week, especially around December 17, but this can be healed by having the courage to take a step toward the other person imagining what life must be like in his or her shoes. This is a perfect opportunity to communicate how you feel, and big progress can be made now by expressing yourself and then listening to the other person.
Order your personalized Astrology Reports
---
Virgo: If you want to change your direction or create something new in your life, then you will need to apply some courage. Sometimes even something as apparently small and simple as joining a new class to engage in a subject of interest can be fraught with opposition. Maybe we tell ourselves that we haven't got the time or the money. Or maybe someone close to us puts up some resistance, and we wonder if it's worth the bother. If there's something you want to do, don't let yourself be talked out of it. Tell yourself that small changes can have big results, and be resolute in your intent.
Order your personalized Astrology Reports
---
Libra: It is time to show the world what you're capable of! The path to progress isn't always smooth nor is it always a straight line. Remind yourself of that this week if you find yourself having to do an about-face, especially where home, family and domestic matters are concerned. You may be all fired up and raring to go, but the universe, it seems, has other plans. Go with whatever is happening knowing that it is all contributing to your rebirth. The more you can accept you're in a process of growth and change, the more liberated you will feel and the easier life will get.
Order your personalized Astrology Reports
---
Scorpio: As the Full Moon illuminates your house of secrets and psychology, something could come to light that may at first feel uncomfortable. This is an emotional transit, so you could feel a little delicate around December 17. Use whatever comes up as an indication that it's time to confront a fear or a buried wound. The more you can delve into your own psyche and understand the underlying cause of your emotions, the more you will free yourself which will, in turn, enable you to see greater possibilities.
Order your personalized Astrology Reports
---
Sagittarius: So much to do and so little time to do it. If you're wondering how you're going to get everything done without wearing yourself out in the process, remember that you can delegate. The Full Moon in your opposite sign could serve as a reminder that other people do exist, and you don't have to do everything yourself. This is a good week to communicate your needs and to listen to the needs of others. You might think there's not enough time to sit and have a heart-to-heart, but if you can find the courage to say what's on your mind, you will feel more relaxed and at ease with the world which, in turn, will slow down your concept of time and enable you to get more done in less time. Share yourself this week –your thoughts, feelings or needs –and see if it makes a difference to your mental state.
Order your personalized Astrology Reports
---
Capricorn: This week could be a mixed bag as far as your emotions are concerned. You may find yourself in a nostalgic mode, especially if you have experienced any sort of loss or life situation coming to an end this year. You may be sad that things aren't how they used to be and may be unsure or insecure as to your future, but if you allow those thoughts and feelings to be expressed, you will soon find that beneath the sadness is the potential for new areas of life to manifest. Joy and sorrow are opposite sides of the same coin and often seem to accompany each other during significant changes in life. Remember that you are going through a long transformation. Don't expect life or yourself to stay the same. Give yourself permission to change and you will soon find yourself moving into a place of joy and celebration.
Order your personalized Astrology Reports
---
Aquarius: There is potential this week for plenty of enjoyment, especially where your friends and social occasions are concerned. It's your connections with others that will be your greatest source of joy this week, so if it's a choice between socializing and obligations, choose the former. Also this week, a Full Moon is in your house of fun and creativity and this may bring about a realization that you need more fun in your life. During the run up to Christmas, there are bound to be opportunities for you to let your hair down, but don't treat these occasions as temporary oases in fun droughts; make sure that you start as you mean to go on by noticing that when you engage with others in a lighthearted way –and when you get the chance to be creative, expressive and carefree –that your enjoyment and productivity in other areas of your life goes up. When you look at it this way, you can't afford not to have fun!
Order your personalized Astrology Reports
---
Pisces: As Mars begins his long journey into your zone of the psychological and the unconscious, your challenge now is to be patient. You need to trust that things are happening even if you can't see any evidence of that yet. If you are changing on the inside, it will only be a matter of time before those changes are made manifest in your external life. Mars in this most private area of your chart will help you penetrate a particular mystery, whether it's self-understanding or the healing of a particular fear or phobia. This in turn will lead to a rise in your consciousness, which in turn will lead to improvements in your life. All you need to do is take your time. There is no rush, so relax and enjoy the run up to the festive season.
Order your personalized Astrology Reports
---
For more information about your Horoscope and what the stars have in store for you, order one of our detailed