Aries, Taurus, Gemini, Cancer, Leo, Virgo, Libra,
Scorpio, Sagittarius, Capricorn, Aquarius, Pisces

Overview of this week
The Center for the New Age is
pleased to present
your Free Weekly Horoscope
for December 22, 2013 — December 28, 2013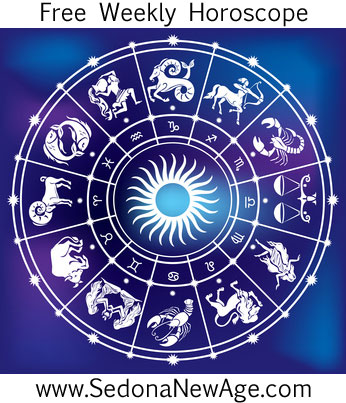 Aries, Taurus, Gemini, Cancer, Leo, Virgo, Libra,
Scorpio, Sagittarius, Capricorn, Aquarius, Pisces
December 24 Mercury enters Capricorn remaining there until the third week in January 2014. While Mercury travels through Capricorn, communications tend to be more serious and to the point, although not necessarily less complex. In negotiations, there is an emphasis on enterprise. Mercury affects our role as negotiators and while this versatile planet goes through Capricorn, our realms of communications have a determined and persistent quality of expression, like a demanding voice waiting to be heard and received with hospitality. This fits with the solar days of Capricorn, when the harsh realities of winter demand clarity of purpose in our communications. Communication is one of the tools of survival, and this is an important time to use those skills wisely and sensibly.
Mars is opposite Uranus from December 25 to January 11. This aspect puts the fiery Mars in Libra in active opposition to the radical and explosive power of Uranus in Aries. Violence is just a matter of course with this aspect. Rebellion and revolts are due to occur at an expedited rate. There is intensity in the air concerning our relationships (Mars in Libra) and the need to find independence and freedom (Uranus in Aries). Take caution in regard to risky undertakings that may rock the boat of fiery activity.
December 25 is the Last Quarter Moon in Libra reminding us of the need to continue working on the imbalances in our relationships. Libra's adage is simple: "I balance." This is the time to let the emotional pressures be released, and to handle matters with friends and loved ones carefully and congenially. The Last Quarter Moon aspect confirms the need to make amends with others and unite peacefully. If some aspect of your connection to a friend or loved one disrupts your sense of peace, reach within for the answers. A balanced response will soon follow.
Aries, Taurus, Gemini, Cancer, Leo, Virgo, Libra,
Scorpio, Sagittarius, Capricorn, Aquarius, Pisces
For more information about your Horoscope and what the stars have in store for you, order one of our detailed


Astrology Reports!
Free Weekly Horoscope for your Sign
Aries: So what do you want for Christmas? Peace, harmony, stability? Those things are not a guarantee, but excitement and change certainly are! With Mercury and Venus retrograde in your career area, your conscious mind is focused and intent on getting things done. You will have to make a real effort if you want to avoid drama of the negative kind, but whatever happens probably needs to. You may find, for example, a truthful exchange leaves you feeling more liberated than before. Agreements may be made that will set the scene for the future.
Order your personalized Astrology Reports
---
Taurus: All you want for Christmas is some time out –time to relax, time to heal any physical complaints, time to recover from any disturbances to your soul, and time to restore your energy and enthusiasm. It would seem, however, that the universe has other plans and that carving out some peace and quiet is going to be tricky this Christmas if you happen to succumb to illness, which is a distinct possibility under the current planetary alignment. If that transpires, trust that it's your body's way of getting the rest it needs, but you can make that a less likely scenario by taking extra good care of yourself, pacing yourself in all that needs to be done, avoiding stress and angry reactions and reminding yourself of what the spirit of Christmas is all about: joy, merriment, and goodwill to others.
Order your personalized Astrology Reports
---
Gemini: This should be an interesting and quite dynamic Christmas –not run of the mill. So long as the focus is on fun and you are doing what you want to do, all will be well. However, should you feel restricted or prevented from dancing to your own tune, there could be eruptions. Venus retrograde can play havoc with your love life and sometimes creates physical discomforts in your environment. On a more positive note, as Mercury enters Capricorn on Christmas Eve, your career goals and goals generally are more crystallized. It's a perfect transit for making your New Year's resolutions.
Order your personalized Astrology Reports
---
Cancer: It may be difficult under the current planetary configurations to experience a quiet, calm and peaceful Christmas. Then again, maybe we're not meant to. Maybe this Christmas is about everyone being honest with each other rather than continuing to play particular roles or conform to social niceties. For you, the picture looks volatile, especially where family and relatives are concerned. Be aware that any outbursts of emotion on your part might be more significant than you think. Ask yourself if there is something else that's troubling you. Venus retrogrades tend to affect your love life and creativity mainly in terms of revisiting issues and projects so if you want to avoid a meltdown, remind yourself when you wake each day of the importance of love, kindness and tolerance.
Order your personalized Astrology Reports
---
Leo: Of all the signs, yours is one of the few that gets to have an easier time of it this Christmas. You should be able to bypass much of the tension that is hanging in the air this Yuletide, which is probably only fair since you've had enough to deal with this year as it is. On December 24 Mercury changes signs and enters Capricorn and your solar sixth house. It is now traveling with Venus retrograde, not the greatest combination for the holidays, but you rise to the occasion and make sure that your loved ones enjoy themselves. You may be tempted to sneak off by yourself and dabble in whatever work you've brought home with you but it is best to enjoy the holiday because the same work will still be there after Christmas.
Order your personalized Astrology Reports
---
Virgo: Christmas often has a habit of bringing up uncomfortable issues, and this one is likely to be even more successful than normal in highlighting those areas in need of honest attention. For you, this may involve your material life, from money, possessions and work to your work-life balance. With arguments arising about anything from the expense of Christmas to who pays for what, this is likely to be an area of mild to moderate concern earlier in the week. On Christmas Eve, however, Mercury enters Capricorn, a fellow earth sign, and suddenly you're in your element again, focused, fun loving, eager to embrace romance and love, and your creative endeavors.
Order your personalized Astrology Reports
---
Libra: You will be aware this week that your life is changing and these changes will continue in quite a big way in 2014. On December 24, Mercury begins its transit through earth sign Capricorn and your fourth house of the home, a perfect way to move through the holidays as this transit facilitates everything going on in your home. Your focus is on home, hearth, and family, and yet with Capricorn involved, there is often a tendency to dwell on ambitions, strategies, and goals, so those things may be part of the holiday picture too. If you're self-employed and work out of your home, with Venus retrograde, you may feel conflicted about work responsibilities and responsibilities to family and out of town visitors, but on a very positive note, Venus retrograde will in no way interfere with your love life that is pleasant and satisfying this week.
Order your personalized Astrology Reports
---
Scorpio: If you want to stay sane and healthy this Christmas, you must slow down. Of course, this is easier said than done at the busiest time of the year, but there is a very real danger that you will burn out if you don't adopt a more relaxed frame of mind. This theme continues well into 2014 too, so start as you mean to go on by asking yourself what good rushing and panicking ever did. As of Christmas Eve, Mercury moves through compatible earth sign Capricorn. This transit suggests you're spending more time with neighbors, siblings and other relatives perhaps because of the holidays. There is a lot of activity in your life this week and enough discussions to wear you out. Make time to breathe! and then to enjoy.
Order your personalized Astrology Reports
---
Sagittarius: Nobody wants conflict at Christmas, yet here we are, approaching the most magical time of the year under an extremely volatile T-square involving Uranus, Mars and Pluto. Each sign will experience a challenge this Christmas, and yours is to somehow remain true to yourself and your own values without causing a lot of upset. It could be something as simple as wanting to do your own thing or having to endure a situation that in all honesty you'd rather not engage in. Mercury enters Capricorn and your financial area on Christmas Eve. This transit promises that you'll be talking and thinking about money during this week and perhaps working harder to stay on top of holiday bills. You'll be better able to lay down a strategy for your work and career thanks to Capricorn's focus.
Order your personalized Astrology Reports
---
Capricorn: The Sun's entry into your sign is good news for your potential to enjoy the Christmas festivities. However, just as with everyone on the planet, there is a very volatile alignment taking place this week (T-square with Uranus, Mars and Pluto) and you need to stay mindful during any turbulence. Remember that the external world is a mirror of your inner world, and whatever is taking place, disruption at home, at work, or in your personal life –could be a reflection of a lack of coherence within yourself. Pay attention to synchronicities you experience because they're sure to hold guidance that proves helpful. As the paragon of practicality, Capricorn, you may be thinking about your career during the Christmas holidays. That's admirable, but remember, enjoy your family and friends as well!
Order your personalized Astrology Reports
---
Aquarius: Although we would always wish for a peaceful Christmas, this is one of those years when we will have to make more of an effort to maintain the peace than is normal due to a very feisty alignment involving your ruler, Uranus, and Mars and Pluto. Mercury is in your social arena, so the holiday invites should be pouring in. Your challenge this week is which invitations should you accept? Discussions ensue with friend and groups, international travel is a distinct possibility and you may be blogging or working on your Web site more than usual. During this period, be sure you reserve time for yourself. You would be well advised to sneak off for a few hours during the holidays to go for a drive, a walk or a workout at the gym. Your dreams are more readily available to you now and they hold information and insights that are valuable. Work with them.
Order your personalized Astrology Reports
---
Pisces: If you concentrate on peace and wish very hard, you might just escape the craziness that's in the air this Christmas. While a great many people will find themselves caught up in some sort of drama, you may mange to bypass it all, especially if you can make it your mission to not get upset over financial matters. Tell yourself that it will all balance out again in good time; don't waste time and energy worrying. Material matters aside, the planets are well placed for an enjoyable Christmas, and the more you concentrate on fun and relaxation, the more you'll be in the natural flow of things.
Order your personalized Astrology Reports
---
For more information about your Horoscope and what the stars have in store for you, order one of our detailed