Aries, Taurus, Gemini, Cancer, Leo, Virgo, Libra,
Scorpio, Sagittarius, Capricorn, Aquarius, Pisces

Overview of this week
The Center for the New Age is
pleased to present
your Free Weekly Horoscope
for December 29, 2013 — January 4, 2014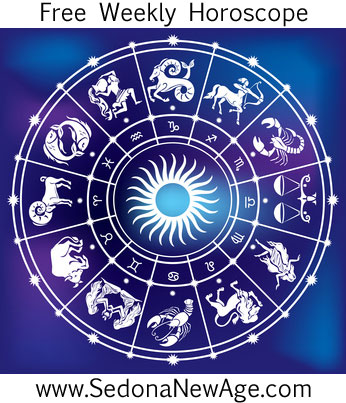 Aries, Taurus, Gemini, Cancer, Leo, Virgo, Libra,
Scorpio, Sagittarius, Capricorn, Aquarius, Pisces
Mercury in Capricorn squares Mars in Libra (occurring 12/31 –1/6). Under the influence of this aspect, it is not a good time to lose one's temper. This is a good time to be especially careful to watch what you say, preferably thinking before you speak; words can be easily taken the wrong way. This aspect stimulates arguments and mental blocks concerning the actions of others. Mercury square Mars makes it difficult for some to justify their actions or explain why they take a certain stand in life. Refrain from making risky comments, and be careful not to misinterpret information as being hostile or personal. Remember, during this complex time of Mercury square Mars, not to shoot the messenger.
New Moon in Capricorn on Wednesday ushers in the New Year bringing a down-to-earth determination to our moods. This Moon brings a powerful defiance in the face of adversity and we must not let dark feelings affect our senses of pragmatism and dignity. Go easy on people and use your protective emotional shields to combat the harsh attitudes of others because, after all, it is the New Year!
Mercury in Capricorn is opposite Jupiter in Cancer on Thursday (January 2 –January 7). This aspect puts the focus of news on the opulent lifestyles of the rich and famous. Those who are experiencing an economic crunch are unable to stop talking about their financial situation and may produce non-stop talk concerning the need for advancement, a raise or an income. People talk of wealth and there is considerable debate as to what wealth really represents. Most of the time wealth is an illusion and people really don't know what they're talking about when they make assumptions about the apparent well being of others. Generally, those who are doing well financially will do better still, and those who are feeling the economic crunch are likely to be complaining; nearly everyone will be talking about their financial condition. One way or another it is a time of acute awareness concerning talk about and exchange of money.
Aries, Taurus, Gemini, Cancer, Leo, Virgo, Libra,
Scorpio, Sagittarius, Capricorn, Aquarius, Pisces
For more information about your Horoscope and what the stars have in store for you, order one of our detailed


Astrology Reports!
Free Weekly Horoscope for your Sign
Aries: Something, it seems, can't carry on as it has been and as you reach the end of 2013, you will get a clearer sense of exactly what needs to change and how to change it. Then you will begin 2014 with the potential to live more in accordance with your own truth. Lovely Venus begins the year retrograde in Capricorn, the career area of your chart. It's not all that serious, but it means that Venus isn't functioning at optimum levels, and there could be some bumps and bruises at work.
Order your personalized Astrology Reports
---
Taurus: You will make it to the end of the year with your health and your sanity intact if you continue to be in a positive mode regarding your life and health and then you will be in a much better position to prepare yourself for 2014 which –aside from bringing greater joy where your home and family are concerned –is about embracing a new way of looking at life. The year begins with Mercury in fellow earth sign Capricorn, your solar ninth house. This transit brings greater clarity to your goals and professional ambition. Your conscious mind is constantly busy with plans and strategies this week and you will be able to envision how to bring everything together with a particular project with which you are involved.
Order your personalized Astrology Reports
---
Gemini: Your theme of marching to your own drumbeat is going to be around for some time, so as the year draws to a close, you need to decide –if you haven't already –where your heart lies and what you're going to do about it. Once you have decided, there will be no stopping you and it's this passion and intensity that will take you to exactly where you need to be in 2014 –to a place of creative, romantic and personal fulfillment. But before that, Mercury in your eighth house (until the 11th) is influencing your focus on resources you share with others. Your partner's income may be the subject of intense discussion, but with your career goals clearly defined, you'll be able to strategize well.
Order your personalized Astrology Reports
---
Cancer: Jupiter has been in your sign for six months. As he journeys with you, he asks you to expand your vision of yourself so that you can do more, be more and experience more. As you head toward 2014, pay attention to your feelings with the understanding that now, more than ever, you are being called to change direction and live a more adventurous life. The year begins with Mercury –the planet of communication and travel –in Capricorn, your opposite sign. This transit should usher in new opportunities in personal and business partnerships. With the New Moon in Capricorn as well, your communication skills will come to the forefront and you will know exactly what you're looking for.
Order your personalized Astrology Reports
---
Leo: You have lots to look forward to at the end of 2013. This may come as both a relief and a surprise, especially if life has felt unrelenting. In fact, you may have been beginning to wonder if the light would ever return. You have been in a soul-searching time when you were required to heal something –your body, your mind, or a situation. Now it's time to get assertive so that you can be honest with yourself and others about what you want and need for your own well-being. Keep in mind that a new chapter awaits you in 2014, and this will be all the richer if you make the effort to get to know yourself a little bit better.
Order your personalized Astrology Reports
---
Virgo: You could find yourself feeling rather stressed over a financial issue, but the quickest way out of this is to remind yourself that something needs to change, and this is the time to do that. Remember also that Mars will be in your money zone until next August, so you are in a really good position for turning your circumstances around. Instead of feeling like a victim, realize that with Mars by your side, you can be a warrior, and you have what it takes to turn your material world into something altogether more satisfying.
Order your personalized Astrology Reports
---
Libra: In these last few days of 2013, the planetary lineup is dramatic and affects the key angles of your chart, meaning that you, your relationships and your home and family life are anything but stable right now. What's actually happening is you are preparing to strip away any false façade. You're about to stop pretending that everything is fine, especially anything that impinges on your right to be you. You're feeling a need to make your life a more authentic expression of who you are, so remind yourself as the year draws to a close that something has got to change if you want to manifest your deepest desires in the new year. Mars starts the year in your sign, Libra. Lucky you! This transit galvanizes you and acts as your booster rocket. You have more physical energy, may not need as much sleep, and are able to accomplish a lot more than is usually the case.
Order your personalized Astrology Reports
---
Scorpio: The end of 2013 is an ideal time for you to rest so don't fill these precious days with lots of visits and activities unless you will find them enjoyable. As the year draw to a close, a new vision of your life awaits, but in order for you to manifest that, you need to get quiet and go within. Use this week wisely; contemplate what you would really like to see in 2014 because there is every indication that what you wish for will become a reality. With Venus still retrograde in your third house of communication, you may experience difficulties in personal relationships, but these difficulties are usually minor scuffles and disagreements about silly things.
Order your personalized Astrology Reports
---
Sagittarius: "Courage" is your keyword for these last few days of the year, so you must be prepared to speak your truth, even if it means one or two people have to face their own insecurities. This theme continues into 2014 where it will become increasingly obvious to you that you can't keep compromising yourself if it's making you unhappy. The New Moon in Capricorn ushers in new financial opportunities which is a terrific way to start the new year and Mars is offering you the chance to create a new vision of your life; all you need is courage to march to your own drumbeat.
Order your personalized Astrology Reports
---
Capricorn: Venus is still in your sign, in the retrograde position. Relationships may not move along as smoothly as you would like and your feelings are easily hurt. Your task at year's end is to identify that lack of coherence and work toward crafting unity. It may be that a conflict arises because you're not entirely sure what you want. Your heart may pull in one direction, your mind in another. What do you need to do in order to create liberation and freedom? What is most important to you? The end of 2013 may ask some big questions of you, but ultimately it will be courage that you need to get you on the path to success. The new year begins with Mercury in your sign so you communication skills are strong. Use them, focus your mind and know where you're headed.
Order your personalized Astrology Reports
---
Aquarius: Something may well go off with a bang this week, but let's hope it's nothing more than a few crackers and party poppers! It's very probable that your buttons will be pressed and your reaction may seem to exceed the trigger. If this happens, take yourself off for some quiet time and contemplate the possibility that your anger or frustration may have roots in the dim and distant past. It could even extend to a past life. Be vigilant with your feelings and as the year draws to a close, recognize that this is your challenge: to heal a wound from long ago for only when you've done this will you be free to capitalize on the passion, romance and adventure that awaits you in 2014.
Order your personalized Astrology Reports
---
Pisces: You can congratulate yourself this week on having made it to a place of greater contentment than you might have experienced for quite some time. This is a good era for Pisces and as 2014 darns, you can look forward to building on the success and happiness that you have created. Perhaps what's most important now is that you enjoy a greater sense of participation in the world. It is time now for you to get out there. It may take you a while to get back into the groove of things after the holidays but Mercury –communication, conscious mind –is still in the social area of your chart so you're still in a celebratory frame of mind. And with Venus also in your social area, you'll still be out and about, hanging with friends and doing whatever is social for you.
Order your personalized Astrology Reports
---
For more information about your Horoscope and what the stars have in store for you, order one of our detailed