Aries, Taurus, Gemini, Cancer, Leo, Virgo, Libra,
Scorpio, Sagittarius, Capricorn, Aquarius, Pisces

Overview of this week
The Center for the New Age is
pleased to present
your Free Weekly Horoscope
for January 5, 2013 — January 11, 2014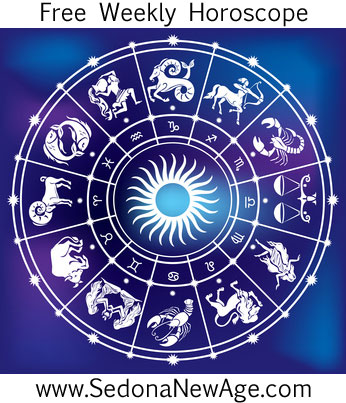 Aries, Taurus, Gemini, Cancer, Leo, Virgo, Libra,
Scorpio, Sagittarius, Capricorn, Aquarius, Pisces
Mercury sextile Saturn (January 6 –January 10) gives people an opportunity to learn vital lessons concerning boundaries, limitations and responsibilities. This tends to be a time when struggles and difficulties are frequently discussed, and people collectively draw conclusions concerning how to best handle their problems or responsibilities. This is also an opportunistic aspect for setting up guidelines and communicating work skills. Make use of it while the opportunity is here; this aspect is only happening for a few days.
Mercury in Capricorn is conjunct Venus in Capricorn (January 7 –January 11). This is often a time when intimate and loving thoughts are shared and these thoughts are possibly given, or taken, too seriously. Any words of love or adoration uttered at this time may come across with a strong tone of demand or expectation. The true expression of love is actually very sincere and genuine despite the current tendency for love-related communication to seem somewhat strained or under pressure. Mercury conjunct Venus is generally considered an excellent aspect to discuss and communicate love matters, but while in Capricorn, the process may come off somewhat overly-serious. Communicate your love without getting too hung up on emotional issues. Hold no expectations in the expression of love and take no offense if your own attempts to express your love are poorly interpreted.
Waxing Aries Moon generally activates our moods and the First Quarter Moon on January 8 inspires our moods in an active, upbeat manner. This is the time to get in tune with personal levels of energy, strength and vitality. There is a self-starter energy in the air and the active ones among us are on the prowl. Aries Moon brings on an expression of courageous vigor, as well as a sense of bold adventure. As a general rule, moods are marked by confidence and sometimes cantankerous forcefulness. First Quarter Moon in Aries brings on a certain kind of drive to make a lasting impression.
When Mars in Libra squares Jupiter in Cancer (January 8 – January 19) various activities, especially those which demand action, are met with the obstacles of economic oppression and shortcomings. This is a very difficult time to excel in business endeavors, especially in actively trading markets. This aspect warns us that there will be trouble in approaching the job market aggressively. Trying to make progress using headstrong attitudes and unwarranted self-confidence might impede progress. The square aspect of these two planets creates a challenging dynamic in the struggle to grow economically.
Aries, Taurus, Gemini, Cancer, Leo, Virgo, Libra,
Scorpio, Sagittarius, Capricorn, Aquarius, Pisces
For more information about your Horoscope and what the stars have in store for you, order one of our detailed


Astrology Reports!
Free Weekly Horoscope for your Sign
Aries: The planets are stacked in your favor, provided you focus on empowering action and liberating changes, and somewhere along the line, that may cause one or two ripples. But all will be worth it in the end. As the year gets underway, do not fall foul from frustration, impatience and irritation. Instead, focus on what action you can take now while keeping in mind your long term vision. Then keep reminding yourself that Rome wasn't built in a day, and you will find that little by little, step by step, your vision begins to take shape.
Order your personalized Astrology Reports
---
Taurus: Although there is much for you to enjoy, you won't be able to enjoy it quite so much if you're not in good health and that is the one area that will require your vigilance during the first half of the year if you're going to avoid calamity. There is much work to be done and in order to do it, you need to be in good shape, so make health your priority and start this week! The more you take care of yourself through right living and right thinking, the better able you will be to accomplish your goals and enjoy life so bear in mind this health advice: "Never hurry. Take plenty of exercise. Always be cheerful. Take all the sleep you need. You may expect to be well."
Order your personalized Astrology Reports
---
Gemini: Rebirth and transformation are your theme this week. It seems as if something is changing at a very deep level, and in order to give birth to this new thing, you have to make sure that your life is as sorted and organized as possible. You will also need to draw on your deep reserves of inner strength if you are being tested or pushed to your limits. Bear in mind the old adage by Friedrich Nietzsche: "What does not kill me makes me stronger." You are certainly growing in strength and realizing that you are so much more capable of things that you would have doubted previously, so dig deep and prepare for some profound changes.
Order your personalized Astrology Reports
---
Cancer: Is there someone who is taking up a lot of your thoughts, time and energy? Or maybe there is a relationship that could be better. Maybe something somewhere needs to transform. This is an ideal point to make you feelings clear as well as take on the thoughts and feelings of the other person while making sure that any partnership is free from imbalance, manipulation and power struggles. While there is a potential for many positive changes, including your life direction and your home and family, perhaps what's most pressing right now is to get your relationships sorted.
Order your personalized Astrology Reports
---
Leo: Do not underestimate the power of improving your well-being since it sets the tone for the entire year. Perhaps what's needed is a change in mental approach from one of fear or disempowerment to one of taking control and believing that you can manifest wonderful health and well being through a combination of right thinking and right living. It may also be beneficial for you to adopt a different approach to life –one of simply experiencing whatever is happening and being present in whatever you're doing. Mostly, you are mentally somewhere else rather than being present in what you're doing. This inevitably leads to some kind of stress or tension. Aim to feel connected to whoever you're with and whatever you're doing. This increasing sense of connection and mindfulness will help you to realize that there's nowhere else you need to be and nothing else you need to be doing.
Order your personalized Astrology Reports
---
Virgo: Creativity is the key to your success this year, so if you need to increase your fortunes, find happiness in love, or discover your mission, remember that you are in charge of your destiny and with a little creative thinking, you can move mountains. Finish something so that you can move on to the next thing. Although this may feel a little stressful or difficult, the planets would like to remind you of "no pain no gain." You can have a much happier state of affairs, but first you need to release whatever blocks you from having it, whether it's an actual situation or your own thoughts and beliefs.
Order your personalized Astrology Reports
---
Libra: With Mars in your sign, this certainly looks like a year in which you can achieve big things and make substantial progress, but where to start? It seems there is a lot that would benefit from change or developments –from your home, family and personal relationships to your direction in life and vocation. Then there are your own personal desires, not to mention the need to improve your financial situation. Why not make this week your starting point? Concentrate on solidifying your foundations and if you need to make changes, do so. Try not to let frustration and impatience get the better of you. This week, make your home your focus, applying principles of feng shui and family harmony and trust that these new beginnings will be at a very deep level that will be transformative in a number of ways.
Order your personalized Astrology Reports
---
Scorpio: With Saturn in your sign, it can be a challenge to keep your spirits up since it often seems as if you're constantly being challenged with various trials and tribulations. Saturn has been in your sign for the past year, and this may not have been the most fun time in your life. Remember, though, that Saturn rewards us for our hard work and makes us realize that we are stronger than we knew. You could say a Saturn transit is character building! This is why it's so important to keep your attitude positive and hopeful. Begin with a clear idea of how you wish the year to be: What do you expect of yourself? What do you want to be rid of? What wonders and miracles would you like to see manifested? And then you'll have something definite to begin to work on.
Order your personalized Astrology Reports
---
Sagittarius: There is a heavy emphasis this week on the material areas of your life so you might want to start this week by thinking about what you would like to see happening with your finances and work. Perhaps it is time for a new start or a transformation. If you'd like a new car, a new job to make better use of your skills and talents, or have more money coming in, then the planets are ideally placed to help you achieve this All that's need on your part is the right kind of thinking and a weeding out of any beliefs and thoughts that may have previously been preventing good coming to you.
Order your personalized Astrology Reports
---
Capricorn: Everything is exaggerated under intense planetary conditions which is what's going on with you, Capricorn, so instead of letting yourself get carried away on a sea of emotion, try to take things on a moment to moment basis. Try not to project your fears into the future or lament your failures and mistakes. Keep your attention focused on this present moment and on what you can do today. Remember that this week especially, is about transformation. If you can accept that whatever is happening in your life is leading you toward a rebirth, you will be able to put one foot in front of the other with peace ad contentment in your heart.
Order your personalized Astrology Reports
---
Aquarius: It's not the difficult situations in external life that we fear the most, but our own inner fears and demons. For example, many people have a profound fear of death, so they mostly try not to think about it. Then there is your shadow side, those parts of you that you don't like to admit to, whether it's an addiction or some other weakness that has power over you. Or it could be a situation in your life that you don't want to face up to, such as a relationship or a job that deep down you're not that happy with. Your challenge this week is to be brutally honest with yourself and to shine the light on your dark fears. If you can do that, you will find that life begins to open up in the most magical ways and gives you plenty to look forward to.
Order your personalized Astrology Reports
---
Pisces: Don't worry if you feel a little out of sorts this week. This will largely be due to your ruling planet Neptune not being aspected, which is likely to make you feel somewhat isolated or sad. Allow any feelings of sadness to just be, and then begin to concentrate on your new vision for this new year. Don't be afraid to communicate your ideas and vision for your future. The most important thing is that you're willing to make a big change in order to manifest that vision.
Order your personalized Astrology Reports
---
For more information about your Horoscope and what the stars have in store for you, order one of our detailed